One schnell of a car: We head to Germany to review the stellar 2011 Aston Martin V12 Vantage
Nürburg, Germany—Beginning in 1927, the German Grand Prix was staged at the Nürburgring Nordschleife, on and off, until 1976. At that point, people came to their senses. Or, rather, a decision was made to banish Formula One cars after three-time World Champion Niki Lauda crashed in one of the more remote areas of the 22-km long track that year and narrowly escaped with his life.
Since then, this intimidating ribbon of pavement, winding its way through the Eifel Mountains of central Germany like a dark secret, has only gained in notoriety. Professional car races are still held there, but the circuit is now equally noted for its role in the testing of road cars. You see, not only does the current configuration feature 33 left- and 40 right-hand turns of varying degrees of difficulty, but it also has more elevation changes than the average stock market.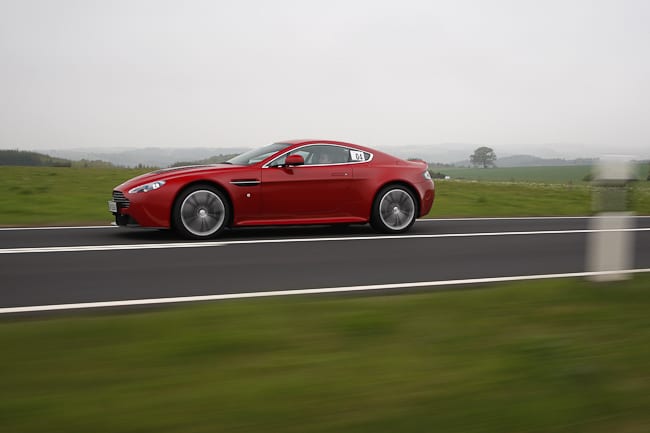 In other words, the Nürburgring Nordschleife is a true test of man and machine.
Fitting, then, that for the introduction of the 2011 Aston Martin V12 Vantage, the manufacturer allowed a select group of lucky bastards (really, this is the most accurate term available) to take their latest supercar around the track for a series of blood-pumping laps filled with heart-stopping moments.
The Aston Martin philosophy for extracting performance is largely old-school in nature, using lessons learned from racing decades ago: Take one large gasoline engine with significant reserves of power. Place said engine in the front of the car, but set back towards the middle so as to ensure better balance. Apply all other track-ready attributes including a lightweight body, a 6-speed manual transmission, a rear-wheel drive layout, a fully independent suspension system and massive carbon-ceramic brakes. Shake well, then serve.
Of course, this is a vast over-simplification because the V12 Vantage also has all the technological advances found in any modern supercar worth its salt. But if your objective is to drive at terrifying speeds around a truly terrifying racetrack, it's best to employ a car that uses proven thinking to meet the challenge.
The Aston Martin V12 Vantage certainly fills the bill. Its 6.0-litre engine develops 510 horsepower and 420 lb-ft of torque at 5750 rpm, sufficient to push the car from 0 to 100 km/h in 4.2 seconds and to a terminal velocity of 306 km/h. Yet, despite these entirely worthy figures, the defining characteristic of the Aston is not its sheer pace, but rather its sublime handling.
To sum up: The Vantage is very easy to drive quickly, courtesy of well-managed airflow, precise steering and expert suspension tuning. When confronted with the track's countless humps, bumps, dips and drops, all were managed with so little drama, it was scarcely believable. Around every one of the track's 73 turns, the Aston generated serious cornering force. And when a particular obstacle was approached with excess speed, the brakes were always right there, creating equal measures of stopping force and confidence.
Other impressions: the snarling hood vents, muscular side sills and sculpted rear diffuser identify this car as a genuine bad-ass. The sound emanating from the V12 is an example of guttural excellence. There are red lights above the tachometer that signal when to shift, but they're a poor alternative to plain, old markings on the tach itself. Plus: When the rev limiter kicks in, it's like an anchor has been thrown out the back of the car—only less subtle.
The driving position is low-slung and darn near perfect, apart from the high position of the hump between the seats, which can interfere with the shift lever. The cabin is replete with metal, carbon fibre, faux suede and double-stitched leather, but it's far more business-like than luxurious. And the crystal starter key that slots directly into the dash may be a gimmick, but it's still flat-out cool.
Ten laps of the circuit and approximately 90 minutes later, a verdict was reached: The 2011 Aston Martin V12 Vantage is a clear winner. Even better: Priced at $183,000, it offers more thrills and more exclusivity than cars twice as expensive.
Learn more – Aston Martin V12 Vantage
PROS:

Incredible balance
Awesome exhaust note
Serious fun to drive

CONS:

Poorly designed tachometer
Punishing rev limiter
Cabin space-limiting torque tube