Nimble, Small, and a bit Beefy, the 2013 Chevrolet Spark lands in North America
Toronto, ON – Over 600,000 units sold worldwide since launched overseas two years ago, the 2013 Chevrolet Spark finally lands in North America. Chevy is using its most affordable vehicle targeting the urbanites — not just starving students or cash-strapped commuters seeking an affordable, point-A-to-B vehicle, but also targeting those already living downtown simply looking for a nimble yet stylish grocery-getter/work transporter; young professionals, perhaps, with their Range Rovers and luxury sedans hogging limited garage lots and skinny driveways, the small and stylish Spark will fill the gap just fine, pun intended (I know, it's tough to visualize that, buy hey, the idea that cash-strapped urban D.I.N.K.S. are living well beyond their means, within their palatial townhouses, leverages to their t*ts, yet can manage luxury, full-size SUV car payments may one day resort to, without choice, a funky little mini or b-segment car for the price of annual SUV fuel bills. You feel me? No?). And, for those first-time car buyers opting for the 2013 Spark, Chevy's smallest car may down the road open the door to the automakers other product offerings.
Selfish North Americans = Better Spark
North Americans want more. Always. And vehicles are certainly no exception, particularly when said vehicle, Spark, are currently sold in over 100 countries around the globe, crossing the pond for the first time. Hence, some improvements (slash self-serving Western compliance) to the US/Canadian Spark include increased engine size from 1.2L to 1.5L, now providing better mid range torque without increasing fuel efficiency; 15-inch alloy wheels vs heavier steel rims; fatter tires at 185-series vs the skimpy 175-series rubber; some suspension tuning via coil springs and shock damping; Hill start assist (because N.America clearly has more tight, windy, circa 17th-century built, unbelievably upright roadways than Europe!); enhanced sound absorption; power outside mirror design optimized for noise reduction and aero enhancement; and heated leatherette front seats.
Granted, many of these improvements warrant North American driving conditions/behaviour. But we're still selfish. And as a result, we get a better Spark. We win.
3 Spark Flavours
The 2013 Chevy Spark comes in three flavours: Spark LS, starting at $13,495 CDN MSRP; Spark 1LT at $16,695; and Spark 2LT at $18,495. For those enviro-conscious urban dwellers (we know you're out there), next year brings the 2014 Spark EV: an all-electric offering.
Chevrolet believes the entry-level Spark LS will be the volume seller, accounting for fifty-five percent of Spark sales; followed by the 1LT with fourty percent, and the pricier 2LT at five percent.
Exterior Styling > It's got 5-doors (really)
Look closely and you'll realize the Spark finds rear doors. Look even closer and you'll see rear door handles nestled and ninja-styled into the upper c-pillar. That's right, the Spark is a 5-door mini car; the only one in it's class. Hence, the Spark takes advantage of hatchback styling but with the convenience of extra doors for rear passengers.
The wheels-out, body-in design, coupled with a single arc roofline flowing into the elliptically sculpted headlight cluster, renders the 2013 an edgy, fresh, yet functional little city commuter. From Techno Pink (most popular in Korea) to Jalapeno Green, the Spark is available in 8 expressive colours.
Stepping up to the top-trim Spark 2LT, starting at 18,495 CDN MSRP (as seen in these photos), will significantly step up the Spark styling over the LS and 1LT versions. 2LT Spark finds unique upper grille and lower grille inserts; sportier aluminum wheels; lower rocker moulding extensions; a front sport bumper; fog lights; roof rails; a chrome belt line moulding and chrome liftgate handles; a rear fascia insert; and a chrome exhaust tip.
Compared to the competition–Fiat 500, Scion iQ, Smart ForTwo– the 2013 Chevrolet Spark takes top marks for exterior styling. No doubt, they all look cutesy, but in terms of proportion, size, and overall looks, the Spark wins. The Spark also beats out the competition in terms of wheelbase (with 2375mm), lenght (at 3675mm), height (1549mm), most legroom, and most cargo capacity (323L; 883L with seats folded down). If you're wondering, the 2013 Chevy Spark is a whole inch taller than it's older Chevy Sonic sibling.
Roomy Interior
Boasting the most rear legroom in the mini car segment (coupled with the rear doors = very welcome feature), the 2013 Chevy Spark's compact exterior dimensions do not equate to a tight, stuffy interior. Chevrolet has done a terrific job utilizing cabin space efficiently. Behind the wheel, the motorcycle-inspired gauge cluster is both simple and smart, and easy to read. The controls are uncomplicated; the translucent knobs are slick and easy to use. With the limited trunk space, flat folding rear seats would have been nice…a feature the self-absorbed North American, with all his toys, could truly appreciate.
Few notable standards found within the entry-level Spark LS include 10 airbags; cloth interior; 60/40 split rear seats; Driver info centre with tire pressure monitor; tilt steering wheel; power windows and power tailgate release, 4-speakers, and OnStar, to name a few. The next-level Spark 1LT adds a security system; power exterior mirrors; remote keyless entry; A/C; an air filtration system; a USB port, SiriusXM radio, plus a bunch of other significant upgrades. Spark 2LT is mostly exterior enhancements with interior add-ons including heated front seats; leatherette seating; and leather-wrapped steering wheel.
MyLink Radio & BringGo Navigation App
MyLink Radio is a clever new feature standard on the Spark 1LT and 2LT (optional with entry-level LS version). With a 7-inch colour touch screen, MyLink integrates with your phone, importing (handshake style) your address book contacts. Your content is never actually stored in the car; only when paired with your device. MyLink also includes Bluetooth handsfree and audio streaming; a USB port; XM Satellite radio; Stitcher radio on demand; and the ability to view and play pictures and videos.
Want navigation? Don't want to spend $2000 on navigation for your little mini car? Welcome BringGo App — a navigation app for only $15, one-time fee. With thousands of POI to rummage through, local search via Google, 3D maps, and several other new-tech, coolio features, the Spark will hit the ground running, offering a plethora of features at an affordable price point.
Learn more – Chevy Spark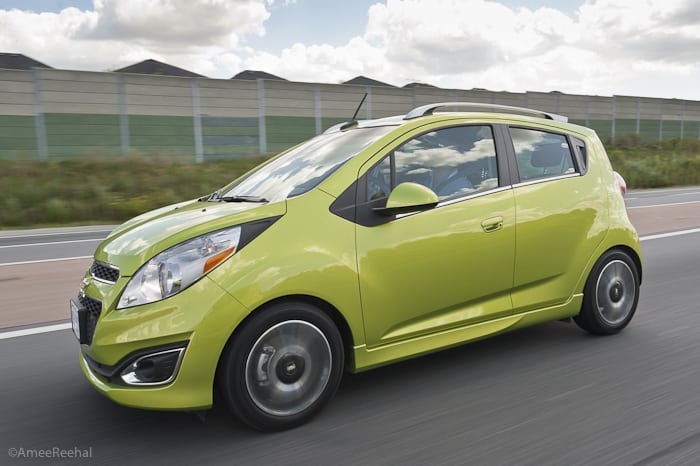 PROS:

5 metre turning radius = nimble
Biggest mini car in segment
Loads of standards, including 10 airbags
5-door mini car with 3-door styling
$15 BringGo App vs expensive Nav systems

CONS:

Rear seats don't fold flat
Top-level 2LT trim gets pricey
Chevy Spark vs Chevy Sonic?