Proven in Europe, Nissan's sub-compact 2017 Qashqai CUV (or Rogue Sport in the US) Crosses The Pond
Montreal, QC – Canadian consumers have always been fond of small vehicles, and in recent years, the number of small SUV and CUV offerings available in this country has exploded. Increased popularity in this sector has seen a shift from traditional small cars to these very capable utility platforms, and virtually every major manufacturer is responding with new product to satiate this demand.
Nissan has begun rolling its latest model, the sub-compact Qashqai, into dealerships as you read this, and after spending a day behind the wheel I will admit that this diminutive little rig will more than satisfy the transportation needs of the small family looking for a city friendly runabout.
Also check out: 2017 Nissan Qashqai Pricing and Release Date Announced
The Qashqai is produced in Japan, but was designed in Europe, where it has proven to be quite popular since its introduction a decade ago. The Qashqai headed to our shores is basically a revised version of the second generation of the vehicle, and as such, this capable CUV is well-sorted and ready to provide years of reliable transportation.
Qashqai Trims
There are three trim levels – S, SV, SL – and front-wheel drive is standard on all except the top-tier SL model, which is fully equipped including Nissan's Intelligent All-Wheel-Drive system.
Under the hood: 2.0L 4-cylinder
All Qashqai models share the same 2.0-litre four-cylinder engine which is mated to either a 6-speed manual gearbox (S) or an Xtronic Continuously Variable Transmission with manual shift mode. Theis compact engine generates a healthy 141-horsepower and enough torque (147 lb.-ft) to ensure that the Qashqai won't struggle on freeway onramps or when asked to execute a passing manoeuvre.
How does the 2017 Qashqai fit in?
The folks from Nissan like to refer to the Qashqai as being "right sized," as the stylish runabout will slot just under the ever-popular Nissan Rogue, the latter which is Nissan's #1 selling vehicle in Canada. The two vehicles share a base platform and many styling cues, which should help ignite Qashqai sales.
Product planners expect the Rogue to appeal to individuals with small families, while the Qashqai will attract active singles and couples who desire more space and versatility than that offered by the typical small car. The fact that it handles like a car rather than an SUV will win it many customers, as will its very urban-friendly dimensions.
Interior Impressions
I stand 6'2″ tall, and did not find myself wanting of more leg-, hip- or headroom when I sat in the front seats of the Qashqai, but taller individuals might harp about the lack of real estate for their limbs in the rear seating area. Ingress and egress is a breeze, as the Qashqai has a relatively low ride height but a tall roofline.
Cargo
Access to the rear cargo area is made using an upswing hatch, and the area itself is large enough to swallow a weekend's worth of gear, most bicycles, or lots of luggage. The lift height is low, while the opening itself is wide, making loading and unloading a breeze. Cargo capacity is an impressive 648-litres with the rear seats in place, and an enormous 1,730-litres when they are folded.
Fit and Finish
The vehicle's interior is modern, and very functional, and all controls are placed for ease of access. The mix of switches, buttons, and touch screen controls is well thought out and their use quickly became intuitive for the driver. The quality of the fit and finish and of the materials used throughout the cabin belie this vehicle's low price of entry.
Qashqai on the Road: Driving Impressions
Our road test was comprised of a wide variety of roads types and surfaces, and the Qashqai quickly proved itself to be a very capable performer whether cruising at speed on the highway or navigating through the tight confines of Old Montreal. Its aerodynamic design helps enhance the vehicle's driving experience as there is virtually no wind noise, and the refined ride and fully independent suspension combine to insulate the passenger cabin from being disturbed by excess road noise.
Power?
The engine is relatively quiet, and seems to be engineered to provide the majority of torque at relatively low RPM, which makes it perfectly suited for operation in stop-and-go city traffic. I managed to get seat time in test units fitted with both types of transmission, and am happy to report that neither variant disappointed.
CVT Transmission?
The manual transmission proved to be efficient and entertaining, and it was appreciated by this reviewer once I got the opportunity to explore some rural country roads and row my way through its gears. My one complaint would be that the manual shift lever itself was rather tall and ungainly, but its operation was smooth and precise. I suspect that the majority of buyers will pony up for the Xtronic automatic transmission, which features both a Sport Mode Shifter and Eco Mode switch. Nissan is an industry leader when it comes to continuously variable transmissions, and this CVT seemed to get less confused than similar designs employed by some of the Qashqai's immediate competition.
Handling?
Steering response is quick and the nose goes exactly where it is pointed, and there is very little body roll exhibited during hard cornering. The suspension gobbles up the bumps and ruts and keeps the vehicle well planted at speed. The four-wheel vented disc brakes are ready and willing to reign in the Qashqai without drama, and driver confidence is enhanced knowing that these ABS binders also feature Electronic Brake force Distribution (EBD) and Brake Assist as standard kit.
Canada is known for being a country with severe weather and challenging road conditions, so many buyers will probably order their Qashqai fitted with the optional all-wheel drive system. This system has been designed to vary front/rear torque distribution between 100:0 and 50:50 automatically, but also features a locking feature for when conditions get extra treacherous or slick.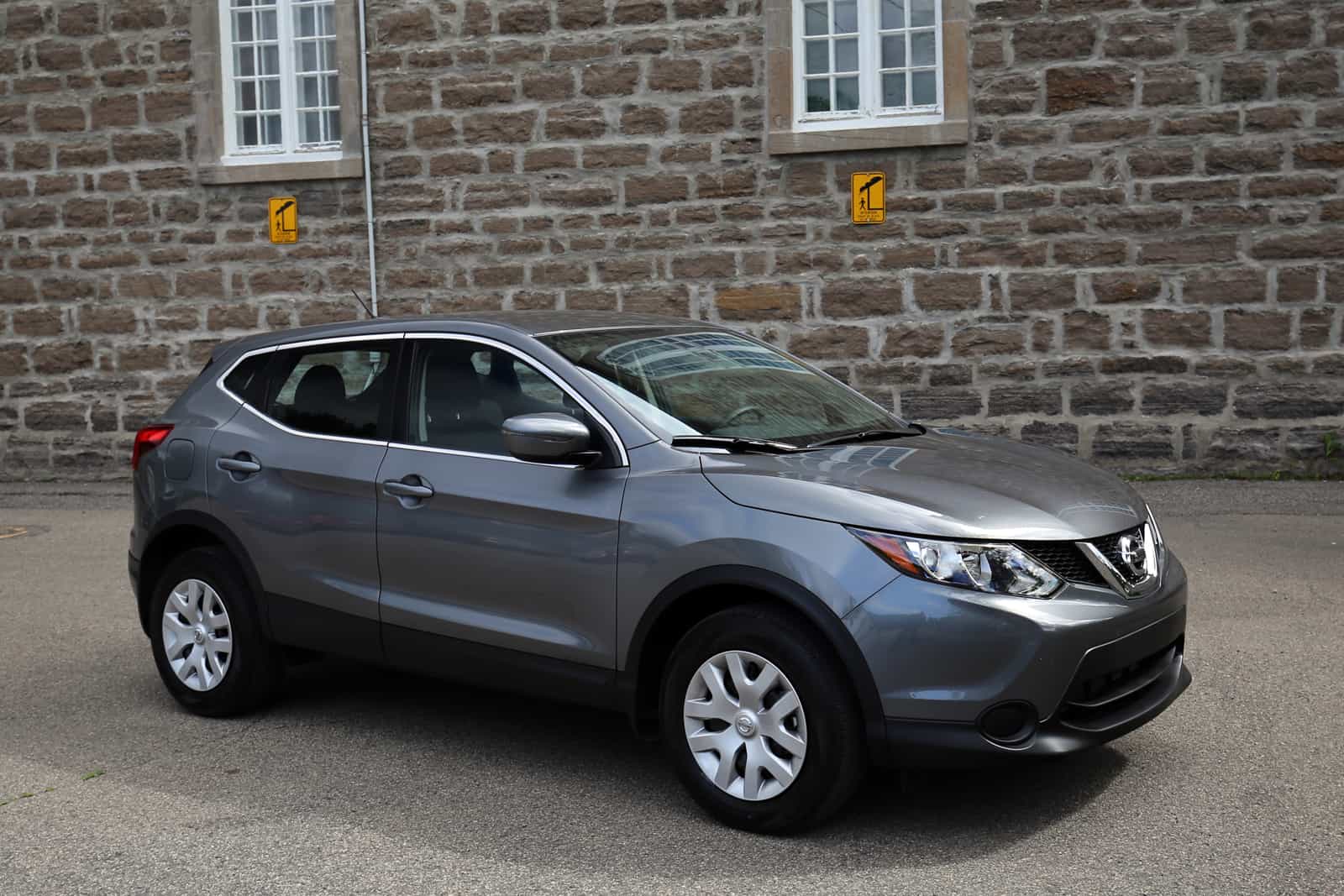 Other Features and Cabin Tech
All Qashqai models come outfitted with a healthy mix of comfort, safety and infotainment equipment as standard fare, but Nissan's product planners are wise to the fact that modern buyers have a hunger for technology. As a result, the Qashqai takes the lead in this segment by offering a long list of upmarket niceties and gizmos to attract new clientele into the showroom.
All Qashqai models are equipped with a rear-view camera (RearView Monitor) and Bluetooth capabilities as standard, and the audio system incorporates both USB and auxiliary input jacks. Optional dual-zone automatic air conditioning and remote engine start capabilities will enhance operational comfort levels.
A fully equipped Qashqai will include a full suite of Nissan's driver-assist safety features that make up the company's Intelligent Safety Shield technologies. These include such marvels as the radar-based Blind Spot Warning and Rear Cross Traffic Alert system, Lane Departure Warning and Intelligent Lane Intervention, Intelligent Cruise Control and Automatic Emergency Braking with Pedestrian Detection.
A seven-inch colour touch screen display with Nissan Voice Recognition (for navigation and audio), and the innovative Intelligent Around View Monitor are also available.
Takeaway
The Qashqai may be a new weapon in Nissan's four-wheeled arsenal, but it represents an attractive package and terrific value for those buyers seeking to move up to from the more traditional compact offerings in the marketplace.
Learn more – 2017 Nissan Qashqai
Also check out:
http://www.tractionlife.com/2017-nissan-qashqai-video-review/
2017 Nissan Qashqai
Technical Specifications
Base price range (CAD MSRP): $19,998 – 29,498
Type: Subcompact, 5-passenger utility vehicle.
Layout: Front engine front- or all-wheel-drive
Engine: 2.0-liter DOHC 16-valve 4-cylinder
Horsepower: 141 @ 6,000 rpm
Torque (lb.-ft): 147 @ 4,400 rpm
Transmission: 6-speed manual or optional CVT automatic
Brakes: Four-wheel vented disc
Cargo capacity: 648 L (seats up) / 1,730 L (seats folded)
Fuel efficiency (L/100km): Manual -Highway 8.1 / City 10.0
CVT -Highway 7.3 / City 8.8
AWD -Highway 7.3 / City 9.1
2017 Nissan Qashqai Gallery: