An Uncompromising Ride: Artist and motorcycle enthusiast Bill Rodgers finds out this little GP Racer 1977 Honda MT125R is a challenging restoration.
Racing is only a hobby for Calgary artist Bill Rodgers, but going fast just got more exciting. He's been modifying a 1970s Honda XL250 for 20 years, competing in AHRMA's 350 Sportsman category. It's completely outclassed – but because it's well prepared Rodgers never finishes last. "It's now at its apex in terms of development," Rodgers says.
There's a new racer in the stable, though, that might give Rodgers an edge. Last winter Rodgers walked into Don Fergin's Universal Cycle Services. Fergin was auctioning the late Ray Lamb's estate, including hundreds of small-bore Japanese motorcycles collected over several decades.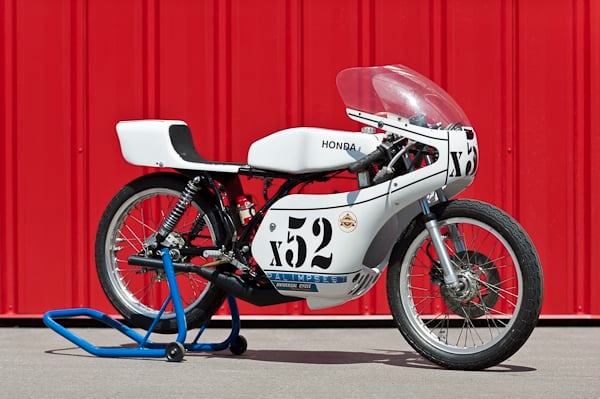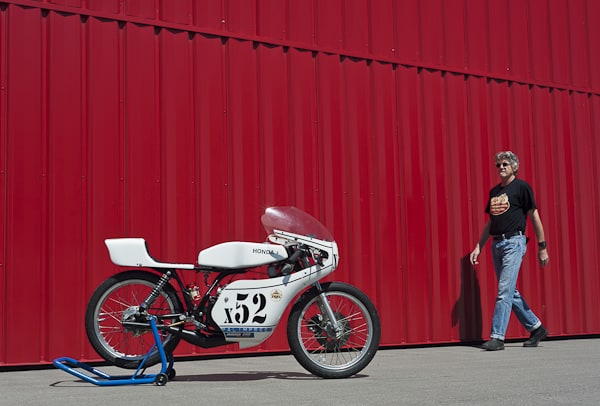 Finding the MT125R Racer
"I couldn't believe my eyes when I saw it," Rodgers says of the 1977 Honda MT125R sitting on the showroom floor in the first wave of 100 bikes offered. Surrounded by desirable Super Hawks and Dreams, the little GP racer didn't garner much attention. Rodgers was high bidder, and the MT125R went home with him.
His example has an unknown history, and it's also uncertain how long Lamb had the machine stored away. Rodgers has heard a rumour that the MT125R is from Calgary's Bow Cycle, but he hasn't yet validated the story.
The Restoration Process
Built two years only, 1977 and 1978, the model was Honda's production Grand Prix racer, and approximately 400 of the two-stroke lightweights were sold. There's some irony here. Rodgers built his first race bike from a dirt bike, and Honda's MT was based on the CR Elsinore motocrosser. The road race-spec MT uses CR crankcases, crank, connecting rod, piston, rings and cylinder head. Honda modified the cylinder to accept a 34mm Mikuni, which moved the peak power higher in the rev band.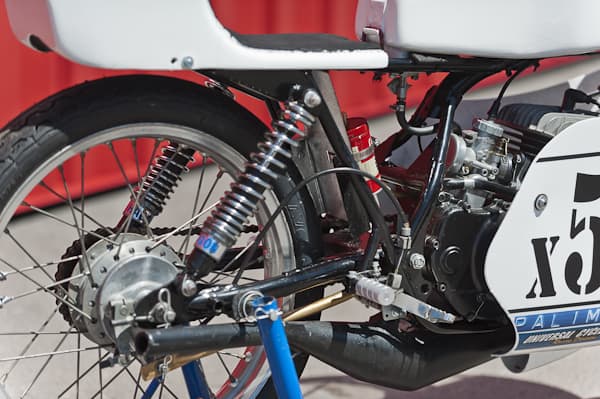 With rear set pegs, the gear lever has been reversed. Shifting the six speed box remains the same, though, as Honda machined a drum to maintain the standard pattern. Gears are not CR based. To keep the engine in the narrow power band the MT transmission uses a close-ratio gear set. Frame is CR-based, but the rear section is lower and shorter, and the angle of the steering head brought back 4 degrees to 27 degrees. Showa fork is what Honda fit to the XR with a CB200 front hub and mechanically activated 9" disc brake (Rodgers' bike has been converted to fully hydraulic). Rear hub comes from the ST90 parts bin with an XL125 drum brake. Both wheels are 2.50-18".
It's a purpose-built machine that's narrowly focused and unforgiving, but the rewards are amazing. It really handles like a bicycle.
Minimalist fibre glass bodywork includes a narrow 9-litre fuel tank, wind-cheating fairing and tiny seat with rear section. In his basement workshop – Rodgers bumps all of his motorcycles down the shallow steps in his 1912-era home – he disassembled the machine. Unsure of the bike's history, Rodgers determined it had been stored after being fitted with a new piston and rings and brand new carburetor.
Wheel and steering head bearings were cleaned and greased, and Rodgers fit a NHK steering damper. To pass current tech inspection requirements, motocross-style footpegs were replaced with a pair machined and knurled by Motorrad Performance in Calgary. Rear shocks are updated Hagons and fresh Avon racing rubber wraps the alloy rims.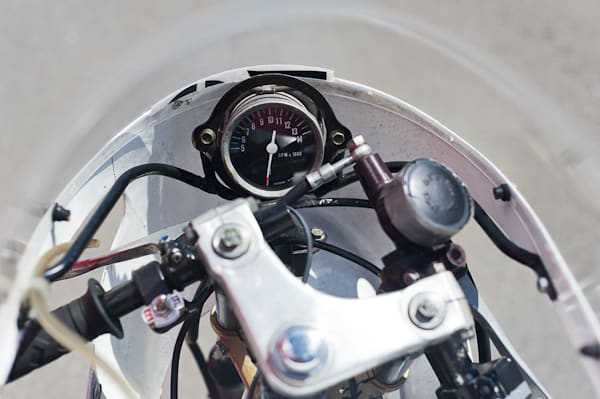 Dyno testing
Rodgers took the MT125R to Fergin's dyno for a soft break-in. While on the dyno, the inlet spigot cracked. A rare item, Aero-Tech Specialty Welding and Fabrication carved a new one from solid billet. "That cost some money," Rodgers admits. This spring Rodgers took both the XL250 and MT125R to Willow Springs Raceway in Rosamond, California.
Rodgers was given advice on running the two-stroke from AHRMA-member racer Phil Turkington. Having raced MT125Rs for a number of years, Turkington has compiled pages of notes regarding jetting and pre-mix ratios. "Jetting is crucial, and you have to pay attention to altitude, barometric pressure and humidity," Rodgers says, and adds, "It's that delicate."
A one-man show at Willow Springs, Rodgers bump started the MT125R and was around the circuit for a shakedown ride. The first 15 minutes were flawless, but the second time out the head gasket blew. Undaunted, he raced the XL250, and was happy to have briefly experienced his GP racer.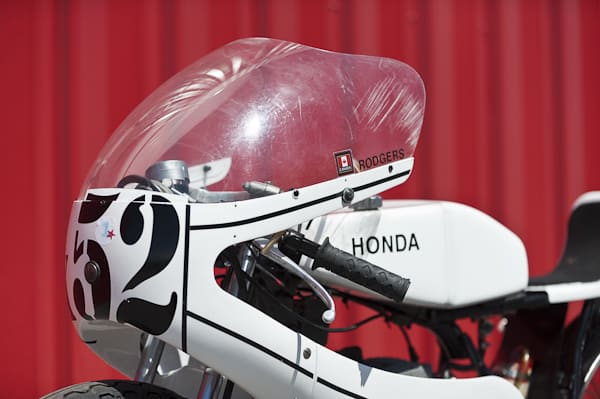 "It looks so dainty," Rodgers says, who is 6' tall. "I feel like an elephant on it, but so what?" The advantage of the MT125R is its power to weight ratio, and it's an uncompromising ride as there's nothing about the bike that is not expressly intended for speed and performance. "It's a purpose-built machine that's narrowly focused and unforgiving, but the rewards are amazing. It really handles like a bicycle."
1977 Honda MT125R Gallery: