Few machines have impacted the motorcycle market quite like the Honda CB750 Four.
Arguments for other machines that have shaken the industry can be made, but when the inline four-cylinder CB750 was introduced in 1969 the motorcycle was literally a game-changer.
And as a game-changer, Honda's CB750 became the machine that set the pace for the early part of the 1970s.

Calgary's Peter Gilding was 13 years old in June 1970 when he first saw a Honda CB750. "I was so blown away by the four pipes and four mufflers, the size and the sound of the thing – it was a visible shock," Peter says.
"I clearly remember seeing my first 750 Four," he continues. "I was at a Shell gas station across the street from Viscount Bennett School. I was buying a chocolate bar when a guy pulled up to the pump on a turquoise CB750. The gas station guys just freaked. I turned around and saw the bike sitting at the pump, and I walked out with the rest of the crowd and just ogled that motorcycle."
Peter was already motorcycle crazy. Most of his friends had older brothers who could afford to buy the latest Cycle magazines, and Peter was aware of the 750 Four from the editorial pages of the bike books. But the 750 Four parked at the Shell pumps was the first he'd seen up close.
"I remember certain details of the bike, like the fit and finish, the four inch clocks, the front disc brake. The guy gassed up, hopped on it and fired it up. I'd never heard a motorcycle sound quite like that Honda. He rode it away, and as he went down Crowchild Trail he gave it some gas. What a throaty roar. From that moment on, I was enamoured with the CB750, and for the next three or four years the 750 Four was the bike to have."
Prior to the introduction of the CB750 Honda successfully sold small-bore machines such as the 50cc Super Cub and the 305cc Super Hawk in the Canadian and U.S. markets. Nobody, in the worldwide motorcycle industry at the time expected any of the Japanese motorcycle companies to become a serious threat. Honda simply sold 'fun' bikes. But Honda's multi-cylinder racing experiences should have been a tip-off that the company was capable of engineering a very sophisticated street legal large-bore motorcycle.
When in 1965 Honda introduced the complicated CB 450 with its DOHC vertical twin engine folks got an inkling that something was coming. However, the 450 didn't capture the masses, and it wasn't a multi-cylinder machine.
Capturing the masses happened four years later in 1969 when Honda finally brought out a mass-produced four-cylinder machine – the CB750 model K0. With this machine Honda brought to market what nobody else ever had with its 736cc SOHC transverse mounted four engine, electric start and front disc brake. Prior to the CB750, any other transverse fours were simply exotica or rare race bikes, and beyond the reach of an average owner.
The CB750 K0 machines have been dubbed 'sandcast' models, simply because the casting technique used to produce the engine cases left a rough finish. After Honda realized they had a winner on their hands they quickly changed their engine case casting methods.
Says Peter: "Honda was constantly updating its bikes – especially in 1969 and 1970. If they got recommendations or suggestions back from dealers, they acted on them."
For example, the K0 featured a throttle cable that pulled all four carburetor slides. This was soon replaced with a cable and bell crank arrangement, allowing one cable to operate all four carbs in sync.
In 1971 Honda brought out the CB750 K1. According to Peter, the KO and K1 models are known among Honda cognoscenti as "the performance models" for the CB750s. These CBs featured larger jets in the carbs, and a less restrictive exhaust system. Also, the spark advance mechanism was a quick advance unit – meaning full advance was happening at 2,000 rpm. These machines produced about 67 horsepower at the rear wheel.
"These early machines were more raucous, they were louder and faster, and they were harder to ride," Peter says.
After the K0 and K1, in 1972 Honda detuned the CB750 motor in the K2 model. The cam was changed, jets were smaller, and a five-chamber baffled muffler was employed. Horsepower at the rear wheel dropped from 67 to 58. Added were chrome fork ears, and a seat lock.
By 1973, when Honda introduced the K3 – with an even more restrictive muffler, new style gauge mounts, a disc brake splash guard and a broad stripe down each side of the gas tank — much of the lustre had worn off of its CB model. And, it hadn't taken long for other Japanese motorcycle makers to catch up. In 1971 Suzuki brought out its two-stroke GT750 liquid-cooled triple cylinder, and in 1973 Kawasaki delivered the Z1 900 four-cylinder motorcycle — the 'superbike' era of Japanese machinery got hot fast.
Although Honda introduced a CB750 K4 in 1974 and a CB750 K5 in 1975, there were no major changes in those two years apart from colour options. However, fuel economy was now very important in the North American market, and Honda had further detuned the 736cc power plant to help increase efficiency. With improved mileage came decreased horsepower, and there were now approximately 38 ponies at the rear wheel.
Needless to say, Honda had lost much of the performance market it had created. To battle this, Honda developed the 1975 CB750F Super Sport. In reality, the machine wasn't much radically changed from the K-series. There was a new chassis featuring shorter trail, lengthened rear swingarm with a rear disc brake, a four-into-one header and muffler system and a longer gas tank and a new seat complete with a cowl. The engine was given back some of its initial oomph, and horsepower increased to 58 – the same state of tune found in the earlier CB750 K2.
According to Peter, the CB750 K6 of 1976 was the last of the 'classically' styled Honda CBs. That means it was the last year for the slightly bulbous gas tank and the rounded, pleasantly shaped side covers. Only one colour, Candy Antares Red, was available and it was the first year for the vivid-green faced gauges.
The CB750 carried on with a cosmetically redesigned K7 and K8 model in 1977 and 1978 respectively, with a large and angular fuel tank and different frame and forks. Honda continued with the CB750 F Super Sport, and the 1977 and 1978 Super Sport engines had increased power thanks to larger intake valves, higher compression ratios, different high lift cams, and revised carbs. These are commonly referred to as 'black engined bikes', thanks to the black finish on external engine components.
Another note to the CB saga is the 1976 Honda CB750A – a mass-produced automatic motorcycle that, while much loved by those who bought them and those who continue to ride them, never became a commercial success. The CB750A was discontinued after the 1978 model year.
And then, in 1979, Honda replaced the SOHC engine with a DOHC engine, and models so equipped include the CB750 Custom and CB750 Nighthawk.
While Peter distinctly remembers the first time he saw a CB750, it was many years before he could finally get one for his own. Actively involved in many pursuits, including restoring Chevrolet Camaros and sailing, he also found time to collect and maintain a fleet of old British bikes, including a 1951 Triumph Thunderbird and a series of Vincents including a Rapide, a Black Shadow and a Comet.
It was the early 1980s when he had enough money to begin actively looking for an early K-model Honda.
"By the time I got any money together to get one they were already passé," Peter says. "Their time had come and gone, but they were still a reliable and fun bike." He couldn't find a decent K-model, so he bought a 1977 750F. "I'd go and look at a K-model bike, and they were just junk."
The reason the bikes were just junk? The Honda CB750 Four attracted a wide range of enthusiasts, and the very bike itself created a number of sub-genres. For example, CB750s were turned into café racers, road racers, choppers – and long-distance road warriors. In fact, very few of them were ever left in stock condition, and many of the machines Peter looked at had been modified with a fairing or had been breathed upon with big-bore kits and racing cams.
Peter has now collected five CB750s, and for the most part they have been sympathetically 'restored', meaning they still wear the factory Honda finish. However, many parts and pieces have been replaced with NOS (new old stock) items. He has one machine, a 1974 K4 that is undergoing a complete restoration.
Calgary's Roy Penner remembers the Honda CB750 – like Peter, he was in school, and says the motorcycles were very popular.
"Everyone had one, except me," Roy laughs. "The CB750 seemed to be the bike to have." Roy didn't get a CB750 until 1977 when he bought a brand new CB750F. He was, however, slightly disappointed with his purchase because he says he always liked the K model better than the F. Roy's garage didn't gain a K model CB750 until 2007 when he finally bought a basketcase 1973 K3. That's an important year for Roy, as that was his final year of high school.
"This bike was all there, and I got it for $500," Roy says. "I had to buy a seat and side covers, and also had to rebuild the engine. It was a project, and I've since touched every nut and bolt on it."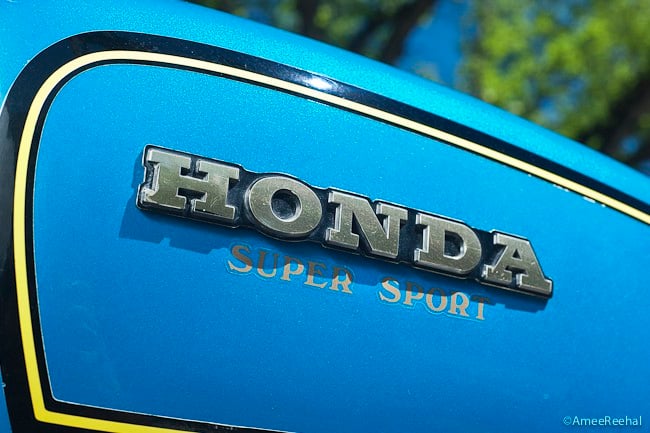 His Honda wears its original Flake Sunrise Orange paint and the factory-applied chrome, while the frame has been refinished. Roy also took the plunge and purchased a set of NOS pipes and mufflers – at a cost of close to $1,200. He feels a CB750 without the distinct stacked mufflers on either side of the machine just doesn't look right. Since completing the rebuild he's added some 7,000 kilometres to his machine. Roy has twice ridden the CB750 into the U.S. on tour, each time clocking some 2,000 km. And, he will also ride the bike daily to work during good weather.
"People come into the office and ask who owns the bike," Roy says. "They'll ask if they can take pictures of it, and they talk about how they remember the CB750 – so many people have memories of those bikes."
Roy sums up the allure of the K model CB750 Hondas, and alludes to his being something of a time machine.
"They're still a great handling bike," Roy says, and adds: "When I'm riding the CB750 I feel like I'm in another era – it's like being back in the 1970s when I'm riding that bike."