PROS:

Fuel mileage
Agility and versatility
Value for the money
Easily removable, weather-proof saddle bags and top case

CONS:

Could use more low end grunt off the line
Engine vibration in the triple digits
Motorcyclists in Canada encounter a plethora of compromises while pursuing our passion. We pay astronomical insurance rates, we deal with frequent inclement weather, poorly maintained city streets, traffic and inadequately trained cab drivers. We also have the slightly more enviable predicament of having a multitude of options as to the number of motorcycles available to us. While some may be fortunate enough to have the means to purchase, insure and store multiple mounts, most of us must make do with choosing just one. Since there is no single bike that is capable of doing it all, it is a matter of finding one that offers the most of what you are looking for and the least of what you are not.
Enter the 2013 BMW F800GT, a middleweight touring mount that can do it all. Sort of.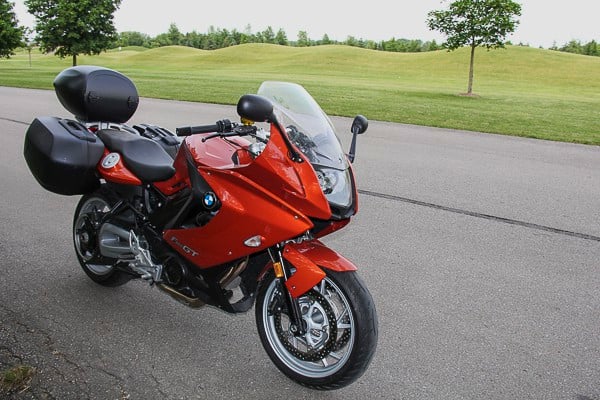 The only thing more confusing than BMW's nomenclature for naming its motorcycles is that they seem to be perpetually changing. That's nothing against the bikes themselves, merely a personal gripe that is neither here nor there. The F800GT replaces the six year old ST model which made a name for itself doing entry-level touring duty at a decent price point. The F picks up where the ST left off but adds some additional performance and creature comforts.
The 2013 BMW F800GT is designed for riders who may not want, or be financially able or willing to step up to the beefier, more expensive and better equipped R1200RT or impressively sophisticated K1600GT. Ringing in the register at only $13,250.00, the F800 provides ample value and versatility as a bike that will do most of the things you would want it to.
The water-cooled and fuel injected 798cc Parallel Twin boasts four valves per cylinder and dry sump lubrication, boasting a respectable five horsepower increase over the ST coming in at a conservative 90hp. The fuel and ignition mapping has been improved and it borrows exhaust plumbing from the sportier F800R. Weighing in at 213 kg (470 lbs) fully fuelled and ready to roll, it won't set the world on fire but it also doesn't have a problem getting up to speed or keeping up with traffic in any of its six gears. Being a Parellel Twin does take some getting used to though as emits minimal vibration in the handlebars once into the triple digits that is in no way disconcerting, but is noticeable.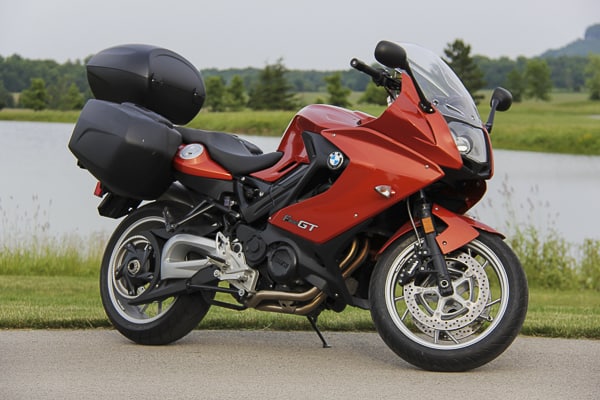 The 15L tank of my Valencia Orange Metallic tester (Dark Graphite metallic and Light White are also available) allowed for a touring range of around 320 kilometres give or take, but strangely doesn't begin computing the fuel level until it reaches below half. After running a few tanks of premium fuel through it, I got the hang of how far I could go on a single fill-up without having to rely on the gauges at all. The tank could be bigger for a touring bike but I recognize that it isn't so it can play along as an ideal commuting partner. The 320mm floating dual brake discs are grabbed by four-piston calipers in the front while the 265 single disc in the rear is reeled in with a single-piston floating caliper. Braking was never anything but smooth, brisk and predictable. Can you really ask for more than that? The fit, finish, height and protection of windscreens are often a point of contention and debate among riders but it suited my height and needs just fine during our courtship.
Braking was never anything but smooth, brisk and predictable. Can you really ask for more than that?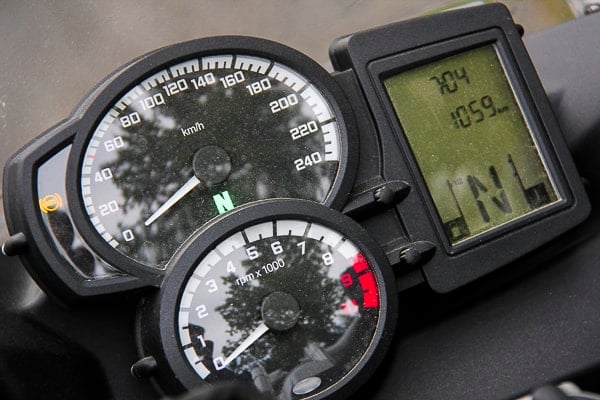 It is one thing to remove the office shackles and carve smooth corners on the weekends, which the F800 does with ease by the way, but it is quite another to use that same touring mount to battle the rat race during the work week. This middleweight tourer strikes a fine balance by doing double duty as a weekend warrior and commuting companion. Riding two up doesn't make much of a difference to the riding dynamics as all of the weight is kept low and the engine has a fair bit of grunt, except off the line. I found I had to feather a bit more throttle than usual for smooth takeoff and in slow turns, but nothing I couldn't get used to quickly.
Also check out our section BMW motorcycles
There are many options for entry-level bikes in the marketplace that attempt to attract newer riders but the problem is that they all seem to feel, well, entry-level. The 2013 BMW F800GT is a middleweight mount that allows riders to enter the touring forum but feels premium and doesn't make you feel like you have to compromise anything to get almost everything.