It's time to clean your ride. We review some of latest Shining Monkey Car Care products
There are a lot of car care products out there to help you maintain the appearance of your two- or four-wheeled pride and joy, and many promise big results. The exterior surfaces of the modern automobile take a beating from weather elements like the wind, rain and sun, but are also brutalized by acidic bird droppings, petroleum products and the always changing recipe of road grime and debris that tends to splatter up off the road as we drive along.
Also check out: Product Reviews
Luckily there is a wide variety of consumer products available to maintain and protect your car's paint, chrome, vinyl and rubber.
For the past eight months I have been evaluating a group of products produced by Shining Monkey, a relatively recent entry to the Canadian car care product marketplace.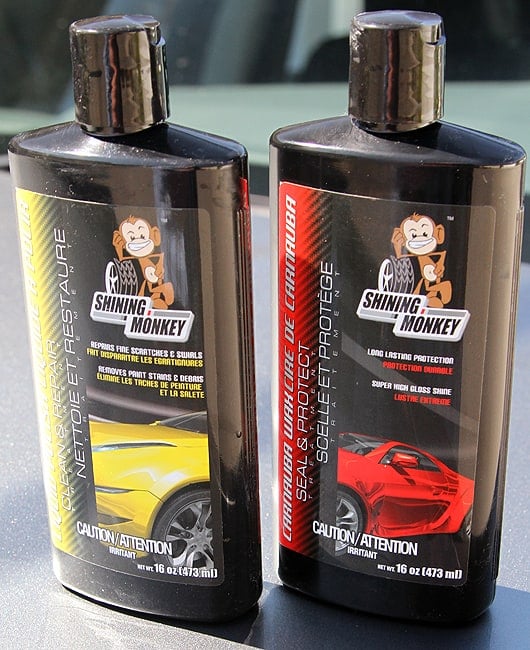 Now in a world where image is everything, it is important for a company like Shining Monkey to embrace the latest trends in marketing which includes having a presence on social media networks such as Facebook and Twitter. Shining Monkey, as expected, has done this, and they seem to engage with their customers on a regular basis using these two mediums. However, they also have established their own channel on broadcast video giant YouTube as a tool to get the word out about how well the products work through a series of short tutorial videos.
Celebrity endorsements are also a vital link you want to exploit when you want to appeal to a select demographic, and you can't do much better than landing Hoonigan extraordinaire Ken Block to be a spokesman for the brand. The tire-shredding wheelman sports Shining Monkey sponsor graphics prominently on all four corners of his Monster World Rally Team Ford Fiesta race car. That guarantees untold millions of eyeballs seeing your corporate logo whenever Mr. Block releases one of his now infamous Gymkhana precision driving videos.
Clean and Repair Treatment – Liquid Polish (MSRP $18.99 CAD)
Shining Monkey's Clean and Repair Treatment is a liquid polish that can be applied either by hand or with a rotary polisher. The product itself is a mixture of synthetic polish Polytetrafluoroethylene (PTFE) and a high quality Carnauba wax from Brazil. Corporate literature suggests that Shining Monkey Clean and Repair Treatment is your first application for a perfect finish, and after seeing the results, I am a believer.
I managed to get very good coverage with just a small amount of the product, and the polish proved easy to both apply and remove. The job itself took less time than usual but the results were top notch. I had a series of light swirls starting to appear in the finish of my truck, but with the help of this polish they buffed away like magic. It even made short work of a stubborn stain left behind by an overlooked bird dropping that had been left to cook on my paint for a couple of weeks this spring. The polish enhanced the effect of metallic flecks in my paint and gave the paint a depth I had never seen. I hate to admit that it has been one month since I last detailed my truck, but after a quick hose off the other day I was still getting comments on how deep and rich the finish looks.
There are a lot of cleaner waxes out there, but I must admit that the formula being used by Shining Monkey is exceptional. Clean and Repair Liquid Polish is said to be safe to apply on all paint surfaces and clear coats, and it has provided results far beyond my expectations when it comes to correcting surface issues and restoring shine.
Seal and Protect Treatment – Carnauba Wax (MSRP $19.99 CAD)
As a an automotive photographer I am well aware of how important it is to use quality car care products on a vehicle if you want it to stand out from the crowd. In reality most automotive photos are taken from far enough away that small flaws and fine imperfections are often imperceptible in the final image, but when the job requires close-up shot of small components or minute details you better be prepared to take the time to detail your subject.
The Shining Monkey Seal and Protect Carnauba wax is the perfect follow up treatment to the company's Clean and Repair Polish. It goes on relatively easy, and seems to repel water, dirt and debris better than most of the other Carnauba wax products I have tried. I was surprised when this wax produced an even richer shine than that produced by the polish, as my experience with similar products usually resulted in some loss when the protective coating of wax was applied. This is not the case with Shining Monkey's Carnauba Seal and Protect.
Application of the wax was simple enough as it seems to form a haze as soon as it hits the paint surface. I used a small sponge pad but you can use an orbital buffer if you want to speed things up. I then used a clean micro fiber towel to buff off the was residue, and there was little evidence of the fine dust and wax particles that often migrate into body seams and vents during the waxing phase.
The company claims that Shining Monkey Seal and Protect Treatment "is the ultimate sealer and protector that will strengthen your clear coat." The concept here is that the Seal and Protect Treatment will bond to the paint, seal the finish and protect the painted surface from harmful ultra violet rays, contaminants and the elements.
No Spit Tire Shine (MSRP $9.99 CAD)
Tire treatments are popular with the show and shine crowd as they help dress your car's tire sidewalls so that they don't take away from the look of your flashy paint and wheels. Shining Monkey's Wheel Shine is marketed as high gloss, but the final results seemed more similar to the matte finish products I have used in the past. Even after multiple applications. Personally I prefer this look over the "wet" look, but it is something to consider before buying this product if you are looking for exceptional shine.
Shining Monkey markets this product as representing "a revolution in tire treatment that gives you an exceptional shine that lasts for weeks not days." I must admit that I was a bit disappointed in this product at first as it seemed to take an awful lot of product to dress a tire, but I sure was impressed by its durability. The product maintained its lustre even after being exposed to several weeks of torrential rain and a couple of car washes.
After washing your wheels and tires it is important to let them dry thoroughly before applying any time of care treatment or dressing. The instructions ask you to shake the can well before spraying an even layer of the product over the tire's sidewall. Once complete, it is suggested that you let the surface coating sit for three to five minutes so that it has a chance to penetrate the rubber. After initial application the tires had a an attractive- and very consistent- matte black appearance, but very little shine. It is suggested that a second application of the product will produce "an amazing satin shine," and that a third go around will bring about a "super high-gloss shine."
The big selling feature is that the product is non-oily and non-greasy so it will not spit up on to the car's body panels or wheel surfaces after it has been applied. This proved to be true, and in my opinion is reason enough to purchase the product as long as you are satisfied with the matte finish.
After applying the Tire Shine spray clean up is a breeze, as over-spray simply wipe-offs with a dry towel. The product is also an effective treatment for any exterior rubber or plastic parts and seems to hold up much better than traditional protectant sprays like those marketed by Armor All and STP. I should also point out that it has been engineered to be safe for use on all types of wheel finishes.
Learn more – Shining Monkey