Toyota has unveiled the ultimate overlanding companion to their pickup and SUV lineup, including Tacoma compact pickup. Dubbed the TRD-Sport Trailer, this all-in-one 'basecamp' solution concept debuted as part of Toyota's second wave of SEMA builds, following up on four other builds in SEMA's wave one online exhibition on November 2.
Considering how challenging the 2020 year has been for most of us, the idea of going off-the-grid sounds pretty good right about now as lockdowns continue. This has just fuelled the immense interest in overlanding which was already gaining popularity pre-COVID.
As Toyota puts it, "Overlanding has been picking up steam for quite some time, but 2020 just put it over the top…we thought it would be really cool to create the ultimate overlanding companion to our pickup and SUV lineup."
And that's what prompted the Japanese automaker's Senior Program Manager in North America, Bob Kupina, to make the TRD-Sport Trailer a reality. Following his visit to the Overland Expo WEST in Flagstaff, Arizona and seeing a Toyota Tacoma with a similar bed rig, he enlisted the team at Motorsports Garage headed by Marty Schwerter to produce an OEM-worthy version stamped with TRD's seal of approval. 
But for a Tacoma rig built for proper off-road camping excursions, check out this BCT Tacoma RV by TruckHouse.
Tacoma accessories for next-level camping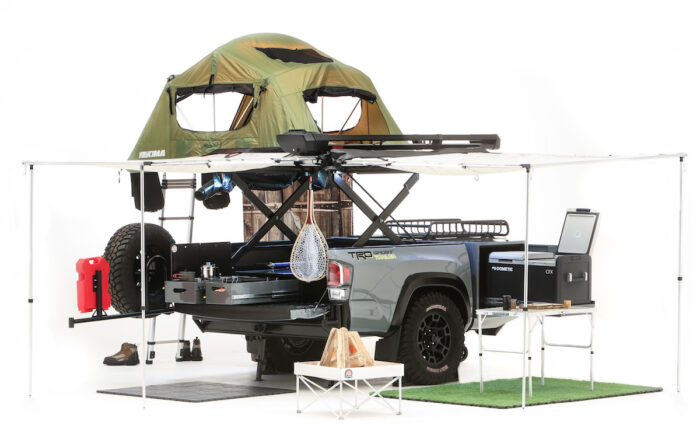 While this setup is suited for Toyota's lineup of trucks and SUVs, the Tacoma bed seemed to be the ideal platform to get things started — and it's safe to say, majority of Toyota owners exploring off the pavement are in a small Tacoma pickup or 4Runner SUV. What this rig includes:
Yakima four-person tent with an awning and fly fishing-pole holders
custom-built toilet and trash can
refrigerator
slide-out sink and stove
TRD Pro wheels
hot water heater
shower with curtain
generator
multiple RIGID A-Series Accessory LED Lights (low battery consumption)
General Grabber X3 285/70/17 tires
Optima Yellow Top battery
16-gallon fresh water reservoir tank
15-gallon grey water holding tank
lower-level multiple Yakima SunBelt light strips
Some big brands including Cabela's and Bass Pro Shops pitched in with Schwerter's efforts, ensuring the TRD-Sport Trailer was compatible with popular outdoor gear — from fishing poles and waders to cookware and coffee mugs.
As you've probably figured out by now, this is only a concept and won't see production. But what Schwerter's team did here is fantastic, and offers some good outdoor, truck bed gear inspiration.