When a massive overlander like this EarthRoamer is completely out of reach, and the confines of an off-road camper van just won't cut it, a mid-sized yet lightweight expedition vehicle sporting off-road capabilities and a nimble footprint with ample luxury indeed fills that void perfectly. But the options today are limited.
That's where Sparks, Nevada-based TruckHouse comes in with the launch of the BCT small truck camper. Built on the latest Toyota Tacoma TRD Pro and designed to withstand the roughest trails and harshest weather, the BCT is a composite expedition vehicle that'll serve as the ideal mobile base camp while dishing out all off-the-grid action buyers expect.
And the popular Tacoma seemed to be the perfect choice as far as small pickups go, offering the right size, maneuverability, and proven longevity. But if the BCT rig is too much, this Tacoma TRD-Sport Trailer concept with rooftop tent, a 15-gallon grey water holding tank, and custom-built toilet and trash should offer some more do-it-yourself inspiration.
Inspired by the iconic Sunrader 4×4 from the 1980s — and frankly, looking quite like a modern version of it based on the original Toyota Hilux — TruckHouse CEO and co-founder, Matt Linder, summarizes his new creation succinctly, stating, "The BCT is built for those who desire a similar footprint of a van, the living space of a Class C RV, the capability of a purpose-built 4×4, and the fit, finish, and dependability of a high-end yacht."
First, a Tacoma TRD Pro chassis upgrade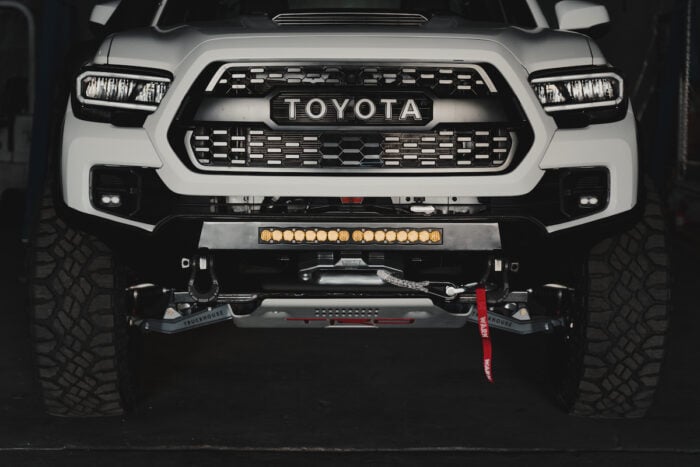 Each model comes with a single-piece carbon fiber reinforced composite shell. But this small truck with a camper isn't simply an upscale box plopped upon a new Tacoma bed; TruckHouse completely reworked the chassis to ensure it can handle the unpaved roads with ease, adding a fully-fabricated rear axle, a 12" long-travel front suspension, drilled and slotted disc brakes at each corner with optional front and rear lockers.
"We started by breaking down what the perfect overland camping experience was to us," says COO and co-founder, Nicolo Monforte, "and from there we built the most capable and livable vehicle we could imagine. This rig will effortlessly float down the longest whoop sections or rip down the highway just as easily as it will find a spot in a tight parking lot."
A small truck camper with big interior goals
The cabin features a U-shaped rear dinette offering 270° views out of one of the seven safari-style double pane windows, coupled with a large overhead skylight above to let the sun rays and star lights in. And every TruckHouse BCT comes with 30 gallons of freshwater capacity, 20 gallons of grey water capacity, and a self-contained cassette toilet.
When it's time to retire, the dinette converts into a full-size bed for any guests, while BCT owners can hit the queen-sized bed above the cab and catch the latest game on the optional articulating 32" LED TV.
Passengers can move freely from the front cabin to the back courtesy of an open pass-thru, similar to a luxury Sprinter camper van. And when the snow hits and weather drops, this rig even features heated floors. Nice.
Each BCT is made-to-order, so customers can truly customize this little overlander's interior — from various upgrade packages and entertainment packages to the Tacoma's off-road capabilities and power supply.
Power duties: just add gas and water
Standard is a roof-top solar array with up to 600 watts, coupled with the main power source courtesy of a large Battle Born lithium ion battery bank that will keeps things going for up to 500 hours of battery life.
A nice feature is eliminating the need for a supplementary generator or propane, thanks to the lithium ion batteries and available extended fuel tank power every system on board. And the company says their BCT is four season severe weather rated; starting the truck will recharge the battery bank with the standard high output alternator.
Price and availability
A $50,000 non-refundable deposit will get things started when a limited number of BCT units begin rolling out in production from sometime this year.
Starting price for the Tacoma TRD Pro-based camper starts at $285,000, topping out at $380,000 and up for a completely levelled-up and optioned version. Learn more or order one at the TruckHouse site here.