The Tale of a vintage 1977 Toyota Celica Turbo with some serious modern love
It's hard to believe how something so adored and innovative can one day simply lose its awe-inspiring luster, only to fade out of existence—an all too common thing in today's unforgiving, fad-induced society. When this occurs, we usually lay our heads low and sulk with disappointment, or conversely, rise with glee to pay homage to a long-lived life. With the tale of the Toyota Celica, an innovative product of the early '70s with a lifespan stretching into the new millennium, it is a little bit of both: sorrow and satisfaction—sad to see it go, but glad it came around. But one look at Romel Tenchavez's gleaming 1977 Toyota Celica with aftermarket turbo, mourning is the last thing to cross the mind!
ALSO SEE: The Second-Version of the stunning Toyota FT-1 Concept Goes Glam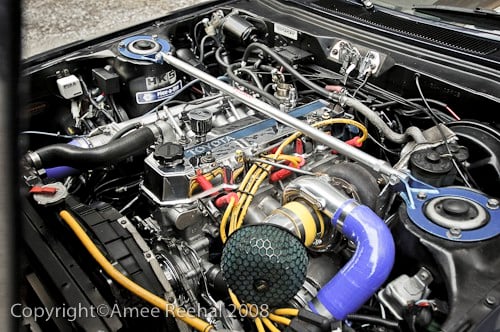 Some Celica History
Uttering 'Celica' and 'vintage' in the same sentence seems a little premature considering we see a good number of recent models strolling the streets, but unbeknownst to perhaps most, the Celica truly is a classic coupe. In 1971, a year after it's Japanese unveiling, Toyota introduced the Celica to the North American audience, powered by a 1.9 liter 8R-C SOHC four-cylinder with a manual 4-speed transmission. A true turning point, this car was an artery within the Toyota sports product line, both as a successor to its first sports car introduced in 1967, the 2000GT (created by Yamaha for Toyota), and the catalyst to the successful Toyota Supra spin-off. But aside from bridging two eras, the Celica was truly a coming of age vehicle, the company's first genuine foray into the sports coupe segment, offering consumers Toyota grit and reliability with sexy, curvy styling reminiscent of the early '70s (so I'm told).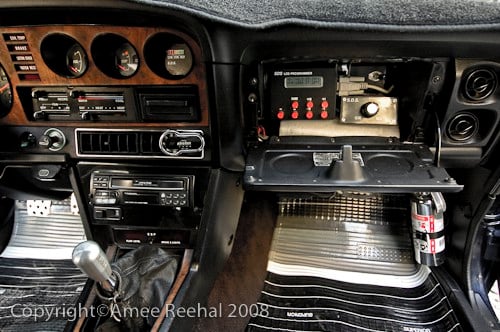 Satisfying America's insatiable hunger for power, reliability, and smooth styling, Toyota pressed forward with the Celica, tweaking and redesigning along the way with huge emphasis on power—the '72 Celica received a larger 18R-C engine; another upgraded 20-R engine for '75; more power in '78 via a 2.6 liter inline-6 belting out 110 hp; once again in 1980 with a bored-out 2.4 liter 22R engine; we'll stop here. A trend that continued up until the 2005 model, the last production year for the Celica.
The Build
Despite this impressive powerplant blitz, when Romel Tenchavez had the opportunity to purchase a pristine 1977 Celica from a San Francisco relative (original owner) back in 1991, he wasted no time bringing it to Calgary, and what he intended to do under the hood was pure debauchery. His vintage has the appeal of a lovely, Sunday show-and-shine at the park with the power of a fear-provoking, late-night street meet. As Romel sums up, "it is an old car with new modern technology,' he continues, "the engine was changed from carburetors to fuel injection, programmable engine management (SDS), now with three times more horsepower than the original with help from the turbo charge."
Close to original engine
The cool thing is, even with all these upgrades Romel chose to keep the original engine. This lent a lot more work (opposed to the easier and ever-popular engine swap) but retained, without compromise, the car's true classic identity. A great deal of aftermarket tuning/upgrading has sanctified this ride, but not without it's challenges. "My biggest challenge was to convert the power train to EFI (turbocharging). This all had to be fabricated, whereas today, you can easily buy bolt-on engine parts," Romel claims. A partial tuning list includes forced induction via a Garrett T04 with H-3 compressor and an 0.69 turbine section; a custom intake with Mercedes-Benz throttle body and Bosch 720cc injectors; an HKS flow filter and sequential blow-off valve; and a Spearco intercooler with fabricated tanks, just to name a few.
Footwork and Suspension
Rolling on 15×7" Japanese Dori-Dori wheels, with adjustable Tokico shocks and Suspension Techniques lowering springs, plus a front strut brace and rear larger sway bar for rigidity. The inside sees a classic Nardi steering wheel; racing pedals and shift knob; and a cluster of racing gauges. Not to mention an impressive ensemble of I.C.E. (in-car-entertainment) or stereo system rivaling any of today's show-worthy vehicles. This list goes on and on.
From the bright stars that quickly fizzle out to the lasting heroes that disappear but are never forgotten, Romel's 1977 Celica Turbo is a true testament to a remarkable and adaptable Japanese sports coupe that has made an impact during its 35 year tenure—a car definitely worthy of a standing ovation.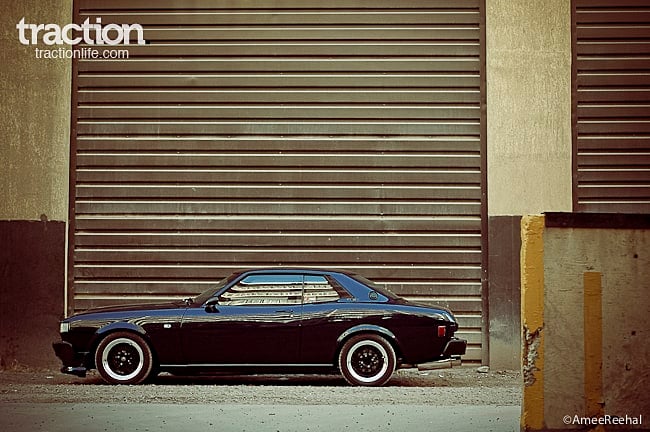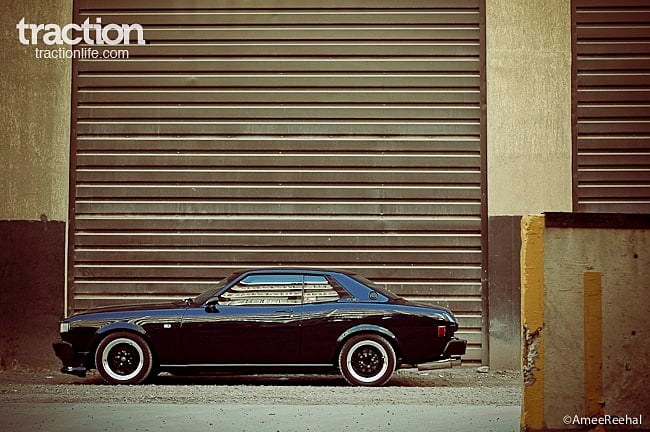 Spec Sheet: 1977 Toyota Celica
Engine mods:
20R Engine, Custom Intake Plenum with Mercedes-Benz Throttle Body/Bosch 720 CC Injectors, SDS (full management system) EM-2 4F, Mahle forged pistons, Crower billet connecting rods and race cam, also, uses a dual valve spring with bigger exhaust valves, force induction comes from Garrett T04 with H-3 compressor and an O .69 turbine section. A custom, equal length, ceramic coated header with 1.625 inch primaries conducts exhaust to the big turbo. A custom wastegate and 3 inch mandrel bent piping custom made turbo manifold, HKS super power flow filter and super sequential blow off valve, Spearco intercooler unit with custom fabbed tanks.
Exterior mod:
The car runs on 195/50/15 Kumho radials mounted on 15 X 7 Dori-dori (Kei office) wheels. Shocks are Tokico adjustables. Springs are Suspension Techniques with a 1.5 inch drop. A larger rear sway bar is fitted. The diff is Corolla GTS with TRD LSD unit with 4.10 gears and the car is fitted with a front strut brace. It also has custom made front bumper chin with PIAA 959 projector beam.
Interior mods:
SDS mixture meter gauge and electronic boost controller, SW boost and oil pressure gauge, HKS turbo timer, Nardi (classic) steering wheel, Razo shift knob and pedals.
Stereo system:
Alpine (7982) 3 disc indash unit, Alpine (MRV-F400S) V12 amp, Alpine (2) 12 inch Type S subs, Alpine 4 1/2 midrange speakers, Coustic 5 1/4 midbass and 2 inch tweets, MB QUART passive cross over, Audio Control electronic cross over w/ equalizer.