The broad-shouldered Lexus RC F is no slouch with its burly V8. But with worthy contenders like the BMW M4 and Cadillac ATS-V, Lexus needed to step up their daily-driver sports coupe. Reducing weight, improving performance, and updating some styling aspects is a good start.
2020 Lexus RC F Price: Track Edition close to $100,000
If the US$64,750 / C$85,000 base priced 2020 RC F still isn't cutting it, now there's a new, limited edition 2020 RC F Track Edition for a cool US$96,650. That's a huge price increase. Is the limited edition variant worth it? We break down the feature differences below.
Both the RC F and Track Edition go on sale soon, according to Lexus
What's new for 2020 RC F
Design updates
Launched in 2014, the new RC F gets an updated design opposed to a full redesign for 2020. Larger air intakes and tweaked rocker panels add style and function, along with aerodynamic updates borrowed from race bred siblings RC F GT3 and RC F GT500.
The front grille gets a new lower lip opening along with newly optioned LED headlamps up top. For a cleaner look, the rear treatment finds a reshaped bumper with new taillights.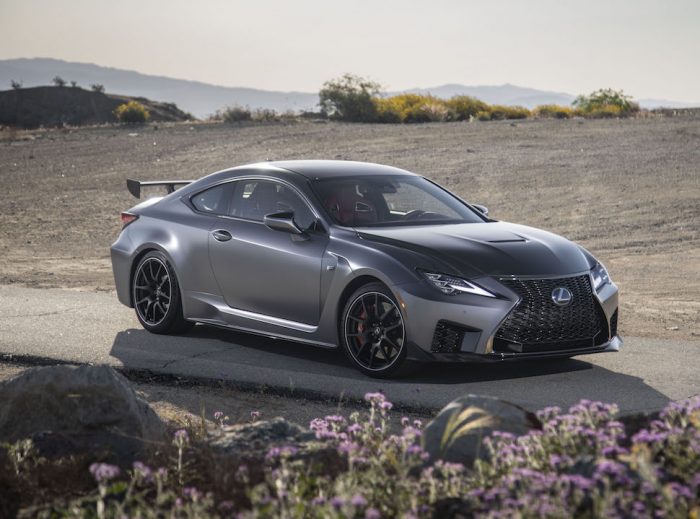 Shedding weight
The new coupe is lighter too, shedding 700-grams off the manifold while cutting significant weight from the car's front and rear. The redesigned rear bumper adds more carbon fibre and aluminum saving 500-grams; the A/C system which is always a weight hog now gets a small compressor.
Power updates
That beautiful exhaust note of the RC F's naturally-aspirated V8 is what fans have come to appreciate. Good news: Lexus didn't mess with that. In fact, expect an extra 5-hp boost, now making 472-hp at 7,100 rpm and 395 lb.ft of torque at 4,800 rpm (torque up by 6 lb.ft).
The burly 5.0L V8 gets a few "meaningful changes that add character and refinement" as Lexus put it.
2020 Lexus RC F Track Edition: Closer Look
There's nothing cheesier that "limited edition" models that only get a few cosmetic updates slapped with a huge price tag – oh, and "special badging!". Fortunately, that's not what the Track Edition is, and with a $30,000 price increase over the base RC F, we'd certainly hope not.
The Japanese automaker worked closely with their Super GT and IMSA series race teams to develop this limited edition coupe. In a nutshell, as Lexus puts it, "the Track Edition is designed to deliver exceptional performance that enthusiasts can easily exploit in a wide variety of conditions."
Stock RC F compared to the Track Edition
Weighting 176-pounds less than the 2019 RC F, the Track Edition's 472-hp output is the same as the new 2020 RC F, solidifying it as having the best power-to-weight ratio (8.01:1) in its class.
Expect a 0-60 mph of 3.96 seconds, 2% reduction in drag, and a 168 mph top speed shared with the 2020 RC F.
The Track Edition comes in 2 colours (white or gray) versus the 6 choices you get with the standard RC F.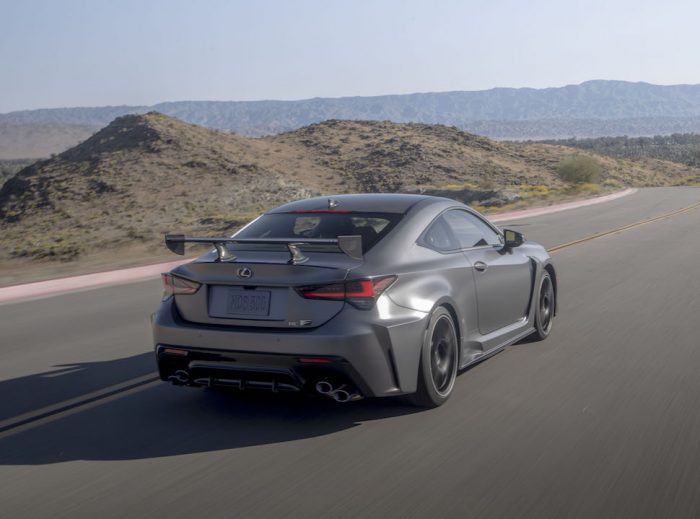 Improved footwork with braking package and wheels
Footwork is updated with lighter rotors thanks to standard Brembo carbon ceramic brake rotors and six-piston, red-painted Brembo calipers opposed to the stock orange calipers. Inside, Lexus added a new brake pedal designed, shared across all RC F models.
Rollers include new, ultra-lightweight, matte black finish 19" BBS forged alloy wheels inspired by the beastly RC F GT3, dropping 1.5-pounds off each corner compared to the 2020 RC F's stock wheels.
Performance upgrades
A new titanium muffler – a rarity on production cars these days – helps shed another 15-pounds off the car's rear alone while lending a sweet, tinny sound you get with titanium. Stainless steel exhaust tips get a blue coat.
Lexus added a bunch of styling/aerodynamic tweaks to the RC F Track Edition to enhance overall driving dynamics, including:
Carbon fiber roof and hood
Carbon fiber fixed rear spoiler
Carbon fiber front splitter
Canards at each corner
Small lip spoiler up front
Track Edition Interior
Inside, expect Circuit Red leather-trimmed seats with Alcantara accents; door handles and dashboard with red carbon trim; and red carpeting all as standard, setting this model apart from the pack.
Learn more at Lexus RC F US | Lexus RC F Canada