Los Angeles, California – The Soul has long been a big seller for Kia in North America, shifting more than a million since its launch 10 years ago. Now Kia has revealed the all-new, third generation of its quirky subcompact at the LA Auto Show, with a more efficient new engine and transmission, a new platform for better handling and a more refined ride, and an EV option with much increased battery range.
"We wanted to make the car look and feel all-new, but also familiar and instantly recognizable as a Soul," said Paul Fisher, Soul product planning manager for Kia Motors America. "It's a delicate balance, but I think we got it perfect."
Bigger dimensions for 2020
The new car's dimensions have risen slightly over the outgoing car, with a 30mm longer wheelbase to provide more cargo space. There's also 25mm more length in the front overhang, mainly for crash performance and styling reasons.
Related: 2018 Best Small SUVs & Crossovers | Affordable SUVs to Luxury Models
Designed for North America: 2020 Soul Redesign
"Soul is a world car, but it's 100% designed for North America," Fisher continues. "North America is the largest share of volume for this program, by far, so we had the lion's share of the voice when it came to designing and developing the car. Much of that work happened locally with the US engineering team in Irvine, California."
3 powertrains
Canadian trims, specs and other details are to be confirmed at a later date, but three powertrains have been unveiled for the US market. The core model will be a new, 147-horsepower, 2-litre MPI engine mated to the IVT (intelligent variable transmission) that was first seen on the Forte.
"The IVT simulates gear steps, so if you drive it on a light throttle, it feels like a torque converter automatic," said Fisher. "Not all customers appreciate the banding feel of a conventional CVT, so we tried to limit that as much as possible. This way, you get the fuel mileage benefits of a CVT, but the driving feel of an automatic."
The second gasoline engine is a 201-horsepower, 1.6-litre twin-scroll turbocharged unit that's paired with a 7-speed dual-clutch transmission. That output figure is shared with the third, very different powertrain option – the brand new Soul EV.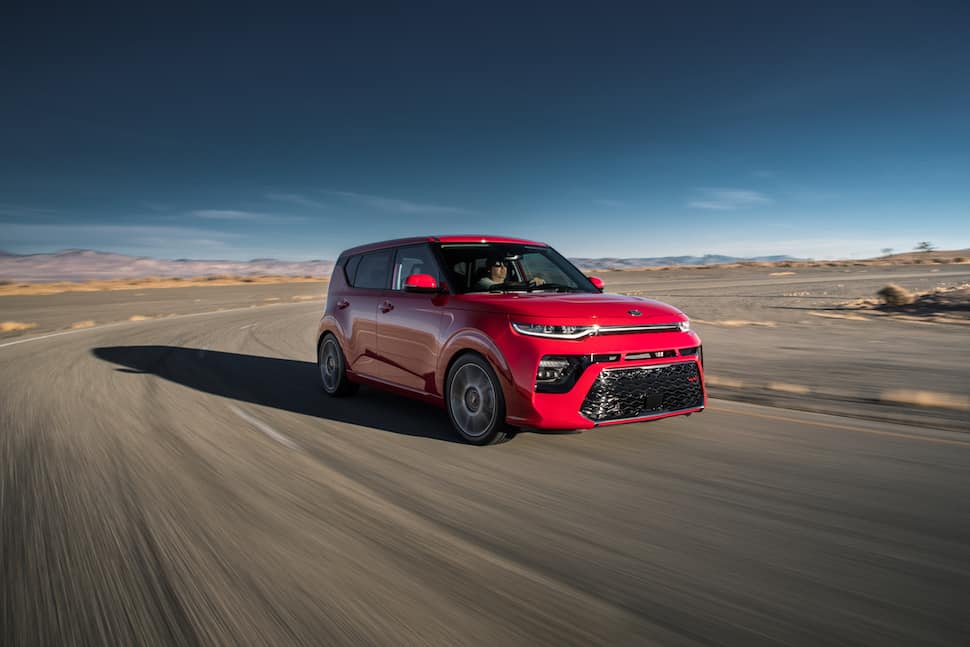 Extended EV range
Key to the EV's success will be its much-improved battery, which is expected to offer more than 200 miles of range – almost double that of the current car. The electric setup is shared with the 2019 Niro EV, which also made its debut in LA.
"Range anxiety is always a big issue for people, but with over 200 miles of range, you can charge it every few days rather than every day," said Fisher.
Soul's New Interior
An interior highlight is sound mood lighting that emits soft light from the centre door panels and a unique 3D pattern surface on the upper door panels. The system can be customized in different colours and can synchronize to the music playing through the audio system.
Kia identifies small CUVs such as the Toyota CH-R, Nissan Kicks and Honda HR-V as competitors to the Soul, but by retaining its distinctive looks, the new generation looks set to continue to carve its own niche.
"People can see the Soul however they want to see it," said Fisher. "Some people see it as a square compact car, others as a CUV. That ambiguity is its strength."