Joy of Commuting: Single-cylinder 1954 BMW R25 /3 Motorcycle a study in class and utility
In the modern motorcycle world workaday commuting machines get little to no respect. In fact, small-bore motorcycles in general are often overlooked in favour of larger, faster and more glamorous 'cycles.
That is not necessarily the case when it comes to vintage machinery. Some collectors, such as Dave Larmour of Calgary, really appreciate small single-cylinder motorcycles – and especially if they were made by BMW. Larmour, 62, was born in Regina, and raised in Barrie, Ontario. He attended the Ontario College of Art in Toronto, and soon after graduation started his career creating scale-size architectural models. His job eventually brought him to Calgary where his skills were put to use building models for the oil industry. Larmour now uses computer-modeling technology, and no longer builds scale models from scratch.
Larmour says from an early age he was fascinated by motorcycles, and started riding when he was 14 aboard a 50cc Suzuki. He chose the Suzuki model over a Honda Super Cub, as he did not like the 'scooter' appearance of the Cub. Just three years later he was infatuated with British iron. He has always had multiple motorcycles – one was never enough. And even though he liked Brit-bikes, he always kept a Japanese motorcycle for any serious riding.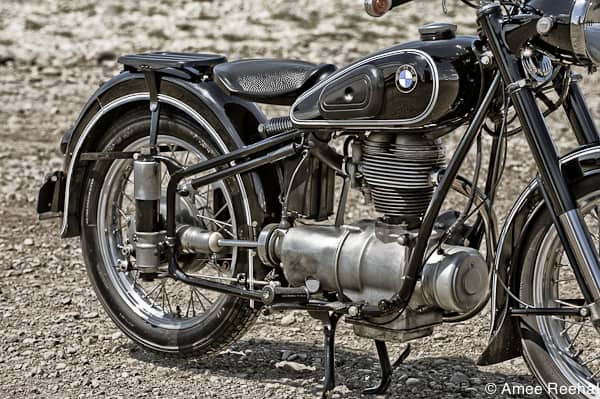 That is, until 1978 when he was introduced to BMW. "I was drawn to the concept of it being German, and the engineering behind the machine," Larmour says. "The BMW looked like a more dependable and reliable bike." Since then, he has always had a newer BMW as a rider. His stable is currently filled with six BMWs – three big machines, and three small single-cylinder bikes. All of his singles are vintage BMWs, and include a 1935 R2, a 1954 R25/3 and a 1960 R26. It is the 1954 R25/3 that is featured here.
BMW has a long history. They were building aircraft engines prior to the First World War, but were not allowed to continue in this field post-war. The company had to turn to other endeavours to stay afloat, and eventually turned out a motorcycle in 1921. Perhaps better known for the flat-twin boxer style engine that has long featured in its motorcycles, BMW has also built a number of singles.
The company produced single-cylinder motorcycles prior to the Second World War, but stopped building them in 1938. Following the war BMW was not allowed to build a motorcycle until 1948, and at that it could not displace more than 250cc. The first was the 1948 R24, which featured a bolted together pressed steel frame, and a single-cylinder engine that was similar to what BMW had built pre-War. Final drive was via shaft.
The next generation single, the R25, was introduced in 1950. This motorcycle had a welded tube-type frame and plunger rear suspension. Next came the R25/2 in 1951, and this iteration saw changes to the solo seat suspension system.
The big change was in 1953 with the R25/3. BMW updated the 250cc OHV single with a new hydraulic fork, a gas tank that was flatter and longer and different wheels and hubs. Rims were changed from steel to alloy, and shrank to 18" from 19". Engine configuration specifications changed slightly. The compression ratio went from 6.5:1 to 7.0:1, and power was increased from 12 PS to 13 PS (the German version of horsepower). And, of course, the R25/3 still featured its shaft final drive.
Although initially intended to be a basic form of transportation for Europeans, police and postal services — as well as the Red Cross –quickly adopted the BMW single-cylinder motorcycles for their use. Larmour figures half of R25/3 production went to service work, while the other half went to civilians. "BMW never knuckled under to build a cheap machine," Larmour says. "And the R25/3 became more of a gentleman's small motorcycle." The last BMW 250cc single – the R27 – was built in 1968.
Larmour first saw this 1954 R25/3 in an eBay auction in 2005. He says the photos showed a very presentable motorcycle, and he talked to the seller, an enthusiast living in Kansas, a couple of times before he placed his bid. He says there was spirited bidding, and claims there is quite a market for the small BMW singles in the U.S. He won the auction, and picked up the BMW himself while the family was on a trip back east.
The bike came with a long paper trail, and Larmour says it is apparent the BMW was imported to the U.S. from Europe in the late 1950s or early 1960s. As the machine passed from owner to owner it slowly deteriorated, to the point where it once sold for $100. But someone took pity on the bike, and about 20 years ago the machine was fully restored.
"When I got it, although it had been restored, it was a little neglected," Larmour says. "But I haven't done too much to it, other than fettling the electrics and installing a sealed battery. I changed the tires and the wheel bearings, and some of the rubber bits. It runs well and there's no need to get into the motor."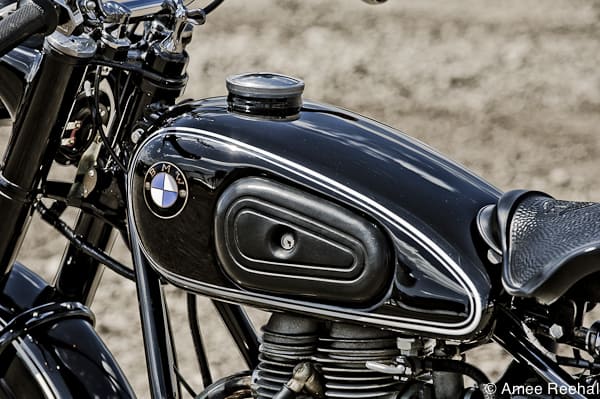 Parts are not particularly hard to come by for the 250cc BMW. In fact, Bench Mark Works Canada in Milford, Ontario, has been able to supply most everything he has needed to keep his BMWs on the road. Larmour rides the R25/3 every opportunity that he has – to a vintage club meeting or to an A&W bike night, and occasionally to work. So far, he has added some 4,000 miles to the clock.
"It starts well and runs well, and gets about 140 mpg. It's very efficient to use and cheap to run," Larmour says. "It captures people's attention, even if it's not the nicest bike in the parking lot."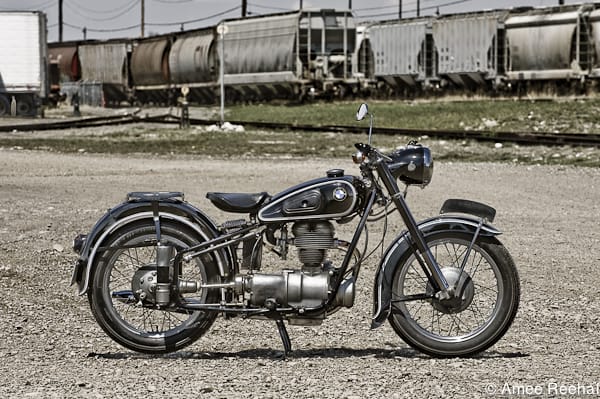 He is planning a longer run this summer. Larmour will ride the BMW during the 10th annual Canadian Vintage Motorcycle Group road run at Handhills, near Hanna, Alberta. The ride is for motorcycles 305cc and smaller 1975 and older, and 500cc and smaller 1959 and older. Held in early July, the 'Handhills Classic Ride' features a timed rally one day, followed by a scenic loop the next.
Of his cherished everyday commuter motorcycle, Larmour says, "I'm sure the little BMW will hold up very well."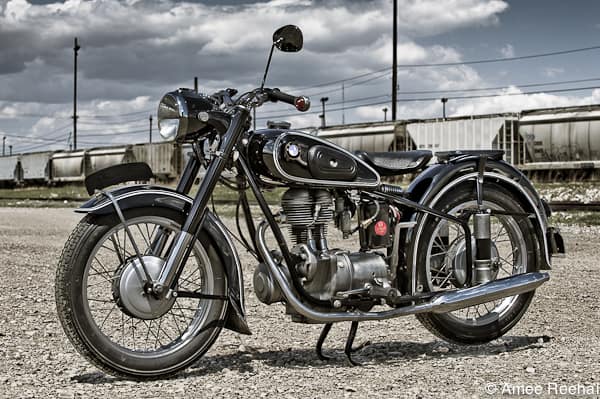 1954 BMW R25 /3 Photos:
by Amee Reehal