Chasing ghosts. That's all any of us are really doing; at least, those with an interest in old motorcycles. Perhaps it's the ghost of a machine from our youth. Maybe it's the ghost of a machine a relative once owned and rode. Sometimes, ghosts have a way of finding us.
As I was sitting at a vendor's table at the 2013 Millarville Vintage Motorcycle Swap Meet, held annually just outside of Calgary, an old Triumph motorcycle rolled past. The blue and white paint on the tank was familiar, and as the Triumph disappeared out the door a friend chased it and copied down the serial number. Like some telephone numbers we never forget, I've always remembered the serial number of my first British motorcycle – and it had just wheeled by.
In elementary school, I read a copy of Claire Mackay's Mini-bike Hero. I was captivated. Money was earned delivering flyers, and I bought a derelict machine with a Clinton rototiller engine from a neighbour. My dad and I spent time taking this apart, cleaning, fixing and painting before I was let loose to terrorize the community.
A series of dirt bikes followed, mostly Yamahas, but by the time I turned 16 powered two-wheelers were left behind in favour of a Datsun 510 station wagon. Motorcycles were not forgotten, however, and a trip to visit a friend in Saskatoon brought them back into focus. His dad had a garage full of machines, all of them Harley-Davidsons with the exception of an older Triumph tucked into a corner. The Harleys were ignored as I made a line for the Triumph. It was the British machine that captured my attention.
Back in Calgary, I was working at an Earl's restaurant as a prep cook and, in 1992, a loan from a sympathetic girlfriend helped secure the purchase of a 1971 Triumph TR6R Tiger. This was the single carburetor 650cc Triumph with low pipes, and not the dual carburetor Bonneville. I had done zero research, but soon learned the bike had the incorrect front fender and the wrong mufflers. But, I was happy to have the bike.
I started buying copies of The Classic Motor Cycle and Classic Bike. In these magazines I read about the perceived shortcomings of oil in frame Triumphs, which were new for 1971. Items such as the tall seat height (3-inches higher than 1970 models), Ceriani-style forks, wire front fender and headlight mounts, revised brakes and conical hubs, slab-sided air filter covers and megaphone mufflers – all were different from the Triumphs I discovered I really liked. Stories and photos of rigid-framed machines of the 1930s, 40s and early 50s captured my interest more so than later models.
Since letting it go, that old Triumph Tiger has always had a way of finding me, like a ghost that won't move on.
But, I rode the Triumph that fall, after fixing a few things, and commuted to work and Journalism school. In the search for parts and advice on keeping the Triumph running, I met Bernie Nicholson of Nicholson Bros. Motorcycles, who had relocated form Saskatoon to Calgary. He sold me a new Amal carburetor and a pair of Avon tires – and gave me a copy of his book Modern Motorcycle Mechanics. The valves were adjusted, points and plugs changed, wheel bearings replaced, and the correct front fender installed. At some point in 1994 I had enough money to swap the faded light blue paint the Triumph had for the correct Pacific Blue and the distinctive Cold White scallops on the tank. A hard lesson was learned when almost immediately the paint started to bubble. Without pressure testing before spending money on the paint, the front of the tank disappointingly decided to develop a pinhole leak, which I didn't fix.
I never rode the Triumph on any great adventures, keeping it mostly in the city with a few short highway jaunts, but I did add about 6,000 miles to the Smiths odometer. Many people put down the oil in frame Triumphs, but, in all reality, the Tiger was a very pleasant and stable machine that ran very well. In 1997 a late summer ride to Vancouver Island had been planned, but the top end was getting noisy – well, noisier than usual — and I parked the Triumph. It was left alone until that fall when I sold it to a local collector who then sold it to an enthusiast in Central Alberta. A replacement tank was purchased and painted the correct colours, and he discovered a mushroomed push rod was the cause of the top end noise. He installed megaphone mufflers and performed a general cleanup, bringing it closer to stock than I had. He occasionally rode the Triumph, and about six or seven years later called me to ask if I'd be interested in buying it back – for close to three times what I'd sold it for. No thanks.
The Triumph Tiger ended up with John Oland at Motoparts in Edmonton, and in 2004 that's where John Wenkoff – aka Johnny Forgotten — of Calgary found it.
Since these photos were taken, Collin has swapped the headlight for a 5 3/4" Bates-style, built a taller saddle, added some high-rise exhaust pipes and Hagon rear shocks and painted the gas tank black.
"It was 101 per cent mint original when I got it," John says from his current home in Vancouver. "I'd told him (John Oland) to name a price, and I happened to have the funds so I decided to go for it. I replaced the '71 side covers with oil tank style ones from British Cycle Supply, and I also replaced the exhaust pipes with '68-style cocktail shakers. Also, I installed a Boyer electronic ignition unit. Purists would give me grief for altering a 100 per cent original bike, but trust me it made it look and sound 100 per cent better, and most people mistook it for a '68."
John is the lead singer/guitarist for the punk band Rock n Roll Rats, and he had quite a few adventures on the Triumph. Also, he says, "I met and broke up with several young ladies directly because of the bike." He rode it around town, took many medium-length trips in Alberta, including Calgary-Edmonton journeys, and even launched it down the drag strip when Race City was still here.
John wasn't a fan of the oil in frame's tall seat, though, so he bought a 1969 Triumph Bonneville and in 2009 sold the Tiger to Steve Hanulik of High River.
I'd met Steve a few times, at motorcycle shows or at swap meets, and we'd always discuss 'our' Triumph. Steve treated the Triumph Tiger as most of its previous owners had, generally keeping it maintained and riding it in High River and at least once a week through the foothills of Southern Alberta to towns such as Black Diamond, Longview, Nanton and Turner Valley.
In 2013 disaster struck High River, though, and true to its name the town flooded like it had never flooded before. Steve's home was underwater, and so was the Triumph, right to the bottom of the headlight. In frustration, more than anything else, Steve let the flood-victim Triumph go to Phil Bunton at the Old Motorcycle Shop in Calgary. Phil had taken the machine to the 2013 Millarville Swap Meet.
And that's when I saw a ghost, as Collin Brown of Calgary pushed the Triumph Tiger past me. At 6'5" tall, the one thing that troubled most of us about the machine – the tall seat height — is the main reason Collin was actively searching for a 1971 Triumph. Collin's first British motorcycle was a 1973 Norton 750 Commando basket case he bought when he was 14, and he credits his dad, Sheldon, for sharing his two-wheel enthusiasm. As a young teen, Collin found the pieces needed, and eventually got the Norton together. He had to be the coolest kid in his hometown of Grande Prairie as he rode from the acreage to high school and back. After the Norton came a Triumph bobber, and he began accumulating oil in frame parts including wheels, forks and a frame to start his next project.
Chief among the components Collin had, though, was a 1973 Triumph T140V engine. It's a 750cc, five-speed lump, and Collin says it was found online, listed as 'seized'. When he got it, however, he discovered it was only the kickstart ratchet that was locked, and the rest of the engine looked like it had been rebuilt with .020" over pistons and freshly honed cylinders.
"I saw the 1971 Triumph Tiger at the swap meet and I had a bit of money burning a hole in my pocket," Collin says, and continues, "It was one of those things where I was doing an oil in frame project anyway, and thought maybe this would save me a bit of time and effort trying to find brackets and bolts – all the little pieces you want to have."
The Tiger's original engine went to Collin's brother, Stacy, and it's since been rebuilt and it will be the power plant in his 1969 Triumph with a rigid rear end. Collin spent plenty of time taking the Tiger apart, and thoroughly cleaned the frame, which retains its original black paint. Taper roller bearings went into the steering head, and wheel bearings were replaced while the swingarm was serviced. Collin left the stock shocks on the bike, but rebuilt the forks with Progressive springs. A new wiring harness and electrical components were ordered and installed.
"I love it," Collin says of the oil in frame Tiger. "It's tall, it's long, and I think the front end is far superior to the older-style forks. I agree, though, that it doesn't have the 'look' of the older Triumphs."
Since these photos were taken, Collin has swapped the headlight for a 5 3/4" Bates-style, built a taller saddle, added some high-rise exhaust pipes and Hagon rear shocks and painted the gas tank black. Future plans include fitting alloy fenders and some knobbier tires. He says, "I'm just putting together the bike that I want to ride – more towards a desert-sled machine."
Since letting it go, that old Triumph Tiger has always had a way of finding me, like a ghost that won't move on. I like knowing it's always been relatively close by, though, and especially now that it's living a new life. Maybe, with Collin aboard, it will finally go on a long highway trip. He and brother Stacy have talked about a west coast trip on their Triumphs, but he admits, "That's not even in the planning stage yet, but one day."
Whether it's motorcycles or the adventures they provide, we're all chasing ghosts.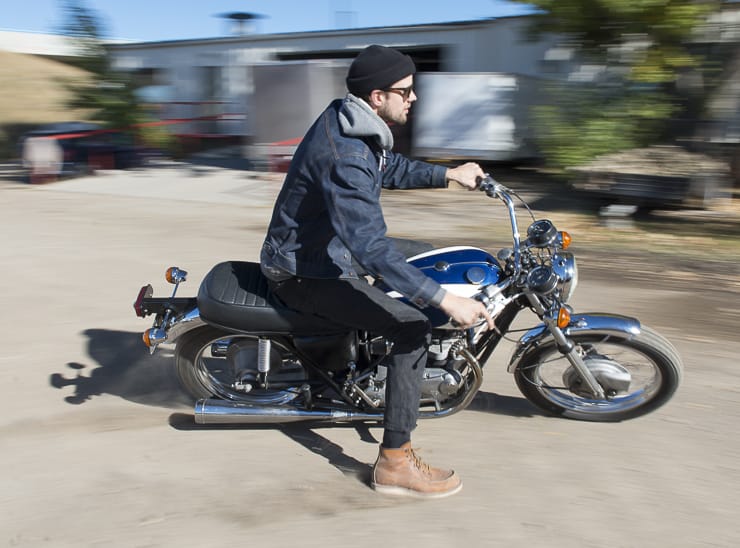 1971 Triumph Tiger gallery:
Photos by Amee Reehal