Fourty years ago Can-Am made the best competition motorcycles in the business…this 1975 Can-Am TNT 250 reminds us why.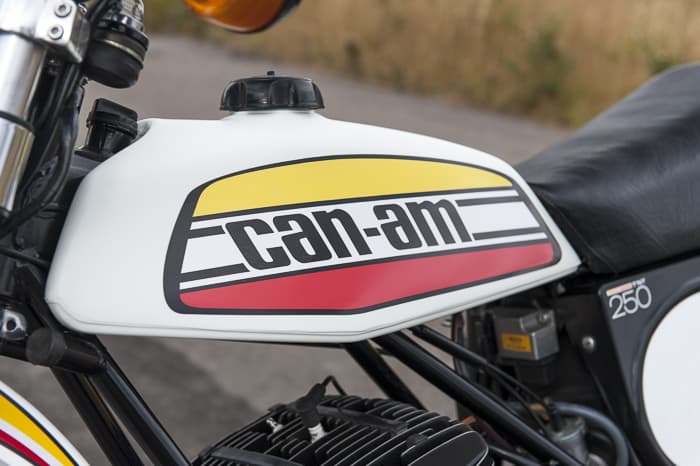 Motorcycle production has never been Canada's raison d'etre. Early manufacturers have come and gone, including CCM and Indian. But for more than a decade — 1973 to 1983 — the most prolific and arguably the most successful was Can-Am.
In 1975 Can-Am turned out 2,500 dual-purpose TNT250s. That same year, Calgary automotive dealer Glen Barreth bought one of them from Renfrew Sports.
Barreth's motorcycling career began in the fall of 1970 when a friend sold him an $800 Triumph Bonneville. Purchased in Waterton, the inexperienced 24-year old rode the bike home to Calgary, and thought he might have been in over his head. "But I loved it, and was immediately hooked," Barreth said.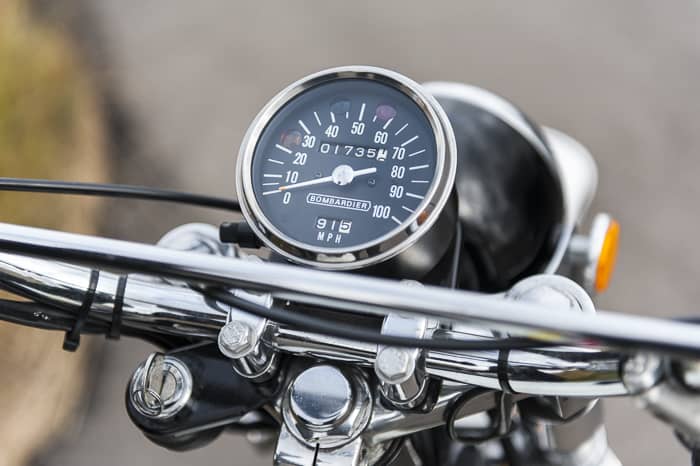 Then, in 1972, a friend bought a new Honda CB750. "I thought I needed more power, and traded the '69 Bonneville for a Triumph Trident. I rode it for about a year and a half. It was probably the worst motorcycle I've owned." Barreth felt an allegiance to Triumph, but was so annoyed he traded it on a 1974 Kawasaki 900.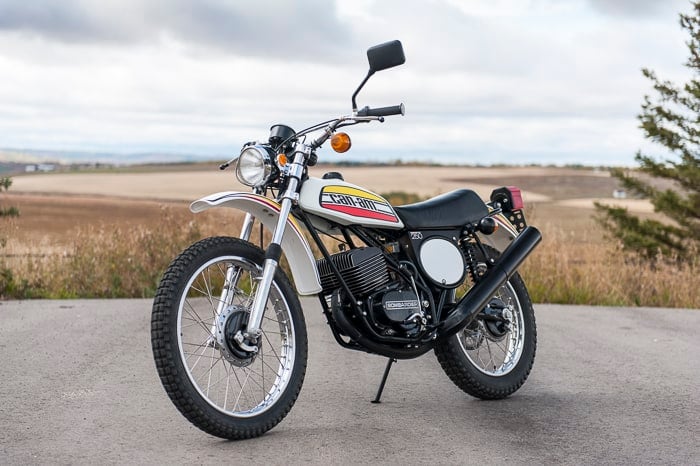 After a 10-day road trip where it rained for nine, Barreth and his friends returned and sold their bikes. "Everybody was so disgusted. Our friendship barely survived the experience. We had no rain suits and were wearing plastic bags – it was miserable."
Not ready to quit riding, Barreth bought the TNT250 with its distinctive low-level exhaust and left side kickstart and sidestand. He could ride to McLean Creek, a popular off-road area just west of Calgary, get dirty, and head home. Can-Am products appealed to Barreth because they were Canadian-made by Bombardier in Valcourt, Quebec. Plus, he believed the two-stroke Rotax-engined bikes made better power than their Japanese rivals.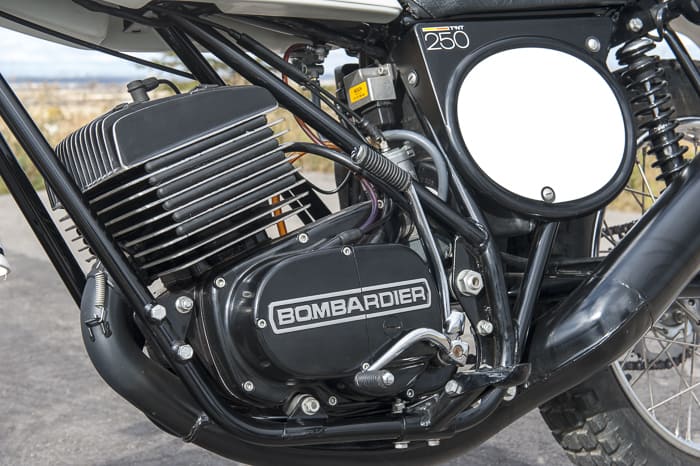 In 1970 Bombardier was busy building recreational products – notably Ski-Doo — when they diversified into competition motorcycles. To lead the project Bombardier hired U.S. engineer Gary Robison and he surrounded himself with talented off-road enthusiasts, including British motocross champion and ISDT gold medalist Jeff Smith. In 1973 Can-Am launched the off-road only MX and street-legal TNT, with 125cc and 175cc versions of each; 250cc models followed one year later.
Bombardier subsidiary Rotax supplied the rotary valve two-stroke engines, and Can-Ams proved winners. The 175MX carried Canadian team members to gold, silver and bronze medals at the 1973 International Six Days Trial. Can-Am was likewise successful in motocross, clinching first through third places in the 1974 250cc National Motocross Series.
Can-Am products appealed to Barreth because they were Canadian-made by Bombardier in Valcourt, Quebec. Plus, he believed the two-stroke Rotax-engined bikes made better power than their Japanese rivals.
Those achievements popularized Can-Am, and helped Barreth make his purchase decision. After four years of ownership, however, the TNT250 was sold when the family moved to Edmonton. Returning to Calgary in 1983, Barreth joined Woodridge Ford. Two years later, he was walking through the back shop and saw a 1975 TNT250 leaning against a wall. It belonged to Woodridge's truck manager, and was for sale. Stung by the bittersweet ache of nostalgia, Barreth bought the bike for $500.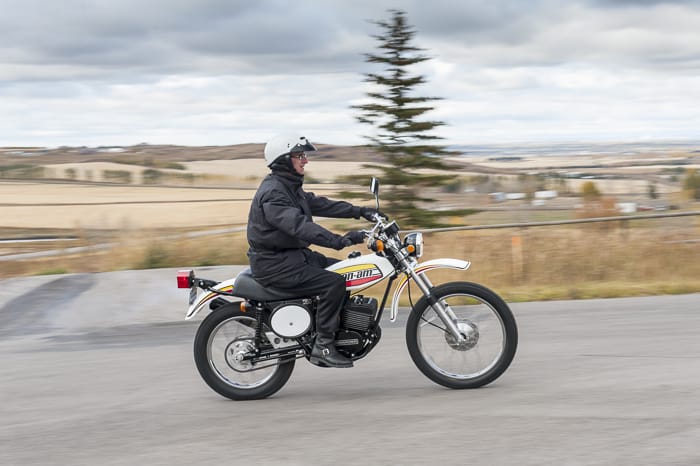 "It had about 500 or 600 miles on it," Barreth said. "There wasn't a mark on it, but over time the plastics on these old things start to deteriorate. I rode it a bit, putting about 1,000 miles on it. Since 2004 though it spent most of its life under a blanket in the garage.
"In 2011, I decided you can't turn back the clock on too many things that you've owned, and this Can-Am was the closest thing I had to something original from my past."
Enter Calgary's Old Motorcycle Shop. Known for their work repairing and restoring motorcycles of a certain age, and notably Can-Ams, Barreth delivered his there. The TNT250 was completely disassembled by mechanics Fred Brooks (no longer with OMS) and Andrew Horning. The engine, which didn't require any machine work, was cleaned and treated to new rings, crank seals and gaskets. The frame was stripped and powder coated black at Top Gun Coatings, fork lowers polished in-house and new seals installed.
Wheels came apart, with hubs and rims polished before being put together with original spokes and new bearings. Many of the rubber bits are original, as are the lights and the seat. "The bike never had any real damage or rust issues, I just wanted it freshened up," Barreth said.
Proving most difficult to restore was the gas tank. Although it was sealed inside and out, after the vinyl decals (reproduced by Evan Berger at Sign Graphics in Calgary) were installed they soon began to blister. Barreth had it restored again, and it's kept on a shelf. Currently, he runs a plastic aftermarket Clarke Racing tank.
"It's got a buzz at about 50 mp/h, but it snaps me back 40 years every time I ride it," Barreth said. "It's a great A&W bike night rider, and it's like a little time machine."
1975 Can-Am TNT 250 Gallery: