They say men respond to visual stimuli, but the late owner of this 1975 MV Agusta was aroused by the aural.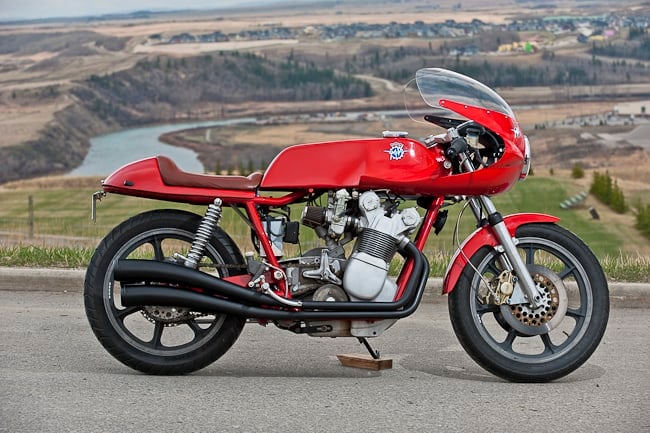 Willie deWit's late father, Len, loved motorcycle races, and in mid-1950s Holland he regularly visited the track. But it wasn't the sights he remembered; it was the sounds of open megaphoned Gileras and MV Agustas running with their throttles pinned.
Motorcycles were left behind when he moved to Canada in 1958, but he later picked up a BMW R60, and then a BMW R90S. Neither of them, though, rekindled memories of throaty Italian race machines.
"He always used to talk about the Italian motorcycles," Willie deWit says, "and he finally found an MV Agusta in Ontario, from Keith Harte Racing." It was a 1975 MV Agusta 750S America, which deWit Sr. had shipped to the family home in Grande Prairie, Alberta.
"I was 16 or 17 at the time," deWit recalls. "And, he loved to hear me wind it up. There was a nice open road with no traffic, and he'd wait beside the road as I'd ride by with the throttle open."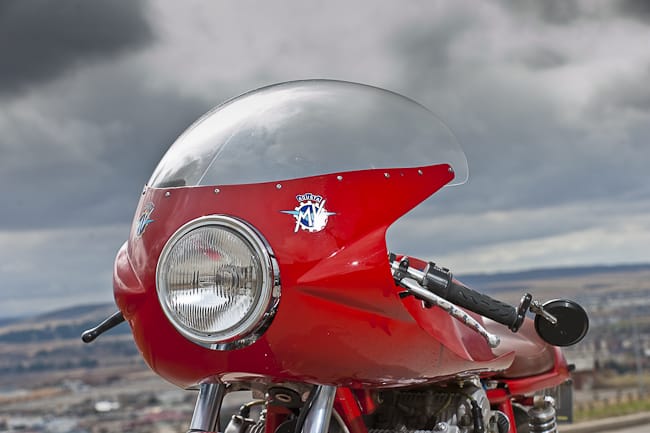 DeWit, famous for his professional boxing career, last rode the MV in the early 1980s. Then, in 1987, his father and younger brother, Theo, died in a plane crash. His mother gave him the MV, and he rode it a couple of times as he pursued a law degree. After he moved to Calgary in the early 1990s and began practicing the MV sat neglected in his garage.
Then, his son-in-law rekindled the flame and deWit bought a new Yamaha Stratoliner, which he rode to Sturgis. He knew, however, the MV belonged on the road, and in 2010 he was asking around for an Italian motorcycle mechanic. That's when he met former road racer and Ducati tuner Ken Austin, who was working out of his Calgary garage.
"Willie thought it would need a big tune up," Austin says, "but as I got looking into it, the deeper I went, the worse it got – it needed a complete restoration before it would ever run again."
Austin started on the 790cc engine, taking everything apart and cleaning the sandcast cases by soda blasting the alloy.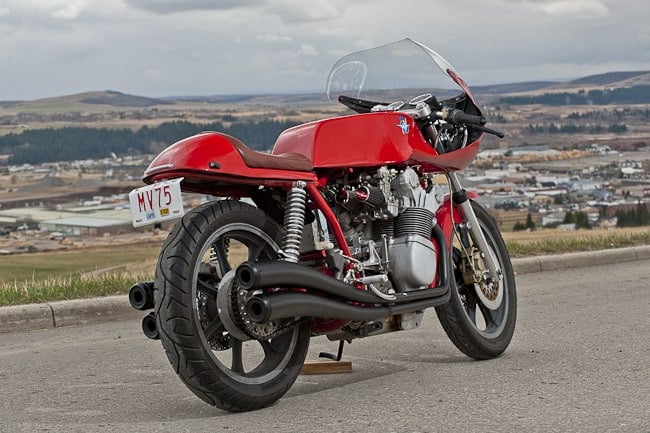 It took Austin plenty of labour, and he did more than restore the MV. He built an understated Italian custom, using rare hand-built pieces from father and son team Arturo and Giovanni Magni. As MV Agusta's race chief, Magni was the man responsible for turning the factory's four-cylinder machines into world championship winners, beginning in 1956 with rider John Surtees.
Austin started on the 790cc engine, taking everything apart and cleaning the sandcast cases by soda blasting the alloy. The cylinder bores were rusted, and the valves pounded into the seats. Custom JE Pistons designed to raise the compression ratio went into fresh bores, and refaced valves settled into reground seats with stiffer springs. Austin performed all of the necessary machining using borrowed equipment. Crank and rods were checked for wear, but required no further attention.
"It's a complex motor, with no timing marks on the cam wheels or anything," Austin says. "You bolt up your degree wheel, and set it up that way. It was fun, that's my kind of job.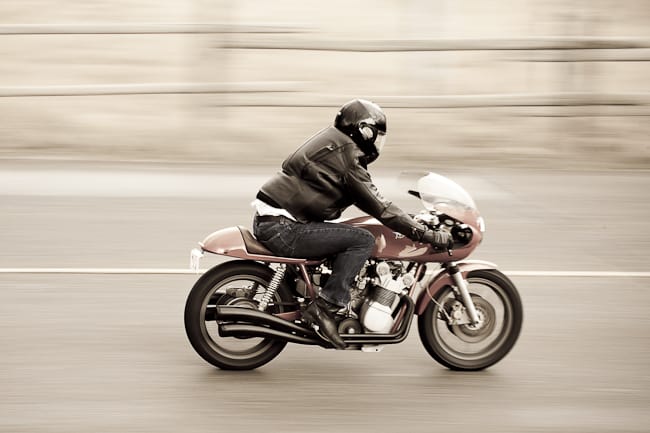 Originally shaft final drive, Austin and deWit chose to install Magni's chain drive conversion. Derek Pauletto of Calgary's Trillion Industries fit and TIG welded the tubing that came as part of the package. Pauletto also stretched the stock steel gas tank 3", modified the rear seat hoop and massaged the Magni fairing fittings. He helped again later when Austin couldn't get the transmission to shift smoothly, as the selector forks and the grooves in the cogs were worn. Pauletto added metal to the forks, and hand ground them to fit.
"It's a complex motor, with no timing marks on the cam wheels or anything"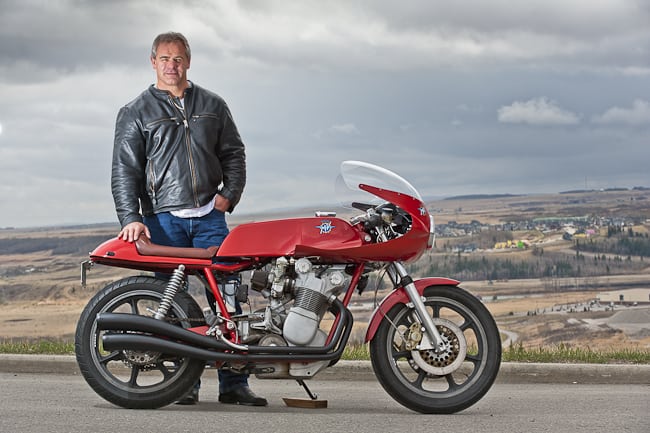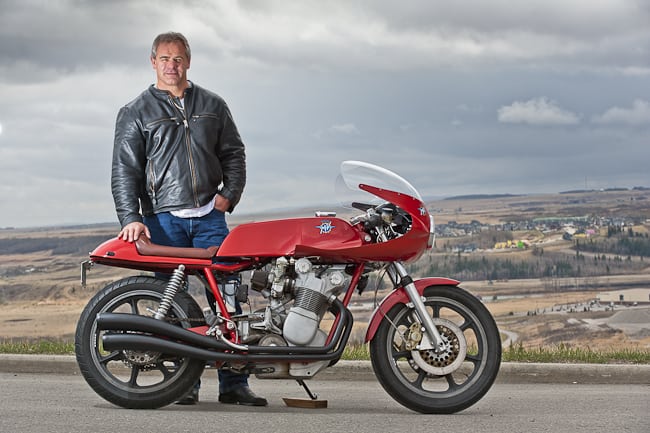 Austin ordered a rear seat cowl from Airtech Streamlining in California and DeGreeve Auto Upholstery in Calgary stitched a brown seat cover. Wheels are Morris Mags with Brembo calipers up front and a Scarab at the rear. Rear set foot controls are Magni, as are the four-into-four pipes and mufflers. "Those bolted right on without needing any modifications," Austin says. Front and rear suspension is stock, but the swingarm is Magni. Originally silver, the frame was painted by local sprayer Doug Veness a red matched to the Magni swingarm, and the colour was carried over to the body panels.
For some reason, DeWit didn't let Austin know he was building the MV Agusta in homage to his father, and that proved beneficial, Austin says. "Finding out later was better than earlier; that would have put an edge on it for me," he says of the process.
Since the build, some 1,000 miles have been added, and deWit says, "It'll pull 7,000 rpm, and it sounds like something else when it does." That would be the sound deWit's father, Len, loved to hear.