Laying low, this Supercharged 1996 BMW M3 Cabriolet by Tunerworks stays out of the limelight
There are those who bask in the limelight, the bright stars that quickly fizzle out. Then there's the Unsung Hero who lays low and values patience and persistence over popularity and pizzazz. For the latter, such is the case with Will King and his 1996 supercharged M3 Cabriolet—an unassuming daily driver with 480hp at a modest 7.5psi of boost on pump gas to knock you on your ass.
Few years back, Will roamed the streets of his hometown of Calgary, Alberta, Canada, in a 1994 twin turbo Toyota Supra—a head turning, brawny beast, to say the least. After a hot bath and a few lonely walks to contemplate, he realized it was time for something with a little more stealth appeal. "I've always had a passion for BMW," Will admits, "when the chance to buy this E36 came up, I was sold. Unlike my last car, I really like the strong, clean lines; the fact that it seats four comfortably; and just the overall power potential." Indeed.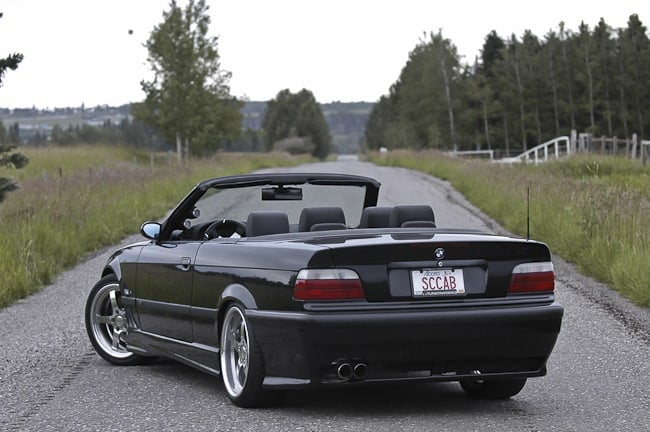 Powered by a 1999 3.2L M3 motor
At first glance, the car looks like a 1996 328ic, that's because it is. The mayhem under the hood, however, is another story. When the novelty of a convertible wore off after a day, Will combed his hair, threw on his cap, and got down to business, calling upon friends at Tunerworks, one of Canada's leading authorities on German performance. They installed a Vortech supercharger with ERT bracket and custom piping to beef up the stock 2.8L 190 hp motor. "Without a doubt, there was an increase in power, but it just didn't feel right," states Will. The remedy? A 1999 3.2L M3 motor, of course. Tunerworks performed the transplant along with an OBD1 spec conversion including ERT OBD1 software to keep things in check.
The merits of supercharging are obvious to many. But could a Cabriolet handle it? Why not you ask, but this is what Shelton Kwan with Beyond.ca, the tuning guru of the project, wanted to address. "We didn't think much of it at first," he explains, "but the further we got with the car, the more we considered possible concerns with the Cabrio's rigidity." Possessing a strong, aerodynamically sound body coupled with the work of Marc Boulanger of Alpine Autowerks, all concerns of weakness were replaced with parts to facilitate a modified motor. This began with Raceware headbolts, a PWR aluminum radiator paired with a Porsche 968 coolant tank, and a BMP head gasket that tested the patience of all.
"The block was O-ringed to improve head gasket clamping, but a trip to the Dyno explained why the head gasket failed so early." Shelton continues, "The engine went extremely lean at around 5900rpm. The air/fuel ratio was also generally running on the lean side, which led to light detonation and high exhaust gas temperatures, and ultimately, demise of the head gasket." In other words, they figured the software simply wasn't a match for the motor and replaced the part with a Cometic MLS head gasket, which to date, is doing just fine. With no diagnostics readings from the stock ECU nor conclusive timing data, Alpine Autowerks installed a Sias Tuning TEC3 standalone EFI that provides a true plug and play system for OBD1 BMWs. The force fed M3 was back on track.
More under the hood
To date, other notables under the hood include a 1995 M3 intake manifold, Shrick cams, Porsche 911 turbo fuel pump, and 86.4mm Wiseco stock bore forged pistons, along with both an RMS aftercooler and 6" crank pulley. A K&N air filter and SuperSprint exhaust round off the breathing assembly. An M3 transmission, M3 limited slip differential, Spec Stage2 M3 clutch kit, alongside a UUC aluminum flywheel and short shift kit, all contribute to the incredible power gains handed down to the wheels.
Much like "the weird, quiet guy" who shows up to the high school dance and busts moves like it's nobody's business, Will felt it was fitting to throw his pride and joy into the limelight, but only for one day. Coming off the heals of the successful Bimmerfest show in Santa Clara, California, the event was held outside the US for the very first time late June of this year. Held in Calgary and hosted by Tunerworks, Will's Cab not only busted moves, he put the crowd to shame and took home the Ultimate Bimmer award. "I enjoy the cars shows, but never interested in participating," Will admits. Clearly, participation pays dividends, especially when you have the skills to back it up.
Dyno Testing: 370-hp
Building on all the momentum, the engine was dressed with a few more goods before it hit the Dyno early the following morning. The result: 370whp at only 7.5psi of boost. Shelton states, "the fuel maps were worked over slightly, and timing was set more aggressive without detonation, thanks to the cooler charged air. We did notice an increase in blowby, which means we're really pushing the limits of the stock pistons and rings." Pistons strengthened and jargon aside, this was good and it's about to get better. Another visit to the Dyno few weeks later rendered 415whp at the same 7.5psi of boost, working out to a ridiculous 480hp at the flywheel. "To the best of my knowledge, this is now the most powerful supercharged S52 M3 motor, and it's running a lot less boost then the runner up at 404whp at 11psi of boost," said in unison by all those involved in the project. "And remember, this is all on pump gas, and the car is daily driven," adds Will, rubbing salt in the wounds of all soccer moms across Canada.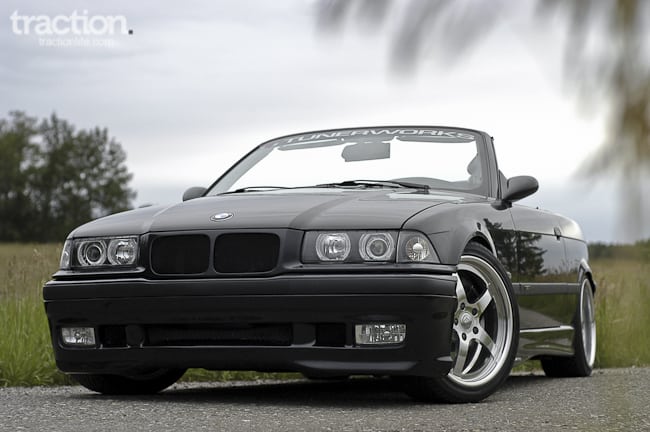 Suspension and Footwork
Soccer moms don't generally roll on iForged 2-piece 18" wheels neither, 18×8 up front with 18×9 in the rear. Eibach springs and Koni shocks share close quarters with UUC 13" 4 piston big brakes, slotted Brembo rear rotors, and stainless steel brake lines. Readdressing the rigidity issues, it was vital to invest in proper suspension, "The Racing Dynamic sway bars and the carbon fibre front strut bar Marc installed have performed excellent," says Will. Arguably, instilling some much needed confidence behind the wheel to back up the power.
M3 Styling Upgrades
Sure, the humble don't usually dress to impress, but this 328ic is certainly an exception. And for a guy who seemingly wears nothing but black 365 days a year, it comes as no surprise that Will's car is, well, black. There's just something in this E36's stature that sets it apart. At first glance, it simply looks like another nice car—VIS carbon fibre hood, custom front kidney grills, M3 side molding, Racing Dynamic custom molded front bumper cover, and so on. But at second glance, it seems to draw you in. It's the mystery of modesty, the strong silent type appeal, which locks you in and keeps you gawking when you know there's more to it but can't tell for sure. Rest assure, there is certainly more to it. A set of FK angel eye headlights, FK crystal fog lights, and a Phillips HID kit add to the hypnotic flair, while Reiger side skirts, a Reiger rear bumper, and a pair of ACS Type carbon fibre mirrors contribute to the long, sleek body lines.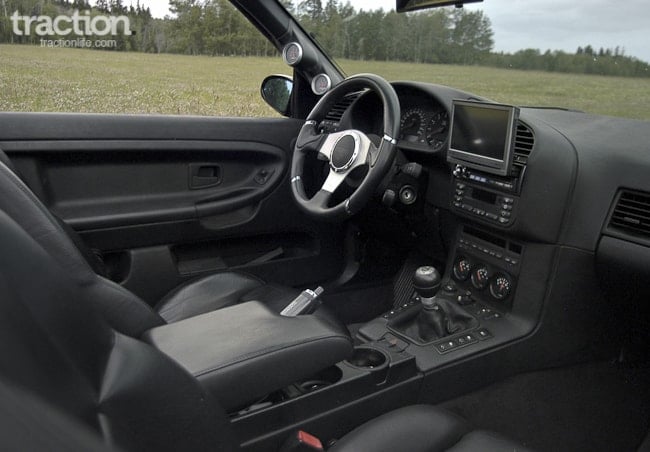 "I originally bought the car because it was well-rounded, so the modifications had to be well-rounded also, this meant the engine as well as everything else." Will says. Seldom is a performance based car equipped with a robust interior, including in-car-entertainment. Again, this M3 conversion is an exception, and an anomaly at that. "My car weights nearly 3700lbs, I still pinch myself when I see the numbers it's putting out," he exclaims. Numbers clearly displayed on his gauge cluster by Autometer, including boost, EGT, and POD gauges. For those who really enjoy numbers, another group of 1 Vision gauges are present, including oil pressure, oil temperature, and voltmeter. The M3 theme is reintroduced inside with doorsills and cluster down to UUC floor mats. Momo has a stronghold in the interior, as it often does, with a Millenium steering wheel, shift knob, E-brake handle, and pedals.
Sound System
Oh yes, there's more. Displaying complete disregard to weight, Richard Simmons would have a fit if he saw Will shove as many goodies into his ride as possible, including the ICE. An Alpine widescreen DVD/MP3 receiver, Eclipse 8052 component set, and Eclipse DVC subwoofer within a custom sub encloser, all powered by an MTX Thunder 5 channel amplifier. Undisciplined indulgence or protein diet, as long as Will works off this Cab at the Dyno and continues to produce the remarkable numbers, flamboyant weight watchers need not apply.
Takeaway
So, what makes this supercharged S52 M3 the Unsung Hero, you may still be asking? When a guy avoids the shows and neglects editors' requests for a feature in lieu of building the ultimate E36 Cabriolet with the only mandate being "to be featured in PBMW one day," the answer is obvious. Everyone gets their fifteen minutes of fame, but in Will's case of patience and persistence, his 1996 supercharged M3 Cab has finally arrived.
Technical Spec Sheet:
Engine:
1999 M3 motor with OBD1 conversion; 1995 M3 intake manifold; Shtick Cams; Wiseco stock bore forged pistions (86.4mm); Cometic MLS head gasket; Raceware head bolts; Vortech supercharger with ERT bracket and custom piping; RMS 6" crank pulley; RMS aftercooler; SuperSprint Exhaust; K&N air filter; PWR aluminum radiator; Porsche 928 coolant tank; Porsche 911 turbo fuel pump; Spal Pull electric fan; Sias Tuning plug and play TEC3 standalone EFI; M3 transmission.
Chassis:
iForged 2-piece 18" wheels (18×8 front, 18×9 rear); UUC flywheel; Spec Stage2 M3 clutch; M3 limited slip differential; Eibach pro kit springs; Koni Yellow shocks; Racing Dynamic sway bars; UUC short shift kit; UUC 13" 4 piston big brakes; Brembo slotted rear rotors; Carbon fiber front strut bar; Stainless steel brake lines.
Exterior:
Racing Dynamic custom molded front bumper cover; VIS carbon fibre hood; Reiger side skirts; Reiger rear bumper; ACS Type carbon fibre mirrors; M3 side molding; Euro clear lights; Custom front kidney grills; Phillips HID kit; FK headlight/Angel eyes; FK crystal fog lights.
Interior:
Momo Millenium steering wheel; Momo shift knob; Momo E-brake handle; Momo pedals; UUC floor mats; M3 cluster; M3 door sills; Autometer gauges (boost, EGI, POD); 1 Vision gauges (oil pressure, oil temperature, voltmeter).
ICE:
Alpine IVA-D300 7" widescreen DVD/MP3 receiver; Eclipse 8052 component set; Eclipse 87101 DVC subwoofer; custom sub enclosure; MTX Thunder 5 amplifier.
Supercharged 1996 BMW M3 Cabriolet Gallery: