This badass 2001 Honda S2000 is the result of countless hours and sleepless nights for tuner Nic Chow of Calgary, Alberta.
We all work hard in some capacity. How hard we work, however, is really up for interpretation—training for a marathon, taking an extra job to make ends meet, or sweating it out in the final level of Call of Duty 4. But we can all agree that a serious tuning project is no easy task, inevitably requiring a good dose of sweat equity. From the planning stage, to setting budgets, to all the labor and everything in between, it's clear: you better expect some serious hurt and hustle.
You'll Also Like: No Agendas: A Track Ready 2000 Honda S2000
Nic Chow, from Calgary, Canada, is one of these guys who claim to go over and above on his projects. Sure, who doesn't? But a quick look at this featured silver 2001 S2000, his claims of countless hours and sleepless nights are obvious. This goes for his last two projects as well: a stunning 1992 Prelude turbo, and a white JDM Integra Type-R.
The Project: Getting Started
Though having a good group of friends to help with labor, and establishing some decent hookups working at one of the top shops in the region, SpeedTech Racing Development, may have eased the pain. It is Nic's persistence to build only the best car he possibly can, without any compromise if he can help it, that declares all this extra effort—working another shift to pay for the better seats, or hanging back on the weekend if this means a few extra bucks for those perfect wheels. It's this tenacity and hustle that allows Nic to raise the bar with each project he reveals, keeping the masses in suspense for 'the next one.'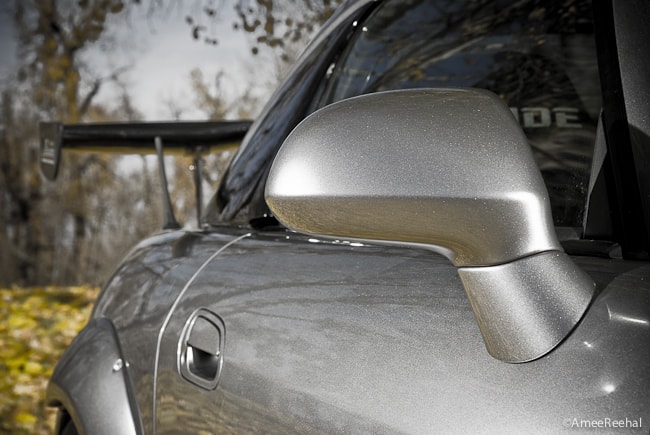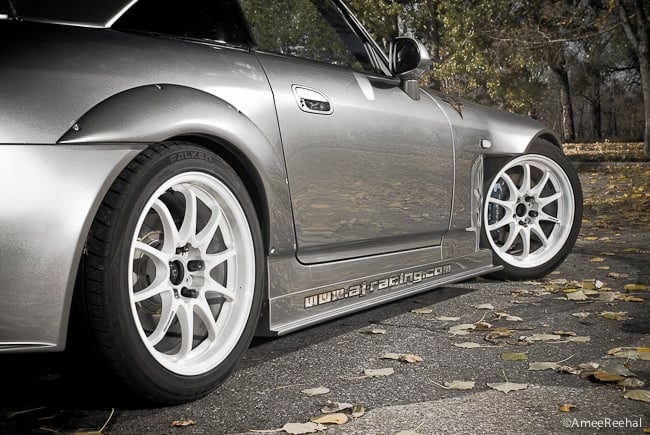 Good-bye Prelude. Hello S2000
After selling his '92 Prelude, Nic was after a newer Honda model with healthy aftermarket support. He explains, "But the thing was, I would have to gather enough funds to purchase the car and modify it to how I wanted it to be. On a very tight budget, I purchased my S2000 for a good deal from a friend which really helped." The focus was to build a great track car doubling as a daily driven demo vehicle for Nic's own enjoyment.
The build: Performance
Working closely with Ben Leung from AJ Racing in Vancouver, British Columbia, this AP1 was headed for JDM bliss, including an engine bay crammed with J's Racing and T1R goods. Using reputable brands, coupled with Ben's help, everything fit perfectly without any real challenges. "The F20c responds great even to minor modification" Nic explains, "I looked to J's Racing again using the titanium 60RS exhaust system matched with T1R test pipe. The back pressure was relieved but adding a T1R header, J's Racing intake and throttle body, I noticed a better mid to high-end power band. A much better throttle response as well." To better handle the new power adders, an Exedy clutch was installed with a Rick's rear gear set for a preferred gear ratio.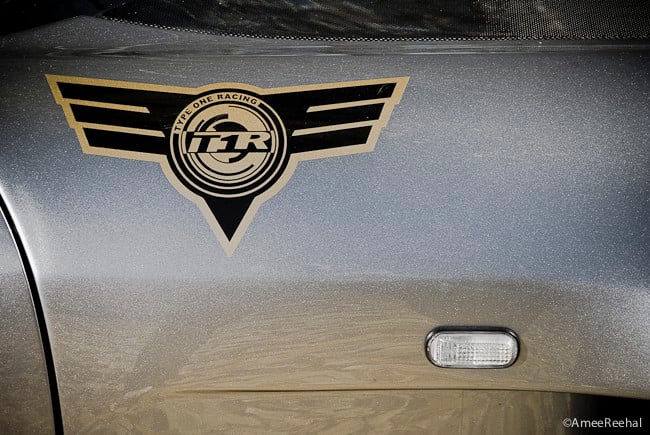 Footwork and Suspension
Suspension and overall handling, Nic feels, is the most critical part in building his vehicles. This explains why he went through three sets of wheels before settling on a size and model he liked: Volk Racing CE28N wrapped in Falken FK-452 245/45/17. In addition, having just ordered the new J's Racing wide fenders, he needed to run a wider wheel/tire with a lower offset for more traction, thus, settling with Volk Racing.
"I opted to go with a non-stagger because this offered a more balanced setup with the S2000, opposed to the conventional stagger setup" Nic continues, "Along with that, the Seidoya brake pads matched to Spoon calipers and J's Racing brakes lines and rotors offered a great braking setup, which was very important to me." T1R comprised the vital suspension components including a front cross strut tower bar, drive shaft spacers, and both front and rear anti bumpsteer kits. He states, "The anti bumpsteer allowed me to be more comfortable with the car, not having it pull and jerk along uneven surfaces when riding at such low ride height." A few other parts include a Spoon front x-brace, Spoon rear lower arm bar, and J's Racing slotted rotors.
Styling
The aforementioned J's Racing fenders not only accommodate the wider wheel setup, but serve an aerodynamic function as well. In fact, Nic chose the J's Racing Type-S Aero System because he learned it provides optimal aerodynamics having been tested on the company's JGTC vehicle. "If their demo vehicle uses this aero for JGTC, it would work great for my track use and look great for daily driving too" he says. The Mugen hardtop also offers sleeker airflow opposed to the OEM soft top, while the J's Racing GT wing provides greater downforce while minimizing unwanted oversteer.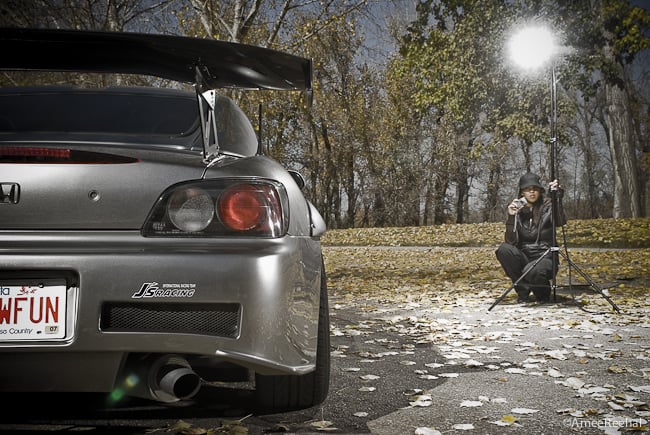 Undoubtedly, with all these styling parts combined, Nic can feel the difference in drivability. But more so, he believes he can now truly appreciate and understand why manufacturers make these parts and the impact they really make. Other exterior fittings include '00 spec JDM OEM headlamps and J's Racing Type-S carbon canards up front; JDM OEM sidemarkers on the sides; and a J's Racing Type-V carbon fiber hood up top.
The interior
The interior is kept simple while retaining the racing theme. The Bride seats are chosen for more aggressive track use, coupled with an aesthetic appeal for the streets. These include both a Bride Gias that uses the Low Max system, and the popular Bride Ergo 2. A Bride RO seatbase, MO seatbase, and seat slider round things out. The cockpit also sees a T1R Bmax titanium shift knob, a JDM AP1 cluster, and a Zoom carbon Kevlar rear view mirror.
In-car-electronic are also kept simple with just the essentials. Including MB Quart components, a Compustar alarm, Sirius satellite radio paired to a Pioneer/Premier head unit, and a T1R LED interior lamp.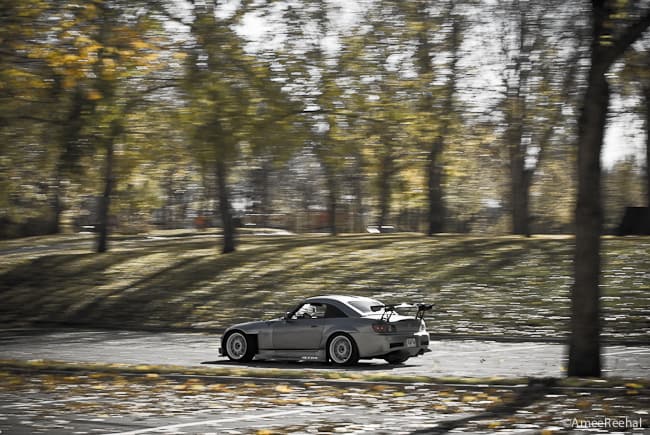 Takeaway
There you have it, the tale of a young man who has worked his nuts off, building an exception S2K. In turn, providing you, the reader, with inspiration to go out and work just as hard. Whether this entails getting off your ass and mowing the lawn, cutting your hair and getting a real job, or investing that extra effort into your car that yearns and deserves so much more. The lesson is simple: hard work will always pay off. You just can't stop the hustle.
2001 Honda S2000 Tech Specs:
Engine:
Honda F20C Inline-4
Engine Modifications:
J's Racing Tsuchinoko Intake, J's Racing SPL Throttle Body, J's Racing 60rs Titanium Exhaust, J's Racing SPL Valve Cover, J's Racing Oil Cap, J's Racing Differential Plug, T1R Voltage Stabilizer, T1R Test Pipe, T1R Ignition Bridge, T1R Power Header, Tabata TR236 Dual Core Radiator, Tabata Thermo Switch, Tabata 1.3 Rad Cap, Spoon SEP Radiator Hose, Spoon Thermostat, Spoon Magnetic Drain Bolts, NGK Power Spark Plugs, All Motul Fluids
Drivetrain:
Exedy Organic Clutch kit, T1R Drive Shaft Spacers
Suspension:
T1R B-52 Coilovers, T1R Front Anti-Bumpsteer Kit, T1R Rear Anti-Bumpsteer Kit, T1R Front Tower Bar, J's Racing Rear Tower Bar, Spoon X Brace
Wheels, Tires, Brakes:
Volk Racing CE28N 17x9J +35 F/R, Falken FK-452 245/40/17, Spoon Mono Block Calipers, J's Racing Brake hose, Seidoya Race Brake Pads
Exterior:
J's Racing Type S Aero Kit(Complete). J's Racing Type S Carbon Canards, Type V Carbon Fiber Hood, J's Racing Carbon Fiber 3d Gt Wing, J's Racing Front Wide Fenders,ASM Rear Over Fenders, Mugen FRP Hard Top, JDM Headlamps
Interior:
Bride Gias Driver Seat, Bride Egro 2 Passenger Seat, T1R Bmax Titanium Shift Knob, T1R LED Interior Lamp, JDM Guage Cluster
Thanks To:
My Sponsors Ben@A&J Racing, T1R, J's Racing, Will @ Speedtech, Amee Reehal, and all my close friends who helped with this project.