The 2010 Porsche 911 Turbo: the Ultimate New Dad Diaper Chariot
Juggling a 500-hp coupe – one of the world's fastest production cars – the same week as the (unexpectedly early) birth of my first kid, proved to be not so daunting after all. Not that I really expected it to be, frankly, considering there were no car seats involved. Nor am I drawing parallels between the miracle of life and a raging, 2-door diabolical German freak of nature. I'm just saying, becoming a dad and ripping around in a 2010 Porsche 911 Turbo the same week is pretty f**king badass. Buying diapers has never been so fun.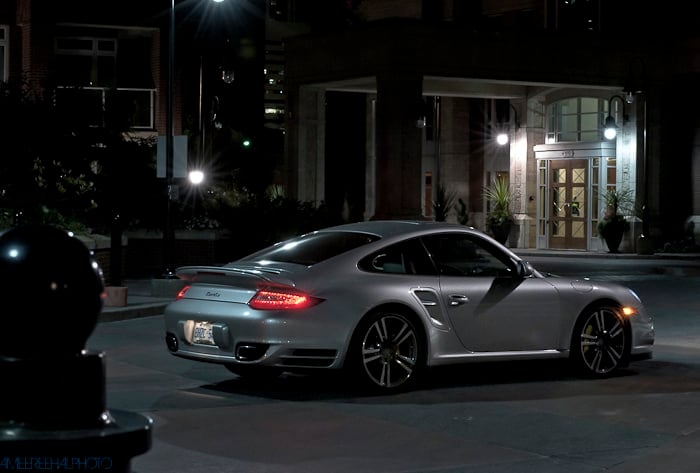 Ah, the 911 Turbo. Where does one even begin with such a timeless, near flawless piece of debauchery? Let's start with performance, where 500-hp and 480 lb-ft of torque will slap you silly via a 3.8-litre twin-supercharged flat-six topping out at 312 kph track speed. The Sport Chrono Package with dynamic engine mount system includes a bundle of goodies like Launch Control, propelling this beast 0-100 km in just 3.4-seconds compared to 3.7-seconds otherwise. A 6-speed manual tranny is standard, but opt for the optional $6200 PDK 7-speed, as in this tester, and you'll experience the smoothest, most effortless, and unobtrusive power flow gear shifts imaginable using either the wheel mounted paddle shifters (extra $670 for the gearshift paddles, as in tester) or PDK Gear Selector (additional $1470 upgrade, also in tester) allowing super-quick, short-throw gear shifts up/down with the gear lever minus a foot clutch pedal.
I think it's important to note that, when combined with the PDK system, the 3-spoke steering wheel comes with gearshift switches standard on all 911 Turbo models. Whereas the gearshift paddles are the option. In the past, I've always opted for the gear selector as nearly all press cars came equipped the these shifter switches I wasn't fond of–basically, buttons nestled within the wheel; press with thumb to shift up, pull with index finger to shift down. Just didn't feel right. Alas, proper motorsport-style paddles on this 911 and life is good.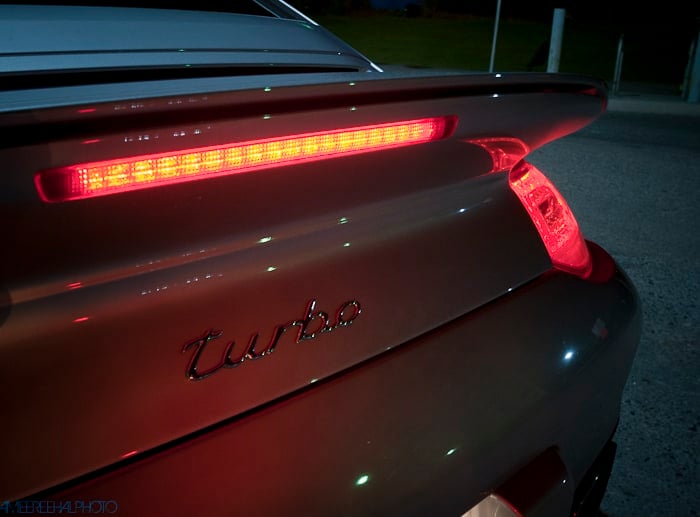 How does the 911 Turbo handle? Close your eyes and imagine this thing with a $12,050 ceramic composite brake upgrade with 380mm ceramic discs up front and 350mm in rear, and you'll find the answer (then open your eyes and realize I just said "$12,050 brake upgrade" and that this wasn't really make-believe time). Combined with an AWD system with map controlled PTM, rolling on 235/35ZR19 fronts and 305/30ZR19 rears, this 911 doesn't discriminate against the windy twisty roadways. It treats all pavement equally at nearly all speeds, no mater what size or shape. And of course there's a slew of other traction control attributes found inside, including the Porsche Stability Management (PSM) and Porsche Active Suspension Management (PASM).
The interior of the 911 Turbo encompasses all that is stylish, ergonomic, comfortable, and sporty. Straightforward and sexy, no gimmicks found here. Full leather interior is standard; $590 extra for the Special Leather Cocoa, as seen here. Also standard, power tilt/sliding sunroof; Bi-Xenon headlamps with leveling and cleaning system; Porsche Communication System (PCS) with Navigation and touchscreen (yep, standard); MP3 equipped, CD player with Bose system; Full climate control; amoung others. Options found in this 911's cabin include Adaptive Sport Seats at $1560, providing enhanced support features over the standard Comfort Seats; $950 for Bluetooth phone interface (awesome); $600 for Universal audio interface (expensive, not awesome, should be standard); and colour matched floor mats for $210.
The sort of paradox, and pure brilliance, on the part of Porsche is their ability and desire to produce high-powered super sports cars while striving to improve efficiencies. If churning out 500-hp production cars wasn't enough, these tenacious Germans find ways to do so in the most streamlined, productive ways possible. Brilliant. And frankly, when one is willing to pay a starting price of $165,300 Cdn MSRP for this 2010 911 Turbo, its precisely these efficiencies in engineering one is paying for. Not necessarily the obvious or the tangibles found within the cabin, for instance, but imperceptible stuff like the 911's 500-hp engine made of alloy, reducing weight, thus fuel consumption.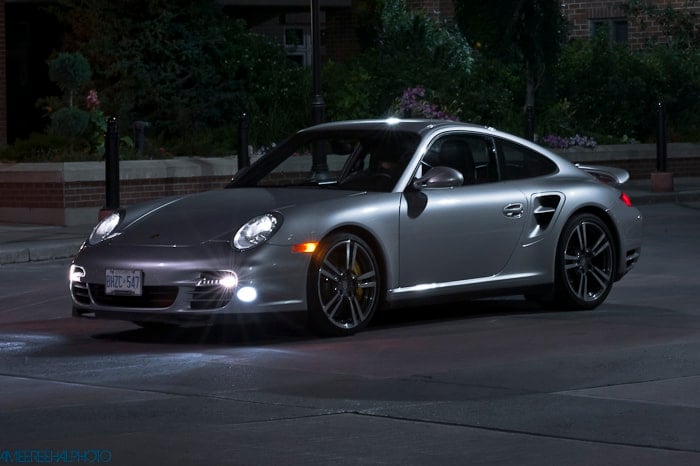 Many stepped inside this 2010 911 Turbo (or any high performance coupe, for that matter) with a final price of $191,400 CAD with all options before taxes/fees, and hastily asked "how much is this?" followed by "wow, is it worth it?" Absolutely. It's one of those things; Porsche-loyalists aside, you've just got to experience it to really understand the value; to feel the engineering as you push the throttle; when you dive into tight turns at not-so-slow speeds; when you push that magical 'Sport Plus' button that actually, honestly does do something. Realizing value need not always equate to cosmetics or the obvious, but to dig deep and recognize that nearly 200K is in fact a reasonable price point for one of the most prolific sports coupes around. Personally, I'd take a 911 Turbo over a flashy Lambo Gallardo anyday.
…on that note, time for another diaper run.