We review the 2011 Ford F350 Super Duty with the 6.7L V8 Diesel Engine
Ford recently has a knack of being an industry-first, or a best-in-class. Whether they develop ways to increase performance while improving efficiencies, or creating entirely new segments, the automaker continues to the pave the way. And lately, it seems that nearly everything Ford is releasing involve new and innovative technologies and design (recently receiving high marks in a customer satisfaction index of U.S. vehicle buyers founded by the Ross School of Business at the University of Michigan, is saying something!).
Also see: Ford Reviews
Add to this list of growing vehicles, the all-new 2011 Ford F-350 Super Duty Diesel, powered by an all-new 6.7-litre Power Stroke V8 turbocharged diesel engine producing 390-hp and a best-in-class 735 lb-ft of torque. All this of course, while increasing fuel economy. Nearly everything in the Super Duty lineup ups the ante within the heavy-duty truck segment. But perhaps nothing more significant than the Ford-engineered, tested, and manufactured Power Stroke diesel powerplant. (If you're a fan of the gas-powered offering, Ford's all-new 6.2-litre V8 gas engine delivers 385-hp and 405 lb-ft of torque. That's right, with better fuel economy; 15% better, to be exact.)
As stated by Derrick Kuzak, group VP of Global Product Development: "This all-new diesel engine has been so extensively tested both in the lab and in the real world that we're confident we're giving our customers the most reliable and productive powertrain available today. Our Super Duty customers demand reliability and durability in their trucks so they can deliver the best results for their business and their customers. That's exactly what this engine delivers."
2011 F350 Engine
Some of the benefits this new 6.7-litre V8 diesel offers includes a North American first use of a compacted graphite iron engine block to meet the demands of higher torque and horsepower while reducing weight and increasing the engine block's strength. Overall exhaust volume is also reduced with better throttle response via a unique inboard exhaust/outboard intake system. The new smaller, single turbocharger replaces the larger twin-turbocharger without compromising performance. The entire design of this new engine results in a smarter, more feasible layout allowing service people to access components much quicker, hence, reducing downtime in the shop and ultimately making happier customers.
Conventional towing is rated at 16,000-lbs, and 5th wheel towing at 24,400-lbs, with payload capability at 6521-lbs. The Super Duty's Trailer Sway Control is standard, a system that detects trailer sway and quickly responds by intuitive braking, retaining control of both the truck and trailer. The factory-installed 5th wheel/gooseneck trailer tow prep package offers the strength of an under-the-bed crossmember while maintaining a flat cargo bed floor.
Lariat Interior
While the all-new powerplant offers the reliability and strength expected from uncompromising customers, the interior needs to be just as efficient. Inside this Lariat version of my F-350 tester, the cabin is unquestionably roomy, but goes even further with redesigned seats with 'active comfort' contours. Smart storage solutions provide 68-litres of lockable space throughout, including new lockable under-seat storage with removable partition and a 12-volt. Also, the most power access available in the class with up to six locations. This truck came with the $350 optional Rapid-Heat Supplemental cab heater that raises the cabin temperature—a small investment with huge impact on those cold days. The centre console is absolutely enormous, but with good reason, providing 70 configuration options to suit your needs.
Having tested many Ford products, their entire media/audio/Nav setup including Sync, is absolutely awesome, and this F-350 is no exception. You may be thinking, 'big-truck, big-power, typically-bland-truck interior.' Not even close with the Super Duty. At the heart of it all is an available internet-capable in-dash computer with Garmin nav system, hands-free calling, and touch screen with wireless keyboard—essentially, providing workers with a cutting-edge mobile office. The in-dash info screen located between two gauges is brilliant, with a futuristic looking interface (yet not cheesy) that is both smart and easy to use.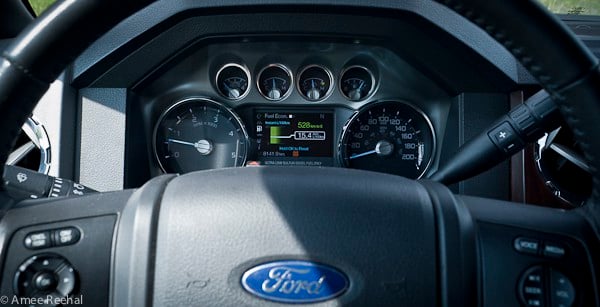 This 2011 F-350 crew cab starts at $57,899 CAD MSRP. With all options and before taxes/charges, the price for this F-350 comes to $75,409; the most notable upgrade being the $9,950 6.7-litre V8 diesel powerplant. Other options on this particular tester include a Fx4 off-road package ($450); premium cast aluminum 20-inch wheels ($1390), and the navigation system with satellite radio jack ($3020), to name a few.
Overall, the all-new Ford F-350 6.7-litre V8 Diesel Super Duty is remarkable. Certainly, beyond my scope of what a 'working man's' truck is and should be. But realizing the capabilities of this Super Duty, the level of reliability and performance, not to mention living in truck-country Alberta with many truck-owner friends with all their towing/payload needs, I can appreciate all the Super Duty has to offer.
Learn more – Ford F-350 Super Duty