The 2011 Kia Sportage SX Turbo was the right family weekend getaway vehicle to escape busy Calgary Stampede for a quick trip to Fairmont, B.C.
When the Calgary Stampede rolls into town, tourists flood the streets, and everything from the bank to the butcher becomes a 'saloon' or 'corral' for nine days, adorned with western frill and hay barrels (allergies, anyone?), it's time to take off for awhile. So, when our friends invited us to their pad in Fairmont, British Columbia for a weekend, we were all over it—our first family road trip (slash golfing excursion) in the 2011 Kia Sportage SX Turbo: a 2.0L AWD compact CUV starting at $36,995 CAD MSRP.
Also see: All-New 2018 Kia Rio 5-Door and Sedan Debut: More Style, Space, and Tech
Don't get me wrong, The Greatest Outdoor Show On Earth is a majestic splendor of agriculture lifestyle fused with fifteen-dollar Mini Donuts and toothless carnies. But after 35 years, the nostalgic twang can get to you. Plus, if you're lame like me and avoid the party vibe (i.e. arbitrary beer tents and obnoxious drunk asses), or self-employed, missing out on infamous corporate hoedowns (9 day siesta of free pancakes and adultery…it's like a weeklong western Christmas party without the eggnog) you'd see where I'm coming from.
All cynicism aside, enjoying the Stampede with our son, for his first time, brought a smile to my face, bringing back memories of when my folks first took me. What was evidently becoming stale is now new again. And that's always a good thing.
Under the hood
So, for our three-hour journey through The Rockies en route to Fairmont, nestled in the heart of the Columbia Valley and renowned for it's warmer weather and breath-taking scenery (and, of course, awesome golfing), we chose the award-winning KIA Sportage, available in either a 2.4L, 176HP trim (FWD or AWD) starting at $29,395 CAD MSRP, or the SX Turbo (as tested) with the AWD 2.0L, 260HP V6, coming in at $38,745 CAD MSRP (including charges/fees before tax).
Standard features
If you're able to get past the fact that this is a KIA (and by now you certainly should), at this price point the Sportage SX Turbo is a bargain with essentially no need for options…they're all thrown in. Standards in the SX Turbo include 18" alloy wheels; Navigation with rear view cam (yes, standard); a panoramic sunroof; leather seats and trim; Bluetooth handsfree connection; front heated seats; dual zone climate control; and Smart key/Push buttons start, too name a few. An impressive list of inclusions seldom offered by manufacturers.
Driving Impressions
On the highway, the Kia Sportage SX Turbo drives super smooth and handles sharp corners with ease (the traction control system is also standard). The 2.0L V6 offers all necessary power alongside 4-cyclinder fuel efficiency. While a turbo may not seem ideal for family highway driving, it proved invaluable with sporty acceleration and low-end torque when quickly merging back onto the open road, while the ECO Minder indicates when optimum fuel efficiency is reached when coasting at higher speeds (a little indicator on the gauge). The SX Turbo makes 269 lb-ft of torque at 1850-3000 rpm.
Exterior Styling
Exterior styling is sharp: wide, aggressive stance with sleek lines and dual muffler—Kia certainly paid attention to the details here. The 18" rims make a bold statement: sporty yet tasteful. Overall, stylish, sporty, and not bubbly like several compact CUVs on the market.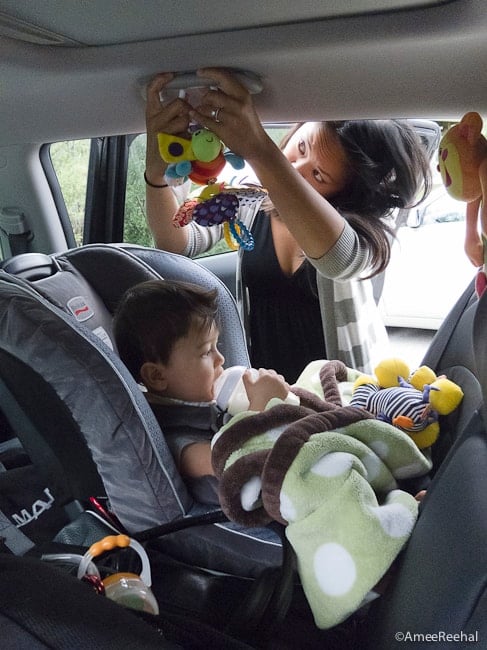 Cabin impressions
Inside, the cabin feels compact yet comfortable with adequate legroom for rear passengers. Toggling between my iPod with the iPod connectivity and SAT radio (also both standard) solved any music contention; a 7-speaker system with sub-woofer and steering wheel audio controls are standard in the SX Turbo. The entire instrument panel is super clean and easy to manage, finding the climate control cluster below with the main nav/audio screen nestled above. An uncomplicated, well though out interface makes it easy to get acquainted to—this can't be said for all vehicles. Only gripe: the USB/iPod port should be in the armrest storage or glove compartment opposed to centre console where the device and cable flop around in the open, seeing as iPod/MP3 integrates with the vehicles audio controls anyway (an issue I have with many vehicles).
Sportage Cargo
Cargo volume in the 2011 Kia Sportage has increased over last year's model. The respectable 740L of rear luggage area (1547L when second row folded down) provided enough space for our gear, including baby stroller (one of the most compact on the market, mind you), a small cooler, bunch of bags, etc. Remember, the Kia Sportage is a compact CUV, decent for a small family of three; for something a larger with more cargo space, consider the full size Kia Sorento.
Below, rear cargo and two golf bags with single seat folded down: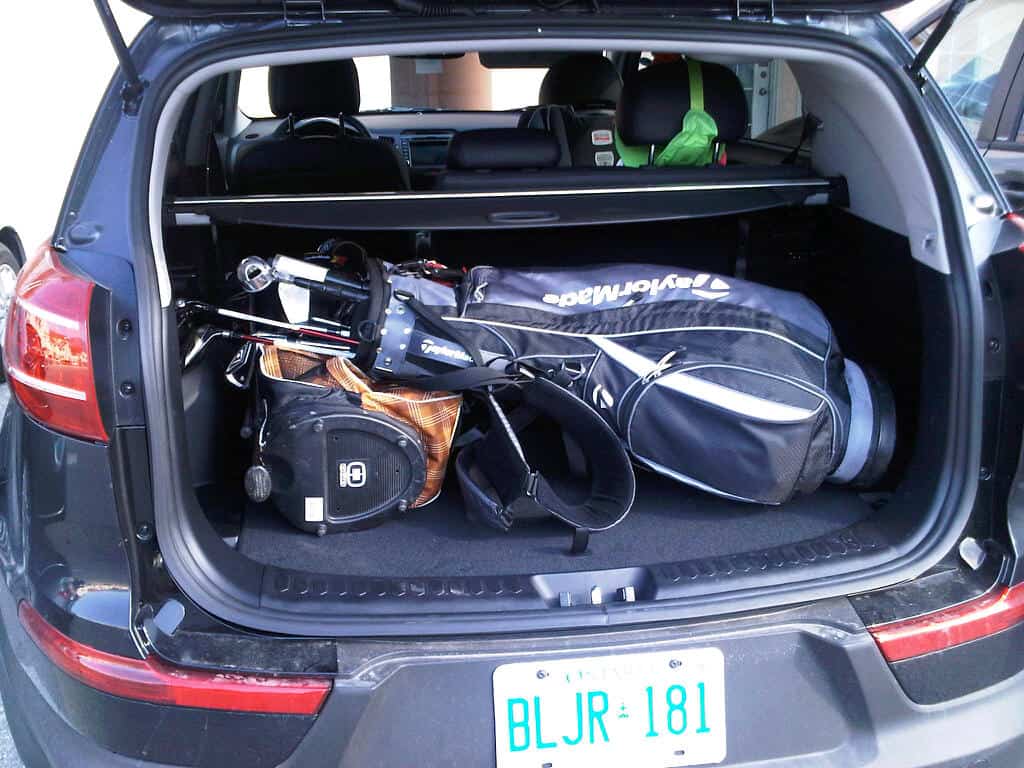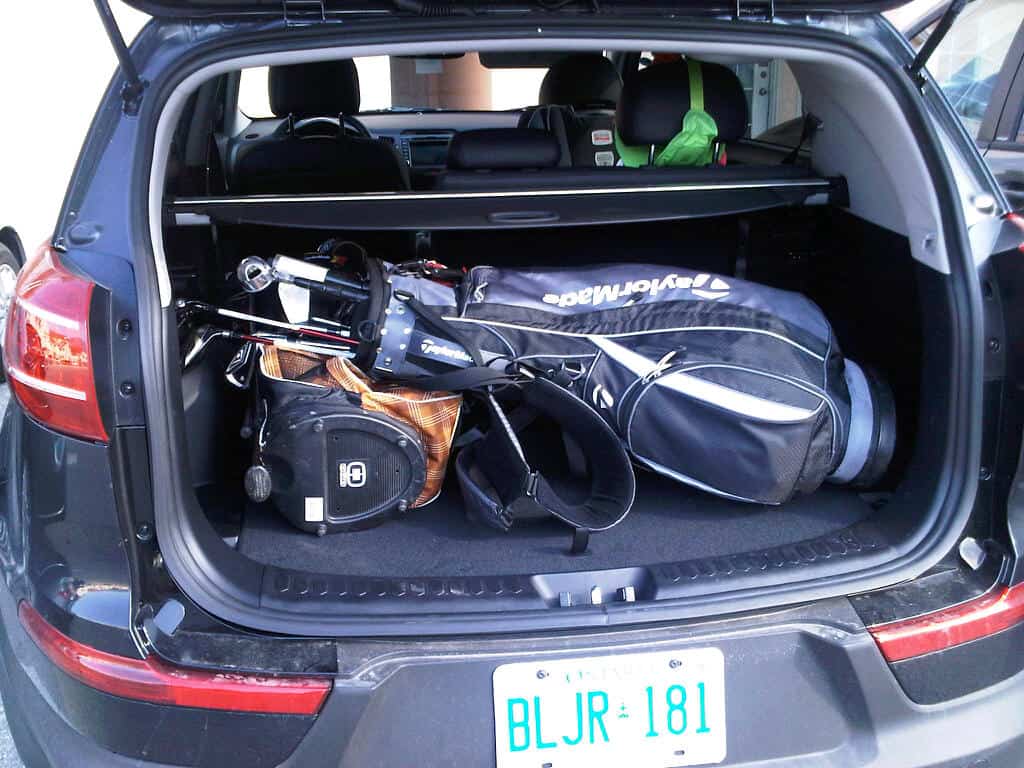 The 2011 Sportage SX Turbo finds several standard features, including dual advanced front airbags; front seat mounted impact airbags; curtain airbags with rollover sensor; active headrests, ABS, TCS, ESC, and EBD, plus high-tensile steel panels.
Takeaway
As a proud Calgarian, I'll endure The Stampede (always do). And, now with a little one, might even look forward to it. But if the opportunity to leave presents itself, and the Kia Sportage SX Turbo is available…and there's golfing, we're out of here. Yahoo!
Below, 18th hole at the Fairmont Resort Golf Course…yours truly making a very rare par, caught on film (kind of).
Learn more – Kia Sportage