Nissan unleashes a more potent Z-car offering for 2011 with the limited edition 370Z NISMO
Nissan is one of the few automotive companies that understands that enthusiast drivers prefer their sporty cars to be built on a rear-wheel drive platform, so the venerable 370Z has proven popular with back road explorers, track day hot-shoes, and drift king wannabes.
Also see: 2013 Nissan 370Z Review: Refreshed and Ready to Roar
For 2011 Nissan has decided to bring a more potent offering to the table in the form of a limited edition 370Z called the NISMO. NISMO is the name of the Japanese company's in-house motorsports and performance division and is recognized as one of the most successful and formidable tuning arms in the automotive world. Our American neighbours have been blessed with NISMO machines for a couple of years, but this will be its first availability for Canadian buyers not interested in importing one from the U.S.A Unfortunately Nissan Canada only plans to make 50 examples available for this model year.
Performance
This car benefits from Nissan's long competition history as all of the NISMO-tuned components have been designed and tested to deliver optimal levels of performance as well as reliability and durability.
The car's suspension features increased spring, dampening and stabilizer rates which give the NISMO the handling prowess usually reserved for big money racing machines. Add to this a NISMO reinforced 3-point front strut tower brace which combats twist and G-forces so effectively that the NISMO's steering is as precise and razor-sharp as that of any car I have ever tested. Special body dampers and bracing elements reduce vibration and help preserve ride comfort and steering control. The 370Z NISMO feels like it is planted to the road like a big slot car, which helps inspire confidence in its driver.
Acceleration is very quick! An experienced pilot should have no problem executing hard launches in this car in under five seconds. The car is only available fitted with a six-speed manual transmission, but oh what a transmission it is! This close-ratio transmission features the ability to rev-match (SynchroRev Match) as you move down through the gears, ensuring that there will be instantaneous power delivery when you transition to the throttle. The response is lightning-quick and allows you to put all 350 ponies to work in short order, while a limited slip differential helps ensure that useful torque is always on hand.
The car features a high-flow rear exhaust system has been designed with an H-pipe configuration to reduce back pressure (up to 30%) and it emits a throaty sound when at speed, but not the snarky bark that tends to annoy neighbours.
Styling
The NISMO is a full six inches longer than a garden variety 370Z, but the cars share the same height and width. Most of the extra length is derived from the car's extensive aerodynamic modifications which include a unique front fascia with splitter spoiler, aerodynamic side sills, negative-lift rear diffuser and a very stout rear spoiler. Unlike the bolt-on aero bits fitted to most of the so-called "tuner" cars the body and chassis of the NISMO represent a carefully engineered sculpture designed to cheat the wind and keep this car planted to the tarmac.
All 370Z models feature an aluminum hood, doors and hatch, but as the NISMO edition has been designed to deliver the model's optimum driving experience the engineering team worked hard to reduce the car's weight.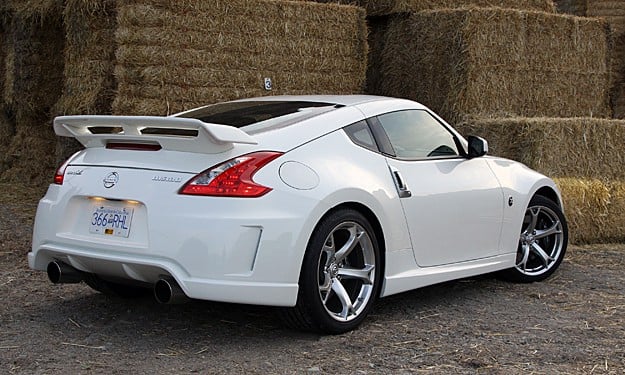 The car rides on ultra-lightweight forged alloy wheels engineered by RAYS, a Japanese company regarded as one of the premier manufacturers of high end wheels in the world. The NISMO's units are a five-spoke design with a 19-inch diameter and a wide 9.5-inch footprint up front, and a 10.5-inch patch in the rear.
Interior
Instrumentation is grouped together in a compact three-gauge cluster arrangement. The large, NISMO-spec tachometer is centre stage, and features a silver face and a lofty 7,500 rpm redline. An upshift indicator light suggests when the driver should execute gear shifts to maximize performance and efficiency. The large speedometer employs a traditional white on black colour scheme to ensure optimal visibility, but at night, a bold orange glow is used to bring the gauges to life when you hit the push button starter. All controls are driver oriented and within easy reach.
The centre stack on my test car looked uncluttered, but features a rather large storage compartment where you would usually expect a display screen or ventilation outlets. This odd placement elicited a strong negative reaction from everyone who noticed it during my time with the car, but I must admit, did prove useful for storage of items like cell phones and wallets. The simple switchgear for both the Bose audio and HVAC systems is well placed, intuitive to use, and exceptionally well-integrated with the overall cockpit design. A trio of secondary gauges sits atop the dash, angled in a manner to allow the driver to steal a glance without straying too far away from the task at hand.
Equipment
To keep the car's weight down the sport bucket seats are wrapped with cloth rather than leather, but the material proved very grippy and the seats provided me with excellent support when I was exploring the car's handling limits. The seats in my car were an attractive gray colour with red stitching and featured NISMO logos embroidered on the upper seat back. Both seats are manually adjustable and devoid of heating elements in an effort to further reduce weight. The steering wheel is wrapped in smooth leather and is thick-rimmed like that in a race car.
This isn't a luxury cruiser, so many of the niceties found in similarly priced automobiles are absent, including Bluetooth and Home-Link systems. There is no sunroof, navigation or rear cargo cover. Audiophiles will balk at the basic 4-speaker AM/FM/CD audio system but at least it features an auxiliary audio input jack for your MP3 player and secondary steering wheel controls.
A nice touch is the addition of a small plaque (inscribed with a serial number and model year) which is affixed to the rear bulkhead to signify that the car is an authentic NISMO offering.
Conclusions
My test car had under 1,000 kilometres on the clock upon delivery, so the clutch was very stiff and the shifter needed to find its flow, but I managed to spend some serious seat time in the NISMO and enjoyed every minute of it. The NISMO is fast, sounds cool, and proved easy to drive.
While the ride is track-weapon stiff, I didn't find it harsh enough to make extended trips unpleasant. That being said, if speed-bumps and rail crossings are in abundance on your commute to work you may want to find an alternate route or even buy an off-the-shelf 370Z. I have no doubts that enthusiast buyers will love this car, especially if they cross shop it against other performance steeds and realize that the NISMO is an absolute bargain.
Learn more – Nissan 370Z
PROS:

Driving a limited edition model elevates your cool factor
Aggressive styling cues are fully functional
his car delivers the optimal driving experience

CONS:

It's sold out!
Front spoiler will no-doubt suffer curb rash
Car thieves will be circling this baby whenever you park it
2011 Nissan 370Z NISMO Technical Specifications:
Base price (MSRP): $46,898 CAD
As tested price: $48,778 (Includes $300 for 3-coat pearl paint and $1,580 freight and PDE)
Type: 2 passenger coupe or roadster
Layout: Longitudinally mid-mounted front engine/rear-wheel drive
Engine: VQ37VHR – 3.7-liter DOHC 24-valve V6 aluminum-alloy engine
Horsepower: 350 hp @ 7,400 rpm
Torque (lb.-ft.): 276 lb-ft @ 5,200 rpm
Transmission: 6-speed close-ratio manual transmission with SynchroRev Match
Brakes: Nissan sport brakes – 4-piston opposed aluminum calipers with 14.0″ x 1.30″ vented front discs
2-piston opposed aluminum calipers with 13.8″ x 0.80″ vented rear discs
Weight: 1,497kg (3,300lb.)
Fuel economy (L/100km): City- 11.6 (24 mpg); Hwy- 7.7 (37 mpg)