Cruising topless has never been so classy. We review the 2012 BMW 650i Cabriolet
There are few things as pleasant as motoring around in a luxury convertible on a warm evening. And when the car is as a refined and sporting as the BMW 650i Cabriolet, you truly feel like all is right with the world.
First impressions
The BMW 650i Cabriolet has been thoroughly re-designed for 2012. It is however, immediately recognizable as a BMW product due to the inclusion of several of the brand's more iconic styling features such as the requisite twin-kidney grille and halo-ringed headlamps. This latest generation of the brand's status car is longer, wider and lower than the outgoing 6-Series model. I suspect that most will admit it is visually more appealing than the rather ungainly Bangle design it replaces.
The Top
The top is of a canvas cloth construction which keeps the weight down and makes way for increased cargo room in the trunk, and I found it insulated enough to keep both wind and road noise from intruding on passenger enjoyment. Its operation is a simple one button affair, but it did seem to take a little longer than most. BMW literature claims it will retract in a mere 19 seconds, but mine never came close to that number. The up process on the other hand, was completed in the advertised 24 seconds. When deployed the complete top is hidden away under a hard panel which acts as a tonneau cover, giving the car a really slick, finished appearance.
Unfortunately, the same cannot be said of the top when it is in place, as the rear section seems overly complicated by long buttresses of cloth that reach far beyond the rear window area. From the side they resemble wide roof pillars and look appropriate, but when approaching from the rear they look clumsy and awkward. In a perfect world the 650i would be reserved for cruising on sunny days, so you could leave it safely tucked away in your garage minus the top.
…the rear section seems overly complicated by long buttresses of cloth that reach far beyond the rear window area.
One feature I did like very much was the ability to retract the glass rear window. This allowed me to create a breezy cabin without retracting the roof, and the cabin was free of the odd wind buffeting that often occurs when you drop the side windows at speed. As much as I enjoy spending time behind the wheel of an open-topped automobile, prolonged exposure to the sun can really put a damper on your enjoyment.
Under the hood

Under the extra-long hood resides one of the sweetest powertrains on the road today- that being BMW's exceptional, twin-turbocharged, 4.4-litre V8 engine mated to a cutting-edge, eight-speed manu-matic transmission. If you are one who likes to row his own gears, BMW does offer this car fitted with a six-speed manual gearbox.
This ultra-smooth V8 produces a very healthy 400-horsepower and 450 lb.-ft. of torque. Acceleration is strong and linear, especially when the driver elects to shift the gears manually using the paddle shifters, and sprints from 0-100 km/h occur in less than five seconds. The twin-turbochargers spool almost immediately and help produce a torque band broad enough to ensure that power is always on tap should you find the need to execute a passing maneuver, or just exercise a few speed demons. The exhaust rumble is meaty enough to captivate the enthusiast buyer (especially when the top is down), but civil enough to preserve the serenity sought by those looking for luxury.
Behind the wheel
The driving experience will elicit smiles all-round as the driver is able to tweak the car's handling and power delivery to suit his or her intentions as well as the road ahead using BMW's twin marvels of engineering – Adaptive Drive and Dynamic Drive. There are four dynamic pre-sets (Comfort, Normal, Sport and Sport+) which seamlessly transform the car's handling and performance parameters at the touch of a button. While obviously not a sports car, the 650i will surprise as it uses its long wheelbase, dynamic suspension and extra weight to help it stick to the road in corners and track with a level of precision usually reserved for much smaller automobiles. Steering feel is communicative, but I did feel like the electronic assist was a little over-bearing at times.
This ultra-smooth V8 produces a very healthy 400-horsepower and 450 lb.-ft. of torque. Acceleration is strong and linear…
The big disc brakes felt solid and allow the driver to rein in this sexy speedster with very little drama, and in short order. They are backed up by a host of electronic aids designed to maximize and maintain brake effectiveness, and during my travels they remained strong and fade-free despite being faced with some of B.C.'s most challenging roads.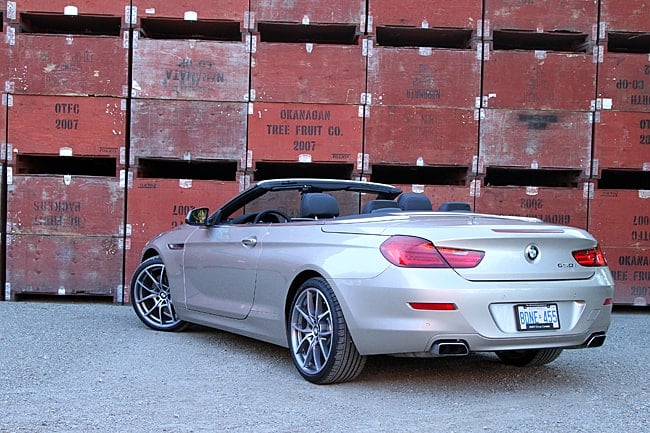 With the top retracted I expected the car's cabin to be a turbulent affair when traveling at speed, but to my surprise, it remained quite calm, even at triple digit speeds. I found that I was able to maintain a conversation with my front seat passenger with ease, and I could even communicate effectively with my tightly-packed rear seat passenger if I put the windows up.
When traveling on less than perfect road surfaces or crossing railroad tracks many convertibles reveal themselves to be mechanical maracas, but the 650i Cabriolet's structure is very solid. I am pleased to report that I failed to detect any significant rattles or evidence of cowl shake during my time with the car.
Interior impressions
The 650i's passenger compartment is wrapped in premium leather hides, and fit-and-finish is impeccable throughout the tidy cabin. BMW's design team sought to increase the level of luxury for this car with the redesign, and it is immediately apparent that they succeeded in this department. The front seat occupants enjoy a cockpit environment that includes supportive bucket seats and deep foot-wells, and all instrumentation and controls are oriented towards the driver. I found more than enough head room for my 6'2" frame up front, but the rear seating area is a different story. The rear seating area is sadly, best reserved for luggage, as there is little room for even a small adult's legs and feet, and access is difficult when the roof is in place. It would also be a good place to stow your golf bag, at least when the top is down. Golfers will be pleased to hear that the trunk will swallow two sets of golf clubs without much wrestling.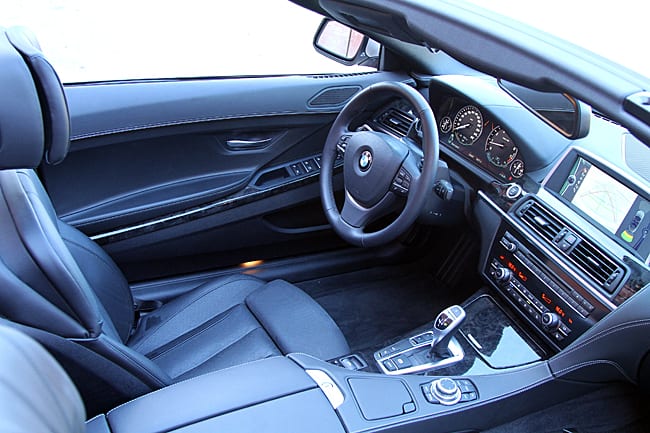 BMW's iDrive system utilizes a large, 10.2-inch display screen to help you navigate through the car's various systems, as well as display navigational data, various camera views, and of course, play videos. This screen has been designed so that its face is still readable even when bathed in direct sunlight. Unfortunately the same cannot be said of the gauges housed in the instrument cluster, which became totally useless when harsh sunlight washed over their reflective surface. Luckily there is back-up in the form of a heads-up display system which includes speed readings as part of its driver selectable information stream.
The rear seating area is sadly, best reserved for luggage, as there is little room for even a small adult's legs and feet, and access is difficult when the roof is in place.
Technology
Passenger safety is first and foremost when it comes to designing the modern automobile. My test car came equipped with a long list of safety marvels including lane-departure warning, parking assist, and BMW's incredible Night Vision with pedestrian recognition.
While not an overly large vehicle, I was happy to see that the 650i Cabriolet came fitted with BMW's full arsenal of cameras. There is a pair of small cameras situated discretely on the front fenders that transmit a view of oncoming traffic to the dash-mounted screen so that the driver can safely enter the roadway from hidden driveways or alley ways. This keeps the car's long hood from intruding on the flow of traffic. At the other end of the vehicle a rear view camera is cleverly concealed behind the trunk-lid's roundel. It proved invaluable when backing- up with the roof in place, as rearward visibility is relatively poor. There is also a surround-view system which provides an overhead view of the vehicle's surroundings which makes parking in tight spaces a far less stressful exercise.
The BMW 650i Cabriolet is a grand touring convertible best suited for the affluent couple looking for loads of comfort, the latest high-technology, and a stylish design that is destined to become a classic. An all-wheel-drive variant fitted with BMW's proven xDrive system is also available for an additional cost ($3,100) which will allow for four-season operation.
PROS:

BMW's twin-turbocharged, 4.4-litre V8 engine and eight-speed transmission are among the best in the business
Retractable rear window
The perfect match of sport and luxury

CONS:

No hard top
Limited legroom in rear seating area
Visibility isn't great with top up
Technical Specifications: 2012 BMW 650i Cabriolet
Base Price (MSRP): $106,800
Price as tested: $129,300 (Includes Executive Package -$6,900; Technology Package -$4,900; Dynamic Handling Package -$3,900; Premium Seating Package -$4,500; BMW Apps -$300; 20-inch wheels- $2,000)
Type: 4-passenger, 2door convertible
Layout: Front-engine, rear-wheel-drive
Engine: Twin-turbocharged, 4.4-litre, DOHC, V8 engine
Horsepower: 400 @ 5500 – 6400 rpm
Torque (lb-ft): 450 @ 1750 – 4500 rpm
Transmission: 8-speed Tiptronic auto-manual or 6-speed manual
Brakes: Disc/disc
Cargo capacity: 300L (10.6 cu. Ft) / 348L (12.3 cu. ft. – top up)
Acceleration (0-100 km/h): 5.0 s
Fuel economy [L/100 km]: Automatic- City 13.4 L (21 mpg); Hwy 8.2 L (34.4 mpg)