An Underrated Sedan, Keeps Getting Better – We review the 2012 Buick Regal eAssist
When Buick introduced the new-generation, and much sexier, Regal last year, the sport sedan world certainly took note. Moving forward, the 2012 Buick Regal carries the torch, but now with a couple significant additions. Including, a new European-engineered GS model with 270-hp, and a new fuel efficient innovation called eAssist, reducing consumption by twenty-one percent without compromising performance.
Back in high school (circa early 90s), I fondly recall ripping around in the my friend's new, black Buick Regal (dad's company car, actually). I remember how anonymously bad-ass it was…and the roomy trunk space (we'd sometimes have to fit, like, nine people in there, including the boot. He was the only dude with a car back then). The Regal is just one of those cars: a totally underrated, inconspicuous sedan that flies under the radar (and, if high school kids dig it, that's saying something, I think). Yet, GM has been producing them for nearly four decades. Well, take note, the Buick Regal still has balls and continues to get better. And, now, with the Europeans chipping in (the Germans helped design the chassis and suspension), the Regal's future looks bright.
Regal trims and prices
The 2012 Buick Regal starts at $30,085 CDN MSRP heading north to $42,490 CDN MSRP for the top-of-line GS. Between these two choices, there's a plethora of other trim options at various price-points, notably, a pair of Regals in the middle of the pack sporting the new eAssist with the 115V Li-Ion battery pack, including my tester, the 2012 Buick Regal eAssist starting at $34,190. With $5700 in options, rings in at (before taxes/charges) $39,905. The second Regal eAssist model is roughly $2000 more, adding the Leather Package (plus heated front seats with power adjustments).
Options
These opitons on my Regal eAssist include the navigation system/audio package adding a 7" colour touch screen display, GPS, and an SD card reader in centre console ($995); power tilt/sliding sunroof ($1395); Bi-Xenon lights with automatic light control ($650); remote vehicle start ($275); and rear seat side impact airbags ($415).
Under the hood
Powered by the 2.4-litre ECOTEC engine, the eAssist model finds a special version of this Regal powerplant, with a new six-speed transmission, a 115-kW Li-Ion battery, and a 15-kW electric motor, to name a few. Essentially, functioning as a hybrid, toggling between the gas engine and electric motor with the regenerative braking system, all leading to increased fuel consumption. In this case, 8.3L/100km in the city and 5.4L/100km on the highway.
Curbside, the 2012 Buick Regal is blessed with gorgeous styling. Long, fluid lines run the length of the car–lines that not only look sharp but help reduce aerodynamic drag, cutting wind noise and improving fuel efficiency. Hands-down, the best-looking sedan in it's class while rivaling those twice the price.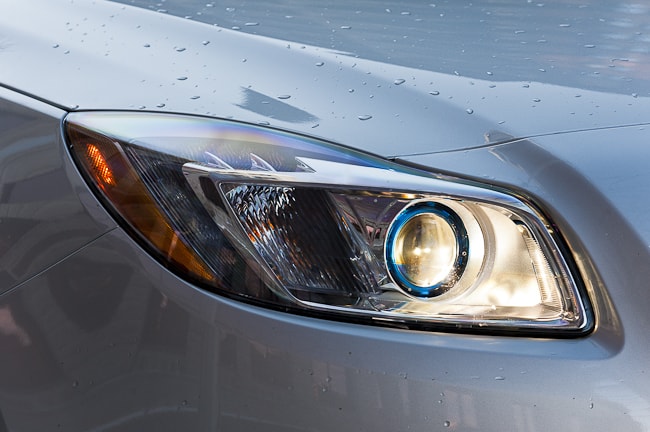 Exterior
Some standard exterior features on the 2012 Buick Regal eAssist include 17" rims wrapped in P235/50R17 all-season rubber; bright chrome window mouldings; a smoked chrome grill (nice touch, not too 'shiny'); front fog lights with halogen projector beam; solar-ray tinted glass; body-coloured door handles with chrome insert; to name a few. Overall, Buick has nailed it finding the right balance and subtly incorporating chrome into the luxury mix; keeping it elegant yet tactful.
Interior
Inside, the 2012 Buick Regal eAssist is equally as elegant. From the standard cabin air filtration system to the standard 8-way power adjustments/4-way power lumbar adjustment seats, the Regal's cabin styling is, again, sporty yet luxurious without going overboard with tawdry appointments. I.e. the ice-blue ambient lighting package (standard), sounds flashy on paper but is actually quite subtle and thoughtful.
The list of standard features in the 2012 Regal eAssist is ample, including the ambient lighting and cabin filtration system listed above, some other notables include: Push start button; remote keyless entry; leather-wrapped steering wheel with controls; heated seats; dual-zone climate control; and the Driver information centre (DIC), to name just a few.
For the extra $995, the upgraded Navigation/Audio system with the 7" touch screen is arguably a no-brainer. Nevertheless, the impressive standard setup includes a 7-speaker premium audio system; Bluetooth phone connectivity; SiriusXM radio with three months free subscription dialing into 130 channels; plus, USB iPod/MP3 input located in the console.
Takeaway
Overall, with sleek styling, an elegant interior, and now with the fuel efficient eAssist, coupled with some European-flair which the Buick brand could use, the 2012 Buick Regal has certainly arrived…in 1973, technically. But, hey.
Learn more about the Buick Regal
PROS:

New eAssist increases fuel efficiency. Always good
Gorgeous, unrivaled exterior styling
Great value

CONS:

Too many trims to choose from