"Ha! Driving like an old man this week?" my friend quipped, after I told him I was testing the 2012 Buick Verano.
Political incorrectness aside, my friend's comment points to the continued need for Buick to facelift their brand, something they've been doing over the past few years — redefining their look and feel to shake the perceived notion that all they make are boat-like vehicles for senior citizens.
It appears that no one really wants that anymore. Heck, my father, who's a few years away from banging on the retirement door, scoffs whenever he hears someone speak of Buick.
I quickly ask both my friend and father if they've seen the latest LaCrosse or Regal. They're sedans that definitely skew to an older demographic, but they showcase a level of style Buick had forgotten about for decades. They're classy and chic – you can't say no to that!
Well, it appears they can. They've seen them, but they can't shake the feeling that driving a Buick is admittance that a hearse will be the next car they're catching a ride in.
Enter the Verano.
Built on the same platform as the Chevrolet Cruze, the Verano is Buick's attempt to create an affordable vehicle that will attract a younger demographic who are looking for a luxe-like compact sedan; something that screams "Professional!" rather than "Starving student!"
And, they've done just that.
Built on the same platform as the Chevrolet Cruze, the Verano is Buick's attempt to create an affordable vehicle that will attract a younger demographic…
Price is a major story for this vehicle. It starts at $22,595 – that's Civic/Corolla/Elantra territory! But, of course, the base model doesn't have all the goodies that my $29,245 top-end tester has — heated leather bucket seats; sunroof; rear park assist; leather-wrapped heated (!) steering wheel complete with Bluetooth, audio and cruise controls; seven-inch touch-screen in the centre stack, with navigation; and a 9-speaker Bose system.
Yes, all that for under $30,000. Pretty impressive. Actually, quite impressive — to the point where it could tempt buyers away from entry-level German vehicles, or premium offerings from Japan.
And why couldn't it? Circling from the outside, the Verano is a sharp looking car. Buick's signature grille adorns the frontend, and its body is beautifully silent; not busy with flashy doodads or excessive design points. It's elegant, as well as stylish.
Its 2.4L engine pushes out a respectable 180HP. You won't be taking it for a weekend track excursion, but you'll have enough gitty up and go to pull past the majority of drivers on your everyday commute. I average 8.2 L/100km during my week with the Verano, which utilizes a six-speed automatic transmission. So-so fuel numbers, but far from horrible.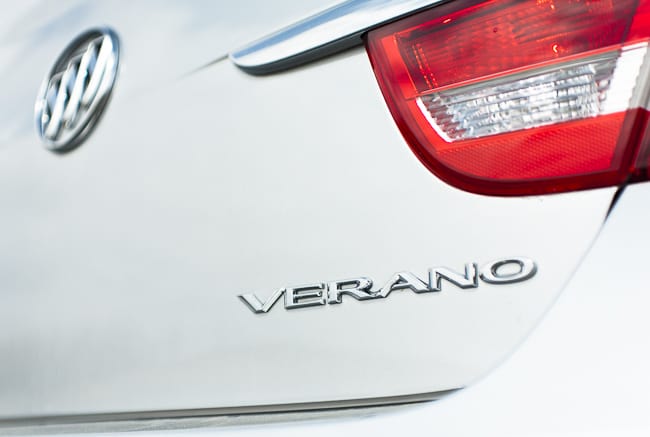 Inside, the Verano is very quiet. A bit surprising, given its size. I expected more road noise when cruising north of 100, but it was negligible. Fit and finish is superb. The dash moves into the centre console seamlessly. The leather seats aren't of the plush-sink-in-until-it-hugs-you variety, but remember we're talking about leather in a vehicle under $30,000. They're not brag-worthy, but they're quite comfortable for long commutes. There's a bit of black-button-overload going on in the middle. It's not confusing to figure out, there's just a lot – too much, I think. Simplicity in this area would have created a more serene cabin, but as it stands it's pretty darn nice.
With luxe qualities, attractive pricing and an overall comfortable ride, the Verano is a step in the right direction to change my father's perception of the brand — and steal some numbers from higher-end brands at the same time.
Learn more – Buick Verano
PROS:

Premium features without a premium price
Very quiet ride
Great fit and finish in the cabin

CONS:

Too many buttons on the console
Legroom in the back is lacking
2012 Buick Verano Gallery: