Compared to the rivals, the executive types may find a bargain in the 2012 Hyundai Genesis R-Spec
Large luxury sedans have always been regarded as a status symbol, but unfortunately, many of these premium automobiles deliver a very unsatisfying driving experience. When Hyundai introduced the Genesis sedan for the 2009 model year it represented the Korean company's first product aimed directly at the luxury car segment of the North American automotive market. While the well-equipped Genesis proved to be a pleasant car to drive, its overall handling prowess and lack of visceral grunt left many enthusiast drivers feeling cold, even when fitted with the company's award winning 4.6-litreTau V8 engine. Luckily the product planners at the Korean auto giant recognized the need to spice up the big sedan and a plan was quickly put into place. The Genesis R-Spec was born.
Also check out: Hyundai Reviews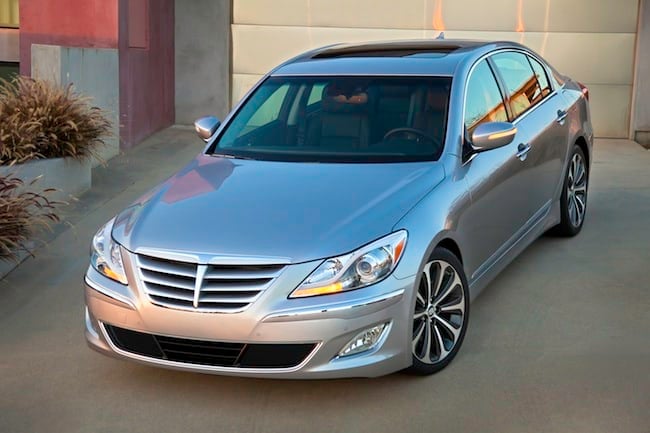 Performance and Handling
The Hyundai Genesis R-Spec is a new offering for 2012, and as the most potent Genesis model, it should appeal to those consumers looking for a luxurious sedan that is also fun to drive.
Under the hood you will find a very smooth, 32-valve, double overhead cam, 5.0-Litre V-8 engine that produces a healthy 429 horsepower and 376 pound feet of torque. This is more than enough power to hustle this relatively large car from 0 to 100 km/h in just over 5 seconds (5.3s). The Tau engine features Gasoline Direct Injection (GDI) and Dual Continuously Variable Valve Timing (D-CVVT). This engineering marvel is both powerful and fuel-efficient, and is mated to an eight-speed automatic gearbox. This ultra-smooth transmission has been designed to make the most efficient use of the cars power whether the driver is seeking to maximize fuel efficiency or induce a surge of adrenaline through his or her system. For those drivers who appreciate the ability to make their own gear selections manual operation is possible using the console shifter, but surprisingly, no steering wheel paddles are on the menu.
Under the hood you will find a very smooth, 32-valve, double overhead cam, 5.0-Litre V-8 engine that produces a healthy 429 horsepower and 376 pound feet of torque.
Acceleration is strong and linear, but some buyers might find the muted engine and exhaust note less aggressive than they desire. Under hard acceleration you notice a slight rise in the hood as the car settles back on its haunches, but the car feels very stable and planted to the road surface.
I found the car's ride to be very smooth and composed, even when traveling over rough road surfaces. The suspension was stiff enough to transmit subtle nuances to the driver through the seat and steering-wheel, and the well insulated cabin managed to keep external noises to a minimum. I had the opportunity to transport a wide array of esteemed passengers during my test period with the car, and all seemed to relish the tranquil environment as they enjoyed the leather clad opulence that is the R-Spec's cabin.
Once alone and out on the open road I got the chance to test the handling dynamics of the R-Spec on some of my favorite back roads. I was impressed with how easy it was to execute smooth, crisp turns without unsettling the car's balance. The level of agility engineered into such a large car is surprising, but the sport tuned suspension and precise steering allowed me to execute flawless cornering manoeuvres over and over. Thicker front and rear stabilizer bars and specially calibrated shocks and springs make body roll virtually nonexistent, and the car followed the line I selected with a level of precision usually reserved for sports cars.
Styling
The car has a very elegant shape carefully crafted to help cheat the wind, but its styling fails to set itself apart from that of its competitors. In fact, the car looks more like a hybrid mix of styling elements garnered from BMW, Lexus and Mercedes-Benz designs than something original. The look is pleasing, but not distinctive. The car's wide stance is enhanced by the sculpted nose and tail, both highlighted by long, slender lighting units and chrome trim. Big, 19-inch machined alloy wheels wrapped in low-profile rubber and twin exhaust outlets hint at the Genesis are specs performance potential.
Interior Impressions
The car has a very spacious cabin that at first seems to equal that of its closest rivals when it comes to overall quality and fit-and-finish, but I did have one of the interior vents unexpectedly pop out at one point when I opened the driver's door. It simply snapped back in place, but it did leave me suspect about the car's overall build quality and long term durability. The various panels, trim pieces, woods and plastics however, seemed of high quality and were very well executed.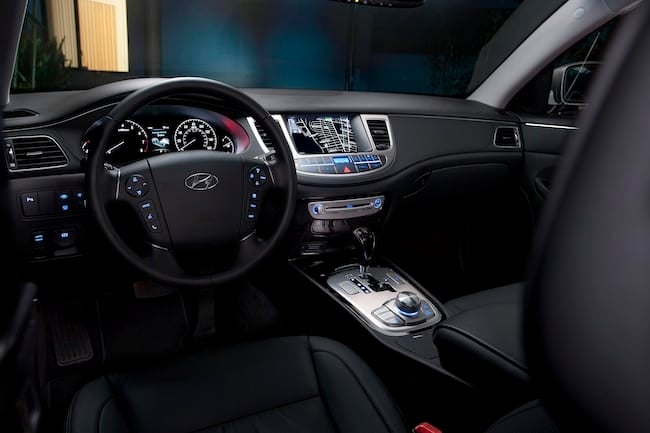 The leather seating is taut, but comfy, and the seats proved supportive in all positions. The overall design and layout of the passenger space is pleasing to the eye and touch and I found all switchgear, gauges, and controls to be easy to find and intuitive to use.
The various panels, trim pieces, woods and plastics however, seemed of high quality and were very well executed.
Outward visibility is exceptional as the car's greenhouse features extra large windows and narrow roof pillars. The hood falls quickly out of the driver's view and both the side and rear-view mirrors effectively abolish blind spots.
Equipment
The standard Genesis sedan comes equipped with an extensive array of comfort, convenience and safety features, but the upgrade for the R-Spec package will set you back a further $13,500. Apart from the potent V8 engine and silky transmission the R-Spec package this premium adds adaptive HID headlights, the aforementioned 19-inch alloy wheels, chrome accents, adaptive cruise control, Hyundai's Lane Departure Warning System, and front and rear parking sensors. An eight-inch, touch-screen Driver Information System supports navigation, a back-up camera, and a multimedia controller. Audiophiles will appreciate the 528 watt, 17-speaker Lexicon sound system which supports AM/FM and XM broadcast signals as well as DVDs, CDs and MP3s. A power operated rear sunshade, heated steering wheel and cooled driver seat complete the comfort entries.
…the upgrade for the R-Spec package will set you back a further $13,500.
Takeaway
The Genesis R-Spec represents a great first effort for Hyundai in the luxury performance category, but I must admit that there is still lots of room for improvement if the car is to earn its place among the top contenders in this category. While competitively equipped and loaded with a full complement of safety features, there still needs to be further refinement across the board for this car to leap past its long list of German and Japanese rivals. One shortcoming of note is the transmission. While it delivers crisp and smooth gear changes I would expect it to react a little more quickly in this application as the R-Spec is being marketed as a sport minded automobile.
This criticism aside, the Hyundai Genesis R-Spec is a very capable automobile that delivers the near perfect mix of luxury and performance demanded by picky executive types. When cross shopped against its many rivals it becomes immediately evident that the car is a relative bargain as well.
Learn more – Hyundai
PROS:

This package is a bargain when compared to its rivals
Hyundai is tops when it comes to reliability
Fantastic suspension delivers tack sharp handling and a smooth ride

CONS:

Muted exhaust and engine note detracts from performance label
Transmission could be snappier. And where are the paddles?
Exterior styling is too familiar
Technical Specifications: 2012 Hyundai Genesis R-Spec
Base price (MSRP): $53,499
Price as tested:$55,359 (Includes: $100 A/C tax; $1,760 freight)
Type: 5-passenger, 4-door, full-size sedan
Layout: front-engine, rear-wheel-drive
Engine: 5.0-litre V8, DOHC, 32 valves
Horsepower: 429 @ 6,400 rpm
Torque (lb-ft): 376 @ 5,000 rpm
Transmission: 8-speed automatic with manual shifting capabilities
Brakes (Front/rear): Disc / Disc
Curb weight: 1,884kg ( lbs)
Passenger Volume: 3,098 L
Cargo Volume: 450 L
Fuel consumption (L/100km): City- 13.1 (22 mpg) / Hwy- 8.1 (35 mpg)