It doesn't get much better than this. We get behind the wheel of the V8-powered 2013 BMW M6 Cabriolet
PROS:

Sinful performance
Intoxicating exhaust note
Exclusivity

CONS:

Expensive
Attracts unwanted attention
No hard top option
BMW M GmbH is the performance subsidiary of German auto giant BMW. As a result, the automobiles that roll out of its facility represent the showpieces for the brand- cars that have been modified and massaged so that they deliver the customer the ultimate driving experience. Typically these factory "tuner" cars have been tweaked so that they make full use of the car's performance potential with regards to the drive-train and suspension, but they also carry the latest in safety equipment. BMW also tends to use this division to showcase advancements in the areas of styling and aerodynamics, so M vehicles are usually pretty distinctive.
Styling
The BMW M6 borrows many of its styling cues from the luxurious BMW 6 Series Cabriolet that it uses as a foundation. Like its M brethren the M6 features quad tailpipes, aerodynamic body work and front fender gills. The M6 rides on enormous 20-inch wheels wrapped in sticky low-profile tires that are contained within the car's aggressive wide-body design that features bold fender extensions that hint at the car's performance capabilities. The M6 sports the company's signature twin-kidney grille which is bookended by a new advanced lighting system which includes active Xenon units and LED running lights. At the rear of the car you will find very slick L-shaped, adaptive, LED brake lamps which burn brighter as brake forces increase.
Also check out: 2012 BMW 650i Cabriolet Review
Interior
My test vehicle looked resplendent in Silverstone Silver paint with a traditional black interior and canvas top. Yes, you read that right, the M6 features a canvas convertible top. The advantage of this design is that when retracted the accordion-like stack of support ribs and canvas takes far less room than that demanded by a hard-top design. This means that you have more room for luggage and golf clubs in the trunk, and there is a significant weight savings to be had as well. The canvas top retracts both quickly and quietly and when stowed it is hidden beneath a hard cover. With the top in place I suspect most passengers will be amazed at how well insulated it is, as it effectively filters out the majority of wind, road and extraneous noise you may encounter on your travels. I say most because when you drive this car angry, nothing will keep that music out.
BMW often receives accolades for its impeccable interiors and outstanding attention to detail, but sliding behind the wheel of the M6 reminded me just how flawless an interior can be. The cabin is draped in premium leather hides, soft touch materials, and attractive carbon-fibre trim pieces. The view from the driver's seat is uncluttered and the layout of the switchgear and instruments puts everything within easy reach of both hand and eye. BMW's intuitive iDrive system utilizes a large, 10.2-inch display screen to help the driver navigate through the car's various systems, as well as display navigational data and various camera views.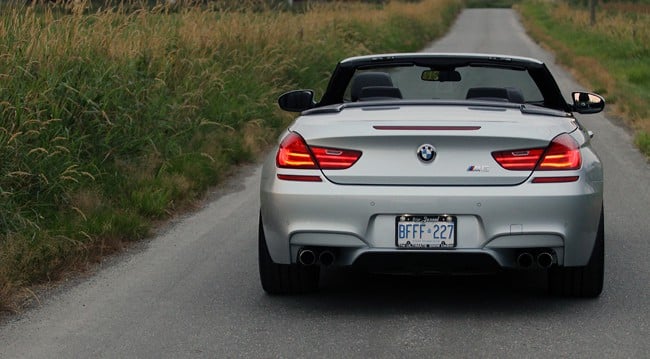 If I had one complaint it would be that the passenger cabin is best suited for just two occupants as the rear seats are pretty tight for adults. The two front positions however, proved very spacious and offered plenty of room to stretch out during a long drive.
Under the hood
Under the long and shapely hood you will discover one of the world's greatest engines seemingly ready to pounce. The M TwinPower Turbo V8 engine is a technological marvel that generates a healthy 560-horsepower and a prodigious 500 lb-ft of torque. Mated to an innovative high-torque seven-speed M Double Clutch Transmission (M DCT) this combination is capable of hustling this luxurious, drop-top touring machine from 0-100 km/h in a mere 4.4-seconds. Add to this an exhaust note that will give you goose bumps and you have a package that can only be described as automotive nirvana.
Like its M brethren the M6 features quad tailpipes, aerodynamic body work and front fender gills.
The Drive
I took this dream machine for a long, late summer journey that included the famed Trans-Canada route through the storied Fraser Canyon which is somewhat of a Mecca for enthusiast drivers. One of the reasons this route is so appealing is the fact that between the small towns of Hope and Boston Bar you carve your way through a series of scenic switchbacks that include a string of long tunnels (one of which became famous when Shell filmed a television commercial starring Formula 1 racing legend Michael Schumacher who -through the magic of smoke and mirrors- appears to drive a high-powered sports car upside down). I reserve this test route for the most special automobiles and the M6 is about as special as they come. It's amazing how giddy a middle-aged man can get as he rockets through a cavernous tunnel in a high-powered convertible just so he can experience the aural bliss that is created by the various burps, burbles and barks that are generated by this car's engine, turbochargers and exhaust system as they reverberate off the tiled walls. With each flick of the paddle shifter and blip of the throttle the M6 made me feel a part of this glorious machine and like any addict, I found myself begging for more. Luckily there are plenty of convenient places to turn around along this storied route so that I could experience encore after encore of mechanical bliss.
One of the greatest marketing slogans of all time is associated with BMW. The company has never been coy about the fact that its line of automobiles deliver what it considers to be "the ultimate driving experience." I must say that this slogan seems a tad boastful when you are behind the wheel of the likes of an X1 or X3, but it certainly works when you are holding the keys to a car as potent as the BMW M6.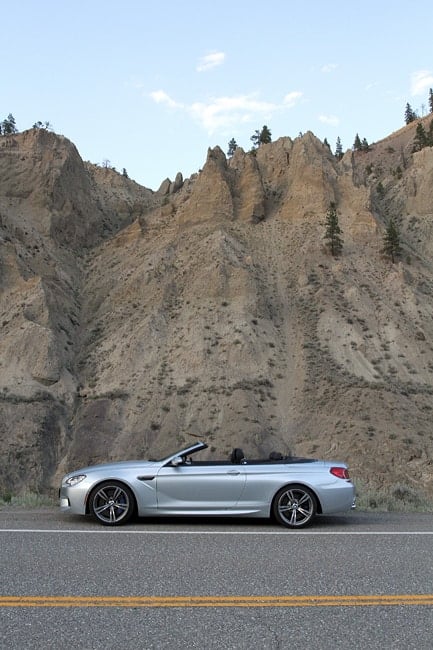 The car's steering system operates with a level of precision that would embarrass many race-bred machines as it is highly communicative and responds immediately to the driver's inputs. The car's lightweight M-tuned suspension is firm, but supple enough to keep the car's big sport tires planted as you power through corners. The car tracks straight and true and goes exactly where you direct it, but a subtle tail wag can be induced with a little effort.
The M Double Clutch Transmission executes lightning quick gear selections, especially when you choose to engage the paddles, and I have no doubt that this will become the norm for most operators. As you become more familiar with the car's capabilities and nuances you can explore its true potential by utilizing the M Drive system which allows the driver to adjust six performance parameters – including engine management and the a host of shifting programs.
The Car's high-revving engine features a wide power-band capped by a 7,200rpm redline. In an effort to help you extract the most from the engine BMW's engineers have equipped the car with two M Drive buttons which allow you to choose from three dynamic pre-sets (Efficient, Sport and Sport+) which seamlessly transform the car's handling and performance parameters in short order and upon command.
A performance machine should also have performance brakes, and in the case of the M6 you will find over-sized discs backed up by a host of electronic aids designed to maximize and maintain brake effectiveness. I found these big binders to be fade-free and the pedal feel was very progressive. I definitely felt confident in their ability to bring the car to a controlled stop in a hurry, but should you find yourself wanting more, your dealer can help you select the M Carbon Ceramic brake option on your order sheet.
With each flick of the paddle shifter and blip of the throttle the M6 made me feel a part of this glorious machine and like any addict, I found myself begging for more.
Takeaway
The BMW M6 is an exclusive machine that is produced in relatively small numbers, but for the lucky few that get to park one in the garage they will be looked upon with envy. The car is unique in that it is equally at home navigating civilly through the congested streets of an urban centre during the daily commute as it is carving its way like a hooligan over twisty canyon roads at triple-digit speeds, all the while coddling its occupants in one of the most luxurious and safe cabins on the road today.
Learn more – BMW M6 Cabriolet
Technical Specifications: 2013 BMW M6 Convertible
Base Price (MSRP): $124,900
Price (As tested): $155,570 (Includes Executive Package, Full Merino Leather, Bang & Olufsen Sound System, Night Vision with Pedestrian Detection, Freight & PDI and associated levies)
Type: 4-passenger, 2door convertible
Layout: Front-engine, rear-wheel-drive
Engine: Twin-turbocharged, 4.4-litre, DOHC, V8 engine
Horsepower: 560 @ 6000 – 7000 rpm
Torque (lb-ft): 500 @ 1500 – 5750 rpm
Transmission: 7-speed M Double Clutch auto-manual
Brakes: Disc/disc
Acceleration (0-100 km/h): 4.4 s
Fuel economy [L/100 km]: Automatic- City 13.2 L (21.4 mpg); Hwy 8.6 L (32.85 mpg)
2013 BMW M6 Cabriolet Gallery: