To many observers the 2013 Cadillac CTS-V Coupe is an odd looking machine. Some even think it is downright ugly. Either way, this is a performance luxury coupe that will definitely make an entrance – and in our opinion, in all the right ways
PROS:

Unique styling will help you stand out from the crowd
The brute of a muscle car in a luxurious package

CONS:

The odd styling may not have legs and could hurt resale value
Rearward visibility is horrendous
General Motors has been working hard to widen the appeal for its Cadillac brand for the past decade, and the CTS-V program has done wonders to promote the storied nameplate to a whole new generation of buyers. When I was a kid the only Cadillac products in my neighbourhood were driven by wealthy grandparents and the local lumber baron, but now I see the company's cars being piloted by a full spectrum of drivers so the hard work must be paying off.
Styling
To many observers the CTS-V Coupe is an odd looking machine. Some even think it is downright ugly. I have mixed feelings about the styling of this futuristic looking automobile as during my photo session I could see how its visual appeal seemingly transforms as I explored its many angles from different vantage points and perspectives. From the front it carries Cadillac's clean, familial lines, but when viewed from the side profile it begins to look heavy and ungainly as the tall rear fenders are exaggerated by the narrow greenhouse, long doors, and what appear to be rather small diameter wheels (in reality they are 19-inch). If you shoot the rear of the car from a low angle it looks enormous as the rear window disappears among the huge sheets of metal that have been carefully creased and folded into one of the most unique automobiles to ever come out of Detroit. Luckily, there is a sedan version available for those for whom the Coupe's styling fails to excite.
Performance styling cues include an aggressive front fascia which includes two chrome mesh grilles, a split front spoiler, and twin air intakes. The car's menacing stance is enhanced by the enlarged fenders, bulging hood, and overall wedge shape. The graphite colour of the ten-spoke, lightweight alloy wheels give the car an upscale tuner look and helps to draw the eye to the bright-yellow Brembo brake calipers which are emblazoned with the V logo. The Brembos are standard fare on the CTS-V, but having them painted either yellow or red is a popular option. At the rear of the car twin, center-mount exhaust outlets protrude from the bodywork to trumpet your departure and arrival.
Interior Impressions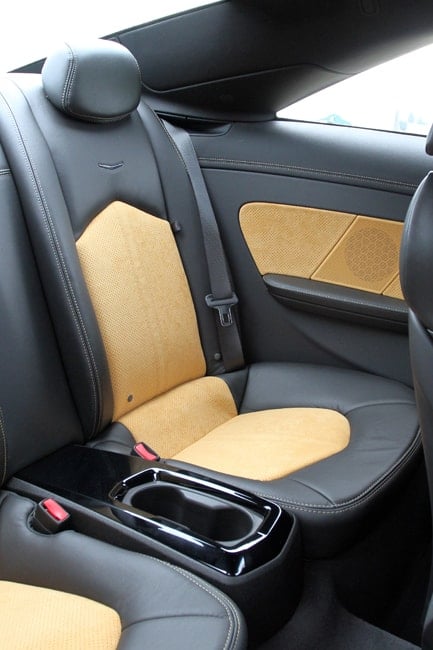 The doors on the CTS-V Coupe are opened using electric buttons, much like in a Chevrolet Corvette. Slipping behind the wheel you will immediately notice the compact gauge cluster, suede-wrapped three-spoke steering wheel, and tidy instrument cluster. The look is more European than Detroit, but my one complaint would be the over use of fake carbon-fibre, textured metal and shiny plastic trim pieces. The wide-rimmed steering wheel offers a host of secondary controls and delivered excellent road feel during use.
I found the fit and finish of my test vehicle to be on par with other vehicles in this price category, especially when it comes to the quality of the leather and stitching, and the cabin seems well insulated from road, engine and wind noise.
Standard equipment includes all the electronic accessories and safety equipment one expects in an executive car. Highlights include navigation, HID headlamps, Magnetic Ride Control and the aforementioned Brembo brakes.
My test vehicle featured the optional, wing-backed Recaro sport seats which feature both heating and ventilation capabilities. These units are well bolstered and proved comfortable enough for extended use. The same cannot be said for the rear seats, unless you are short and the owner of small feet. I gave my six-year old nephew Owen recon duty and he confirmed that he was certain children would be comfortable in the rear compartment. In his words it felt like he was in a space pod! Kids.
Rear visibility is a challenge due to the wide rear roof buttresses , tall rear end and severely raked rear window, but in a car as potent as the CTS-V you will be more wary of what is ahead of you than what lies in your wake.
Popping the rear trunk I was surprised to find such roomy quarters for my cargo and gear. The opening is quite narrow however, and the lift-over height may be a concern for shorter individuals, as well as the paint. Larger items can be transported by folding the rear seatbacks down (60/40 split).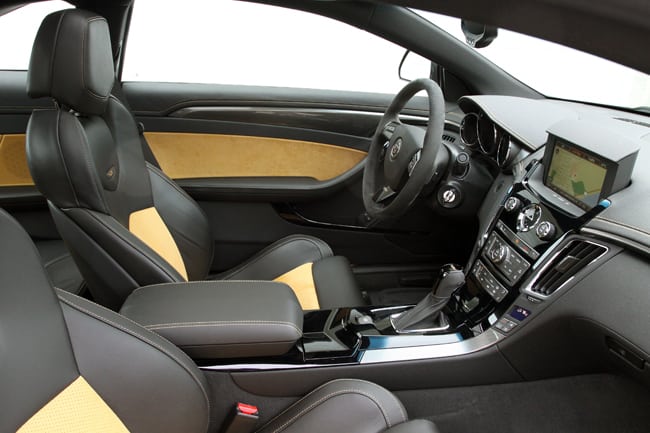 Under the Hood
Under the hood the CTS-V Coupe features GM's supercharged LSA V8 motor. The LSA is a marvel of engineering that effortlessly produces a prodigious 556 horsepower and 551 lb-ft. of torque. Buyers can choose either a six-speed automatic or six-speed manual transmission. With a little practice it is possible to rocket to 100 km/h from a standstill in just over four seconds, a number that will embarrass many more expensive machines.
Handling
The CTS-V Coupe is rear-wheel drive so handling can be tricky when the car is pushed to its limits through the corners as it has a tendency to over steer. However, with experience and practice the CTS-V's tail wagging can be reigned in enough to leave you almost craving it rather than fearing it. This is a really fun car to drive! The car features an advanced traction control technology called Performance Traction Management which works to regulate torque delivery to best match the available tire grip for maximum acceleration.
…I could see how its visual appeal seemingly transforms as I explored its many angles from different vantage points and perspectives.
On the road the CTS-V Coupe tracked straight and true and the ride never seemed harsh on irregular road surfaces. Ride comfort is preserved by GM's incredible Magnetic Ride Control (MRC) suspension system which utilizes special shock absorbers controlled by electro-magnets rather than mechanical valves and is lightning quick to react to road irregularities. A series of electronic sensors constantly monitor the four wheels and adjust damping as required to maintain the ride quality selected by the driver.
Takeaway
A Cadillac CTS in any form is worth consideration if you are looking for a luxury machine perfectly suited for the tight confines of the modern urban environment. A car like the CTS-V Coupe however, with its distinctive style and raucous rumble will guarantee that you always make an entrance and reveal a lot about your character.
2013 Cadillac CTS-V Coupe Gallery:
Technical Specifications: 2013 Cadillac CTS-V Coupe:
Base price (MSRP): $72,600
Type: 4 Passenger coupe
Layout: Front engine, rear-wheel-drive
Engine: 6.2 litre, 32-valve, supercharged V-8
Horsepower: 556-hp @ 6,100 RPM
Torque (lb-ft): 551 @ 3,800 RPM
Transmission: 6-Speed Tremec manual or optional 6-speed electronically controlled automatic
Brakes: Four-wheel ventilated discs; Brembo
Suspension: Independent front and rear
Acceleration (0-100km/h): 4.9 seconds (average of performance runs at AJAC Testfest)
Cargo volume (L / cu. ft.): 297 / 10.5
Fuel economy (L / 100km/h): Manual – City-14.9 (19 mpg) / Highway 10.5 (27 mpg)
Automatic – City-17.7 (16 mpg) / Highway 10.7 (26 mpg)