Forget the minivans – the distinctly styling 2013 Ford Flex Limited Edition may be what the family ordered
I stepped on the gas, and the full-size crossover slowly started moving along the road. I looked back and was amazed it moved at all.
I'm travelling between Ottawa and Toronto in the 2013 Ford Flex Limited AWD, with lots of bells and whistles thrown in (but we'll get to those later). With five passengers and luggage for six packed tightly into this beast, I worried if it would be able to move at a decent pace. The 3.5L twin-turbo V6 engine holds a very healthy 355 HP. But the Flex is a big boy on its own. Add six people plus luggage, and I had questions. But when I stepped on the pedal it moved. Slowly, at first; as I understood how much input it needed though, it accelerated up to highway speeds with no issue.
Also check out: Ford Reviews
Interior
The cabin space is impressive in this six-seat crossover (a seven-seat version is also available). Not only did we fit six people, but we fit comfortably for a four-hour trek. And no children were involved in this road trip. We had six full-grown men all hovering around, or topping, six-feet in height. And they fit – even in the third row. I don't think the two in the back would choose to ride like that for the rest of their lives, but the Flex afforded us the space we needed and we were pleased.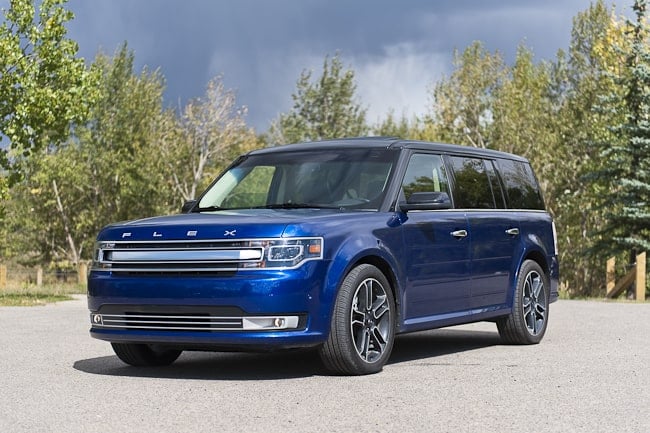 We had six full-grown men all hovering around, or topping, six-feet in height. And they fit – even in the third row.
Driving Impressions
Now, we can get to all the bells and whistles that really upped the comfort during the trip. Heated front and second row seats; adaptive cruise control (absolutely golden on a drive like this, when sailing along the oh-so-boring stretch of Highway 401); refrigerator console (yes, an actual small fridge in the back; we were all doing mental high-fives, knowing we didn't have to smell that leftover piece of tuna sandwich for hours); active park assist (I used it, and I loved it; for a car this long, I don't mind the help parallel parking…no ego hurt on this end!); cooled front seats (everyone's quick to highlight heated seats, but with leather in an vehicle at this price range cooled seats are a must; I used them for half the ride as things got pretty hot and musty after lunch); a 110V outlet (my friend riding up front loved it; he was able to plug in his laptop and spent most of the ride getting work done). This is just a small sampling of the comfort creatures that transformed this large crossover from being on my "quirky, interesting car" list, to a "top three road trip vehicle."
Of course, all of those add-ons cost. Quite a bit, actually. The Flex begins at $29,499 CAD for the basement level SE trim. Jump to our Limited edition and you're starting at $44,399. Then add on everything we had, and you're looking at $58,349. Ouch.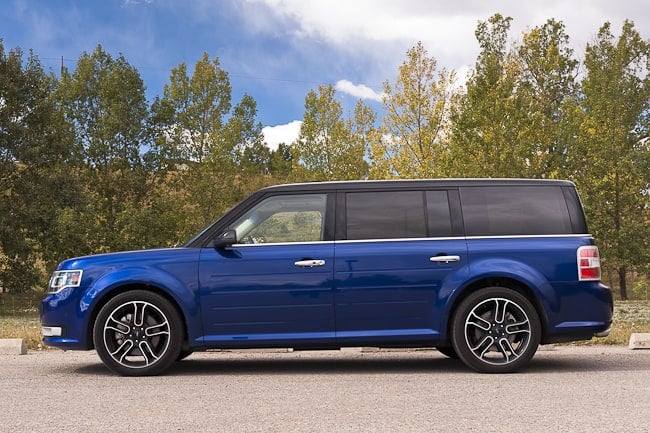 Takeaway
I loved having it for the road trip, but would I want it for everyday driving at that price? Not really. It doesn't fit my lifestyle; I don't have any kids yet, so most of my longer trips are with my wife. That would mean a lot of wasted space behind us. If you're a family of four or more, though, and find yourself constantly on the road and needing more space, don't like the eccentricity of it's exterior discourage you from checking it out. I would rent one of these in a heartbeat for another group road trip. And when our family expands…
PROS:

So much comfortable space
Useful options available
Minivan alternative

CONS:

Fuel economy was so-so (we averaged about 13.2 L/100km, roughly splitting highway and city driving 70/30)
All of the really great features will cost you
2013 Ford Flex Limited Gallery:
2013 Ford Flex Limited Review Technical Specs:
Price: Starts at $29,499 CAD; As tested: $58,349 CAD
Type: Five-door, six-passenger full-size crossover
Engine: 3.5L twin-turbo V6
Horsepower: 355 HP @ 5,700 RPM
Torque: 350 lb.-ft @ 1,500 RPM
Transmission: Six-speed automatic with SelectShift
Fuel Consumption: 13.1 L/100 km (city); 8.8 L/100 km (highway)