Pros:
Track-worthy performance in a limited edition package
The rip-roaring rumble of a throaty exhaust
Chicks dig fast muscle cars
Cons:
The interior comes up a little short in the styling department
The rip-roaring rumble of a throaty exhaust may get you a ticket and alienate you from your neighbours
Big power means a big thirst
There are few names in North American automotive circles that garner as much respect as that of Jack Roush, and unlike some of his peers, Roush has earned this respect at the track.
As an automotive engineer Jack Roush was quick to recognize that the arduous task of product research and development could be hastened by getting involved in motor sport activities.
After completing his studies Jack began his engineering career working at Ford, but he also served a brief stint at Chrysler before deciding to test his entrepreneurial skills and set up his own engineering firm. ROUSH Enterprises was founded in 1976 with the goal of producing cutting-edge racing vehicles that would help showcase Jack's incredible engineering knowledge and allow him to feed his competitive spirit. The company now serves as the parent for ROUSH Racing as well as ROUSH Industries- a freelance engineering firm- and ROUSH Performance – an automotive aftermarket development company- both headquartered in Livonia, Michigan.
The blood in Jack Roush's veins pumps Ford blue, so it would come as no surprise that he selected Ford vehicles as the foundation upon which he would build his business empire. Jack's motorsport resume began with a successful five-year partnership with Wayne Gapp which saw the two campaign Pro-Stock cars in NHRA, IHRA, and AHRA drag racing events. A switch to road racing followed as Roush partnered with German firm Zakspeed to develop racing vehicles for Ford. Success here helped the company to become a dominant force in both Trans-Am and the IMSA Camel GT series before the decision was made to take aim at NASCAR ( Roush Fenway Racing).
When Roush-engineered teams are on the grid the competition gets nervous, as Jack's dedication to performance has given him a winning record that is unparalleled in any paddock. In an effort to capitalize on this success Jack decided to broaden the company's scope to include a division dedicated to the development and production of speed equipment for those consumers looking for enhanced performance on the track and on the road. ROUSH Performance Products was born, and the venture offers customers a line of high-performance vehicles (currently based on Ford Mustang and Raptor models), crate engines, and aftermarket components. The company campaigns a pair of ROUSH Boss 302Rs in the GRAND-AM Continental Tire Challenge series under the ROUSH Performance banner. One of these cars is piloted by Jack Roush's son, Jack Jr., who now has back-to-back victories at Daytona to his credit. This racing operation serves as a rolling test bed which allows the firm to develop its products more quickly, prove their durability, and of course, display their performance in a competitive environment. It is from this trial by fire that cars like the RS3 are born.
The Roush Experience
Recently I had the opportunity to spend a few days behind the wheel of a 2014 Roush Stage 3 (RS3) Mustang. Roush Performance offers the RS3 in three distinct flavors- Phase 1, Phase 2 and Phase 3. Phase 1 cars deliver 575 hp and 505 lb-ft of torque. For those enthusiast drivers looking to be the big dog in the neighborhood Roush offers Phase 2 ($1,200) and Phase 3 ($2,200) upgrades which boost horsepower to 625 hp and 675 hp respectively. Phase 2 and phase 3 upgrades are significant as the stock 5.0 L Coyote engine is removed and replaced with a hand-built Ford Racing "Aluminator" engine and a host of upgrades which will help the driver deliver this power to the ground efficiently, effectively, and dependably. The test vehicle provided to me by Key West Ford was a Phase 1 variant, which is the most popular model in the Roush lineup, and after putting it through its paces I can understand why.
The RS3 began life as a Canadian spec 2014 Mustang GT 5.0 before being shipped south to Roush Performance where it was painstakingly transformed into a four-wheel, apex-carving athlete. While most would consider the stock Mustang GT to be a competent performance car out of the box, experienced drivers will find it still feels pretty sloppy in the handling department and a little underpowered. The factory V-8 delivers 420 hp and 390 lb-ft of torque and is capable of acceleration from 0-100 km/h in 4.7 seconds.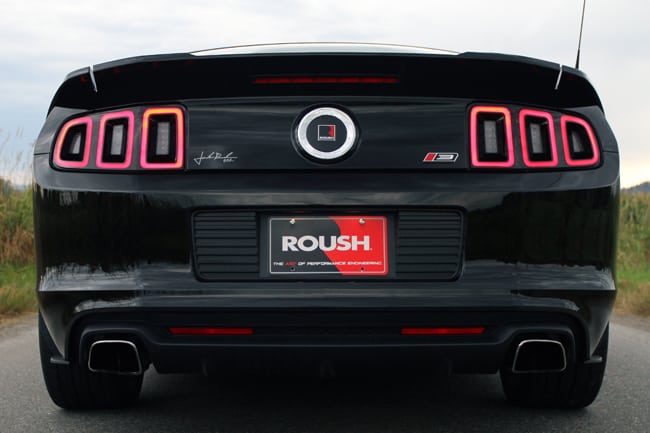 ROUSH technicians begin by fitting the Mustang's V-8 with the ROUSH R2300 supercharger. This revolutionary design employs Eaton's Twin Vortices Series (TVS) technology which promotes more efficient flow of air into the engine, as well as improved noise and vibration characteristics. ROUSH partners this ultra-dependable blower with their own high-efficiency intercooler to boost engine output to an impressive 575 hp and 505 lb-ft of torque. This healthy increase in power output transforms the Mustang into a much more capable machine, and runs from 0-100 km/h can be executed in a mere 4.0 seconds.
It is truly amazing how much more satisfying the driving experience is with the addition of the supercharger. The clutch is stiff, but more manageable than the calf-buster Ford fits to the current Shelby, and the short throw, 6-speed gearbox is a pleasure to row through. Power is readily available at virtually any engine speed so the driver will be confident that he or she can power through just about any situation that may arise.
With such prodigious levels of power on tap It would be near impossible to drive the RS3 comfortably if ROUSH elected to retain the Mustang's factory suspension and brakes. ROUSH chassis engineers have spent thousands of hours developing, testing, and racing their cars in search of the perfect set up for the RS3 with regards to acceleration, handling, braking and overall ride quality.
The ROUSH Performance suspension system features custom-valved shock absorbers, rate- matched coil springs, a larger, stiffer front stabilizer bar, and a rear anti-wheel hop upper control arm. These components work in harmony to deliver the power to the ground and keep the tires on the pavement. As a result this car feels very dynamic when pushed to its limits. There is a slight hint of body roll exhibited during hard cornering manoeuvres, but the specially developed Cooper Zeon RS3-S tires provide such high levels of grip that you are willing to carry a little extra speed through the turns as you explore the car's true handling capabilities.
If the handling and improved acceleration aren't impressive enough, you will be smitten by the raucous rumble generated from the throaty ROUSH Performance exhaust system. This car seemingly erupts as it comes to life with the twist of the key and a blip of the throttle. This is not a stealth machine so prepare to be the centre of attention wherever you go. During my test period I received a pretty even mix of positive and negative reactions to the RS3's inescapable roar, but to my ears it was sweet music.
Styling
The 2014 Roush Stage 3 Mustang benefits from the sleek retro styling of the current Mustang GT, but the addition of a ROUSH Performance body kit and lightweight, five-spoke wheels help give the car a more menacing appearance and real curb appeal. The car features a modified upper and lower grille treatment designed to increase airflow to the engine and brakes, and a low-rise hood scoop. A full complement of front, side, and rear splitters help manage airflow under, over and around the car. A subtle rear spoiler and optional side window louvers add extra sporty flair, while bold, two-colour graphics and discreet badging help complete the rather aggressive look.
While the exterior styling upgrades demark this car as something special, the interior treatment is largely factory Ford. This is not necessarily a bad thing, as the Mustang's interior is far superior to that of its immediate rivals the Chevrolet Camaro and Dodge Challenger, but for an as-tested price of near $80,000 I would expect a few more frills than a console plaque, billiard ball shift knob, Alcantara suede steering-wheel and a tacked on boost gauge. The optional Recaro seats are a necessity if you want to extract the most from the car, as these deep sport buckets offer excellent support when carving through the twisty bits of your favourite back roads.
Conclusions
I have been fortunate enough to drive the latest Shelby GT500 as well as the Boss 302 Mustang, and while I enjoyed my time behind the wheel of both of these steeds, I came away from the RS3 wearing a bigger smile. The Shelby is a beast but is difficult to master, and it really beats you up in everyday traffic. The Boss 302 is a star, but it is now extinct, and as much as it delivers a very similar handling experience to the RS3 it comes up short in the power department. In reality, I think that the ROUSH RS3 offers the enthusiast driver a package that represents the perfect medium when compared to these two cars as it is blindingly fast, distinctively appointed, and oh so fun to drive.
2014 Roush Stage 3 Mustang Photos