The all-new Land Rover Discovery Sport is set to bring a new surge of customers to the storied British nameplate as this classy looking sport utility vehicle has loads of curb appeal and unmatched all-terrain capabilities.
The Discovery Sport is set to replace the awkward looking and slow selling LR2 model which lacked the styling flair and creature comforts that consumers in this segment demand. The decision makers at Land Rover brass hope that the Discovery Sport is modern enough to help attract a more youthful buyer to the company's showrooms and broaden the customer base.
A Land Rover for a new crop of customers
What sets this vehicle apart from previous models is that it has been designed to meet the needs of the young, urban professional rather than the traditional tweed wearing Land Rover buyer. The fact that it is offered at a lower price point should allow new customers to experience the company's legendary quality and adventurous spirit without breaking the bank.
While the Discovery Sport is an entry offering, one look at its luxurious interior and broad equipment list reveals that the product planners at Land Rover have worked hard to load it with enough content and amenities to raise the bar for this segment of the marketplace.
There are three trim levels available -Discovery Sport SE, HSE,  and HSE Luxury – and all will leave you with a new appreciation for the level of refinement, equipment and performance the company is packing into its current line-up.
Styling
Land Rover vehicles follow a successful design formula that was established decades ago and has carefully evolved over time. As a result, the new Discovery is tall, long, and wide just like its forebears. Many wrongly assume that these styling elements are retained simply as a nod to Land Rover's more utilitarian past, but in reality, their inclusion allows for increased passenger room and a wider track. The latter helps bestow the Discovery Sport with exceptional stability which helps enhance driver confidence.    
Under the hood
With the price of gasoline still on an upward swing the product planners at Land Rover knew that they had to make some changes to the power train in an effort to improve fuel economy. As a result, under the hood resides a 2.0-litre turbocharged inline 4-cylinder engine which is mated to an ultra-efficient 9-speed automatic transmission.   
This tidy power plant produces a respectable 240-horsepower and 250 foot-pounds of torque. This is more than sufficient to hustle the Discovery Sport to 100 km/h in a respectable 8.2 seconds. The very sophisticated 9-speed transmission is quick to transition from gear to gear and has been engineered to make the most efficient use of the vehicle's power resources.
How does the Discovery Sport HSE perform and handle?
The Discovery Sport seems to have plenty of grunt available at most engine speeds as maximum torque is achieved at a mere 1,750 rpm, and by using the steering-wheel mounted paddle shift controls I was able to explore the vehicle's capabilities with aplomb. This potent combination helped make short work of onramps, extended climbs, and gravel logging roads.
Although the Discovery Sport has been carefully engineered so that it can tackle just about any off-road challenge you put before it, the reality is that it will spend the majority of its time navigating paved highways and city streets. As a result, the design team made sure to focus an equal amount of attention at optimizing this capable SUV's dynamic handling and road worthiness. The Discovery Sport proved to be an excellent touring vehicle as the steering, suspension and traction control systems work together to make you feel more connected to the road, without compromising off-road performance.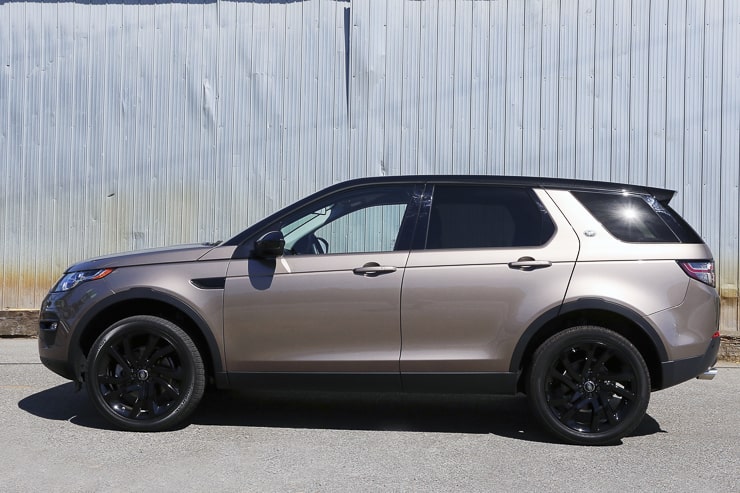 Land Rover is a premium brand and as such, they market luxury vehicles. Therefore, it should come as no surprise that the Disco's passenger compartment is well insulated from wind, road and engine noise and the suspension provides a smooth ride, predictable handling, and exceptional steering response.
The very sophisticated 9-speed transmission is quick to transition from gear to gear and has been engineered to make the most efficient use of the vehicle's power resources.
While not as dynamic as its Range Rover siblings, the Discovery Sport still provides a satisfying driving experience. Steering is precise, but the tall centre of gravity and overall heft of the vehicle promotes enough body lean that you are unlikely to toss this vehicle into corners.
The Discovery Sport comes equipped with Land Rover's Terrain Response System, which is a well-sorted, and user friendly, full-time four-wheel-drive system that allows the driver to select from four settings – General, Grass/Gravel/Snow, Mud/Ruts, and Sand – to custom tailor the vehicle's operational set-up for different terrain conditions. At the push of a button Terrain Response reconfigures the vehicle's drive settings so you can take on any surface with confidence.
2015 Land Rover Discovery Sport's off-road capabilities
I had the opportunity to take the Discovery Sport for a short off-road excursion to explore the vehicle's climbing and descending abilities. In an effort to prevent you from dragging the tail or burying the nose the vehicle has been designed with short overhangs front and rear. Add to this 212 mm (8.3″) of ground clearance,  an approach angle of 25 degrees, and a departure angle of 31 degrees the Discovery and it is easy to recognize that this vehicle is ready for some serious climbing. Hill Descent Control is also on board to assist the driver when it comes time to make his or her way back down the mountain.
My test unit rolled on 19-inch alloy wheels fitted with Continental all-season performance tires that excelled during the pavement portion of my testing. For those owners looking to get the most out of the LR4 off-road, I would suggest that they invest in a more aggressive all-terrain tire selection. I will admit however, that the all-season Continentals still managed to haul this hefty rig up all but the steepest grade during my off-road antics, and with only minor slippage.
Interior impressions
The rectangular shape of the Land Rover Discovery Sport helps maximize interior volume, and the spacious cabin offers seating for five or seven with the addition of optional seats. The second row seating area allows for three adults to ride in relative comfort, and the cargo area is spacious enough for a weekend's worth of gear. 
The quality of the leather seating, trim pieces and interior build materials used on the Discovery is top-notch, and the large windows and raised seating positions promote excellent visibility throughout the vehicle. All but the tallest individuals should be able to get comfortable in the two front seating positions. 
High-end comfort, safety and infotainment features include navigation, rain-sensing wipers, automatic Halogen headlamps, touch-screen controls, and dual-zone climate control among others.
Takeaway
The Land Rover Discovery Sport is a vast improvement over the LR2 and marks a new level of refinement for the brand as well as a new direction in style. It has two distinct personalities that complement each other very well. It is a rough and tumble SUV perfectly suited for adventure, but on the other hand it cleans up nicely and looks classy enough to impress the valet at your favourite restaurant. It excels as a luxurious daily driver, but is equally proficient when the pavement comes to an end. The Discovery Sport is well worth a long look. 
Pros:
Modern styling inside and out adds loads of curb appeal.

Unmatched off-road capabilities in this segment.

Will attract a younger audience to the storied British brand.
Cons:
Some may feel that the engine needs more power, especially for a vehicle at this price point.

Limited dealer network.
2015 Land Rover Discovery Sport HSE Specs
Type of vehicle: All-wheel-drive, front-engine, five or seven passenger SUV

Engine: 2.0-litre, turbocharged, 16-valve, inline 4-cylinder engine

Horsepower: 240 hp @ 5,800 rpm

Torque (lb.ft.): 250 lb.-ft. @ 1,750 rpm

Transmission: 9-Speed automatic transmission

Brakes: Front and rear disc with ABS

Fuel economy (L/100km): City 11.9 L (24 mpg); Hwy

 

9.0 L (31 mpg)
Interior and exterior 2015 Land Rover Discovery Sport HSE photos