Throwing Porsches Into Icy Bends at the 2015 Camp4 in Quebec
Estérel, Quebec – It started as a press event introducing the original Porsche Carrera 4 back in 1996. Participants were so enthused by the experience that Porsche decided to develop the program and make it open to all. Today, Porsche simply describes its celebrated Camp4 driving program – versions of which are offered in Canada and Finland — as a "winter driving experience.
Also see: 2019 Cayenne E-Hybrid: New Porsche SUV with 455-hp Arrives Next Spring
True, you'll begin by learning the basics of driving dynamics in difficult conditions, but really, Camp4 is much more than that.
While there is indeed a backbone of quality driver education and skills training at Camp4, understanding just what this introductory $5,195 "Precision" level program is all about is better achieved by adding the word "luxury," then capitalizing for emphasis.
Porsches in Winter
Camp4, then, is a Luxury Winter Driving Experience, delivered at a level commensurate with the Porsche brand and all that it represents. Porsche is sophisticated, it's stylish, it wins, it's exclusive. It is, many would argue, the best.
Let's start there, because if all you want is a winter driving skills course, I can recommend one for $200. No, Camp4 is a whole other thing — a compete experience from beginning to end — to which automotive media were recently invited for a capsulized version.
We arrived at the tail end of the full program to see participants headed for their farewell dinner. They'd just spent two days driving at the nearby Mecaglisse Drive Centre, and they'd enjoyed three nights accommodation and meals at the Estérel Resort, a superb hotel/spa complex in the beautiful Laurentian Mountain district of Quebec (it's about 100 kilometres northeast of Montreal). They were clearly still flush with the experience. Media would be spending only one night, and driving for one day. Just a taste.
And so it begins. Bypassing the hotel reception area, we're individually met and greeted by a Porsche representative while involuntarily dividing your attention between her and the Porsche Boutique just a few steps away. Lovers of shiny metal things just can't resist.
The Camp4 welcome package includes a Porsche-branded knapsack — with your nametag attached — and a Porsche-branded key to your room. You sign a form without reading it and slip a lanyard over your neck that identifies you… as a Porsche guest.
Already you're feeling special.
The experience continues upon entering your room, or should I say suite. The décor and furniture are ultra modern, lavishly accessorized with Italian Artemide "Tolomeo" lighting and a magnificent Castiglione "Arco" floorlamp that takes centre stage (heck, these things are in the Museum of Modern Art!). Your room overlooks Lac Dupuis; the view is great. Heated spa pools and snowmobiles identify the typical winter activities of guests at the resort.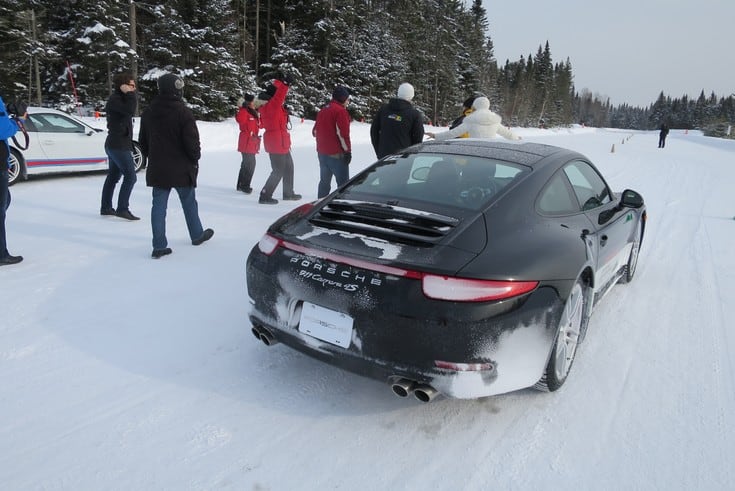 Time to check out the contents of that knapsack. The Bose FreeStyle special edition earbuds feature "triport" technology and come with a matching case; the water flask is branded Mobil1 (Bose and Mobil1 are Porsche suppliers, of course). The $175 Porsche 911 computer mouse is decked out in Martini Racing livery and comes straight from the Porsche Boutique. Nice.
As the evening progresses, you head for the Rok restaurant, one of three eateries at the resort. At the Rok, it's fine wine and filet mignon or exotic seafood cooked at the table on superheated stone platters. There's much conversation, mostly about cars. Life is good.
After a full breakfast in the morning, our group is transported by coach to Mecaglisse, described by its owners as "Motorsport's Paradise." Modelled on similar facilities in Europe, Mecaglisse was constructed specifically for cold weather testing and performance driving. It operates all year, but in the winter, of course, it's all about handling on snow and ice.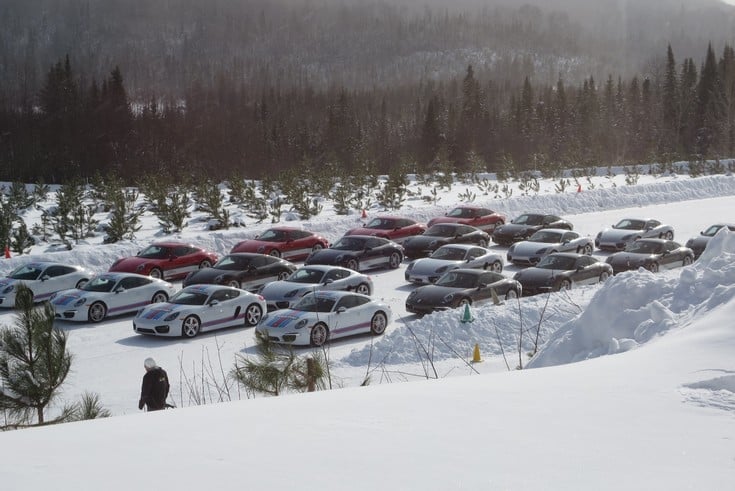 From the vantage point of the Mecaglisse chalet you get your first view of the "student" vehicles lined up and ready to go. They catch everyone's attention, glistening in the morning sun while idling patiently in the brisk, minus-24 degree air. Models include the all-wheel drive 911 Carrera 4S, the mid-engined Cayman S and the rear-wheel drive 911 Carrera S. For the instructors we see examples of our computer mouse made real: Martini Racing Porsches brightly differentiated from the student cars.
Friendly Porsche hostesses wearing Porsche-branded, fur-trimmed Canada Goose jackets shepherd us away from the windows and into a meeting room. They'll help marshal the vehicles during the day while cheerleading the student drivers.
My first car was stickered at an eye-popping $140,000, a 911 Carrera 4S with a few options including the PDK (double clutch) transmission. I can tell you that in a "C4S", 400 willing horsepower on sheer ice is a handful with PSM turned off…
The preliminary technical session describes principles of winter driving and the special features of Porsche vehicles in maintaining control on slippery surfaces. We're told that the models we're about to drive behave differently, depending on the engine location and whether they feature all-wheel or rear-wheel drive. Different configurations require different maneuvers, we learn: take a corner in a "C2" and you give it some throttle to induce oversteer; take the same corner in the "C4S" and you turn first, brake to rotate the car, then accelerate.
Separated into teams (four cars in our group, with four pairs of drivers), our instructor was former Porsche factory driver and Sebring winner Kees Nierop, the only Canadian with his name on a Porsche factory racecar displayed in the Porsche Museum in Germany. And interestingly, one of our team members was Scott Hargrove, Canadian wunderkind and 2014 Porsche GT3 Champion.
All the student cars were fitted with 1.5 millimetre studded Nokian winter tires, and we would drive them with Porsche Stability Management (PSM) on and off, in Normal, Sport and Sport+ modes.
Separated by a hot lunch catered by German chefs, the morning and afternoon sessions on three separate circuits enabled us to better manage and control the vehicles, increasing speed and smoothness as the day progressed. Other training content includes handling ascents and descents, load changing practice, stabilizing braking and circuit lapping.
My first car was stickered at an eye-popping $140,000, a 911 Carrera 4S with a few options including the PDK (double clutch) transmission. I can tell you that in a "C4S", 400 willing horsepower on sheer ice is a handful with PSM turned off, although as soon as you feel you're making some progress, it's time to move on to the next exercise. Kees said it was the same in the two-day course; you always want just a bit more time.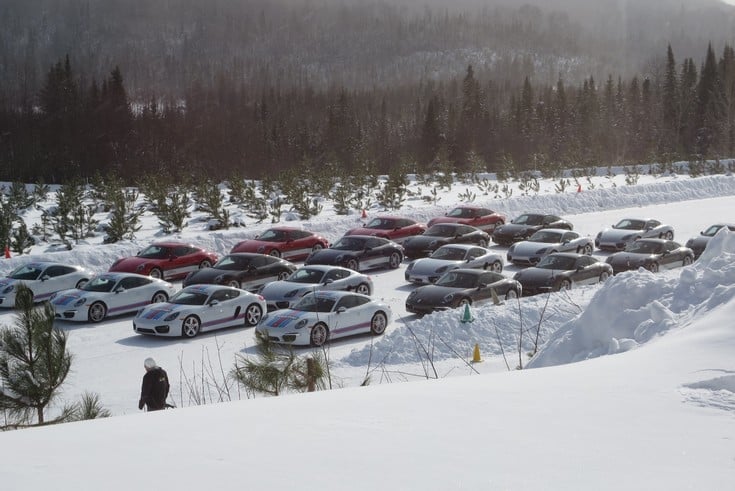 The mantra for the day was "CPR:" Correct, Pause and Recover, with an eye on finesse rather than muscle. Of course, they don't want you to hit anything, either, and a couple of black Porsche Cayenne Diesels with tow straps hovered around the facility just in case. The day would end when the three training circuits were connected and we could blast around what became a 2.8 kilometre track. You really can't get enough of it.
The Precision level Camp4 is the first in a series of Porsche winter driving experiences. Want more? There's the four-night, three day $6,195 Performance 4S and the $7,195 Performance 4RS program to which you can graduate, also held at Mecaglisse. Finally, there's Master Ice-Force. You'll head to Finland for that, where the driving will get very serious.
Porsche Camp4 is luxury done well. Everything is first-rate. It's the best food, the best accommodations, the best instructors, the best organization and the best cars. Attention is lavished upon participants; everybody associated with Porsche is enthusiastic and professional. No time is wasted. If anything, this experience actually over-delivers.
Sure, at a more mundane level, it's marketing for the brand. But it's done so well.
That said, it was ironic to watch a Camp4 participant blithely stuff his vehicle into a snowbank while exiting Mecaglisse. Maybe he forgot he wasn't driving a Porsche. Maybe he was thinking of shiny metal things.
Visit here to learn more about Porsche Camp4
2015 Porsche Camp4 Gallery: