Each year my wife and I can't wait for the summer—like any honest Canadian who can't stand more than one month of -20C weather.
But, as the years go by, I'm continually skeptical that summer can deliver on the promise of fun it once did. I'm well past my school years, when summer actually meant unabashed fun with a (seemingly) limitless supply of disposable income. These days it simply means enjoying the beautiful weather while working indoors.
This year, however, we've made a somewhat intentional effort to steer ourselves back to our teenage and early-20s mentality when it comes to summer plans. If an opportunity comes up, we've decided to jump on it—vacation and sick days be damned!
So, we didn't hesitate to say yes when our friends asked if we were interested in taking a road trip with them to Philadelphia.
Neither of us had been to the City of Brotherly Love before. And part of the plan was to see a couple of Toronto Blue Jays games while we were down there. Double win.
So, why the 2016 Infiniti QX60?
With five people—my wife and I, plus our friends and their baby boy—we figured a big and spacious vehicle was an obvious choice for the road trip. The 2016 Infiniti QX60 fit the bill.
The QX60 is an incredibly sleek, muscular three-row SUV. And it came with all the fixin's: navigation, climate control front seats, second-row entertainment system with two TV screens, power liftgate, second- and third-row moonroof, all the safety tech you can imagine and a lot more. This SUV was built for a proper road trip.
Early Wednesday morning our friends arrived at our place and we got the QX60 packed up. Quickly. We just folded the third-row seats down and there was instantly enough room for everything—three large bags, stroller, pack 'n play and a litany of smaller bags that somehow fit into cracks and crevices. That meant the first two rows were exclusive for us—no bags wedged under our feet or sitting in our lap.
A nice bonus—and something that should come standard in all vehicles these days—was the 110V three-prong outlet in the back. I had a Dell XPS13 for the trip, complete with touchscreen functionality so I didn't have to contort my hands to use it while in the car, and was able to keep it charged the whole way. (Added bonus: it packs a much larger, more vivid screen in a smaller package, making it more useful than a simple tablet for trips.)
Visiting Philadelphia
I expected frequent stops along the way, with a baby in the back and an eight-hour drive to Philadelphia. But, somehow, we managed to power through with just two major stops. I didn't want to completely ruin my body with fast food along the way, though, so before we left we ordered snacks from Naked Snacks, who curates incredibly tasty and healthy snacks for you each month. And then stocked up on Eska's new slim cans of sparkling water. That kept us mostly full, and fully happy, along the way.
The destination was truly our destination—we had a baseball game to get to for that same evening. We arrived in Philadelphia around 5 p.m. and checked into our rooms at the Sonesta Philadelphia.

The Sonesta is right in the heart of downtown Philadelphia and couldn't have been a better location for us. It is walking distance to a lot of attractions and close to transit. Plus, the hotel itself had that upscale downtown vibe—staff at front desk were extremely friendly and had lots of helpful tips of places to see, the hotel boasted a beautiful rooftop pool and had a fun lobby bar.
We left the car at the Sonesta and took the subway to Citizens Bank Park. And what a ballpark it is! It makes Rogers Centre feel prehistoric. The entire stadium is open concept. There are no massive concrete tunnels to walk through or tight corridors to navigate. If you walk out to grab a drink or food, you can still see the field wherever you are. And, they've built stand-up tables and bars around the entire stadium, so you can congregate with some friends and still watch the game.
Oh, and the food and drink. It's actually good. They've done something that we're incapable of doing at Rogers Centre—they've brought in some of the best food from across the city into the stadium. There's a big section with smokers for ribs, two Philly cheesesteak spots, fresh donuts, craft beer…the list goes on. You can come here with friends who don't even enjoy baseball and still have a killer night out. This stadium gets it right on every level.
Speaking of food and drink, Philly has it in spades. a.kitchen + bar, nearby the Sonesta, has a great little breakfast menu that balances savoury and healthy; oats and grains, cured salmon, shitake sandwich, all winners. We spent the next afternoon at the Reading Terminal Market. It's similar to Toronto's St. Lawrence Market, except there are more eateries and you can buy craft beer. (There's a simple pleasure about having a proper beer while walking around a market.) We spent hours just wandering, gawking and eating. Dinic's roast pork sandwich is worth every messy bite.
Philly's historic sites
Of course, it's impossible to go to Philadelphia without hitting some sort of historical site. The Liberty Bell and Independence Hall are great areas to walk through, with a wider lens on its history than I expected. And the obligatory run up the "Rocky steps" at Philadelphia Museum of Art fulfils your Facebook or Instagram requirements. However, it was Eastern State Penitentiary that captured us: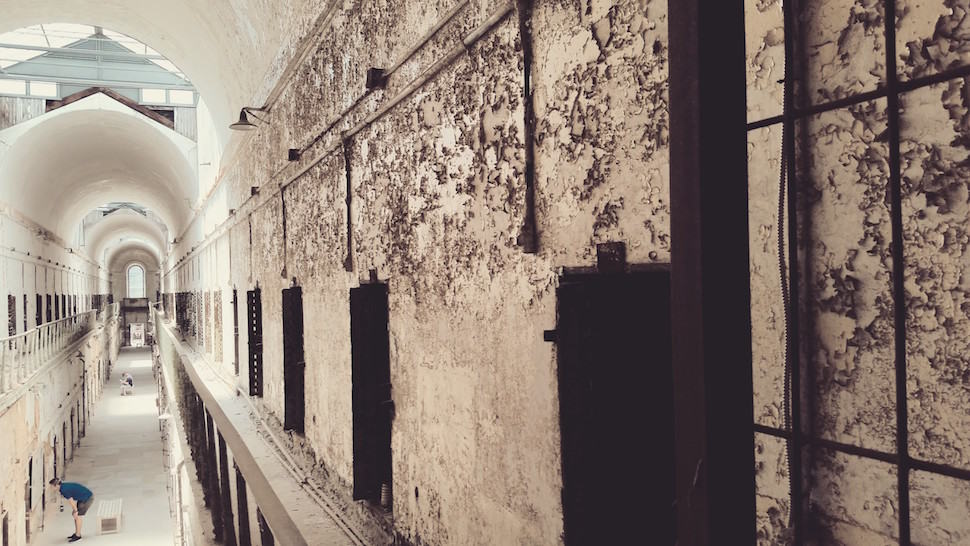 The prison provides a glimpse at the earliest days of incarceration in America; where solitary cells were thought to bring about true penatence. The audio tour, which I usually ignore at such sites, is incredible. Narrated by Steve Buscemi (no joke!), it gives depth and colour into prison life, how the prison changed throughout the years and decades, and the real-life stories of past inmates. Plus, you can see the cell where Al Capone was, the escape route that a few prisoners dug and lots more. This was a place we almost passed up on, but we were all thankful that we didn't. Give yourself at least a couple hours—I could have spent the whole day there.
It's rare that we can go on a road trip with such depth and variety to make everyone happy. But, that's the feeling we were all left with as we piled back into the QX60. There's a richness to Philadelphia that goes well beyond cheesesteaks, and it's something we're hoping to experience again, sooner than later. We truly experienced summer, once again.
Where to stay:

Sonesta Philadelphia

1800 Market St, Philadelphia

Helpful tip: Ask for the 8th floor if there's availability. It's where the gym and rooftop pool are located.
How to get around:
Keep the car parked at Sonesta and walk, take transit and buy a Philly Phlash card—this bus loops around all of the major sites around the city and comes in quite handy.