BMW's nimble little i3 electric four-door hatchback has
concept-car looks with everyday practicality but does it justify the upscale price tag?
The nascent electric car market is prime territory for early adopters seeking technology they can get their hands on before most drivers are ready to make the leap to a car powered by a plug in the wall.
Those are the buyers BMW has in its sights with the i3, a compact electric hatchback it presents as an upscale alternative to vehicles like the Nissan Leaf, a car whose first generation raised eyebrows at its 2012 introduction but now looks perfectly normal next to this Bimmer.
BMW is clearly packaging its electric vehicles to stand out from the crowd: The i3 shares the spotlight with the i8, a plug-in hybrid sports car whose sleek lines are definitely exotic, yet skew more toward what we expect from this German automaker.
Meanwhile, the i3's toaster-like appearance in profile brings to mind past quirk-mobiles like the Honda Element, a boxy crossover that could have been the inspiration for the pair of rear-hinged "clamshell" doors that provide access to this BMW's rear seat.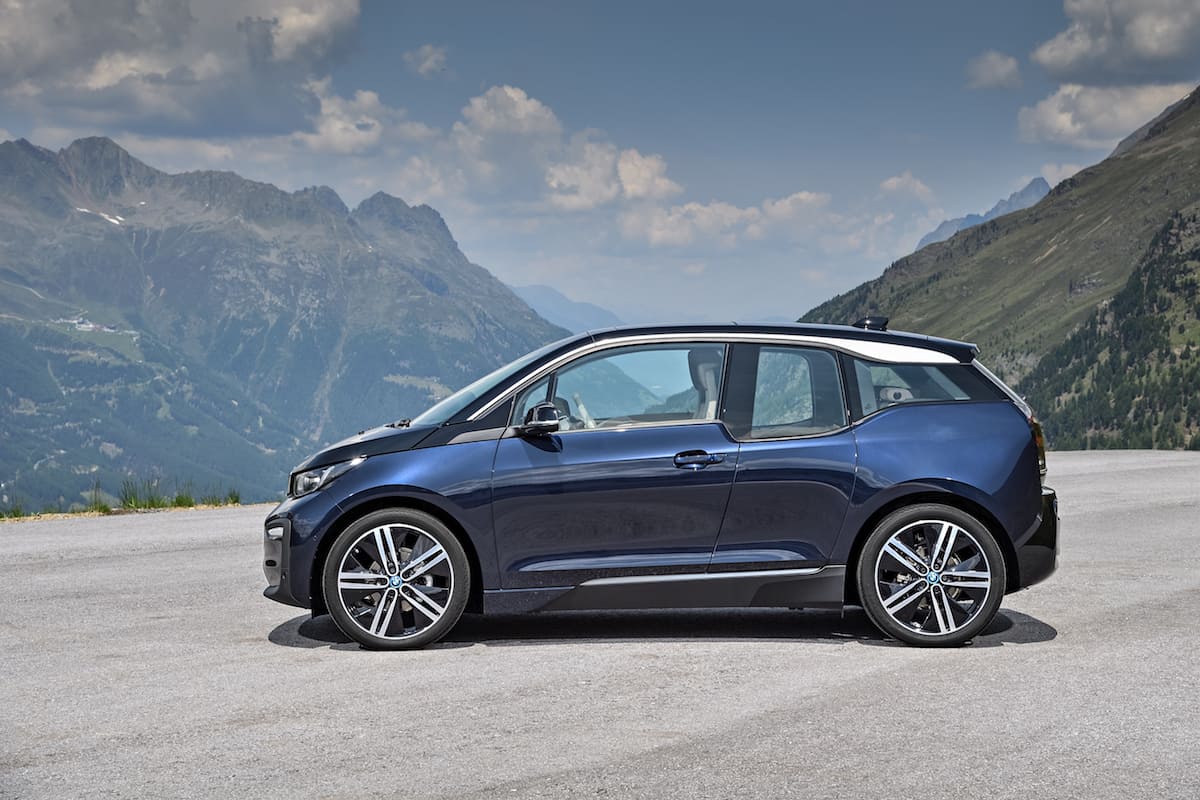 Interior
BMW could have made the i3 a coupe but instead opted for a design that, in theory, eliminates the problem of not having room to swing a long door open in a tight parking spot. In practice, because you can't open the rear door independently of the front, you can wind up nearly trapped in a triangle created by the two open doors and the car next to yours.
The front seats fold forward to ease access to the rear and once you're back there, space is good, save for a lack of room under the front seats for your toes.
Also read read our Hybrid review of 2017 BMW X5 xDrive40e SUV
Up front, the i3 feels spacious and airy, a sensation created by the minimalist dash that swoops down in front of the steering wheel and radio and air conditioning controls. Some of the materials that make up the i3's interior are uconventional — there's a woven hemp fabric on parts of the door panels and the dash top, and the seats feel like tweed — but it all looks good and suits the i3's overall effort to stand out from other compact cars.
Trunk space is on the small side but is useful enough. Folding the rear seats down creates a vast space under the tall roof for moving larger cargo. Packaging the i3's drivetrain under the rear seat and trunk floor left some room for storage under the front hood but, disappointingly, it's not weatherproof.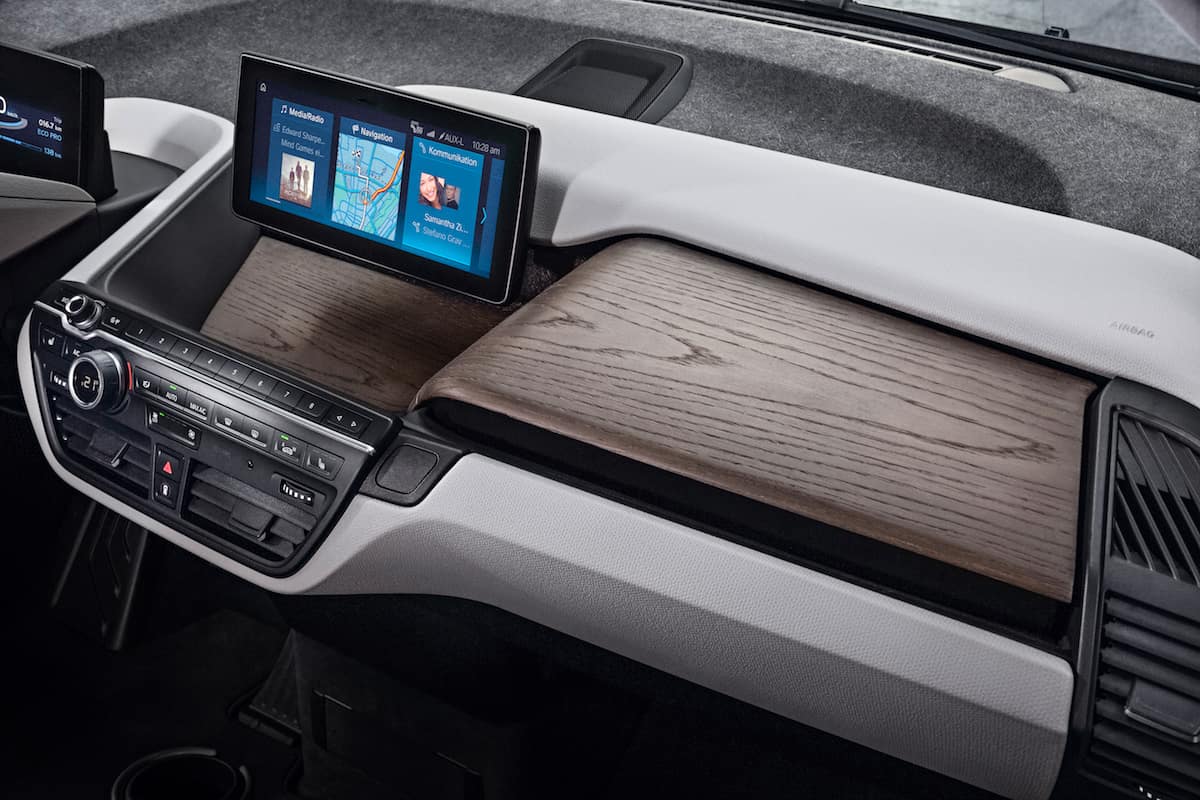 The i3's infotainment functions are handled by BMW's familiar iDrive interface, a refreshing thing in a car that is weird in so many other ways. The rotary transmission selector on the right side of the steering column is a good example: Even after a week of driving, I wasn't quite used to turning it forward for drive (even though that seems perfectly intuitive) because, like most drivers, I'm used to pulling an automatic shifter toward me—backward—to access forward gears.
Handling and Power
The narrow front tires don't have as much effect on the i3's drive as I expected: They deliver surprising grip in corners, even if that's not the kind of driving this car was designed for. Credit the battery pack, located under the floor between the front and rear axles, for helping create a low centre of gravity.
On the negative side, the weight of the electric motor and generator conspire to bias the car's weight distribution toward the rear, lending the car a weird ride that isn't improved by inviting someone to hop in the back seat.
While the i3 provides an interesting look at BMW's future, the company makes a plug-in hybrid version of the 3 Series for C$51,200. It has a much shorter electric range, but can also cover long distances thanks to an otherwise conventional gasoline powertrain.
But that drivetrain does power the i3 eagerly. It's not a particularly quick car, but generous torque moves the car from a stop with authority and provides enough acceleration to make this a viable freeway car, at least for short crosstown drives.
While our tester was a 2017 model, BMW's 2018 update includes a punchier i3s model that adds a bit more power and a sport drive mode that promises to put a little more performance behind the accelerator pedal.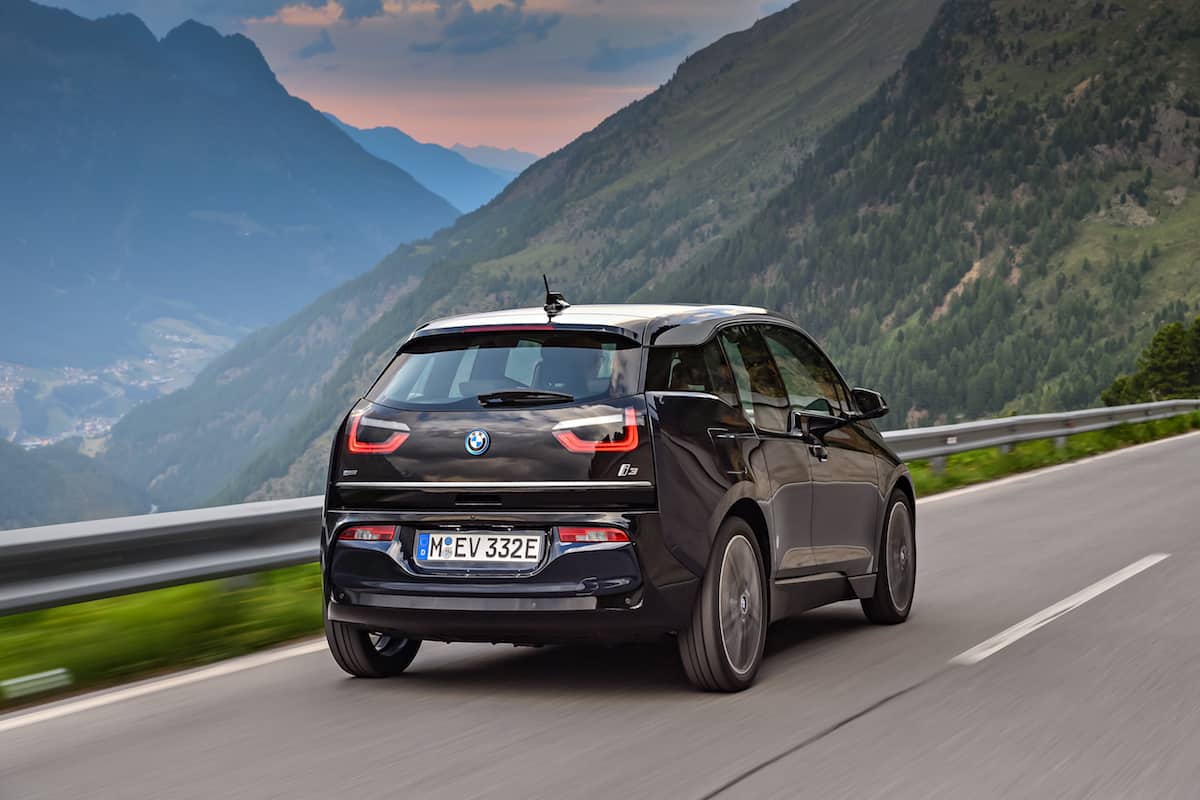 i3 Range
All i3 models promise about 200 km of electric driving before the battery is depleted, but that's based on a driving style adapted to the regenerative braking system that diverts power back to the battery. We got about 150 km out of the battery before our tester's optional range-extending generator fired up. It's a two-cylinder engine fed by a nine-litre fuel tank that BMW says will drive the car up to 150 km, but our less-than-ideal driving style meant the car could only promise 100. All told, we could have gone about 250 km on electricity and gas if we had decided to push our luck, which is really not a lot for a car with an as-tested price of more than C$63,000.
That cost included extras like 20-inch wheels, passive keyless entry, navigation, city-speed automatic emergency braking and nice-looking eucalyptus wood interior trim. BMW quoted a base price of C$52,750 with the range extender, so there's an opportunity to save a few thousand dollars by going electric only, and in Ontario, all i3 models are eligible for up to C$13,000 in provincial government rebates.
While the i3 provides an interesting look at BMW's future, the company makes a plug-in hybrid version of the 3 Series for C$51,200. It has a much shorter electric range, but can also cover long distances thanks to an otherwise conventional gasoline powertrain. It's a better all-around car for people interested in going beyond city limits and may also hold more appeal for conservative BMW loyalists who can't get behind the i3's odd styling.
i3 vs Model 3 and Leaf
BMW has never made apologies for pricing its cars as the upscale machines that they are, but the i3's performance is pretty tame for its price when you consider the Nissan Leaf costs a little more than half as much.
Meanwhile, we'd argue Tesla is making bigger electric-vehicle waves with its Model 3, a compact sedan whose starting price we expect will be close to that of the i3 while, ironically, offering a drive experience closer to what we're used to from more conventional BMW models, electric or not.
Takaway
The i3 is intriguing for its blend of concept-car looks with everyday practicality, but to us, its avant-garde appearance and stylish interior are not enough to justify a C$50,000-plus price tag.
Read more of our Hybrid and Electric Reviews
Learn more – BMW i3 (US) / BMW i3 (Canada)

Specs:
Engine: Electric motor with two-cylinder gasoline range extender
Power: 170 hp
Torque: 184 lb-ft
Transmission: Continuously variable automatic
Brakes: Four-wheel disc
Steering: Electric power-assist rack-and-pinion
Suspension: McPherson strut (front); Five-link axle (rear)
Fuel economy, ratings (Le/100km, city/highway): 1.8/2.2
Fuel economy, observed (l/100km): N/A
Price: US$44,450 / C$52,750 (C$63,095 starting MSRP/as tested)
Photos: