BMW's popular X5 SUV combines all-wheel drive with eDrive hybrid power for the first time with the xDrive40e iPerformance
Since its launch back in 1999, the X5 has been a popular mid-size luxury SUV — or as BMW calls it, Sport Activity Vehicle — that's retained its beefy yet sleek styling along the way. The 3rd-generation and current X5 debuted in 2013 so we'd suspect an all-new 4th-gen iteration should be coming.
Also check out: All-New 2018 BMW X3 Arrives this Fall – Including New 360-hp M Performance Model
But in the meantime, the German automaker has added an all-new hybrid X5 to the family, combining their xDrive all-wheel drive with eDrive efficiency to produce a very capable 308-hp sport utility powered by a 240-hp turbo engine paired to a 111-hp electric motor. And with sustainable and ultra-efficient vehicles dominating the headlines these days, the timing of the 2017 X5 xDrive40e is just right. Only question is: are consumers actually demanding this stuff, or are they content with their conventional gas-powered motors? Well, in less than 10 years, we may not even have a choice.
BMW X5 Hybrid Power: The eDrive Setup
Regardless, BMW, like many other automakers, have been going strong in the realm of electrified and hybrid-powered vehicles the past 8 years or so. First, with their 2011 1 Series ActiveE coupe, then the 2014 i3 and i8, and now both the 330e sedan and BMW X5 xDrive40e launched in 2016. For 2017, this plug-in X5 carries over from last year.
3 eDrive Modes
The force behind all this is BMW's eDrive technology — essentially, their hybrid-powered systems integrating emissions-free electric power with highly efficient internal-combustion engines. But for added control, the X5 xDrive40e offers 3 driver-adjustable eDrive modes that suit the situation and driving expectations. These include:
SAVE Battery mode:

catering more to urban driving, the high-voltage charge is saved for future use; when the charge is below 50-percent, the high-voltage battery is charged with the electric motor acting as a generator.
AUTO eDrive mode (default):

The X5 will determine the optimal gas-hybrid combo, and the internal-combustion engine will kick in a 45 mph or when power is needed.
MAX eDrive mode:

makes use of electric driving as much as possible, barring the battery's charge status.
X5 2.0L turbo engine + electric motor
Powering non-hybrid X5's is a powerful 3.0L turbo making 300 lb.ft of torque and 300-hp at 5800 rpm. But under the hood of the iPerformance X5 is a 2.0L, 4-cylinder TwinPower turbo powerplant producing 240-hp, working in conjunction with eDrive electric motor and battery pack. Thus, real power is generated when needed via the 2.0L engine with all the benefits of the electric motor and low fuel consumption, toggling between the two as needed to garner the highest level of efficiencies. When paired with the 8-speed Steptronic automatic transmission, this engine produces 308-hp and 332 lb-ft of instant torque.
Pop the X5 Hybrid in Sport Dynamic drive mode and you're set with driving dynamics that'll make both you and your occupants happy.
The real benefit here aside from saving money at the pump, is that there's no compromise in performance and driving dynamics — the 2017 X5 xDrive40e SUV still offers towing capabilities to haul that boat to the cabin, and can do 0-60 mph in a respectable 6.5-seconds when needed.
Driving Impressions: X5 xDrive40e SUV on the Road
We took the the 2017 X5 xDrive40e on a short jaunt to the mountains, hitting the highway with some city driving in the mix. This burly beast showed no signs of being an alternative SUV; no indications of hybrid compromises, if such a thing exists.
X5 All-Wheel Drive
The xDrive setup helps grip the road with ease and is super smooth on the highway. My model was equipped with Dynamic Performance Control which distributes power between the rear wheels for optimal agility and sporty handling. Pop the X5 in Sport Dynamic drive mode, and you're totally set with driving dynamics that'll make both you and your occupants happy.
Hence, for twisty roads this hybrid X5 has zero issues as the outside wheel finds more torque so diving into and pulling out of sharp corners is effortless. And there's next to no body roll because it incorporates two-piece anti-roll bars to generate stronger resistance to rolling, keeping the vehicle more level and providing maximum stability and agility (BMW dubs this their Active Roll Stabilization).
2017 X5 Interior and Cabin
The X5's cabin is refined and comfy, as you'd expect from a luxury SUV. My 2017 xDrive40e tester here found the Fineline Oak trim option, plus the Mocha Interior Design Package discussed further below.
Rear Features and Cargo
The rear seats find enhanced foam padding with 3-inch of forward/backward movement so your passengers can recline airplane styles when watching movies on the optional 10.2-inch backrest-mounted LCD screens. More people? An optional 3rd-row X5 provides more capacity and even includes its own climate control.
With 40/20/40 rear folding seats, space opens up significantly when folded down; plus, two cargo rails, four fastening points, a tensioning strap, and a rear cargo net add enough function to store all the good stuff.
Up Front
The centre stack is simple and straight-forward with hard switches and knobs. But it's the 10.2-inch iDrive touch screen up top that you'll want to know about. Part of BMW's ConnectedDrive, the screen provides a clear line of sight at all times. Side and top view cameras give you a bird's-eye perspective of the area behind and on either side of your vehicle. The system also includes 200GB of hard drive space with 20GB storage for audio files.
Exterior Styling
As far as mid-size luxury SUVs go, the X5 is one of more well-balanced that hasn't seen drastic changes in its nearly 20-years of existence. Sure, model refreshes and all-new versions along the way, but the X5 has retained an aggressive stance with bold lines and good looks — the 2017 xDrive40e hybrid is no exception.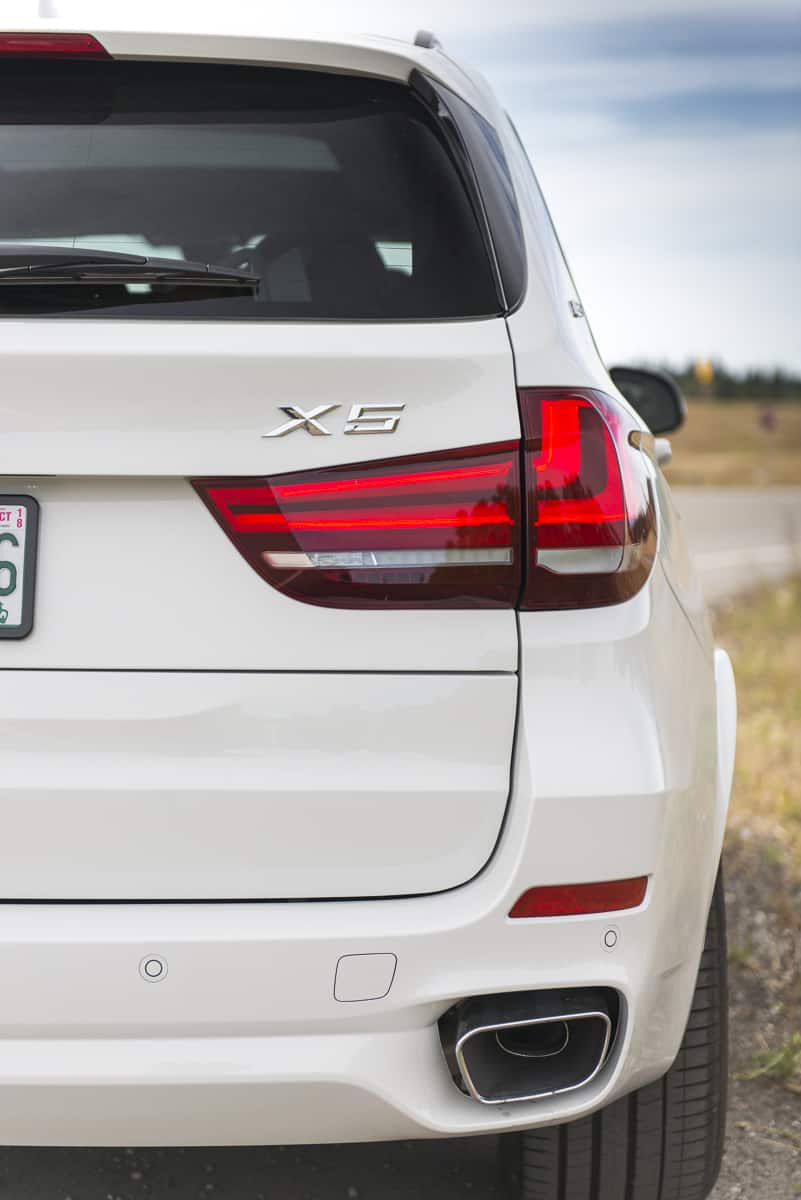 The rear design is super clean with more flat panel features; silver matte exhaust tips and a roof spoiler with center brakelight add some sporty flair. Up front, the X5 finds the signature BMW dual-kidney treatment alongside LED fog lights, Xenon Adaptive Headlights with dynamic auto-leveling, Corona headlight-rings and Cornering Lights. Other styling features include satin aluminum roof rails, high-gloss black Aero Blades, and power-folding, heated side mirrors.
This X5 also finds the M Sport package to include an aerodynamic kit and black 20-inch double spoke wheels.
2017 X5 Hybrid Upgrades and Packages: Equipped Here
Premium Package
The 2017 X5 xDrive40e offers several optional featured packages and my tester here found a few good ones. Including the Premium Package adding more tech and convenience features like Wi-Fi Hotspot and accompanying Wireless Charging Pocket, plus a four-zone auto-climate control.
M Sport
BMWs should always have some M-love, as far as we're concerned. This X5 found the M Sport upgrade to include an M Steering wheel, premium trim options, aerodynamic kit, and 20-inch double-spoke rims (19-inch also an option).
Plus, the Mocha interior is definitely more forgiving with kids onboard — can't say the same for an Ivory White leather cabin.
Mocha Interior Design Package
Two interior leather packages include the Ivory White Interior Design package (Ivory White and Black Nappa leather touches in the cabin) and the Mocha Interior Design package — my tester here finds the latter with Mocha Nappa leather upholstery found on the seats contrasted with Black Nappa leather found on the dashboard. This is nice darker interior, white exterior combo that looks more sophisticated and errs on the side of added luxury. Plus, the Mocha interior is definitely more forgiving with kids onboard — can't say the same for an Ivory White leather cabin.
There's also the Bang & Olufsen sound system upgrade for the audiophiles.
Takeaway
For BMW or X5 fans who care about efficiency and reducing their carbon footprint, the xDrive40e makes total sense. It drives and performs at the high level you'd expect and compromises little with the xDrive all-wheel drive.
Also check out: The BMW X7 iPerformance Wants to Redefine the Luxury SUV Segment
But for those unwilling to pay the premium for the hybrid X5 offering, the 255-hp X5 xDrive35d might just be enough. And for those looking for robust power (or simply don't care about the environment?) can opt for the top-of-line X5 xDrive50i backed by a 445-hp 4.4L V8 turbo. BMW realizes the future is in sustainability, and with the hybrid SUV in the mix for 2017, consumers now have a good range of X5s to choose from.
Learn more – BMW X5 xDrive40e iPerformance
2017 X5 xDrive40e Photos: