Editor's Note: We have two reviews of the Pacifica Hybrid by two separate reviewers; read our other Pacifica Hybrid review here.
---
A minivan needs to do something different if it's to be at all successful in a family vehicle marketplace dominated by SUVs and crossovers. A couple of years ago, Honda set its Odyssey van apart with a built-in vacuum cleaner, a trick Chrysler borrowed for the Pacifica it revealed at the 2016 Detroit auto show.
But Chrysler also had what it hoped would be an ace up its sleeve: a plug-in hybrid (PHEV) powertrain option, making this not only the first hybrid minivan ever, but one that can be recharged while parked.
This is no Tesla-like electric vehicle that can cover hundreds of kilometres on a single charge of its battery. It's got a smaller power pack that Chrysler promises will give you about 50 km of electric driving before the gas engine joins in.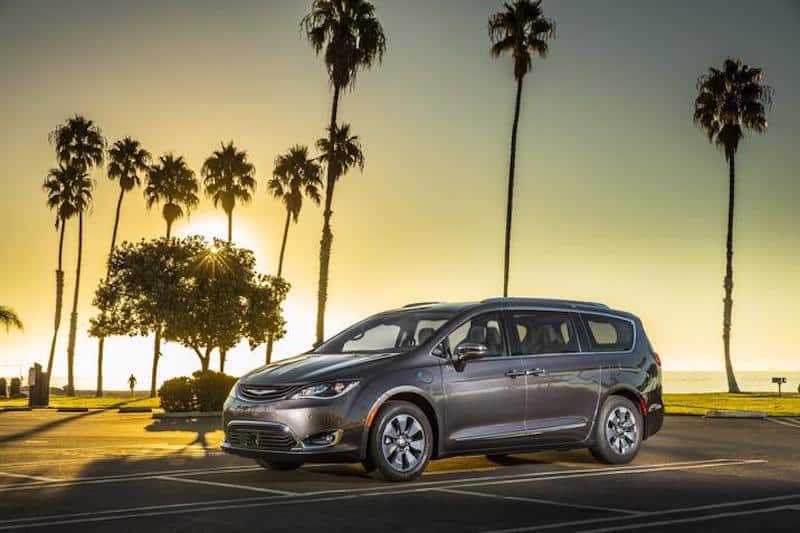 Pacifica Hybrid Power and Performance
That engine is a modified version of the 3.6L V6 used in the regular Pacifica, a good powerplant that lends strong performance to any vehicle it's installed in. But it's not the star here. Stealing the show instead is the electric motor that moves the Pacifica quietly and smoothly on its own, even at highway speeds. This van was already a refined performer, but the addition of electric power only makes it better, to the point where we were a little disappointed every time the gas engine fired up.
Except when we needed to move quickly, at which point — assuming the battery still had some charge left in it — the electric motor did most of the work and the gas engine helped in the background, purring along barely audibly, a disconnect between sound and motion that made the Pacifica feel quicker than it is.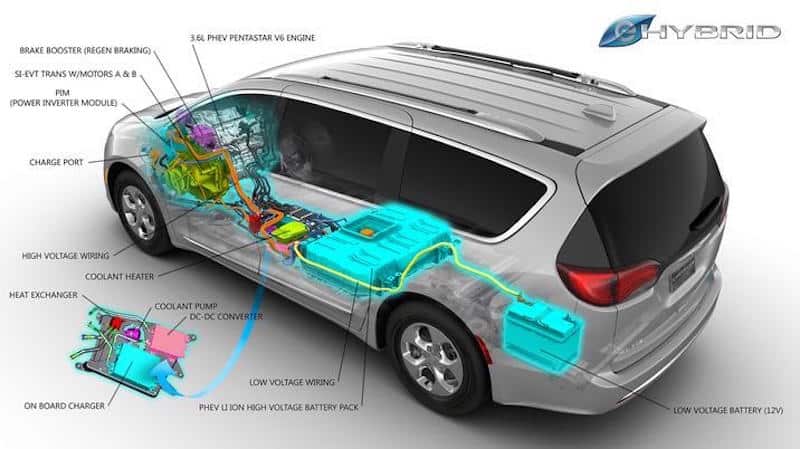 How does the Chrysler Pacifica Hybrid perform in winter conditions?
In winter weather, that scenario will happen more than you might expect. On cold days, the gas motor will come on right away to help warm up the cabin, and cycle on and off to keep you toasty. So, despite charging the Pacifica's battery every night and rarely exceeding its promised electric driving range, only a little more than half our week of winter city driving was powered exclusively by electricity.
Fuel Consumption
That netted us a fuel consumption average of 7.8 L/100 km — not far off the Pacifica Hybrid's rating of 7.3 when running in hybrid mode (which it does with a discharged battery) but obviously far from the promise of using zero litres. By the same token, Chrysler claims a total driving range of 911 km on gasoline and electricity, but again cold weather conspired to reduce that to less than 550 km.
What didn't help in that regard is the Hybrid's 64-litre gas tank; only eight litres less than the gasoline Pacifica's tank, but that makes a bigger difference than you'd expect. Charging can be a challenge, too: juicing up the battery from totally dead takes 12 or 13 hours using a standard 110 or 120-volt wall outlet. With a 240-volt charger, that time is cut to less than three hours.
Pacifica Hybrid Interior Impressions
Practically speaking, a minivan, with the efficient packaging provided by a compact front-wheel drivetrain and large chassis, might be the perfect vehicle to turn into a hybrid: the addition of a large battery pack barely makes a dent in the Pacifica's interior packaging. All you lose are the second-row stow-and-go seats that disappear into the floor in the regular version of this van, the storage wells for them sacrificed in the name of electrification.
If we're being honest, as much as we like the convenience of folding those seats away instead of having to remove them, we're not sure how much we'd miss it. That's how taken we were with this partial electric drivetrain's performance, despite it not coming close to living up to its promised fuel savings.
Like the gas-powered Pacifica, the Hybrid interior is a nice place to spend time, with wide and reasonably supportive front seats and plenty of space. We don't like Chrysler's rotary transmission selector, as spinning a dial to put the car in gear isn't intuitive to us. Our other ergonomic beef is that it's a reach from the driver's seat to the climate controls, which are shifted off to the right side of the centre stack.
Infotainment and Tech
On the plus side, Chrysler's Uconnect infotainment system remains among the best available today, its display sharp and menus intuitive. The one thing we'd change is to make the controls for the heated/ventilated seats and steering wheel hard buttons. Uconnect puts the seat and wheel temperature controls up on the screen immediately after the car is started, but if you want to turn them off after you're underway, it's a matter of digging two or three pages deep in the infotainment display to get to them.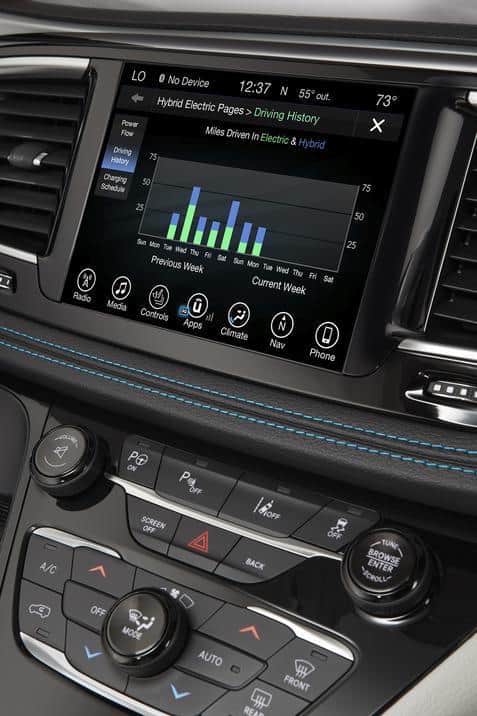 Pricing: the Pros and Cons
The Pacifica's pricing continues to be a curiosity. Chrysler launched gasoline versions in a top-end Limited trim priced well over $50,000, later adding lower-spec models, including an LX model that came in at about $38,000 at the time of this writing.
At the same time, the Pacifica Hybrid Platinum we tested showed an MSRP of just over $44,000 CAD / $41,995 US, including a $14,000 Ontario electric vehicle incentive, making our test vehicle a $58,000 CAD minivan — roughly the same price as was attached to a Pacifica Limited we tested in summer 2016. In B.C., electric vehicle incentives available to the Pacifica Hybrid buyer add up to $5,000, and they total $8,000 in Quebec. Ontario and Quebec also offer rebates toward the installation of a 240-volt charger.
But the Pacifica Hybrid's high-tech powertrain for a similar price means sacrificing features in the name of Chrysler's profit margin, so despite coming in a single trim whose Platinum designation sounds much more posh than Limited, the similarly-priced Hybrid gives up niceties like a panoramic sunroof and auto-dimming rearview and driver's side mirrors.
We'll chalk the missing sunroof up to a weight-saving effort (sunroof glass and the associated hardware is heavy) conceived to maximize economy in what is already a heavy van: at 2,242 kg, the Pacifica Hybrid weighs nearly 300 kg more than its gas-powered counterpart, and nearly as much as a Dodge Durango SUV with its optional V8 engine. But it's harder to figure out why this van had a manual day/night mirror instead of the auto-dimming one that's becoming common in many less-expensive vehicles.
On the plus side, the Hybrid does include an advanced safety package (optional in the Limited) that comprises adaptive cruise control, forward collision warning with active braking, lane departure warning with lane keep assist, 360-degree camera views, front and rear parking sensors and a park assist system that works in both parallel and perpendicular parking.
Takeaway: so is the 2017 Chrysler Pacifica Hybrid worth it?
So, despite some standard feature curiosities, a high price (albeit mitigated by incentives) and fuel consumption that missed the mark, we found ourselves smitten by this van's smooth, quiet performance in all-electric mode. We suspect many family car buyers would still rather spend their $50,000 on a three-row crossover, but if nothing else, the Pacifica Hybrid will attract some long-lacking attention to a type of vehicle that remains a space-efficient (and fuel-efficient, in this case) means of moving more than five people at the same time.
2017 Chrysler Pacifica Hybrid Specs
Engine: 3.6L V6/Electric motor

Power: 260 hp

Torque: N/A

Transmission: Continuously variable automatic

Brakes: Four-wheel disc

Steering: Electric power-assist rack-and-pinion

Suspension: MacPherson strut (front); Independent twist blade (rear)

Fuel economy, ratings (l/100km, city/highway): 7.3/7.2

Fuel economy, observed (l/100km): 7.8