Editor's Note: if you're interested in the hybrid version, check out our 2017 Pacifica Hybrid review Part 1, and Pacifica Hybrid review Part 2.
---
No one was surprised when Chrysler unveiled a new minivan at the 2016 Detroit auto show. After all, they created this versatile type of vehicle, and it seemed perfectly natural that Chrysler should continue to evolve the design.
But rather than update its affordable and popular Dodge Grand Caravan, the American automaker instead rolled out the Pacifica, an all-new premium minivan to replace the upscale Town & Country.
A premium minivan?
Upmarket minivans are not a new concept: Honda and Toyota sell versions of their Odyssey and Sienna priced around $50,000 that are effectively luxury vehicles wearing mainstream nameplates. Kia's Sedona has a similarly posh top trim, but it rings in at a bit less than $47,000.
Here's a look at all the minivans currently on the market.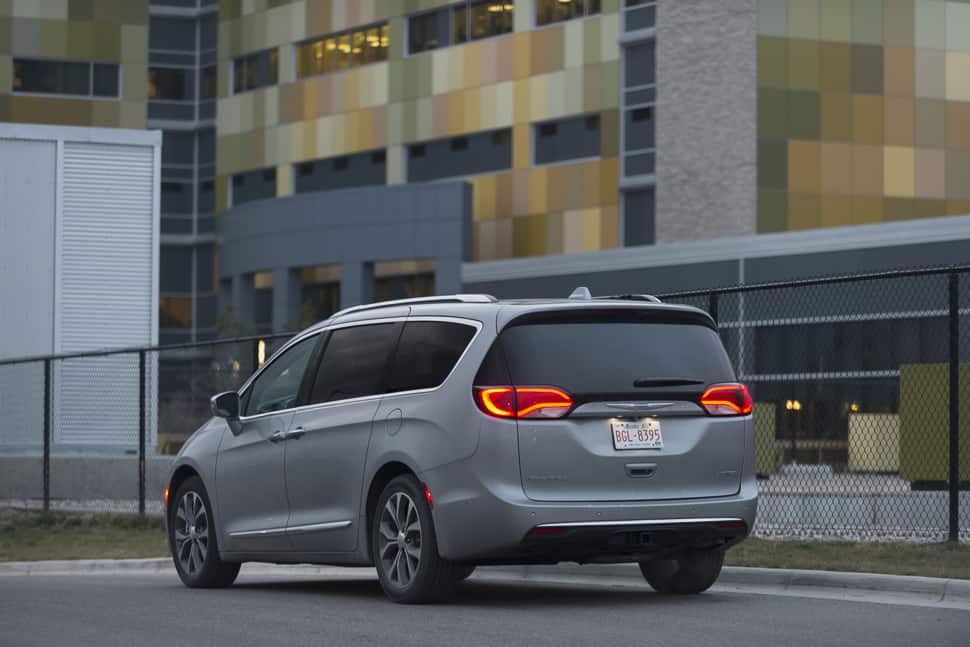 Pricing
But with the new Pacifica, Chrysler now sells the most expensive minivan you can buy, in a $53,000 Limited trim package, while the base model goes for $44,000. And in a curious move, parent company Fiat Chrysler Automobiles (FCA) hasn't committed to bringing a similar update to the Grand Caravan, last redesigned in 2008. Instead, company officials say the Dodge van will remain in production as long as the market demands it, which makes it sound as if FCA is willing to let one of its most popular vehicles languish until no one cares any more.
In the big picture, maybe there's something to that strategy: while the Grand Caravan is among Canada's top 10 best sellers, its U.S. sales position is much less impressive, outselling the pricier Town & Country by just a few thousand vehicles in 2015.
Chrysler hopes a well-appointed van will attract buyers looking for luxury features in a spacious vehicle that's priced more attractively than upscale SUVs and crossovers with similar equipment.
2017 Chrysler Pacifica Interior
From the outside, the Pacifica's shape won't be mistaken for an SUV, but our Limited tester's nicely appointed interior might be enough to sway buyers hesitant to tell their friends they just bought a minivan.
The brown Nappa perforated leather seats are both ventilated and heated, and proved comfortable on a five-hour road trip. Front seat occupants face a dash wrapped partly in the same leather. But while the dash is brown on top and black below, the door panels are the opposite, giving the interior a mismatched feel.
Chrysler was the first minivan maker to design second-row seats that disappear into the floor, and no other manufacturer has copied them. Old versions of these Stow 'n Go seats had thin padding that made them easier to fold into a compact package, but this latest generation has plusher cushions that are noticeably more comfortable.
The advantage is in not having to remove them if you want to turn your van into a cargo hauler. Folding them away is a straightforward process that involves moving the front seat all the way forward, but a button near the bottom of the A-pillar takes care of that electrically, even moving the seat back to where it was before once folding is complete.
And like all minivans, the Pacifica provides better accommodations in the way-back than any three-row crossover or SUV outside of massive full-sizers like the Chevrolet Suburban or Ford Expedition XL. The cushions remain a little thinner back here, but head and legroom are good enough for adults, and with the seats in place there's a useful cargo area behind. Limited models also get a power-folding third row that includes electric seatback angle adjustment.
Tech: new touchscreen
Standout design cues include a slick new touchscreen for the Uconnect infotainment system. The flush-mounted display looks modern, and the Uconnect interface remains among the industry's best. On a more mundane front, Pacifica provides plenty of cabin storage for small stuff: there's the usual bin in the console, a pull-out drawer below the climate controls, and each front door has a small bin under the armrest, in addition to the usual map pocket lower down.
Limited trim comes with voice-activated navigation that works well: parked outside our house in Ottawa, we toggled the voice recognition system and spoke an address across the Ottawa River, in Gatineau, Quebec. The software figured where we wanted to go on the first try and navigated us there flawlessly.
When a manufacturer changes a vehicle as thoroughly as this, it's easy to expect the way it drives to be updated just as dramatically. That's not quite the case here, but we're not surprised: just as there are limits to how drastically you can change a minivan's appearance without sacrificing utility, there's little point in trying to make one drive like something it's not.
On the Road: how does the Pacifica handle and perform?
Hence, the Pacifica hews true to its upscale intentions with a quiet ride and a suspension biased toward comfort, rather than sharp handling. But that suspension is much better at controlling body motions than the old Town & Country's. Pacifica is relatively quiet, too, for a minivan, but Buick's Enclave crossover better isolates its interior from road noise.
3.6-litre Pentastar V6 Engine
The Pacifica's power comes from a familiar 3.6-litre Pentastar V6 carried over from the Town & Country and shared with a wide variety of other FCA vehicles, including the Grand Caravan. It's well suited to the Pacifica and provides smart acceleration with a nice snarl to its exhaust note while doing so.
A nine-speed transmission (made by a German company called ZF) replaces a six-speed in the Town & Country that had a reputation for poor reliability. The nine-speed got off to a rough start, performance-wise, in the Chrysler, Jeep, Acura and Land Rover models that first used it a few years ago, but it performed flawlessly here.
Against Natural Resources Canada fuel consumption estimates of 12.9/8.4 L/100 km (city/highway), my test van averaged just under 10 L/100 km in about 1,100 km of mostly highway driving.
2017 Pacifica Limited Trim with extra upgrades
The Limited model's $53,000 price tag includes navigation, 8.4-inch infotainment display, passive keyless entry and push-button start, active noise cancellation, Nappa leather seating, HID headlights, LED fog lights, power-folding third-row seats, backup camera, blind spot monitor with rear cross path detection, and rear park assist and obstacle detection with automatic braking.
To my tester, Chrysler added an advanced safety tech group ($1,995) that included a 360-degree camera setup, adaptive cruise control with stop-and-go, automatic headlights, forward collision warning with active braking, lane departure warning with lane keep assist and rain-sensing wipers. Also included is a park assist system that will automatically park the van in a parallel or perpendicular spot.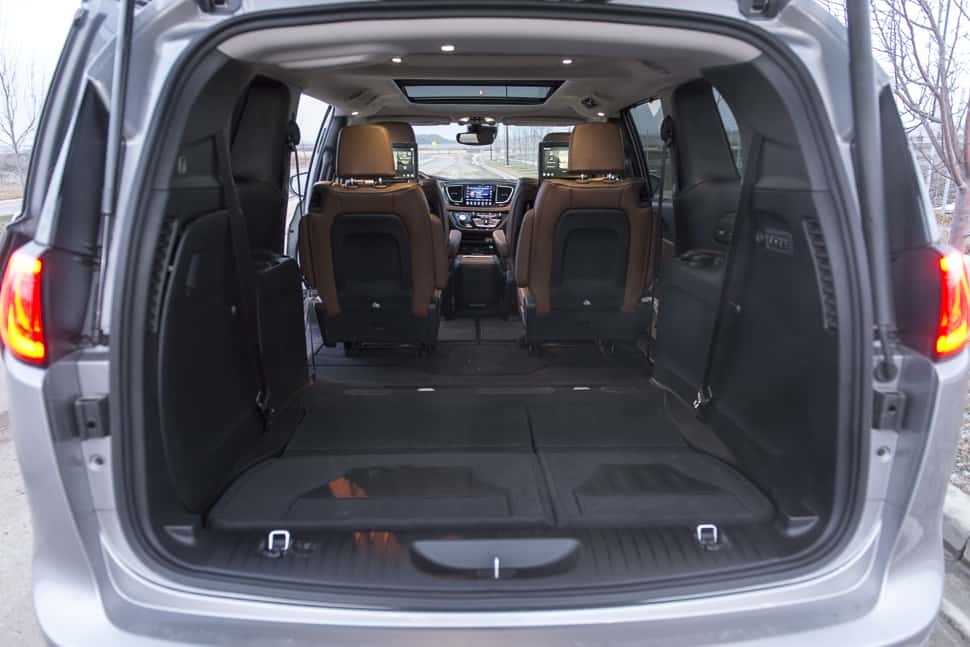 Then there was the Uconnect theatre package of 10-inch video screens in the front seatbacks, along with wireless headphones and a remote-control DVD player, which adds $2,495 to the price.
Normally, the Limited model includes a built-in vacuum cleaner, but my tester had a $295 compact inflatable spare tire kit occupying the space where the vacuum goes. Finally, my van had a $795 set of 20-inch wheels and tires.
All of those extras took the MSRP to $58,575. No doubt, that's a lot of cash, but the Buick Enclave we mentioned above carries a similar price without this van's advanced safety features and with less interior space. What the Pacifica gives up to most similarly-priced crossovers is all-wheel traction; Toyota's Sienna is the only minivan to offer AWD.
Takeaway: is the 2017 Chrysler Pacifica worth it?
The Pacifica is a big improvement over the Town & Country it replaces, and while it's more expensive, the extra cost is justified by the upgraded driving experience alone.
But ultimately it's clear the Pacifica, and Chrysler's decision not to upgrade the cheaper Grand Caravan at the same time, was conceived for the U.S. market. Buyers there tend to spend more on their vehicles than Canadians do, and up here the majority of minivan shoppers who end up in Chrysler showrooms will be turned off by the Pacifica's big price tag.
This new van may actually be nice enough to attract drivers who would have otherwise sacrificed space for a more desirable crossover, but we think it will alienate some budget-minded minivan buyers who will be annoyed the aging Grand Caravan hasn't enjoyed the same mechanical upgrades. And that will affect Chrysler's overall sales, as those drivers go and see what the Honda, Kia and Toyota vans are all about instead.
Chrysler may have invented the minivan, but its quest to move upscale seems to have clouded the company's idea of what Canadian buyers want in a modern family vehicle.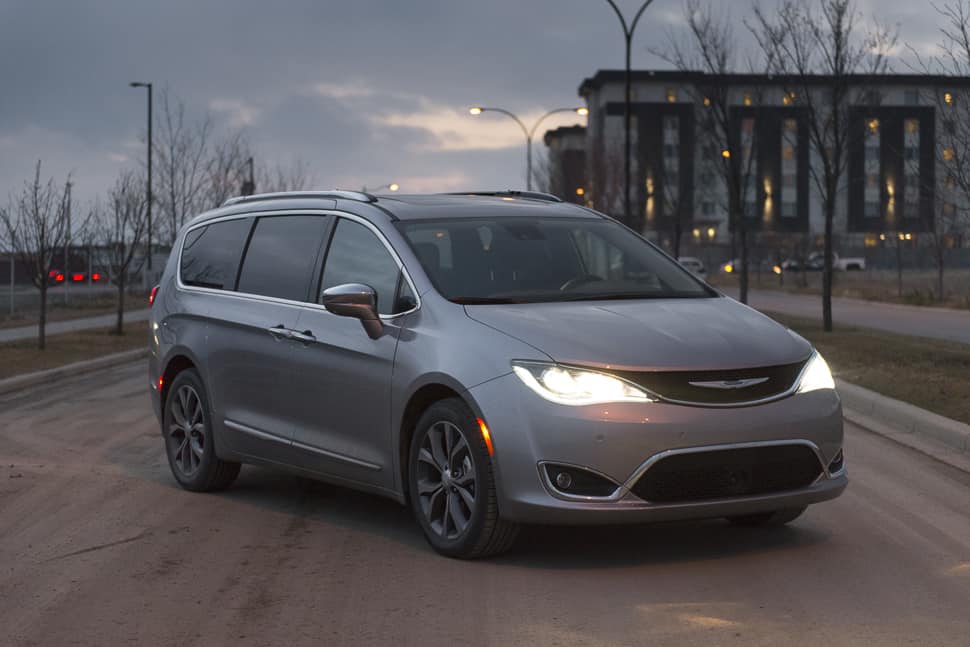 2017 Chrysler Pacifica Specs:
Engine: 3.6L V6

Power: 287 hp

Torque: 262 pound-feet

Transmission: Nine-speed automatic

Brakes: Four-wheel disc

Steering: Electric power-assist rack-and-pinion

Suspension: MacPherson strut (front); Independent twist blade (rear)