Equipped with a new 10-speed gearbox, the 2017 Ford F-150 4×4 SuperCrew puts cabin comfort front and centre
Along with its main segment competitor Ram, the Ford F-150 has dominated the North American pickup market in the last decade. The sheer amount of power, chassis strength and towing capability have made the two undeniable kings of the countryside.
The 2017 update of the Ford F-150 brings a revised engine capable of towing more weight and a slightly changed exterior.
Exterior styling
As before, the F-150 brings aluminum cabin settled over a steel frame. Ford states that this construction style reduces weight by about 700 pounds. The actual results are supposed to be felt in terms of acceleration, agility and fuel economy.
The previous configuration of F-150 using aluminum chassis was the first pickup to get a 5-star rating in EuroNCAP crash and safety tests. The new chassis frame and cabin should, at least by the numbers, be even more tough and safe.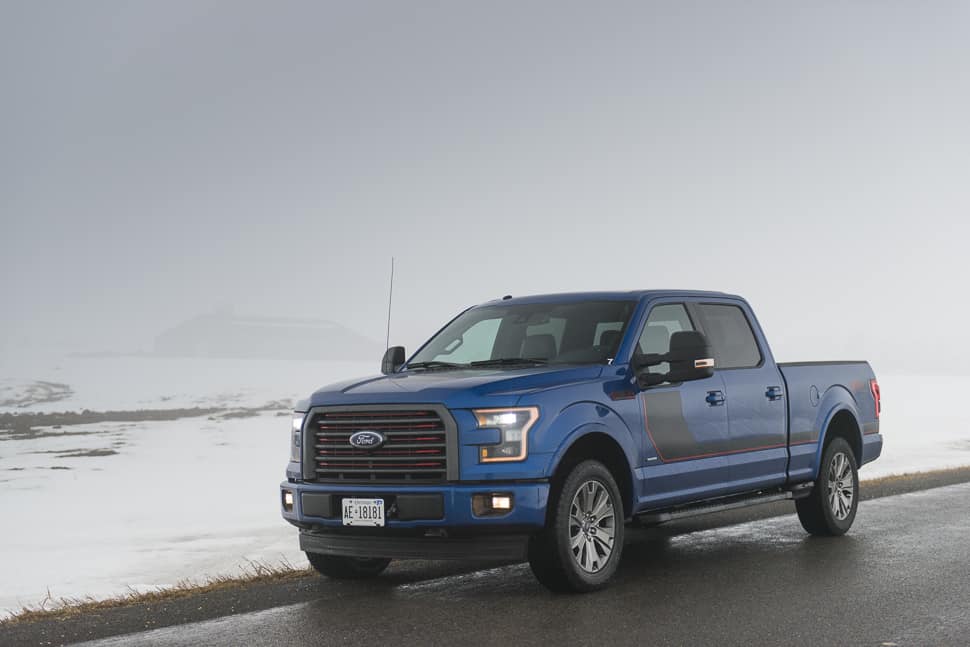 Performance figures: 4 engine options
The 2017 Ford F-150 is available with 4 engine options. The entry level is represented by a 2.7 liter EcoBoost V6 and coupled with the standard 6-speed automatic gearbox. Towing capacity in this configuration is limited to 8,500 lbs. It is also fitted with start-stop technology to save fuel when waiting at the stop light or in heavy traffic.
For heavy hauling Ford recommends the 5 liter Ti-VCT V8 unit which develops 385hp and 387 lb-ft of torque. The Ti-VCT technology is there to optimize torque over all rpm ranges. According to Ford, the V8 is compatible with Compressed Natural Gas (CNG).
The only unit that can currently be paired with the new 10-speed transmission is the 3.5 liter EcoBoost. Using twin turbochargers, the F-150 can tow a maximum of 12,200 lbs. in this engine-gearbox configuration.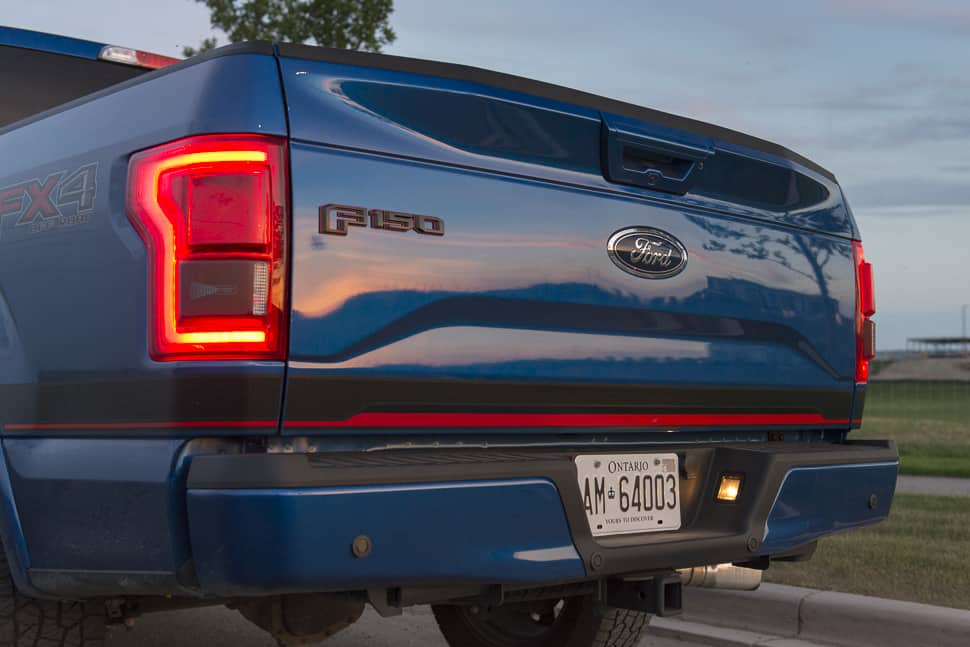 The 10-speed, 6-clutches gearbox is new to the Ford line-up. The ratios are spread rather wide over the 10 speed intervals. The higher number of ratios reduce rpm drop while shifting to 20%, compared to 25% attained with an 8-speed automatic. The automatic gearbox is specifically paired with the 3.5 liter 2nd generation EcoBoost to match its low-rpm torque.
Interior design
Passengers will have to fit within 40.8 inches of headroom and 43.9 inches of legroom for front seats. To put in perspective, these numbers put the F-150 in 3rd place behind the Chevrolet Silverado 1500 and GMC Sierra.
On the other hand, F-150 SuperCrew configuration (as seen here) leads the pack in case of rear seat space.
A leather trim is available for front and rear seats, extending to the steering wheel. Front seats also come with massage functions as well as heating and cooling. Optionally, buyers can choose power driver and passenger seats, heating steering wheel and memory seat for the driver.
SuperCrew Trim
The SuperCrew Cab trim enhances interior space, getting the F-150 to battle again for the top position among the competition. While it does offer the highest amount of space in almost all areas, it doesn't get top score on second seat row. This happens due to the lack of flat-folding of seats. Overall, the 2017 F-150 SuperCrew offers enough space to even be used as a family vehicle rather than a work truck.
Technology
Ford is providing a wide range of optional safety features on the 2017 F-150. Among them, it's worth mentioning blind-spot monitoring, forward-collision warning, lane departure and lane assist, backup and 360-degree camera.
SYNC 3 upgrade is available, allowing integration with Siri. When equipped with SYNC Connect, the driver can use FordPass to check the location of the car, remote access features such as start, lock and unlock. Also, FordPass displays information regarding fuel level and mileage. Scheduled start-u is also possible.
Takeaway
With a new revised EcoBoost engine and 10-speed gearbox, the 2017 Ford F-150 can tow more and consume less fuel. The chassis is further lowered in weight while maintaining structural strength and ensuring safety of the passengers and pedestrians. While it does not offer the highest level of interior spacing, features such as leather upholstery and massage seats are there to compensate. But in contrast, the SuperCrew model offers enough passenger cabin space in an upscale package rivalling most family sedans on the market.
Learn more – 2017 Ford F-150
2017 Ford F-150 SuperCrew Gallery: