High River, Alberta – Three years since the latest all-new, fourth-generation Subaru Forester debuted, the new 2017 version of the popular CUV carries on with additions and improvements across the board. From safety features and better handling to a quieter cabin and some exterior styling upgrades, the Forester with its proven all-wheel drive continues to be the choice for adventurers who value the active lifestyle. The difference is, and unlike other small utilities, the Forester can actually deliver.
We travel through the hilly southern region of Alberta, which hugs the Rocky Mountains, starting out in the recently rebuilt town High River down to Pincher Creek, following what is known as the Cowboy Trail. Add rain, mud, cows, cowboys, and we're good to go.
What's new for 2017?
The biggest improvements to the 2017 Subaru Forester are in the areas of safety, performance, and comfort, with some minor cosmetic changes in the mix. New additions including reverse automatic braking, rear vehicle detection, and steering responsive headlamps are perhaps the most significant. Also, PZEV emissions equipment is now standard in all 2.5i models, and the Forester XT Limited trim with the tech package now features active torque vectoring for improved handling.
Safety
Subarus are synonymous with safety. And for the active lifestylers in particular, this only makes sense. For those who follow the accredited safety standards, the Forester is the only vehicle in its class to achieve the Top Safety Pick status from the IIHS for the past ten years. But all you should really care about is this: their vehicles are getting safer as technologies improve. And the Forester is no exception.
EyeSight
For 2017, the Forester finds the third-generation of the optional EyeSight system, now with Lane Keep Assist. The collision prevention EyeSight appears to be more streamlined than the previous, bulkier version which sits above the rearview mirror. The updated EyeSight now sees 40% greater range and viewing angle, better cameras (CMOS instead of CCD), and shorter response time, to name a few.
Reverse Automatic Braking
This is a terrific new feature particularly for suburbanites like myself who have young children. The purpose of the RAB system is to prevent collisions when backing up at slow speeds. How does this help? With the frequent incidents of children on sidewalks being hit by vehicles pulling out of their driveways, this sort of preventative solution makes sense. I don't have pulls or references to back this up, but it happened in our neighbourhood recently, so as a dad that's enough for me.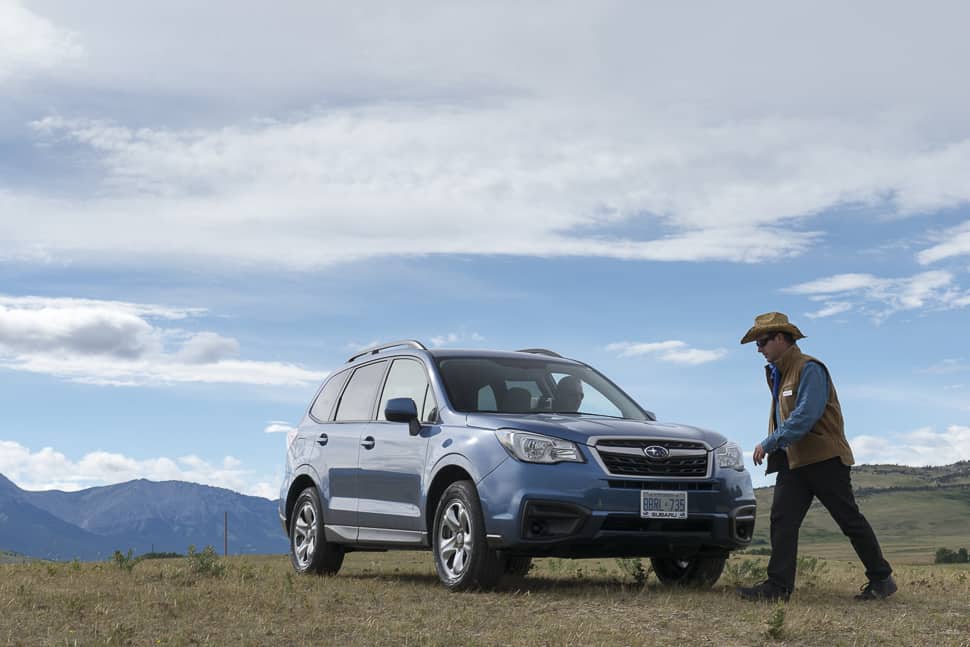 We had the chance to actually test this system out, which seems to work the way it's supposed to: the Forester will appropriately apply brakes when an object is detected. Sure, it's an abrupt, uncomfortable stop that'll jolt your head forward, but we're aware of the alternative.
Subaru Rear Vehicle Detection
Available on Limited and Touring trims, the SRVD offers the driver improved alerts in blind spot detection (when rear view is obstructed by C and D pillars), lane change assist (when vehicles in the adjacent traffic lane are approaching), and rear cross traffic (when vehicles approaching from the left or right when backing up).
Improved Exterior Lighting
Big improvements to the 2017 Forester lighting include the introduction of the Steering Responsive Headlamps where the lamps pivot in the turning direction to provide better coverage (driver turns right/left and lights turn accordingly); new LED headlights with new daytime running lights wrapping around the lamp cluster; and new rear combination LED lamps.
New Forester's Performance & Handling
Better technology need not always apply to $900 iPhones and insane kitchen appliances. Automakers continue to make major progress in performance and handling; yet, frankly, I often ask: how much better can consumer vehicles get? But it's happening. With each refresh. And as drivers, it's all in our favour.
The more significant driving dynamic and performance changes for 2017 include an updated control function for SI-Drive mode in XT models; a speed control system for the 2.5i and 2.0XT models; improved driving control with Active Torque Vectoring. Plus, a long list of footwork tweaks from dampening to springs rendering a more refined, capable off-road machine.
The higher trim Subaru Forester XT Limited with Technology Package models now feature active torque vectoring.
Key 2017 Forester performance specs
Quicker shifting; feels like regular automatic but is a true CVT

More responsive – quicker gear ratios

Better handling with flatter ride – reconfigured suspension

CVT is quieter and contributes to improved fuel efficiency
2017 Subaru Forester Interior
You can't have a refresh without some love in the cabin. For 2017, the Forester interior space is quieter via sound insulated windshield and reinforced side glass and added underbody silencers, to name a few.
There's now a heated steering wheel, rear heated seats, and memory seats up front. The Touring and Limited trims get a new centre cluster, including a very most important feature for some: the largest screen in its segment, and only one that is a touch-screen.
Takeaway: is the 2017 Subaru Forester worth it?
If you're shopping the SUV/CUV market, there's undeniably a huge selection today. But, unlike many newcomer CUVs jumping into the game due to massive demand, the Forester is a true, capable sport utility that's been here since 1997. While many of the CUVs boast the active lifestyle, the Forester can actually deliver.
Pros:
Addition of some significant preventative safety features (i.e. more alerts; turning headlamps)

5 new wheel design options

Manual transmission option for AWD – yes, that's a good thing (only Subaru offers this)

Tighter, updated handling and performance; CVT more refined for 2017

Cabin looks more streamlined, especially front console and controls; finally a heated steering wheel
Cons:
CUV segment is hyper-competitive – too much competition for the popular yet misunderstood Forester

Not inexpensive either compared to competitors, despite being a

proper

 off-road SUV compared to what's out there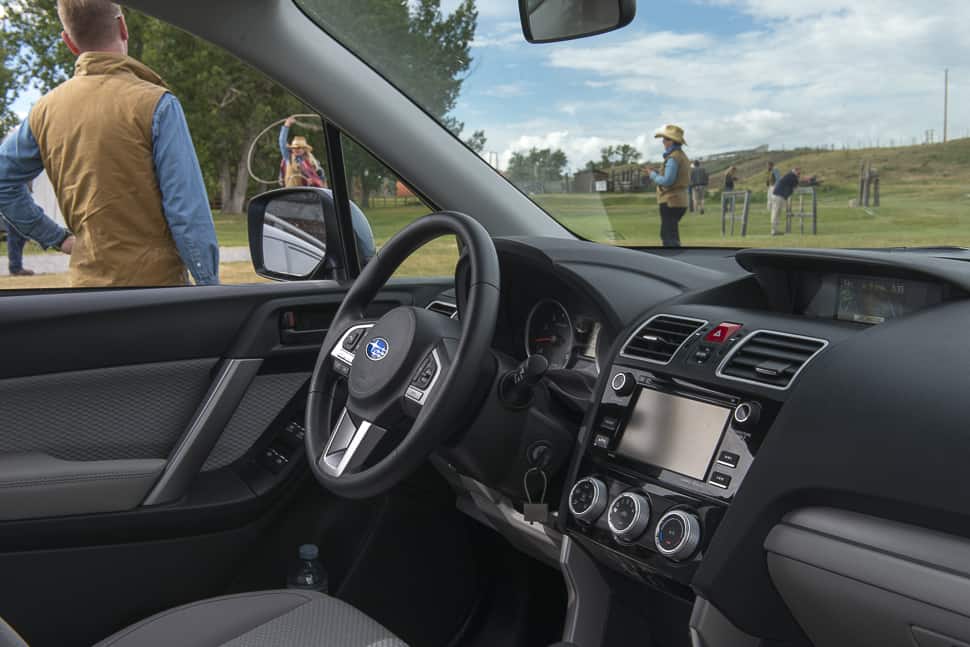 The Drive: Highway 22 – The Cowboy Trail
Alberta's Rocky Mountains usually take all the glory, and rightfully so. But the area alongside the mountains hugging the eastern peaks, lies a beautiful, hilly region of forest, rocks, and ranch land.
This happens to be my backyard yet I'm still always in awe everything I drive what's dubbed the Cowboy Trail (Highway 22) – a stretch of highway running north-south through absolutely stunning ranch country.
High River, Alberta – Get that F word out…
North of here, sits the small town of High River, Alberta which in 2013 was completed submerged due to unprecedented rain and floods. In three short years, High River has worked hard transforming itself into a livable, workable region inviting investments, families, and overall growth as the town continues to rebuild after many have abandoned area in fear of future floods, despite new measures to ensure a similar disaster will not occur again. But the challenge now lies in changing perceptions. As they say here, High River isn't the 'flood town' – it's time to get that old F word out!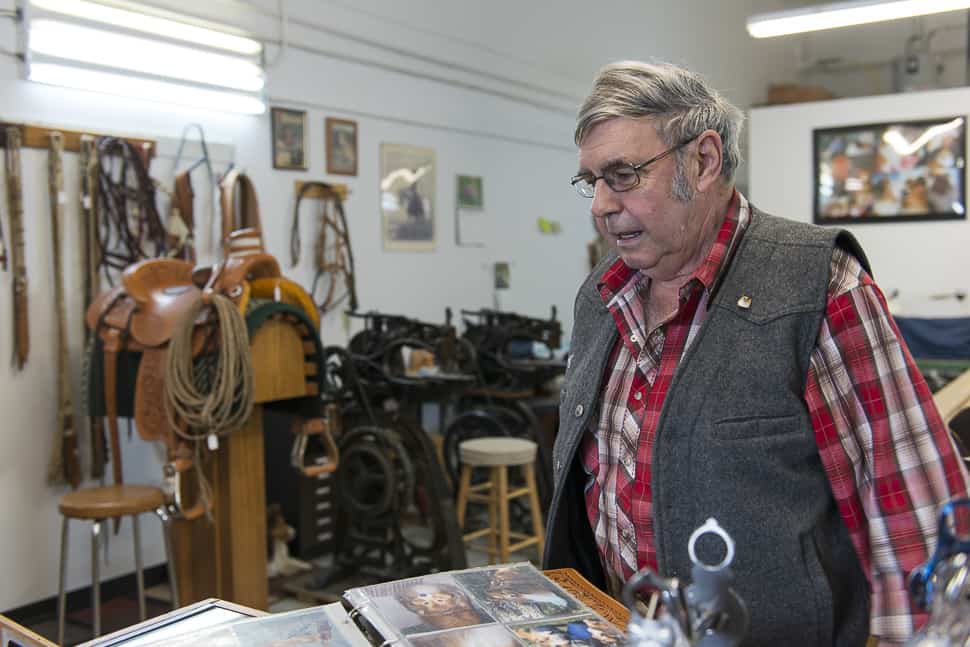 With the recent Fort McMurray fires in northern Alberta, coupled with the 2013 flood damage in Calgary and High River, my province has seen better days. But like nearly all resilient communities across the globe – from villages to towns to metro cities – we can and will rebuild.
Interior and exterior 2017 Forester pictures: