St. John's, Newfoundland – Consumers have been electing to put utility vehicles in their garages in lieu of traditional sedans, vans and wagons for the better part of a decade, but with the seemingly steady rise in gasoline prices, the current trend is towards smaller sport utility (SUV) and crossover utility (CUV) offerings.
In response to this trend, the bulk of auto manufacturers have thoroughly revamped their product catalogs to include a wide variety of compact SUV and CUV offerings in an effort to meet the growing demand.
Ford has had great success with the compact Escape and likely with the new 2019 Edge ST, but in an effort to capture an even greater share of this burgeoning market they are bringing the sub-compact EcoSport to our shores.
I had an up close and personal look at a preproduction 2018 EcoSport last July, and now the opportunity to spend a day exploring Saint John's, Newfoundland, in a pair of evaluation units, one fitted with the 1.0 EcoBoost engine, while the other derived its motivation from a 2.0-litre inline four-cylinder. 
The EcoSport is one of Ford's world cars, which means that it is a model which is available in many markets around the globe. In fact, it has growing a large fan base for a number of years prior to its landing here in North American dealerships.  The bulk of EcoSport production takes place in India and China and the vehicle is shipped to many markets, but the ones slated for our shores come from the former.
The 2018 EcoSport is a revised version of the second generation of this model, which is a good thing, as it means that early North American adopters will be receiving the keys to a well-sorted vehicle that has proven reliable.
2018 Ford EcoSport Price and Trims
Trims
There are four trim levels – S, SE, SES, and Titanium – and two drive trains.  For those looking to use the EcoSport as a practical and efficient urban run-about, front-wheel-drive will be the likely choice. Most brands tend to relegate FWD to their base offerings, but Ford has decided to offer it on all models save the SES. Intelligent 4-Wheel-Drive will be the requisite drive train for active adventurers who plan to venture far and wide in their vehicles, and this system is available across the board.
Here are the starting MSRP for the 4 trims available (price excluding charges/fees).
EcoSport US Pricing:
S – US$19,995
SE – US$23,000
SES – US$26,880
Titanium – US$25,880
EcoSport Canadian Pricing:
S – C$19,599
SE – C$22,599
SES – C$26,099
Titanium – C$26,899
Ford's press personnel suggest that the EcoSport SE will probably be the sales leader, as it offers enormous value given its long list of standard equipment – moon roof, PEPS (passive entry and protection system), heated seats, SYNC, Sirius  satellite radio, back-up sensors and a rear camera.
New EcoSport Engines
Another interesting marketing move is that Ford's product planning team will offer two engine choices – a 1.0-litre EcoBoost turbocharged three-cylinder good for  123 horsepower and  125 lb-ft of torque, and a 2.0-litre direct-injected inline four-cylinder that produces 166 horsepower and 149 lb-ft.  Both engines feature start/stop technology to reduce emissions and improve overall efficiency. Unfortunately there is no manual transmission offered, as all EcoSport models feature a Select-Shift 6-speed automatic transmission.  SES variants feature steering-wheel mounted shift paddles and a special sport suspension.
2018 EcoSport Competitors
The company is expecting the bulk of EcoSport buyers to be young, university educated, first-time buyers, and women. However, it is expected that empty-nesters and individuals looking to downsize from larger SUV and CUV products like the mid-size Explorer or full-size Expedition will also embrace the new model.
There is a lot of competition in this segment, and Ford has set their sights on rivals like the Honda HR-V, Jeep Renegade, Chevrolet TRAX, and Hyundai's new Kona.  I would also suggest that Mazda's CX-3, Nissan's Rogue Sport / Qashqai, and Toyota's C-HR will be cross-shopped by perspective buyers.
Driving Impressions: How's the New EcoSport on the Road?
Ford's marketing materials suggest that the EcoSport is "Fun, Capable, and Connected."  It is the perfect size for urban settings and offers a surprising amount of interior room for such a small vehicle.  Overall ride quality is good for such a short-wheelbase vehicle, and the EcoSport is surely to convert more shoppers to the SUV camp due to the fact that it handles more like a car than many of its peers.
During our whirlwind tour of greater Saint John's (NL), the EcoSport proved to be a solid performer in most settings. On winding seaside roads the electric power steering offered just enough assistance to help the driver execute manoeuvres with ease, all the while maintaining enough road feel to inspire driver confidence.
I will be interested to see how well the EcoSport performs in my home region of British Columbia, where long climbs and challenging mountain passes provide small displacement engines with a real workout.
For one segment of our journey we had three adults on board, and a brief discussion about the overall ride quality revealed that we were all impressed, as the cabin remained comfortable despite the abysmal road conditions which often featured potholes large enough to swallow the entire wheel with ease.
During our day-long road test we encountered a wide variety of roads types and surfaces, and the EcoSport seemed to shine on all of them.  Both engines operated with levels of smooth precision usually reserved for more expensive and much larger displacement designs. 
Torque seemed to be readily available across the power band, and acceleration is more than adequate for a vehicle of this size on this terrain.  I will be interested to see how well the EcoSport performs in my home region of British Columbia, where long climbs and challenging mountain passes provide small displacement engines with a real workout. 
I suspect that I will need to operate the transmission in Sport mode in this situation to guarantee that the engine and transmission will react more quickly to changes in the terrain.
The EcoSport was happiest while cruising on the highway, and interior noise levels never seemed intrusive.  While navigating through the city the EcoSport responded quickly to all my inputs and was a pleasure to operate in stop-and-go traffic due to its exceptional visibility.  Steering is precise and there is almost no sign of body roll during aggressive cornering, as all models benefit from traction control, Torque Vectoring Control, and AdvanceTrac with Roll Stability Control. Disc brakes are found in all four corners, and the ABS system was quick to engage with each press of the pedal.
Ford's compact SUV, especially when ordered in four-wheel-drive form, offers no-fuss all-season transportation in a well thought out package perfectly suited to the lifestyles of many urban Americans and Canadians.
EcoSport Cargo and Storage
As the EcoSport was not specifically designed for North America, it does feature one significant feature which may seem odd to us buyers.  The rear cargo door is a side-swing unit rather than an upswing hatch design (which is far more commonplace in North America). The operating handle is hidden within the passenger side taillight, and the door itself swings away from the curbside towards the driver's side.  This will offer protection from road spray and noise when parked, but will also require the driver to select longer parking spots to accommodate door operation.  The door is hydraulically assisted and features two stop points to prevent it from just swinging open.
The rear cargo area large enough for a weekend's worth of gear or luggage and with the seats folded offers 1,416-litres of real estate.  With the rear seats in place, there are 592-litres available, and a clever 3-position rear shelf allows you to organize cargo or hide items from prying eyes.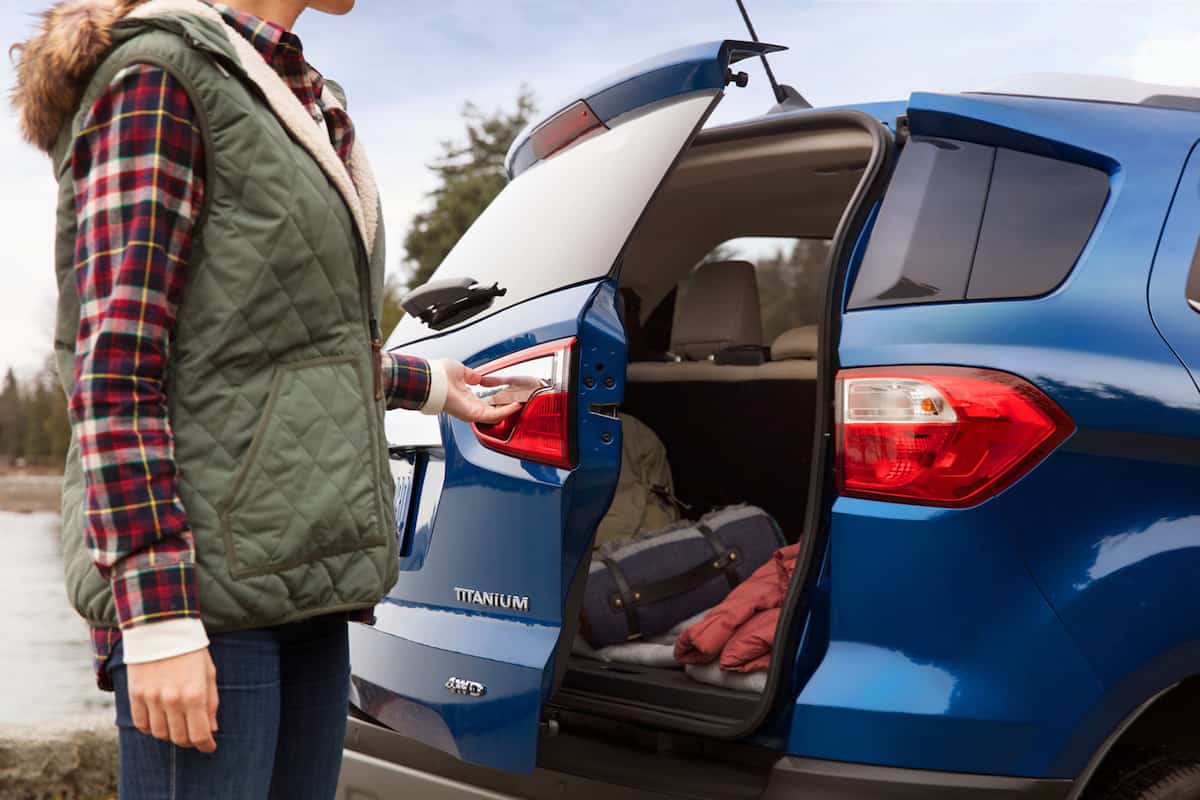 Ford EcoSport Interior, Tech, and Safety
The vehicle's interior layout is functional and uncomplicated, and all controls are placed for ease of access and proven intuitive to use.  There are six interior colour choices and ambient lighting helps give it a youthful and modern atmosphere.
Technophiles will rejoice in that Ford's SYNC system and a 4.2-inch LCD screen is standard, while 6.5- and 8-inch screens with SYNC3, SYNC Connect, and Ford Pass are also available on upper trims.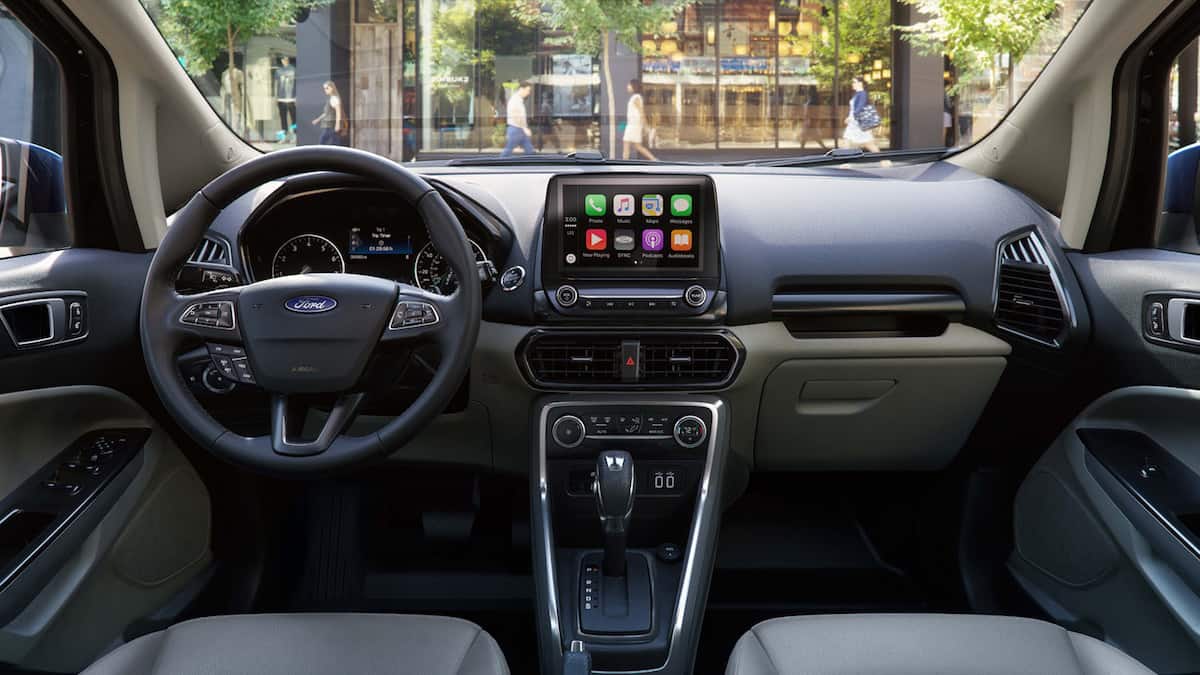 The vehicle can also be equipped with navigation, 4G LTE Wi-Fi (for up to 10 devices), and the vehicle is also the first model in North America to offer the popular WAZE application. There are two charging points available for devices up front, and in SES and Titanium models they also outfit the rear.  A premium 675-wall audio system from B&O Play by Harman is available on some models.
I am an XXL gentleman, standing 6'2″ tall, but I did not find myself wanting of more leg-, hip- or headroom when I occupied either of the front bucket seats, but the rear seating area is best suited for more diminutive individuals or children. Ingress and egress is relatively easy, as the EcoSport sits low and the doors swing open quite wide.
Safety is paramount in a passenger vehicle, so buyers can outfit their EcoSport with a full complement of technological assistants including: Blind Spot Information System (BLIS) with Cross Traffic Alert, tire pressure monitors, and the aforementioned rear camera and parking sensors. 
A cold weather package is also on the menu featuring a heated steering wheel, heated mirrors, and windshield wiper de-icer.
Learn more here:
2018 Ford EcoSport Specs
Type: Subcompact, 5-passenger utility vehicle.
Layout: Front engine front- or 4-wheel-drive
Engine: 1.0-liter turbocharged EcoBoost inline 3-cylinder / 2.0-liter direct-injected inline 4-cylinder (*both engines feature Auto Start-Stop Technology)
Horsepower:

 

123 @ 6,000 rpm / 166 @ 6,500 rpm
Torque (lb.-ft):

 

125 @ 3,500 rpm / 149 @ 4,500 rpm
Transmission: 6-speed automatic
Brakes: Four-wheel disc with ABS
Cargo capacity: 592 L / 21 cu-ft (seats up) / 1,416 L / 50 cu-ft (seats folded)
Fuel efficiency (L/100km):

 

1.0 Litre Engine -Highway 8.1 / City 8.6;

 

2.0 Litre Engine -Highway 8.0 / City 10.2