2018 Ioniq Electric Plus
A couple of years ago, Hyundai announced a corporate commitment to add 25 electrified vehicles to its global offerings by 2025. In North America, it began fulfilling that promise with the first two versions of this car, the Ioniq, with gas-electric hybrid and fully electric powertrains.
Also see: Hybrid & Electric Vehicle Buyer's Guide
The PHEV Option
The last member of the Ioniq family is this one, the Electric Plus. It's a PHEV, or plug-in hybrid, that combines elements of the other two: it can run on a combination of its two power sources or travel a promised 47 km, fully charged, on electricity alone.
While we'd argue the Ioniq's all-electric variant is the most relevant in a marketplace that is quickly adopting electricity as the fuel of the future, the Electric Plus represents a middle ground between the EV and the standard hybrid, allowing some all-electric driving while giving its owners the independence that a gasoline powertrain offers.
Tested: Hyundai Ioniq PHEV on the Road
When we drove the Ioniq Electric (reviewed here), we were impressed by the lack of noise and vibration. By contrast, the Electric Plus's gasoline-engine noise comes through clearly, which we'd call incentive to charge the car as often as possible to make use of its limited electric-only range.
The Ioniq Electric Plus runs its power through a seven-speed dual-clutch transmission whose performance is most impressive in EV mode; in rolling starts with the gas engine running, the gearbox often lurches unbecomingly into first gear as you command the car to accelerate again.
There's generous storage space for small items throughout the cabin, but rear visibility is disappointing, thanks to the split rear window and blind spots created by the C-pillars.
Hyundai says the Ioniq Electric Plus puts as much as 164 hp and 195 lb-ft of torque to its front wheels, and though the Korean manufacturer isn't explicit about this, we suspect that's with both power sources working at the same time. Even with a fully-charged battery, an aggressive stab at the throttle will fire up the gas engine briefly to provide maximum acceleration.
Acceleration is modest, feeling roughly equivalent to that of a compact car like Hyundai's own Elantra sedan. The Ioniq Electric felt a bit quicker despite its lower power output thanks to its quieter, smoother drive.
Hyundai Ioniq Fuel Economy
Our test vehicle averaged 5.1 L/100 km over a busy week of driving that included mostly partial charges of the car's battery, as we had to rely on the slow charging rate of a standard 120-volt power outlet.
2018 Hyundai Ioniq Interior
Inside a footprint about the same as the Elantra's, there's good interior space for four adults, despite the sloping roof that is a clear nod to wind-cheating aerodynamics.
There's generous storage space for small items throughout the cabin, but rear visibility is disappointing, thanks to the split rear window and blind spots created by the C-pillars. That said, we appreciate that the Ioniq is a hatchback.
The newer Honda Clarity offers comparable cargo space (and is a more refined driver) but forces you to load and unload it through a sedan-style trunk opening.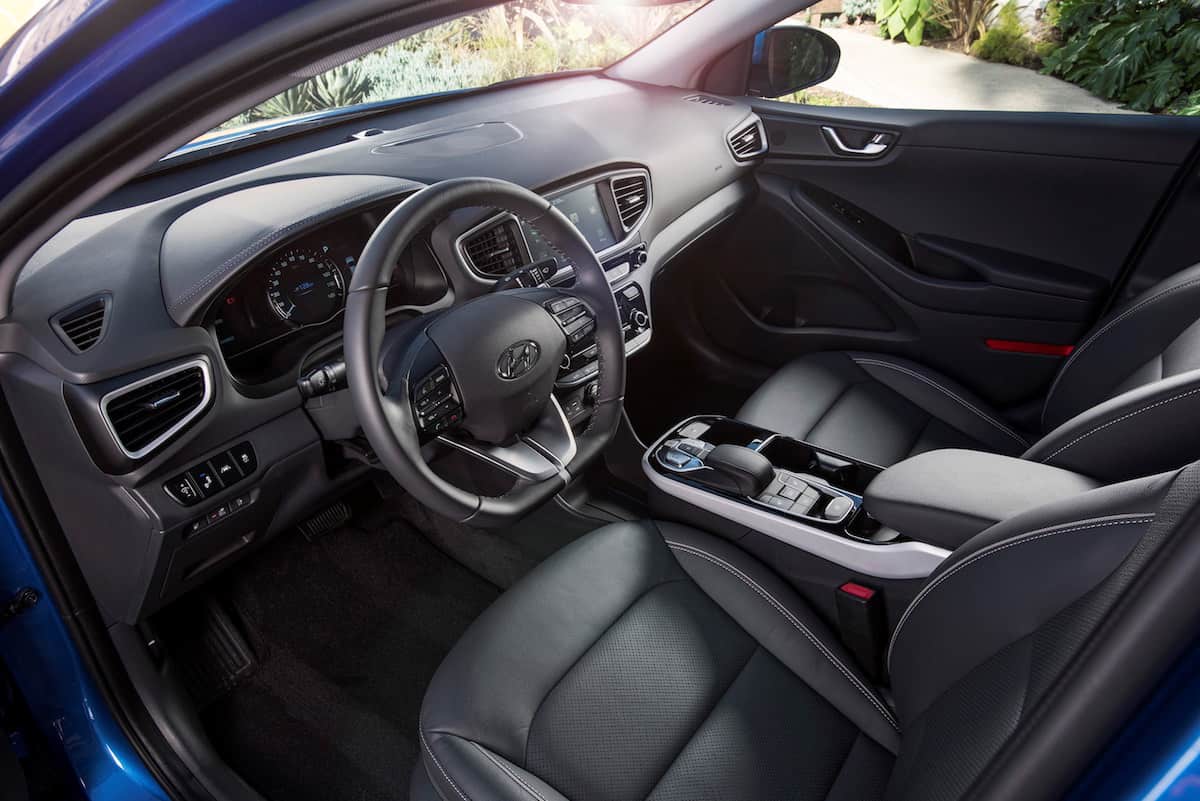 Takeaway
Drivers not quite ready to make the leap into a fully electric vehicle may appreciate Hyundai's decision to create a range of Ioniq models catering to a wider group of drivers interested in reducing their reliance on gasoline. But despite the Electric Plus's extra flexibility (thanks to its longer overall driving range) and lower price compared to the Ioniq EV, that fully electric variant is better at hiding the Ioniq's economy-car roots, and that's a compromise we're willing to pay for.
Learn more: Ioniq USA | Ioniq Canada
What others are saying about the Ioniq PHEV:
As with many green cars, the buyer of the Ioniq plug-in will want to make sure the car's reality is in alignment with their expectations. Those who want a plug-in to act like a fully electric car at least for short distances probably should look instead at the Volt or the Prius Prime. – Bengt Halvorson, Car and Driver
Ultimately, the Ioniq Electric Plus PHEV is a great way to take in the experience of all-electric driving, with conventional car range, and all from a package that stands out as a solid all-around product, driveline and efficiency aside. – Justin Pritchard, AutoTrader
2018 Hyundai Ioniq Price
US Pricing
In the US, the Ioniq Hybrid Blue starts at US$22,200. Next up is the Ioniq Hybrid SEL at $24,000, and the Limited starting at $27,550. All three offer a combined 139-hp.
Canadian Pricing
Ioniq Electric Plus pricing starts at C$31,999 in SE form, while our tester came in Limited trim, which adds leather seating, lane keeping assist and automatic emergency braking with adaptive cruise control for a pricey C$4,500.
Hyundai Ioniq Electric Plus Specs:
Engine: 1.6L four-cylinder gasoline engine and electric motor

Power: 164 hp

Torque: 195 lb-ft

Transmission: Seven-speed dual-clutch automatic

Brakes: Four-wheel disc

Steering: Electric power-assist rack-and-pinion

Suspension: MacPherson strut (front); Torsion beam axle (rear)

Fuel economy rating, electric mode (Le/100km): 2.0

Fuel economy ratings, hybrid mode (L/100km, city/highway): 4.4/4.6

Fuel economy, observed (l/100km): 5.1

Starting Price: US$22,200 / C$31,999; C$36,499 starting MSRP as tested
2018 Hyundai Ioniq Plug-in Hybrid Pictures: