Pros
Seamlessly integrated, extremely economical hybrid drivetrain

Excellent driver-assistance systems

Purchase incentives can offset price premium
Cons
Statement styling won't be to everyone's taste

Economy focus has its downsides for visibility, practicality

Expensive if you don't qualify for a purchase incentive
Calgary, Alberta – Honda has been in the hybrid game as long as anyone, but has never quite matched the success of Toyota's successive Prius generations. The Clarity name was first used on a hydrogen fuel-cell vehicle (FCV) in 2008 but the name has now been given to three ecologically focused siblings: a new FCV, an electric car and the Clarity Plug-In Hybrid. The latter is the only one available in all 50 US states and Canada.
2018 Honda Clarity Price
The 2018 Clarity Plug-In Hybrid went on sale in December 2017 at a price of US$33,400 or C$$39,900, billed as a no-compromise electric vehicle. This Accord-sized newcomer offers a nominal 76km of electric-only range from a 181-horsepower electric motor and 17kWh lithium-ion battery, matched with a 1.5-litre gas engine to provide up to 212 total horsepower and 547km of total range. We subjected an example of the higher Touring grade (an extra US$3,200 or C$4,000) to family life in the Calgary suburbs.
Honda Clarity Review – Touring Model
New Honda hybrid's exterior styling
Other plug-in hybrid cars (Chrysler Pacifica Hybrid, Mini Countryman Cooper S E ALL4) look near-identical to conventionally powered models but with the Clarity Plug-In Hybrid, Honda has plumped for something less run-of-the-mill. The partially enclosed rear wheels evoke Honda's original eco-car, the 2000 Insight, or old Citroëns. There are some cues from other cars in the current Honda range, too, but the Clarity still looks like little else on the road today. In the eyes of this observer the range-improving, low-drag shape is sleek but hard to love. Some will admire its futuristic sweep but it may be too extreme to win universal acclaim.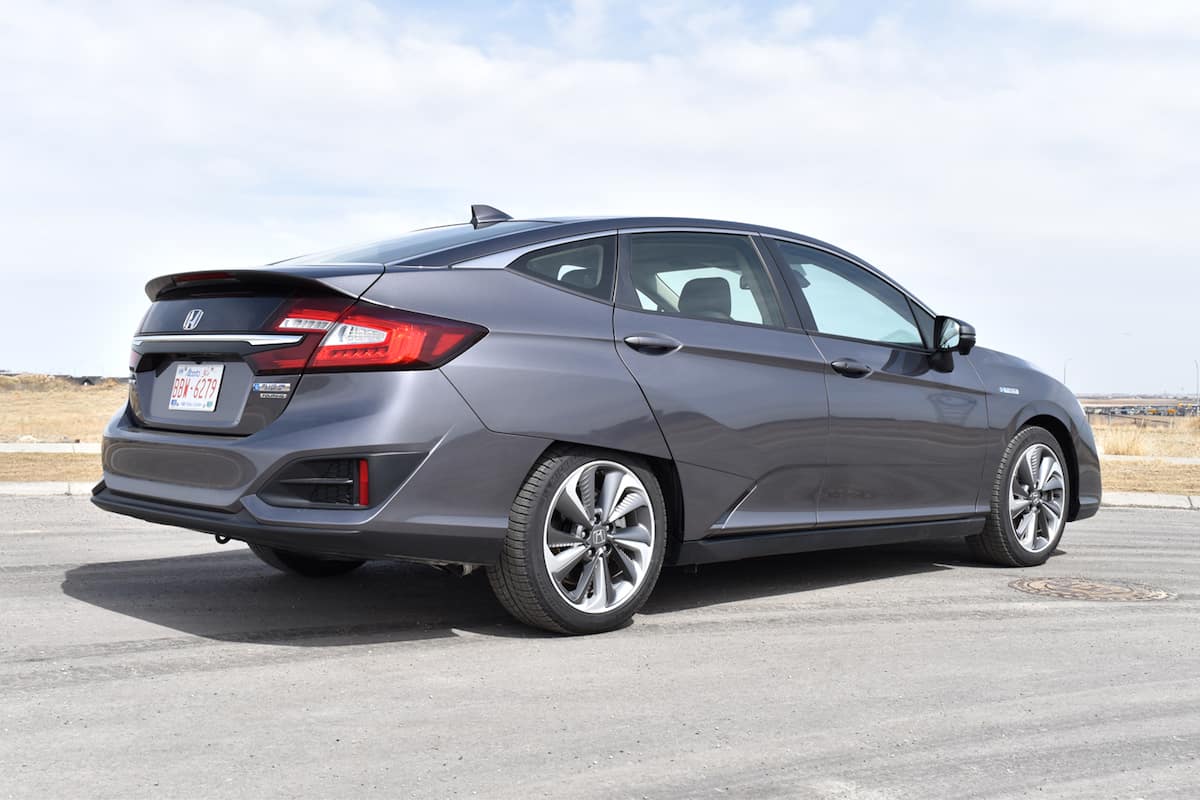 That focus on aerodynamics has consequences for usability, too. The hood drops away to a small, tapered frontal area that's invisible from the comfortable but low-slung driver's seat, making it hard to judge distances when parking. The rake of the rear screen (which has no wiper) compromises visibility that is not especially enhanced by the small, vertical glass cutout at the screen's base. This area is also prone to soiling in wet conditions, compounding the problem. Finally, the distinctive, stylish and aerodynamically efficient 18in alloy wheels sit flush with the tire sidewalls, leaving them susceptible to curb damage – as I found to my cost.
Honda Clarity Interior
The Clarity's interior is spacious enough to carry five in comfort. The Touring trim's leather lends a quality feel and all the gadgets that you'd expect from a vehicle with an eye on the future are here: 8in central touchscreen, SiriusXM, Android Auto, Apple CarPlay and Siri among them. I particularly liked the SMS text message function, which not only plays you an incoming message, but offers a choice of half-a-dozen standard replies – Yes, No, I'm on my way, Talk to you later, I'm driving, etc – at the touch of a steering-wheel button.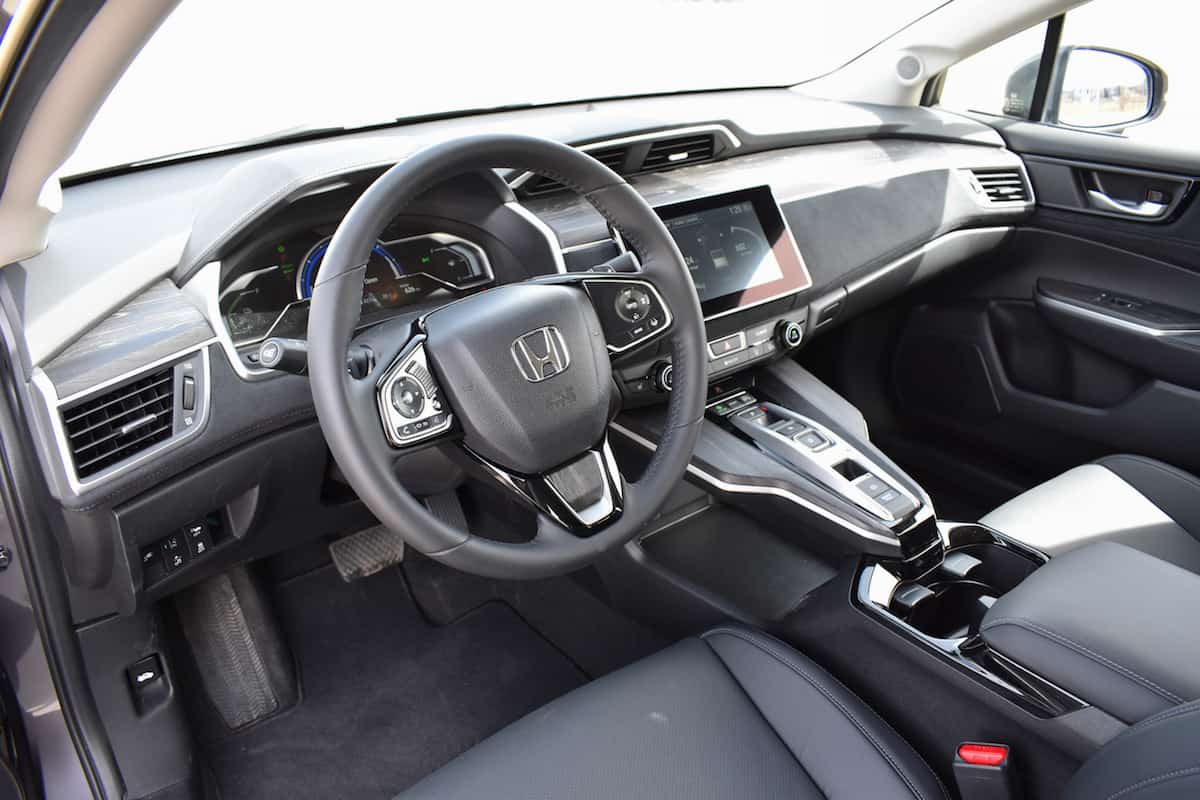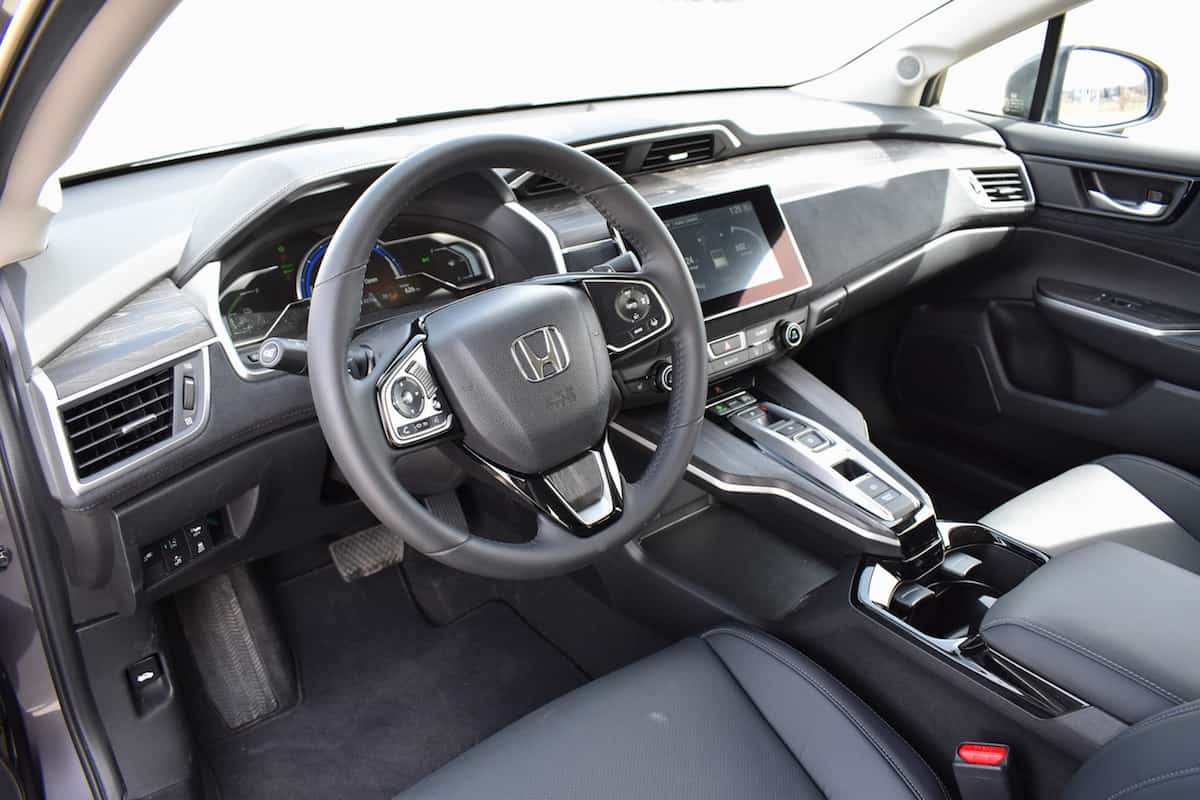 Unfortunately there were a couple of practicality hitches when using the car to haul kids and luggage. The sculpted rear seats sit you lower to helpfully improve headroom for taller occupants, but the sculpted area is too small to easily accommodate a typical child's booster seat. It made it hard for them to position the seat and clip in the safety belt.
Also read: Are Hybrid Cars Worth It? The Pros & Cons of Sustainable Vehicle Ownership
The Clarity also struggles to accommodate large loads thanks to a relatively narrow trunk opening, the small, curved cut-out between trunk and cabin with the seats folded, and a split-level trunk floor created by the hump of the battery pack beneath.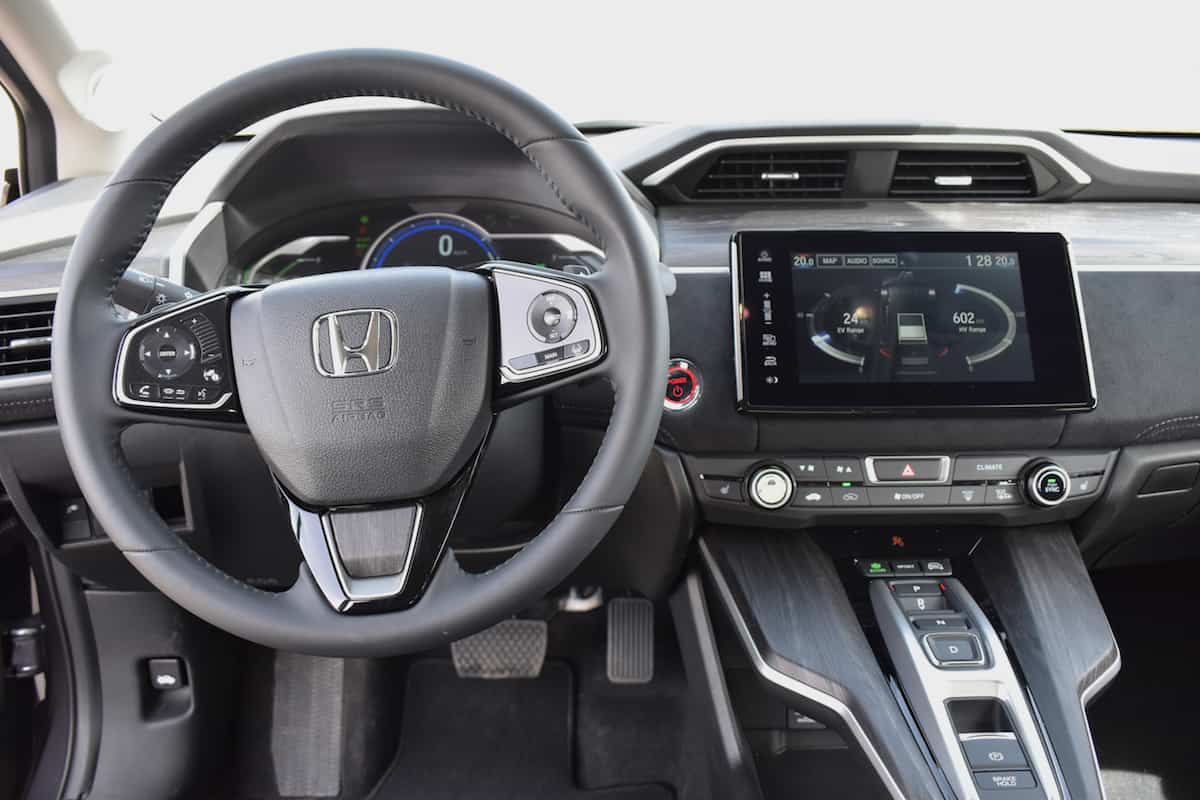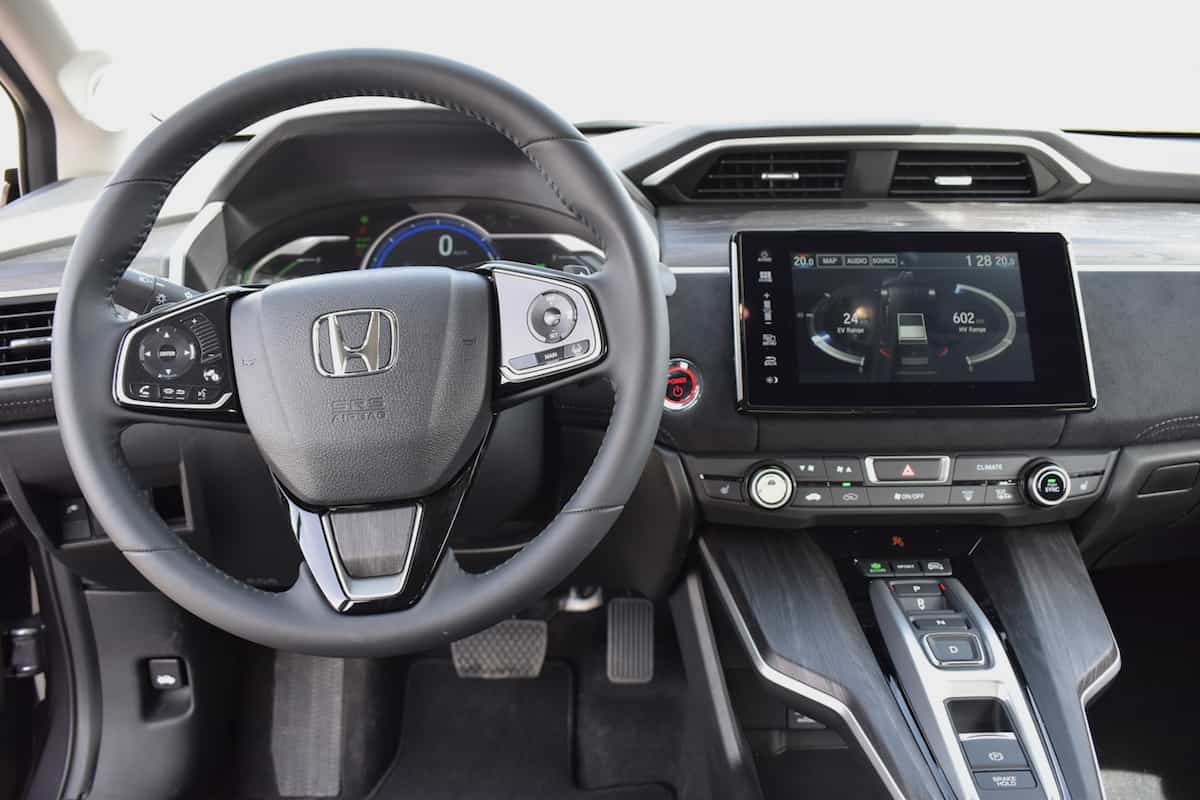 2018 Honda Clarity PHEV Driving impressions
Key to the success of any hybrid is the integration of the gasoline-electric powertrain. The Clarity scores highly here – the switching between the two, or their use in combination if you have a very heavy right foot, is seamless.
In truth, you'll rarely need to call upon the gas engine unless you're covering substantial distances. In mild weather, we got about 70km (around 43 miles) from the battery around town, more than enough for most daily commutes or runs to school and soccer with the kids. The Clarity accelerates briskly to highway cruising speeds on electric power alone and the standard level of regenerative braking is well judged, although you can add more via steering-wheel paddles. Back home, the battery will recharge overnight via a regular 120V socket, or in as little as two-and-a-half hours with a 240V setup. Plug-in reminders and details of local charging stations are available via the HondaLink app.
Refinement is a key criterion for a car that doesn't have the noise and vibration of a combustion engine to mask shortcomings elsewhere. Here too, the Plug-In Hybrid does a solid job. Wind noise is well suppressed save for a little rushing around the door mirrors at speed; road noise is likewise low and the ride is generally comfortable, especially at urban speeds. You likely won't buy a Clarity for handling prowess but the steering is well weighted and a low, wide stance with plenty of weight low down helps keep body roll under control.
We liked the Honda Sensing driver-assistance technologies on the Odyssey and here too, they work superbly. In clear conditions the Clarity will keep itself in the center of a highway lane for 30 seconds with no trouble at all, before prompting you to replace your hands on the wheel. The Blind Spot Information System provides a helpful side-camera view when you activate the turn signal, helping to spot cyclists on your inside, for example.
Takeaway from our 2018 Clarity Touring Review
It's hard to argue with the Clarity Plug-In Hybrid's economy. I covered 291km in a week's driving but used only 3.64L of fuel, which equates to consumption of 1.25L/100km (188mpg), well ahead of the official figure because I did most of my driving in electric mode with overnight recharging.
I suspect many customers will use the car in a similar way, helping to recoup the Hybrid's price premium – in Touring trim with the 1.5-litre turbo engine, an Accord costs upward of C$35,890, a full C$8,000 less than the Clarity Touring. Local incentive programs such as those offered by the Canadian provinces of British Columbia, Ontario and Quebec are another factor in the Hybrid's favour however, with a rebate of up to C$13,000 available in Ontario.
If environmental credentials or low running costs are a priority – the gas engine is supposedly good for 160,000km/100,000 miles without major maintenance – then the Clarity Plug-In Hybrid is worthy of consideration. There are compromises to be made, however, most notably in the car's practicality and styling, which won't suit everyone. Perhaps Honda recognizes this too, having given the upcoming 2019 Insight a much more conventional look.
Learn more here:
Honda Clarity USA | Honda Clarity Canada