Subtle Updates Make NX Even More of a Winner
Compact luxury SUVs are a hot commodity at the moment, and for brands like Lexus, vehicles in this category account for a large number of sales. In fact, in the short three years since Lexus introduced the NX, the stylish little utility has established itself as a star player on the brand's sales charts, accounting for an impressive 27-percent of total sales. While most buyers were electing to purchase the sporty NX 200t, there is a growing interest in the more expensive hybrid variant, the 300h, with each passing year.
Refreshed NX for 2018
Not willing to ride into the 2018 model year faced with a growing field of worthy competitors, Toyota's product planning team has given the Lexus NX a significant revision- call it a mid-cycle refresh, which has brought along several styling enhancements as well as some new equipment and improvements to the chassis and suspension.
NX 300 vs NX 300h
Gas-powered model
The NX 200t has been renamed the NX 300 to simplify things and better align marketing programs. The NX 300 is blessed with the proven direct-injected, 2.0-litre turbocharged inline-four- cylinder engine that powered the former model, a power plant which produces a healthy 235 horsepower and 258 lb-ft of torque. This model is available in no less than seven trim levels, and comes equipped with a six-speed automatic transmission and all-wheel-drive as standard for our market.
Lexus hybrid SUV
The fuel-sipping NX 300h is a hybrid unit, which derives its motivation from a 2.5-litre Atkinson cycle four-cylinder engine which works in concert with two electric motors to generate the equivalent of 194- horsepower. To maximize efficiency, the NX 300h features a continuously variable transmission (CVT), and in a rather interesting way, also features all-wheel-drive (a third electric motor provides power to the rear wheels, while the gasoline engine turns the fronts). The NX 300h sits atop the catalog based on both pricing and equipment levels, and there are two trim levels available.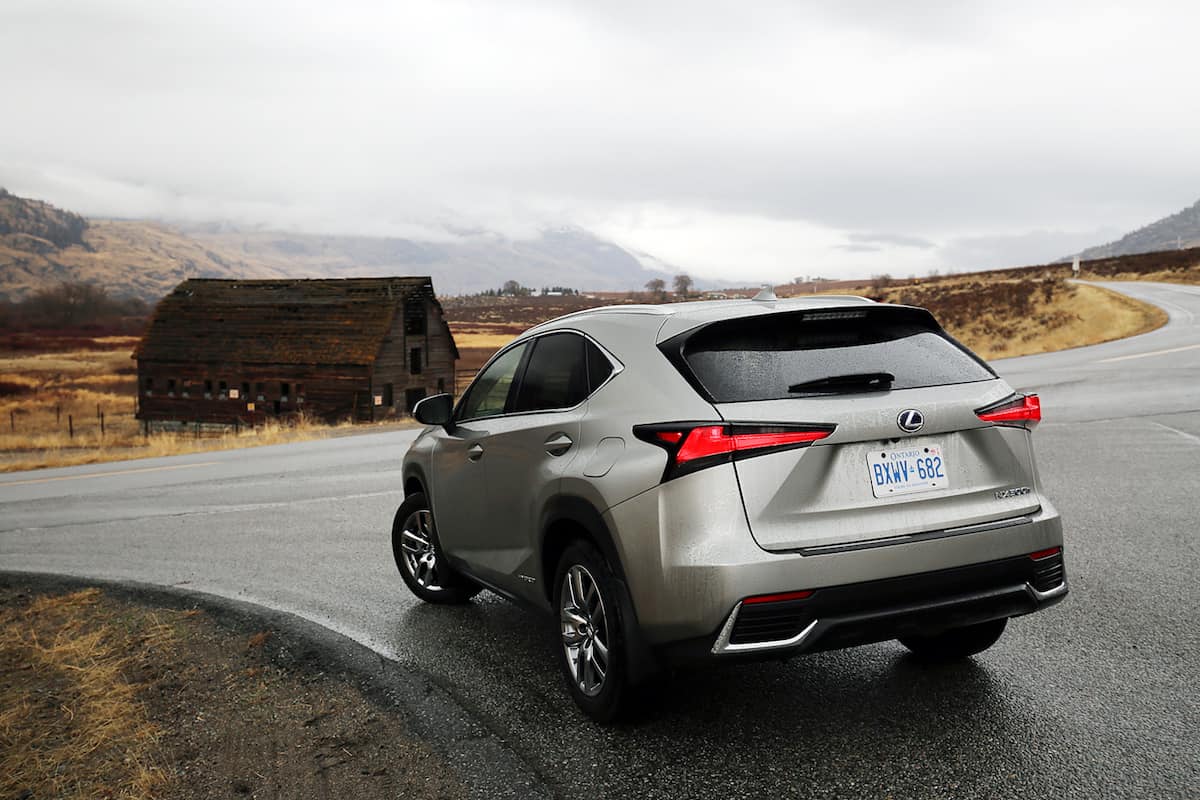 Our review and take on the new NX 300
Updated Exterior Styling
Styling changes are subtle and refined, and are most evident at the front of the vehicle where the company's signature spindle grille presents itself in a loud and proud manner, stretched even wider and lower than that first featured on the outgoing model. Those buyers looking for a more enthusiast oriented ride can elect to order the NX in F Sport trim which features a more sporty and aggressive mesh pattern in the grille, as well as a bold, rear diffuser.
Other styling elements include new enlarged air intakes to feed the engine and cool the brakes, as well as more shapely LED headlamps that look like they take their design from the stunning LC 500 coupe.
Similar attention has been made to the rear of the NX which features over-sized tail lamps and larger exhaust outlets. Real Lexus fanatics will quickly notice that the shape of the spindle grille has been incorporated into the bodywork of the upswing tailgate.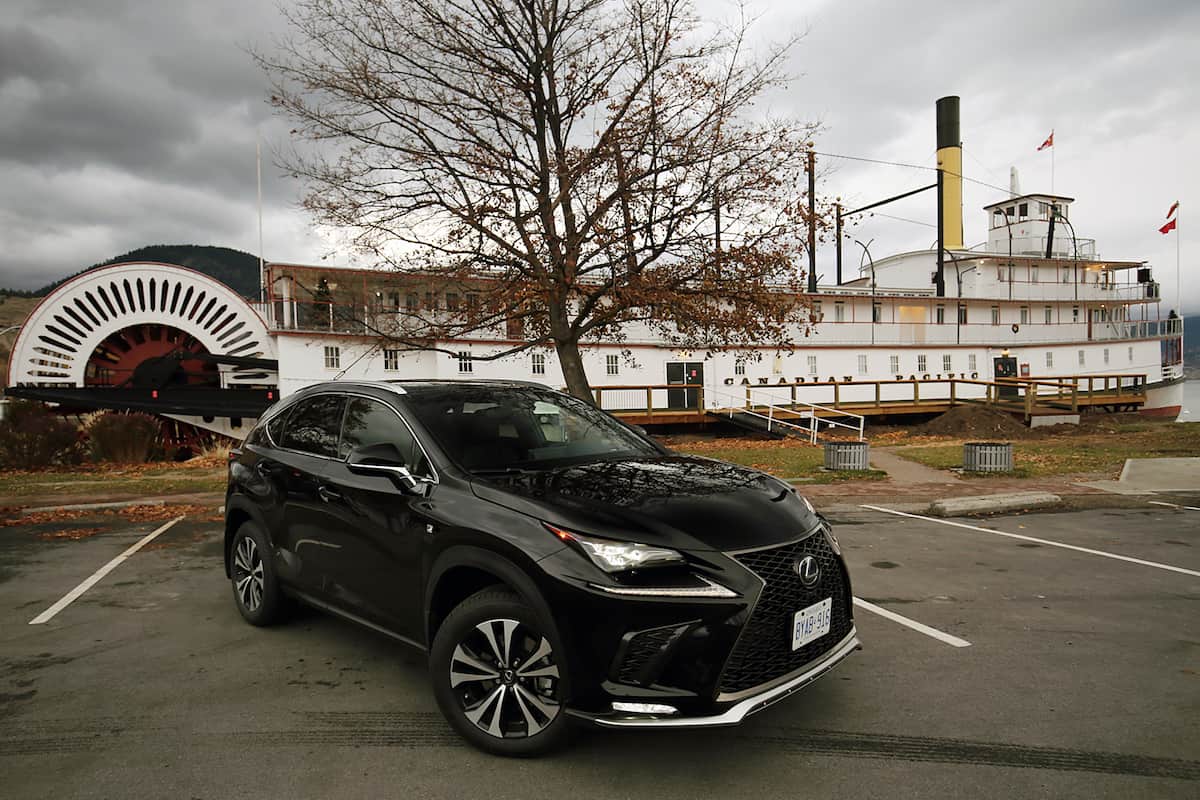 Interior Impressions
Climbing inside the cabin the driver will feel immediately at home behind the wheel, as the working environment is more akin to the cockpit of a performance sedan than that of a traditional small utility vehicle. The front buckets are exceptional, holding users solidly in place whether accelerating, braking hard, or exploring a twisty back road at ticket worthy speeds. All the while, these leather clad, ergonomic marvels remain comfortable enough for long distance touring. Canadian consumers will appreciate that heated seating is standard up front, and rear seat heating is available as an option.
All the important controls are within easy reach of both hand and eye, and steering-wheel mounted paddle shift levers are now standard kit. Both of our test vehicles featured heated steering wheels, which really is a blessing during long Canadian winters, a feature which comes standard on all trim levels save the base model.
New updates in the cabin
There have been some revisions to the look and feel of the trim bits and baubles, but the big news is the arrival of vastly improved heating and ventilation controls, as well as operational improvements to the clever touchpad controller that resides on the centre console. I personally still find the latter overly sensitive, but I have clumsy fingers and rather big mitts. A full arsenal of power ports and USB inputs allow the NX to serve you well as a mobile workspace.
Infotainment system
A high-contrast, eight-inch infotainment screen sits centrally atop the dash, but a larger 10.3 -inch unit is standard fare on the higher trim models. Both screens proved easy to see and relatively free of glare during our brief test period, and operation of each became intuitive in short order. The brand's Enform Audio platform and Enform App Suite 2.0 (including Scout GPS Link cell-based navigation) have been selected in place of the popular Apple CarPlay and Android Auto systems, but it is well thought-out, efficient, and proved seamless to operate.
Lexus Safety
Passenger safety is a top priority at Lexus, so for 2018, all NX models come equipped with the Lexus Safety System+ active safety suite. This innovative package bundles together adaptive cruise control, forward collision warning, automatic emergency braking, pedestrian detection, lane departure warning, and automatic high beams. For those buyers looking for even more protection, blind-spot warning and rear cross-traffic alert features are available as an optional package, as is a 360-degree camera system.
Driving Impressions
Targeting younger consumers means Lexus needed to create a vehicle that is both fun to drive and comfortable, and the revised suspension seems to deliver on both fronts. The NX corners with precision and tracks like a sports sedan, while at the same time, isolates occupants from the bumps and dynamic turbulence that comes from road surface irregularities, dips and bumps.
There have been some revisions to the look and feel of the trim bits and baubles, but the big news is the arrival of vastly improved heating and ventilation controls, as well as operational improvements to the clever touchpad controller that resides on the centre console.
Acceleration is strong and linear in both variants, although the NX300 proved more enthusiastic and offers a nice wide torque band. The six-speed automatic was smooth and efficient, and the CVT fitted to the NX300h is much more refined than that featured in rival products.
For those in the market for an urban-friendly all-wheel-drive vehicle with ample room for four adults (or two adults and three children), the NX, in either flavour, is worthy of consideration.
Technical Specifications: 2018 Lexus NX300 and NX300h
Base price: C$44,050 – C$57,200 / C$55,300 – C$62,750
Layout: Front engine, all-wheel-drive
Type: 5-passenger, compact SUV
Engine: 2.0-litre turbocharged inline four-cylinder / Atkinson cycle 2.5-litre
Horsepower: 235 /194
Torque (lb.-ft.): 258 / NA
Transmission: 6-speed automatic / CVT
Brakes (front/rear): Disc/disc
Fuel efficiency (L/100km): City 10.6, Hwy 8.5/ City 7.2, Hwy 7.9
New NX 300 Photos