LAKE ROSSEAU, Ont. — Kia's 7-seater gets a late-cycle refresh ahead of an upcoming full redesign. Meantime, the 2019 Sorento mid-size SUV drops the turbo, soldiering on with just the four & the V-6, paired to a new 8-sped transmission. So Kia's crossover doesn't get a full redesign this year but the significant tweaks keeps it relevant for families looking to haul the whole clan.
But if you're shopping for something smaller, there's the all-new Kia Niro EV subcompact SUV available in hybrid, hybrid plug-in, and now all-electric models.
How much is the new Kia Sorento? 2019 Price and Trims:
The available trims across North America are different. Here are the variations including MSRP, excluding fees/charges, for both United States and Canada.
Also see: 2019 Kia Sorento Price Announced | Refreshed 3-Row SUV Under $30K
US Pricing
L – $25,990
LX – $27,490
LX V6 – $31,290
EX V6 – $35,590
SX – $39,990
SX LIMITED – $44,690
Canada Pricing
LX FWD – $27,995
LX – $30,295
LX V6 – $34,795
EX – $38,365
EX PREMIUM – $40,865
SX – $44,865
SXL – $48,865
Putting Kia's 7-Seater to the Test
No more Sorento turbo
The turbo is dead. That may be the most noticeable difference between the 2018 and 2019 Kia Sorento.
For many manufacturers these days, adding power means slapping on a turbo, not an extra pair of cylinders, but Kia, which until 2018 offered three engine choices — 2.4-litre four, 2.0-litre turbo and 3.3-litre V-6 — is going the other direction, dropping the turbo and soldiering on with just the four and the V-6.
"We've always had the V-6, and if you're talking fuel economy and emissions, a turbo is probably not the way to go," said Ted Lancaster, vice-president of Kia Canada. "What do you do when you have a turbo? You put your foot in it because you want to get that turbo going."
Add to that a 60 per cent take rate on the V-6, "and there was just not a need to maintain a turbo."
This isn't a vehicle to just get to and from work. This is a vehicle for people to get off their asses and have fun.
It's not the only change, as the 2019 gets what Kia calls a late-cycle refresh. Lancaster said the new model is about a year away, but the advent of new Kia tech, including the next generation of UVO, including internet-based remote features, LED lighting and a new transmission, meant the company wanted to get them into production right away.
Looking like he was about to go hiking — with a backpack, camera, Tilley hat, shorts and untucked short-sleeve shirt, Lancaster wanted to set the tone early.
"This isn't a vehicle to just get to and from work," he said. "This is a vehicle for people to get off their asses and have fun."
Such is the reality of automotive marketing: present to your customers the way they want to be perceived, not necessarily as they are. For at a time when obesity is still a leading health concern, carmakers still seem to think there's a huge populace just waiting to be active.
Whatever. It works, and so does the Sorento.
2019 Sorento Power & Handling
Smooth engines, even if the four isn't overwhelmingly powerful, all-wheel drive and a 5,000-pound tow rating (for V-6 models) and its slightly bigger size gives the Sorento a considerable edge on its key competitors Toyota RAV-4, Honda CR-V or Mazda CX-5. Of those, the CX-5 comes closest at 2,000 pounds.
Ryan Yu, product planning manager for Sorento in Canada, said a number of improvements include tuning the electric power steering system for a better response and better feedback. In addition, for perhaps the best feedback, the SX models have the power-steering motor mounted on the steering rack instead of the steering column.
Such a change was evident during our drive from Toronto's airport to the Muskoka region. The steering response and on-centre feel were both noticeably improved from the previous model.
New 8-speed Transmission
The new eight-speed transmission for V-6 engines works very well, but on twisty roads it is helped immeasurably by selecting Sport mode, which holds upshifts a little later and hastens downshifts when needed. In Normal and particularly Eco — which Kia says can save 10 per cent in fuel when driven correctly — it's a bit slow to downshift when the throttle is poked.
2019 Kia Sorento Exterior Redesign
As well, LEDs come in a variety of places on all models of the Sorento, with LEDs also appearing in the headlights of SX and higher models. LEDs are the daytime running lights and positioning lights on all models, as well as taillights of higher models.
A few tweaks to the front fascia and rear fascia streamline the look a bit, too, including new fog lights that look a bit like four ice cubes comprise the lights on each side.
Kia let slip that the next model, the full redesign, will include a head-up display on higher-end models. Odd, since carmakers are often loath to discuss future products. I won't tell them I told you if you won't.
The Sorento's Interior for 2019: Cabin space, cargo, and 3-row functionality
New also for 2019 is the ability to get three rows of seats even with the smaller engine. Not sure I'd want to load it up that much with only 185 horsepower on tap, but in a pinch. You can also get all-wheel drive with the 2.4, too.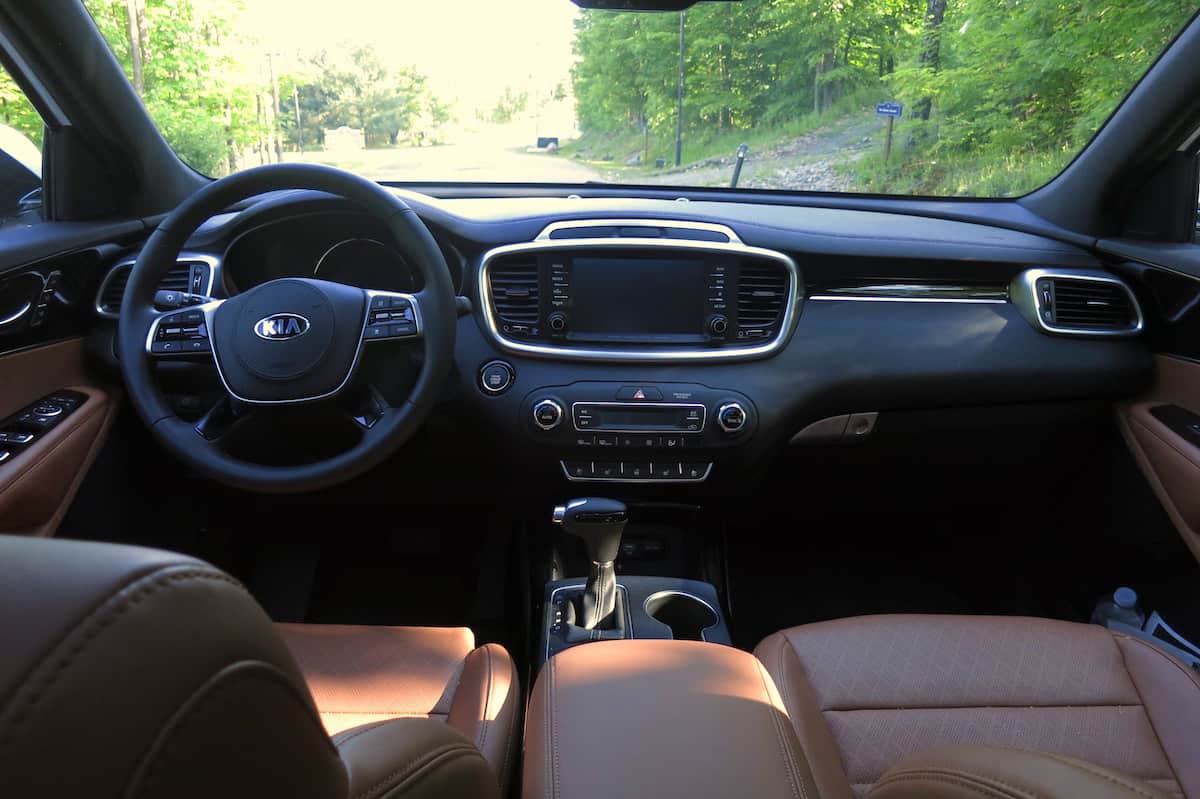 The 3.3-litre V-6 comes standard with three rows of seats, which might be too bad. I think I'd prefer a third-row delete option and gain the extra hidden storage space instead. If you do get a three-row model, the folks sitting it get control of their heating and ventilation as standard equipment.
Since the Sorento is smaller than a midsize and only a bit bigger than a compact, the third row probably won't get much use except when absolutely needed. It's a bit tight. Second row legroom is competitive, between the RAV-4 and CR-V.
Nifty pull handles allow you to fold the second row from the tailgate, and the cargo cover has its own stowage location under the cargo floor. When it's not being used, it's not getting in the way or being left in the garage.
What other's are saying about the new Sorento:
The V6 engine's 8-speed automatic is really the key update for 2019, as its 2-mpg improvement is a tangible benefit enjoyed regardless of trim level. Everything else worth pondering is minor styling tweaks and increased feature content on the priciest SX and SX-L. As such, if you get a great deal on a 2018 Sorento, you probably won't kick yourself for not going with the 2019. – James Riswick, Autotrader.com
The current Sorento was a smart buy when it hit the scene for 2016 and is even more so now. Kia's incremental improvements take an already-competitive vehicle and move it even higher. Most of all, since it's bigger than most 5-passenger crossovers but not quite a full 7-passenger conveyance, the Sorento should be just perfect for plenty of families. – Kyree Williams, CarGurus.com
For more info visit the Kia site at: Sorento US | Sorento Canada
2019 Kia Sorento Specs:
Engine: 2.4-litre normally aspirated four; 3.3-litre V-6

Power: 185 hp @ 6,000 r.p.m. (2.4); 290 hp @ 6,400 r.p.m. (3.3)

Torque: 178 lb-ft. @ 4,000 r.p.m. (2.4); 252 lb-ft. @ 5,200 r.p.m.

Transmission: six-speed automatic, eight-speed automatic, optional

Brakes: four-wheel discs

Suspension: MacPherson strut with stabilizer bar (front); multilink with stabilizer bar (rear)

Fuel economy (l/100 km, city/highway): 10.7/8.2 (LX FWD); 11.2/9.0 (LX AWD); 12.5/9.7 (V-6 AWD).

Fuel economy (average, observed): 9.4 l/100km (V-6 AWD)