Subaru's 2019 Crosstrek Hybrid made a low-key debut at the LA Auto Show this week, less than a month before the car will hit dealers in 10 US states on the east and west coasts.
Canadian consumers will have to wait another year for the plug-in machine, however, which was initially intended only for the US market, before subsequently being given the green light to be developed for sale north of the border as a 2020 model.
The car's extra torque means that it will accelerate to 60mph a full second faster than a regular Crosstrek, despite a 600-lb weight penalty.
Related: Crosstrek Reviews
"We expect it to be used as a Subaru," said Garrick Goh, Crosstrek car line planning manager for Subaru of America. "One of the things we focused on was to make it a Subaru first. US consumers want crossovers and SUVs and that's what they shop first, rather than for mpg, or for electric of gas [powertrains].
"Nor do people just want a car that only looks like a crossover," he added. "They want a primary car that suits their lifestyle – put the dog in the back, take it off-road and get it dirty."
Full-time AWD
It was therefore important for Subaru to ensure the Crosstrek Hybrid stayed true to the brand mantra of full-time symmetrical AWD. Goh notes that some rival systems revert to FWD when there is no charge left to power an electric rear axle, but in the Crosstrek Hybrid, the transmission sends its 148 combined-system horsepower to all four wheels, whether it's running as a hybrid or in full-electric mode. It will tow 1,000 lb.
The transmission itself is a new Lineartronic unit that features a planetary gearset to balance the power from the gas engine, motor-generator and drive motor.
"We put no restrictions on this car for off-road driving, unlike some of our competitors," said Goh. "It still has 8.7-inches of ground clearance. It's quiet out in the woods in EV mode, really peaceful, and with the instant torque you roll smoothly over obstacles."
Economy and range
The 8.8kWh battery pack is located in the trunk, cutting cargo capacity by around 20%. It's good for 17 miles of full-EV operation at speeds up to 65mph. Goh acknowledges that the range isn't high, but points out that using a single charge of 17 miles every day still equates to more than 6,200 electric miles every year – more than half of the average US driver's annual mileage, according to a recent study by the Federal Highway Administration.
The Crosstrek Hybrid will travel 480 miles on a full tank of gas and a full charge, just one mile short of the standard car, despite losing 2.5-gallons of capacity from its gas tank. Recharging via the standard 120V Level 1 charger takes around 5 hours; a 240V Level 2 charge more than cuts that time in half.
Fully charged, the vehicle records combined consumption of 90mpge. Drivers who forget to charge it will still achieve 35mpg combined – a handy 6mpg improvement over the regular 2-liter Crosstrek, whose base engine the Hybrid retains. Subaru claims that both consumption figures rank best in class. It identifies the Mitsubishi Outlander PHEV and MINI Cooper Countryman S E ALL4 Electric as potential rivals.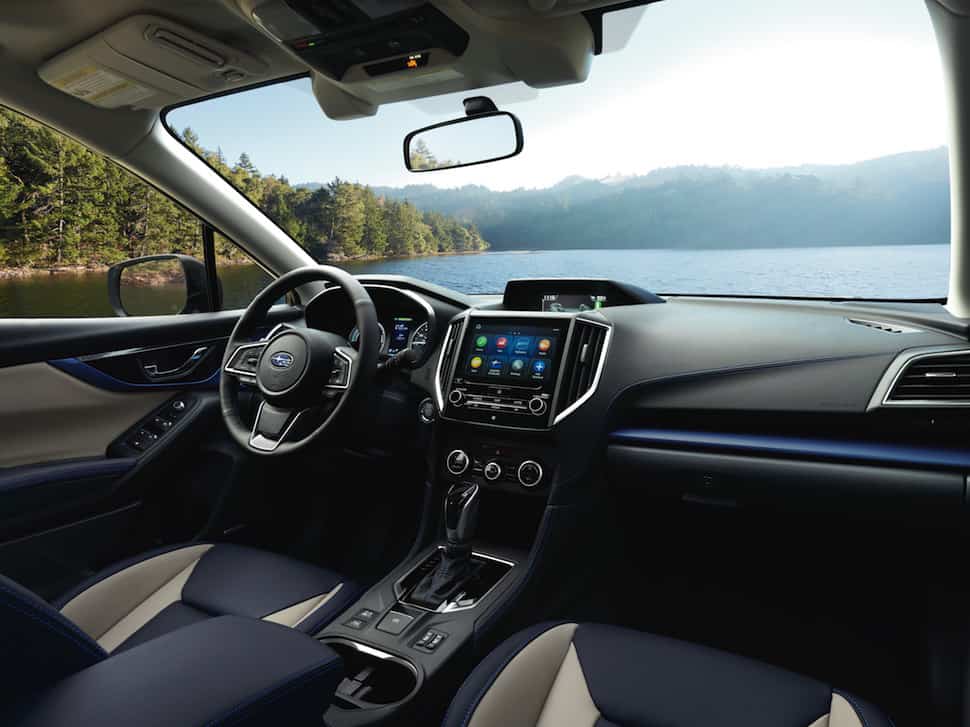 Single trim level
In the US, the Crosstrek Hybrid will come in a single grade similar to the existing Crosstrek Limited. There are additional features for Subaru Starlink Connected Services, such as remote climate control and remote battery charging timer. On the move, a display in the upper central screen monitors energy flow and ChargeFinder software helps the driver to locate and navigate to nearby charging points.
A US$2,500 option package adds a power moonroof, heated steering wheel and Starlink 8.0-inch multimedia with voice-activated TomTom navigation and a Harman Kardon 8-speaker audio system. There's a Hybrid-exclusive exterior colour, too – Lagoon Blue Pearl – and all Hybrids get a unique silver grille finish and blue trim accents.