Putting the 2019 Volkswagen Jetta Execline to the Test
Calgary, Alberta – Volkswagen's drive to rebuild in North America continues with the debut of an all-new Jetta as a 2019 model. This Mexico-built compact sedan has at last been dragged into the 21st Century with the deployment of the MQB modular chassis architecture already seen on countless other VWs and Audis, facilitating the deployment of cutting-edge electronics and driver assistance technologies, and improving the driving experience.
2019 Volkswagen Jetta Price
With a starting price of US$19,345 or C$22,395 for the lowest-priced S auto (US) or Comfortline (Canada), the better-equipped new Jetta is competitive against the outgoing car, which dates from 2011. In the US, the SEL trim option looks like especially good value at almost US$2,000 cheaper than before but with US$1,000 of additional equipment.
New Jetta Engine
There's a single engine option across all grades, a 147-horsepower 1.4-liter gasoline turbo, paired with a standard 6-speed manual transmission or an 8-speed automatic. In the US, five trim grades range from S to the US$26,945 SEL Premium; in Canada there are only three, topping out at the C$29,095 Execline tested here.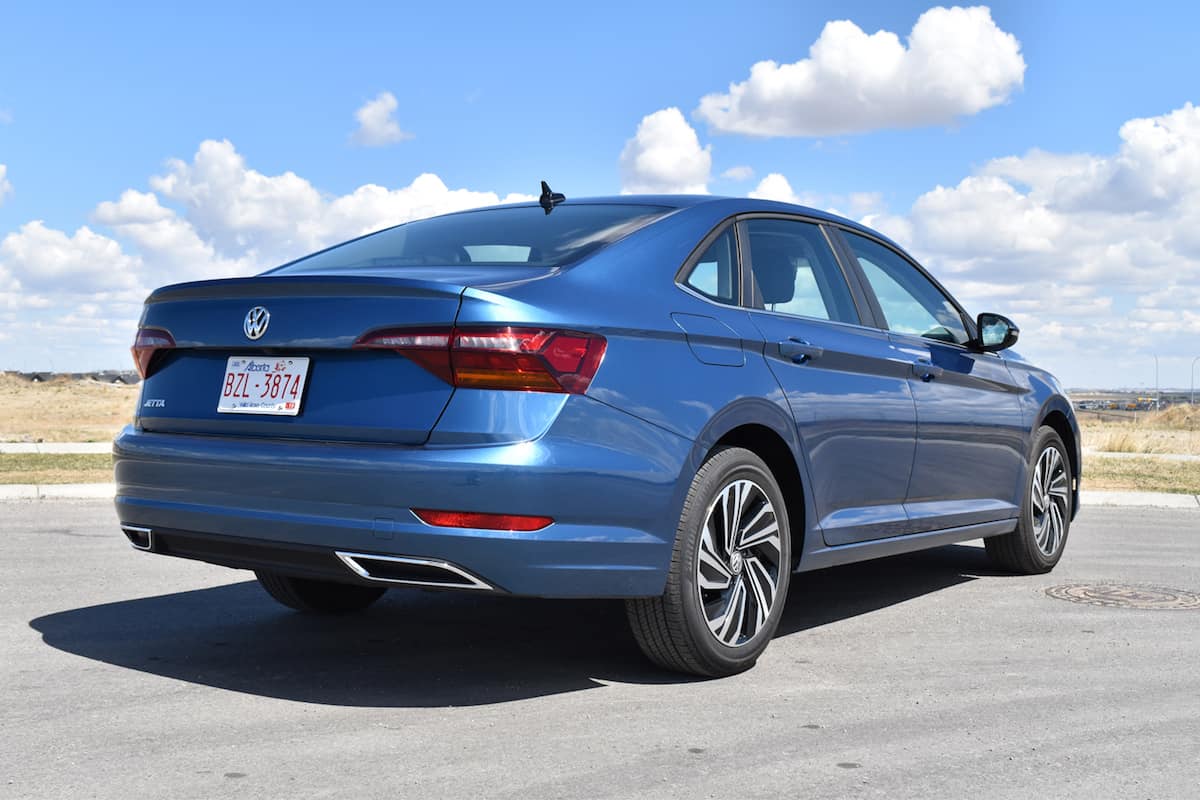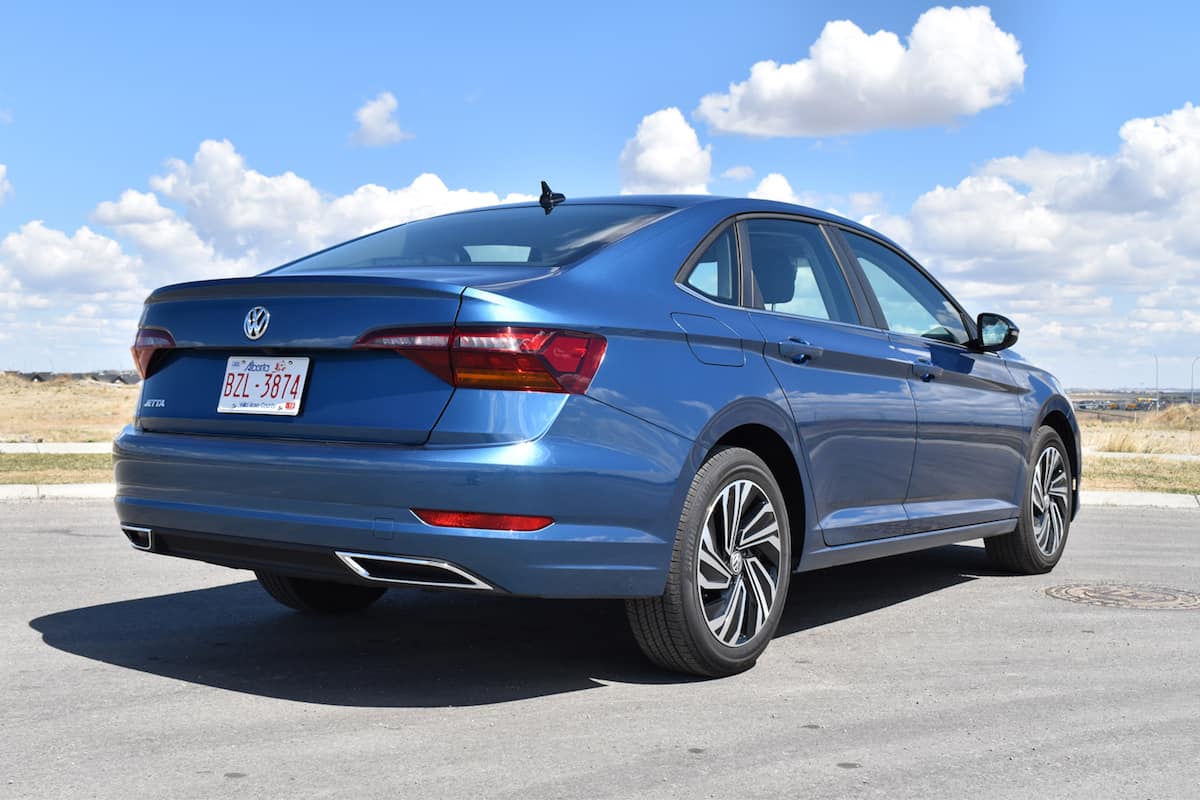 2019 Jetta Redesign: What's New?
The 2019 Jetta's looks benefit from its MQB underpinnings in the form of a shorter front overhang and longer wheelbase, opening the door to a more coupe-like silhouette. The chrome grille bars and strong horizontal crease along its side place the car firmly in VW's current design language and the look is completed by LED lights front and rear. The design won't be mistaken for anything other than a Volkswagen but that's no bad thing.
The 17in rims on this Execline test car are said to have aerodynamic benefits but they're no beauties; the thriving VW aftermarket scene will doubtless deliver more attractive options. Overall however, the new Jetta's wind-cheating shape – with a drag coefficient of just 0.27, it's a massive 10% more slippery than the old car – contribute to impressive fuel economy of 7L/100km (34mpg) combined, a figure that we easily achieved in a week's mixed use.
Volkswagen Jetta for 2019: How Does it Perform?
Engine and chassis
The old Jetta was a standard bearer in North America for Volkswagen's now discredited TDI diesel technology. There are doubtless plenty of diesel fans out there who'll mourn its passing but alternatives are out there, notably in the form of the Chevrolet Cruze and its 1.6-liter 'Whisper' diesel motor.
However, the Jetta's EA211, 1.4-turbo engine strikes an excellent balance between performance and economy. You might feel the effect of four adults on board but in general the power is more than adequate and the maximum torque of 184 lb-ft – available from only 1,400rpm – provides plenty of zip around town. Perhaps surprisingly, the Execline's 8-speed auto does little to dilute the fun. There's a Tiptronic manual shift override if you prefer to choose your own gears but a 6-speed manual gearbox is also available.
If mildly sporty, European-style sedans are your thing then it's well worth a closer look. US buyers can add a six-year/72,000-mile transferable warranty to the Jetta's list of virtues; Canadian customers make do with four years/80,000km.
The detuned-Golf GTI feel continues with the excellent, proven MQB chassis. There's no mistaking the Jetta's European roots, from the precise (if rather light) steering to driving dynamics that are definitely on the sporty side of the ride/handling balance, helped by the XDS electronic differential (standard here, available with the R-Line package elsewhere) that was once the preserve of the GTI. Sport mode adds weight to the steering, holds the gears for longer and sharpens the throttle response; there's also a Custom setting that lets you have your Jetta, your way.
One criticism of the driving performance would be the thudding (though never crashy) secondary ride. On 17in Tornado Metallic wheels at least, the Jetta isn't great over bumps and holes in the road – just like the Atlas we drove last year, in fact. If it bothers you enough then you might want to consider swapping the low-rolling-resistance Bridgestone Ecopia EP422 tires for something a little more supple.
New VW Jetta Interior Cabin and Equipment
Controls
It's a while since this reviewer has seen a center console angled toward the driver, but the 2019 Jetta has one. It certainly accentuates the car's sporty, driver-focused ethos though I'm not sure it adds too much practical value. There are easy-to-use buttons and dials for the heating and ventilation controls and as in the higher grades of Atlas there's also an 8-inch touchscreen that complements the 'Digital Cockpit' display in the instrument binnacle.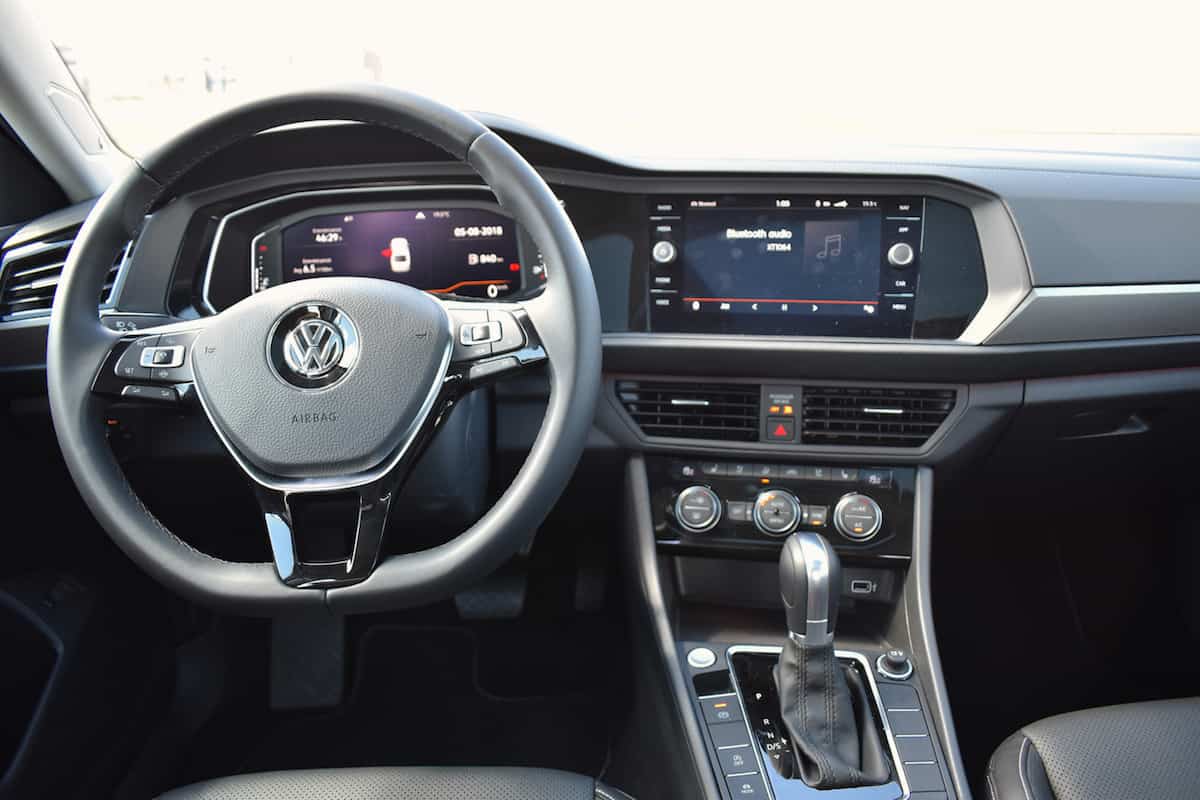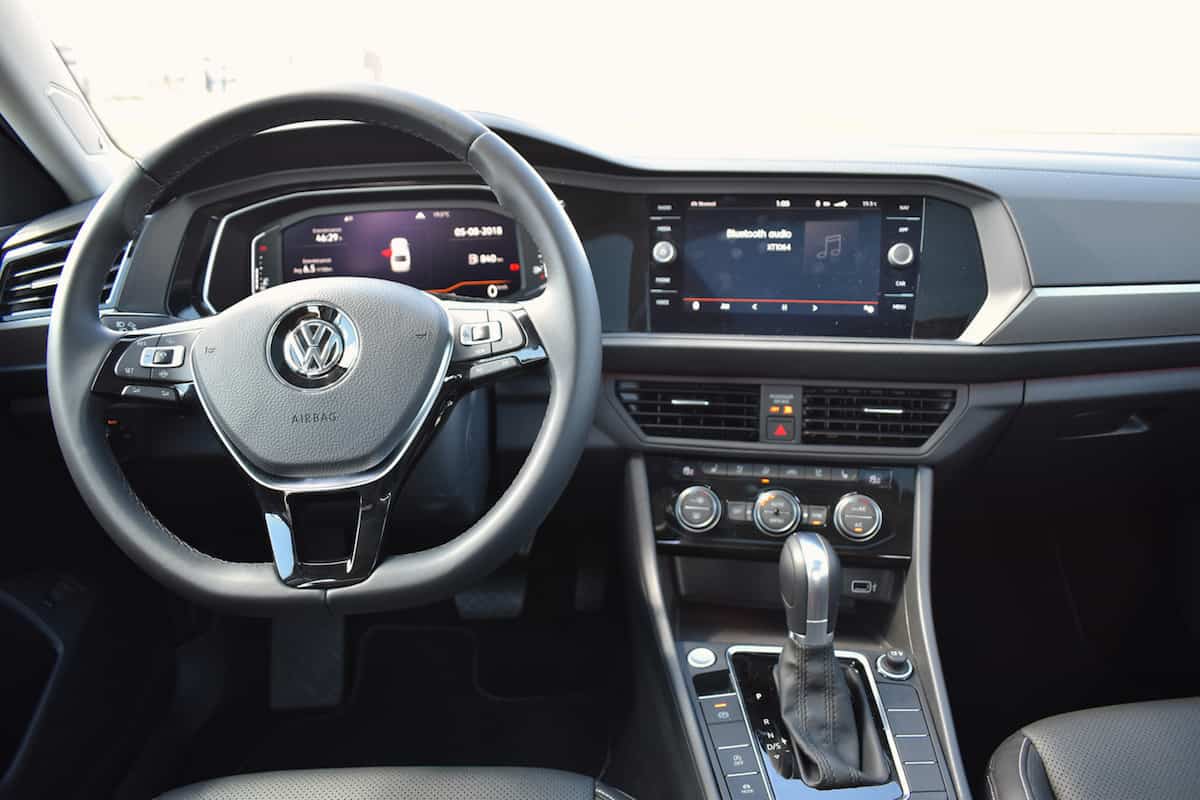 Screens and connectivity
The digital screens are clear to read and easy to reconfigure though I couldn't find an analog-style speedometer dial among the available options. The central touchscreen benefits from proximity sensing, reducing the need for repeated, distracting shoves of the finger when you don't hit it right first time. Smartphone-style pinch and swipe operations are also possible and there's phone connectivity through Apple CarPlay, Android Auto and the OS-agnostic MirrorLink system.
VW Car-Net connectivity service
In the US only for the time being, Volkswagen's OnStar-style connectivity service, Car-Net, is available through a subscription after a free six-month trial. Remote vehicle access, emergency call, roadside assistance, errant-teen-monitoring speed alert notifications and a host of 'Guide & Inform' enhanced infotainment services are all on the menu. I've no quibble with paying extra for fuel price information and sports scores via SiriusXM, for example, but would have preferred safety-related services like automatic crash notification and emergency call to be provided free of charge.
New Jetta interior comfort
The new Jetta is a little longer and wider than before. Combined with an extra inch of wheelbase, this translates to comfortable occupant space front and rear, although the figures reveal that there's actually marginally less legroom than before. We found the Sport Comfort leather seats on the Execline to be adequately supportive. The cabin gets ambient lighting at night but the well-finished dashboard could do with a splash of colour by day. The ambience is however enhanced by a panoramic sunroof and a 9-speaker BeatsAudio system, both standard on the Execline.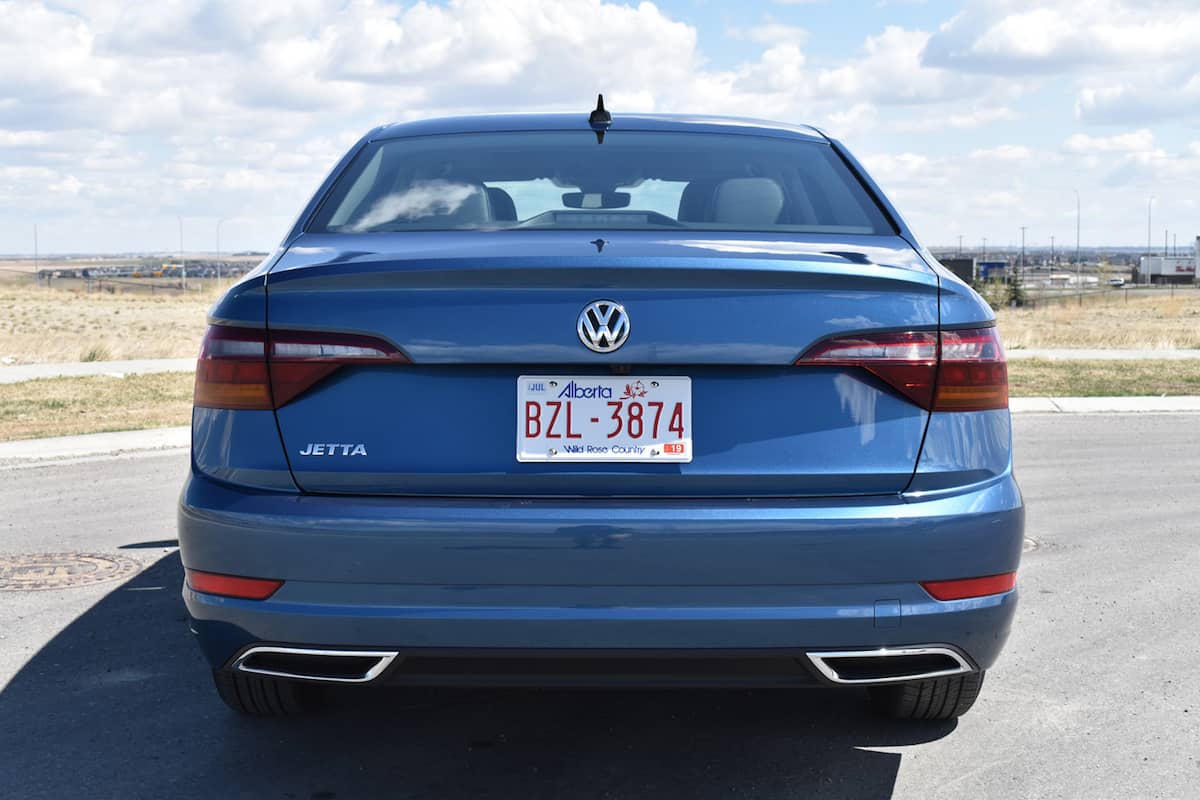 Takeaway
The first car this reviewer drove was a 1981 Jetta, complete with 1.3-liter gas engine and 4-speed manual gearbox. The technology and complexity of modern vehicles makes them entirely different to drive, but this latest, seventh-generation Jetta embodies a little of the original's responsiveness and feel of being connected to the road. If mildly sporty, European-style sedans are your thing then it's well worth a closer look. US buyers can add a six-year/72,000-mile transferable warranty to the Jetta's list of virtues; Canadian customers make do with four years/80,000km.
With sales of more than 3.2 million in the US alone since 1980, the Jetta has long been central to Volkswagen's success in the North American market. With SUV sales on the rise, the compact sedan is no longer the lynchpin model it once was – witness the new Atlas and enlarged Tiguan – but the 2019 Jetta is plenty good enough to justify its continued place in the line-up.
Learn more here
Volkswagen Jetta USA | Volkswagen Jetta Canada