Infiniti reveals the all-new QX50 for 2019 in LA with a new platform and the world's first VC-turbo engine
Los Angeles, California – In the luxury auto world, Infiniti is a relatively small player up against big names and volume sellers like BMW, Cadillac, or Lexus. But the Japanese brand is forging a new path with updated products like the all-new, nicely sculpted full-size QX80 SUV and the new Q60 sports coupe.
And while the company doesn't officially claim a flagship vehicle, if there's one product in their growing stable they'd completely stand behind it would be the new 2019 QX50 – Infiniti's mid-size crossover in a highly-competitive segment with the the likes of the Lexus NX, Audi Q5, or BMW X3, to name a few.
As Infiniti's VP Globe Division, Christian Meunier, puts it: "The QX50 is the most important vehicle we have ever launched, and it embodies everything the brand stands for: beautiful design, advanced technology and empowering performance. As a premium, mid-size SUV, it's the right vehicle at the right time in one of the world's fastest growing segments."
We don't care much for cu ft or capacity in litres. But the QX50 is bigger – so more golf clubs in the back. 3 bags, to be exact, or a stroller stored lengthways.
The QX50 concept debuted earlier this year, and this production model doesn't veer
With the official world debut in Los Angeles recently – and looking almost identical to the concept version unveiled earlier this year – we had a chance to take a closer look.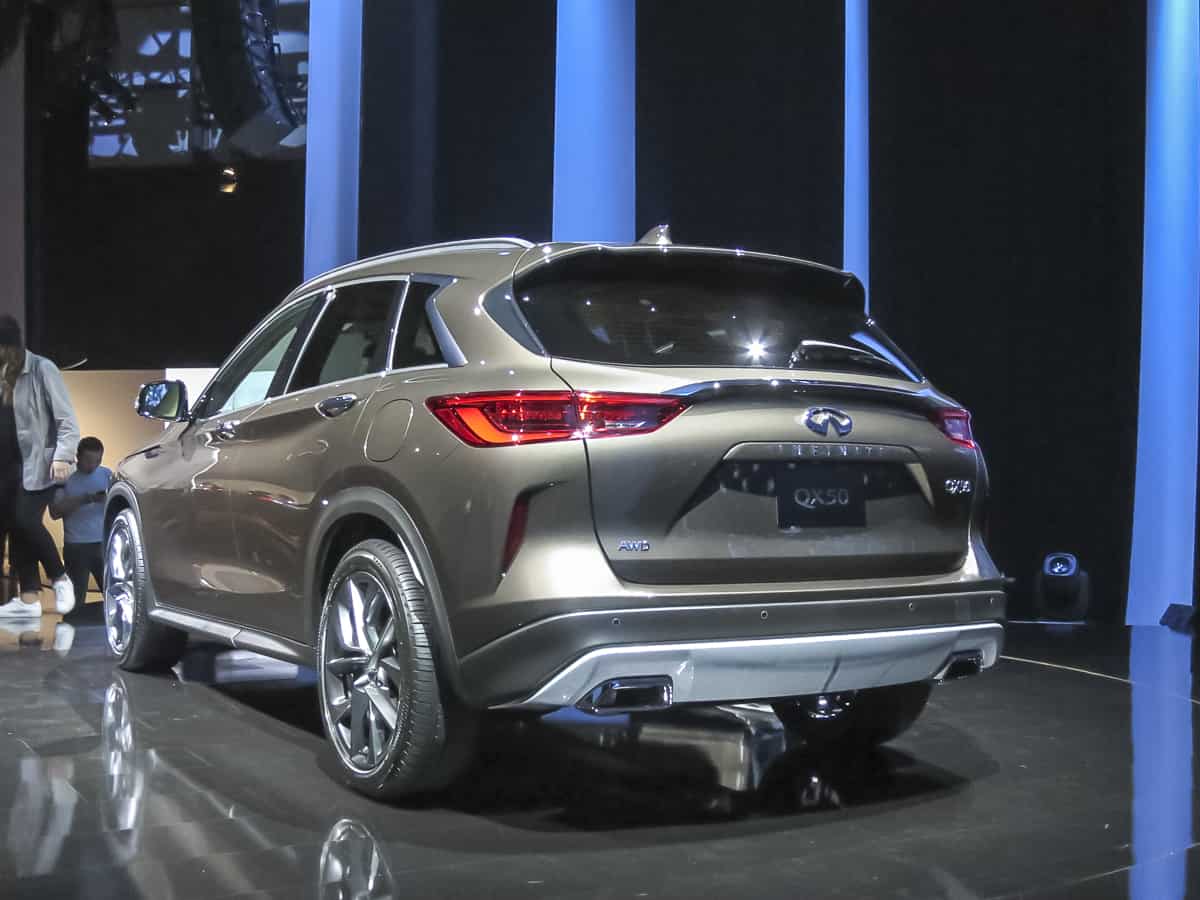 The next generation 2019 Infiniti QX50 crossover brings 4 new things to the table:
1. New 2.0L VC-Turbo: the

world's first production-ready variable compression ratio engine

The big news here is, well, a big one. Not just for the QX50 or even the brand itself, but across the automotive board. The QX50's new 2.0L VC-Turbo powertrain is a breakthrough in combustion engine design – something the company says the motor world has been at for almost 20-years. And now, Infiniti has done it. Add to this, an expected best-in-class combination of four-cylinder power and torque, according to Infiniti.

Randy Parker, Infiniti Americas VP, gives his take, "Variable compression ratio technology represents a breakthrough in powertrain development. The QX50, powered by our VC-Turbo, is the first production vehicle ever to give drivers an engine that transforms on demand, setting a new benchmark for powertrain capability and refinement."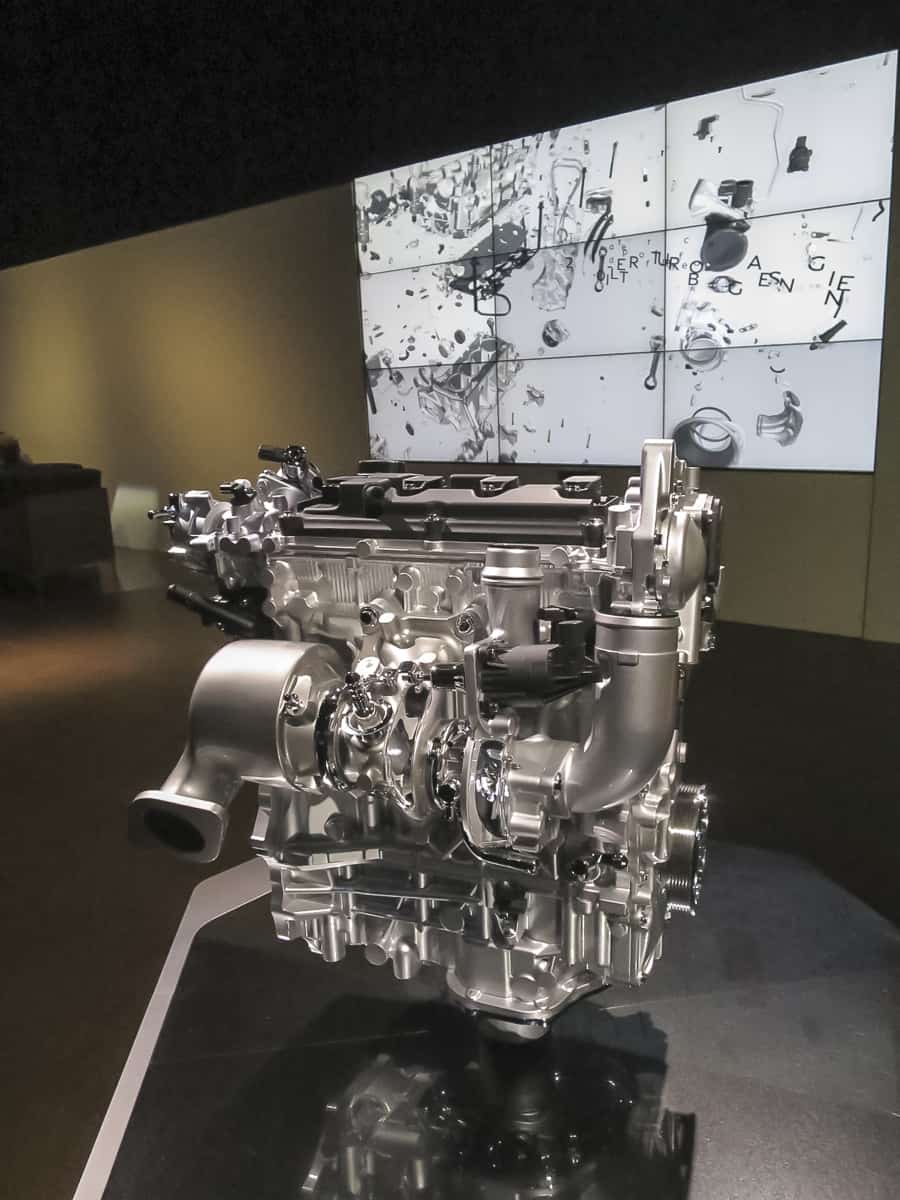 Sounds cool. So what's the hype? In tech speak, the VC-turbo combines the power of a 2.0L turbocharged gasoline engine with the torque and efficiency of a four-cylinder diesel engine, adjusting its compression ratio to optimize power and efficiency.
In normal talk: it essentially offers an alternative to diesel – so you're getting the high torque and efficiency renowned in diesel engines but in an everyday, gas-powered powerplant. All packaged neatly inside a mid-size crossover putting down 268-hp and 280 lb ft or torque. The new engine is paired to a CVT transmission.
Fuel economy
Infiniti has fuel figures at 26 mpg (US combined) for the AWD QX50. And they say the new 2019 will offer a 30% improvement in fuel consumption versus the out-going 2018 V6 model.
We're looking forward to testing this out when it arrives early next year.
2. QX50 Interior: Advanced Craftsmanship and More Space
Sure, luxury vehicles all have nice interiors. But the QX50 does take it a step further – something we don't normally see in this segment of smaller crossovers. Aside from the asymmetric layout inline with driver needs while keeping the passenger in mind, the materials are high quality. The seats have that cross-stitched designed similar to high-end purse – we're told.
New Dimensions
The QX50's redesign now includes segment-leading cabin space. Sitting inside, the cabin definitely feels expansive considering its size. In the back, the rear bench slides fore and aft, growing to 60 cu ft (1,699 litres SAE) with the rear seats folded, and trunk cargo volume opens up for 2019 from 31.6 cu ft (895 litres SAE) to 37 cu ft (1,048 litres SAE).
We don't care much for cu ft or capacity in litres. But the QX50 is bigger – so more golf clubs in the back. 3 bags, to be exact, or a stroller stored lengthways. And that's a good thing. For extra out-of-sight storage, the under-floor area is the place to stow those valuables.
The driver position now sits higher for a clear view and better visibility; now at 1,679mm in height, to be exact. And drag coefficient is reduced by 6% compared to the previous QX50.
New ProPILOT Assist technology
The new QX50 will also benefit from Nissan/Infiniti's ProPILOT Assist – a new tech supporting single-lane driving, helping the driver control acceleration, braking and steering during one-lane highway trips.
Infiniti adds, "our intention is to empower the driver and enhance feelings of pleasure behind the wheel, not to remove the driver from the equation. The brand new QX50 will set a new benchmark in the biggest premium segment."
3. Redesign for 2019
Infiniti calls it their "signature Powerful Elegance design." We just call super sleek and stylish with beefy proportions inline with its larger QX80 and QX60 siblings.
Compared to last year's version, the new model looks less skimpy with more hair on its chest; the front end especially is now much bolder with a stout look, standing loud and proud with aerodynamic lines and overall confidence.
4. New Platform
This all sits on the QX50's new platform for 2019, featuring a front-engine, front-wheel drive-based layout. Infiniti says new platform "sets new standards for refinement, rigidity and interior space in the compact premium SUV segment."
2019 QX50 Release Date and Price
We pressed and pressed Infiniti for anticipated pricing for the QX50 but the best we could get was 'it'll be priced below the QX60.' Fair enough. We'll have info when it comes in. Otherwise, the 2019 QX50 will hit dealerships Spring 2018.
We'll have more details on pricing and on road test impressions for the all-new QX50 in the following months.
It's too early for a 2019 website but learn more about the current mid-size Infiniti crossover here: QX50 USA | QX50 Canada
2019 QX50 Specs:
Body and chassis

Five-door, five-seater crossover, with all-steel unitary construction bodyshell. Four-cylinder variable compression ratio turbocharged engine driving the front or all wheels via a continuously variable transmission.

Engine

2.0-liter VC-Turbo gasoline

Type

Turbocharged four-cylinder in-line with variable compression ratio

Displacement (cc)

1,997 (8:1 CR) ~ 1,970 (14:1)

Bore and stroke

84.0 x 90.1 mm (8:1 CR) ~ 84.0 x 88.9 mm (14:1 CR)

Compression ratio

8:1 ~ 14:1 (variable)

Max power

268 hp (200 kW) @ 5,600 rpm

Max torque

280 lb ft (380 Nm) @ 4,400 rpm

Valves

16

Fuel system

Direct injection and multi-port (variable)
Transmission
XTRONIC continuously variable transmission with manual shift mode
Performance

0-to-60 mph

6.3 secs (AWD)

Top speed (mph)

143 (230 kph)
Dimensions (in / mm)

Overall length

184.8 / 4,693

Overall height

66.1 / 1,679

Overall width*

74.9 / 1,903

Wheelbase

110.2 / 2,800

Ground clearance

8.6 / 218

*excluding door mirrors
Fuel economy (US mpg)

AWD, combined

26

26

26
Photos: