First, the Crossover's New VC-Turbo Engine and Why it Matters
TORONTO, ON — In the end, Infiniti's ground-breaking variable compression ratio turbocharged engine — a concept Infiniti said has long been attempted but never achieved — felt quite normal.
Editor's Note: We got a closer look the VC-turbo and new QX50 at the world premiere last Fall, including bunch of pictures: All-New 2019 Infiniti QX50: 4 New Things You Need to Know About the Japanese Mid-Size Crossover
There were no apparent cues to how it varied the engine's compression ratio — from 8:1 for power to 14:1 for economy. No puffs of smoke, no jerky vibrations, no harsh clashing of gears.
The engine is a breakthrough of technology. Instead of choosing a fixed, compromise compression ratio, which engine designers have had to do ever since 1864 when Nikolaus Otto burned gasoline inside a cylinder for the first time, the VC-turbo engine uses a motor and a series of couplings to vary the travel of each piston according to demands.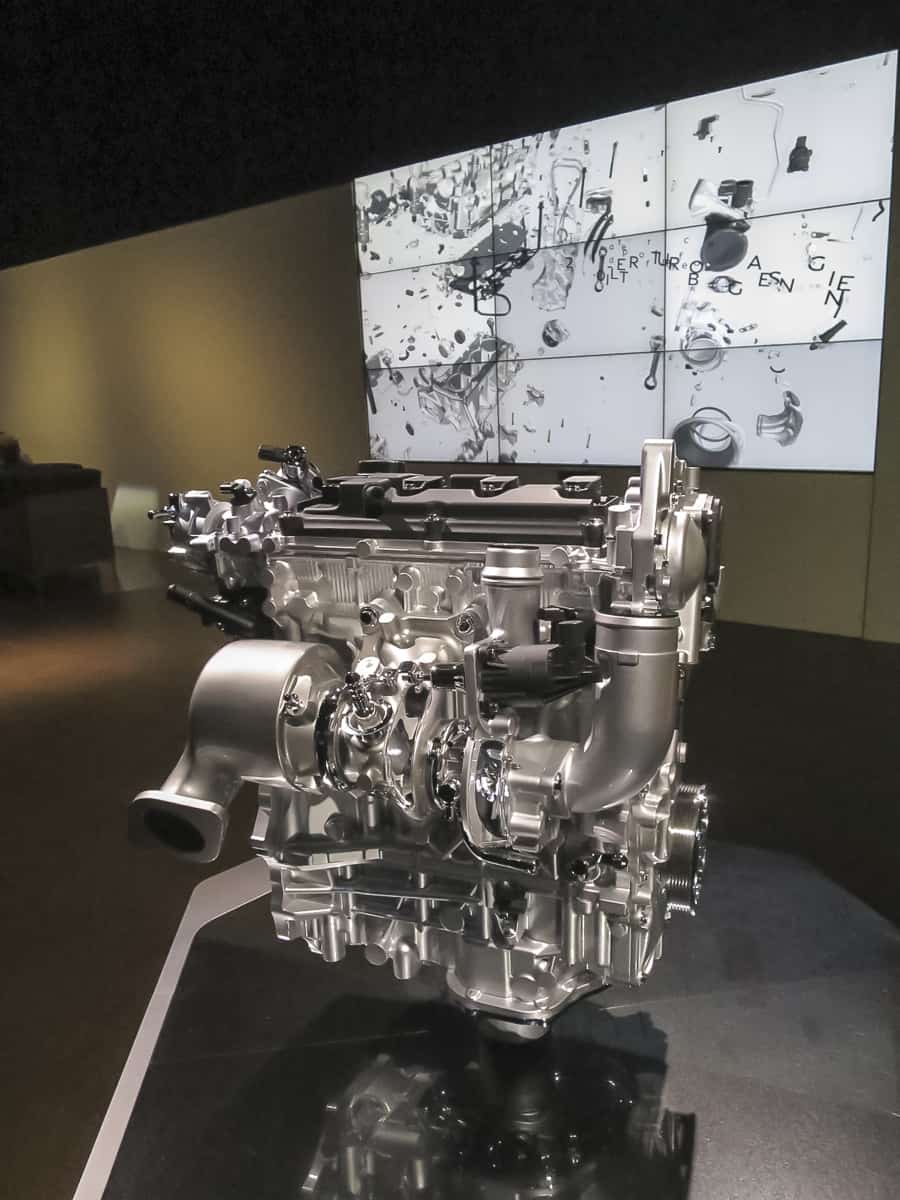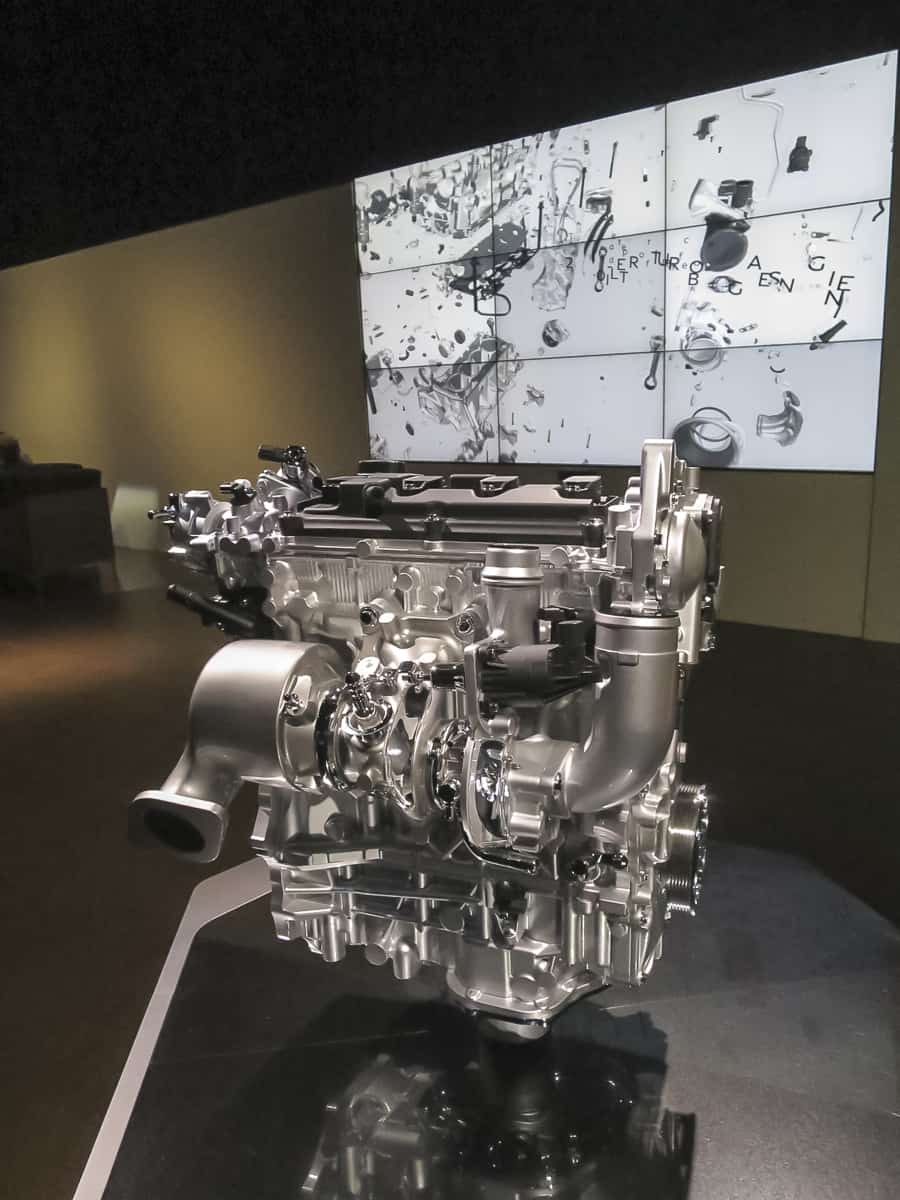 That the engine's technology felt altogether normal was music to the ears of Peter Wendel, Infiniti Canada's product planning manager for QX50. Offering both power and economy, unobtrusively, was a key design goal.
"It's only by a few millimetres," Wendel said of the differences in piston travel between the two extremes in compression ratios. "That's all it takes."
It works, because the engine is powerful. It works, because the engine is economical. With 280 foot pounds of torque, it gets the compact crossover moving in a hurry. Yet looking at its average nine litres per 100 kilometres average fuel consumption, you wouldn't guess it also has some jam.
The Competition: Who is the 2019 Infiniti QX50 Battling?
Still, the new engine isn't the only story to tell on the new QX50. Despite its high-tech engine, the QX still hits the market at prices competitive with its rivals. The key competitors are the Audi Q5, Acura RDX, BMW X3 and Lexus NX300. Competitive on price, but better than all on fuel economy.
The new QX50 is down a bit in horsepower from the outgoing model, but it's up 13 pound-feet in torque, which is a more important benchmark than horsepower.
There's also the all-new Infiniti QX80 full-size SUV if you're looking for more size and power.
New 2019 Infiniti QX50 Interior
Redesigned QX50 Cabin
The new QX50 also represents a major makeover on the interior, with a more driver-centric dash that angles key features towards the driver. There's also an upgrade to the interior finishing, with suede leather accents, wood trim that actually looks like real wood and a new shift-by-wire transmission selector that saves considerable room on the centre console, no longer needing to shift from Park to Reverse to Neutral to Drive to Low. Instead, you push on the release lever on the front of the shifter and push it forward for reverse and pull it backward for drive. It may seem counterintuitive, but it works, especially since it means a typical motion of the lever to move from drive to reverse and vice-versa. A button behind the shift lever selects park.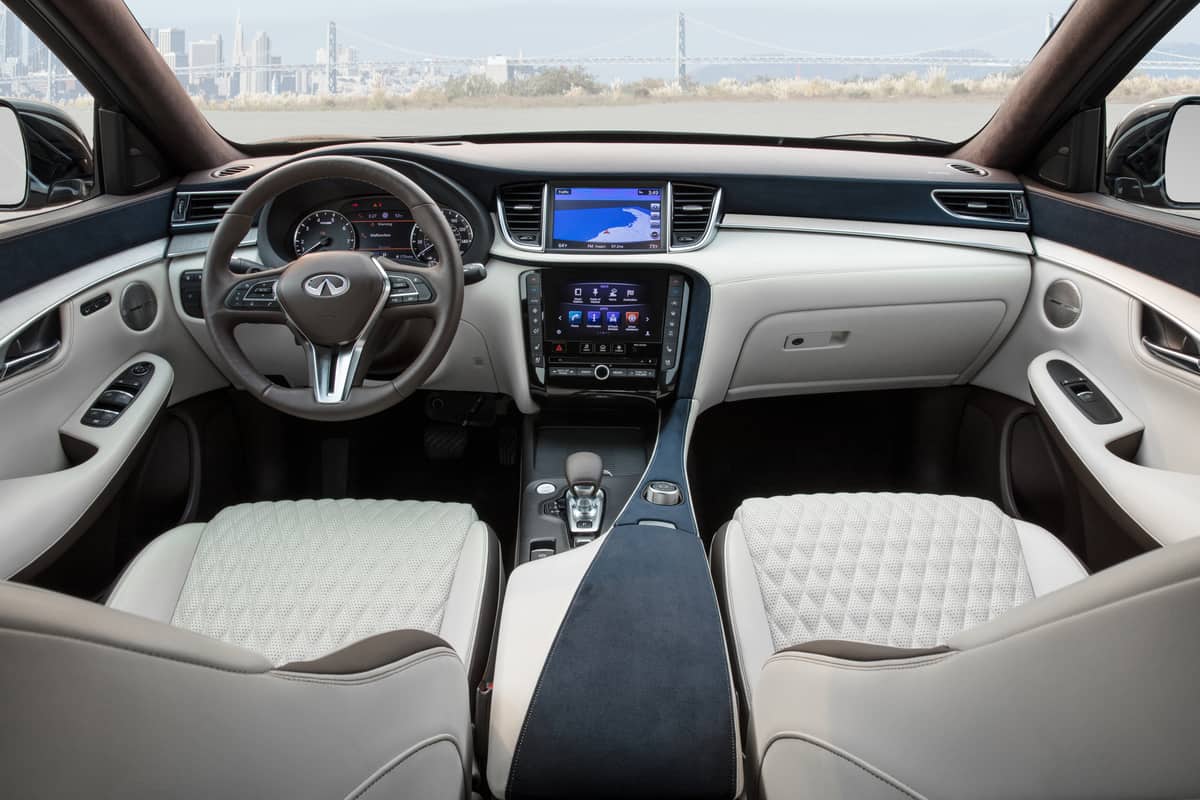 Quieter Inside Environment
Developed at the same time as the VC-turbo engine, but for no particular reason other than coincidence, is a new technology in engine mounts, which Infiniti calls active torque rod. "It's like noise-cancelling headphones for the engine," said Kyle Wierzbicki, chief marketing manager for Infiniti Canada.
The active torque rod reads data from the engine computer, as well as vibrations happening in real time, and applies an offsetting vibration, which effectively cancels the vibration.
There are other factors at play, including insulation on the firewall and acoustic glass in the windshield, but the net result is a cabin that is exceptionally quiet, even under hard acceleration. Music is easily heard, conversation is exceptionally easy.
On the Road: 2019 Infiniti QX50 Test Drive
Infiniti Crossover's CVT Transmission
The biggest surprise for me was the QX50's transmission. I hate continuously variable transmissions with a passion. In many vehicles, it's like driving a snowmobile. The QX50 is the exception that proves the rule.
Owing to the engine's torque, and the transmission's ability to mimic shifts, the CVT in the QX50 is also remarkably unobtrusive, from a conventional automatic, that is. I really can't say I had any complaints about how it transferred power. It may be the one CVT I actually don't mind.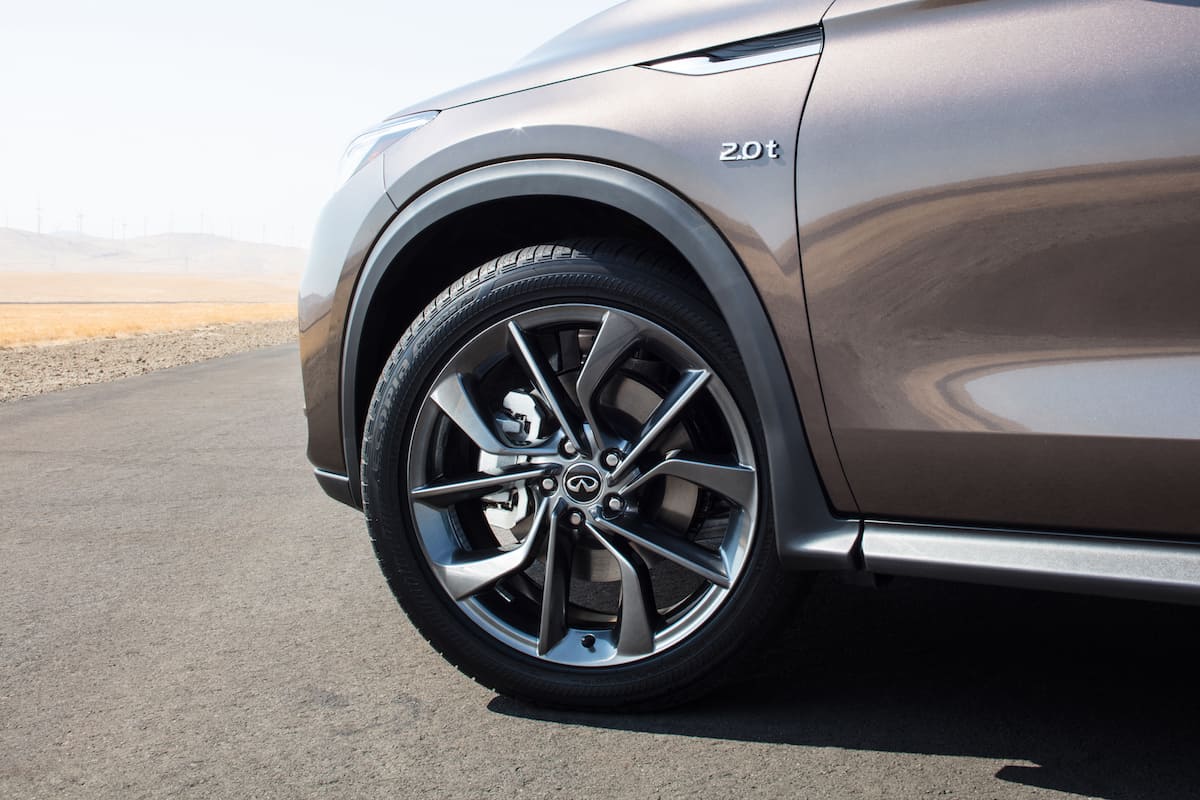 How does the
VC-turbo and CVT transmission perform together?
Now, all is not without the odd little wart, however. The VC-turbo and CVT combination seem to conspire, slightly, against effortless acceleration. It's likely a combination of slight turbo lag, a slight delay in adjusting the compression ratio and a bit of delay in getting the transmission to downshift, but there's a bit of a lag and you really have to put your foot into it to get the acceleration you seek. Once you do, however, you are rewarded, and one peek at your fuel bill means all is forgiven.
The QX50 does, however, have all the power on tap average drivers will want.
2019 QX50 AWD vs FWD
In Canada, the QX50 is available only as an all-wheel driver, unlike the U.S., where a front-drive model is sold. Which explains the transverse mounting of the engine: Wendel says transverse mounting is better suited to front-drive vehicles, of which Infiniti U.S.A. expects to sell a lot.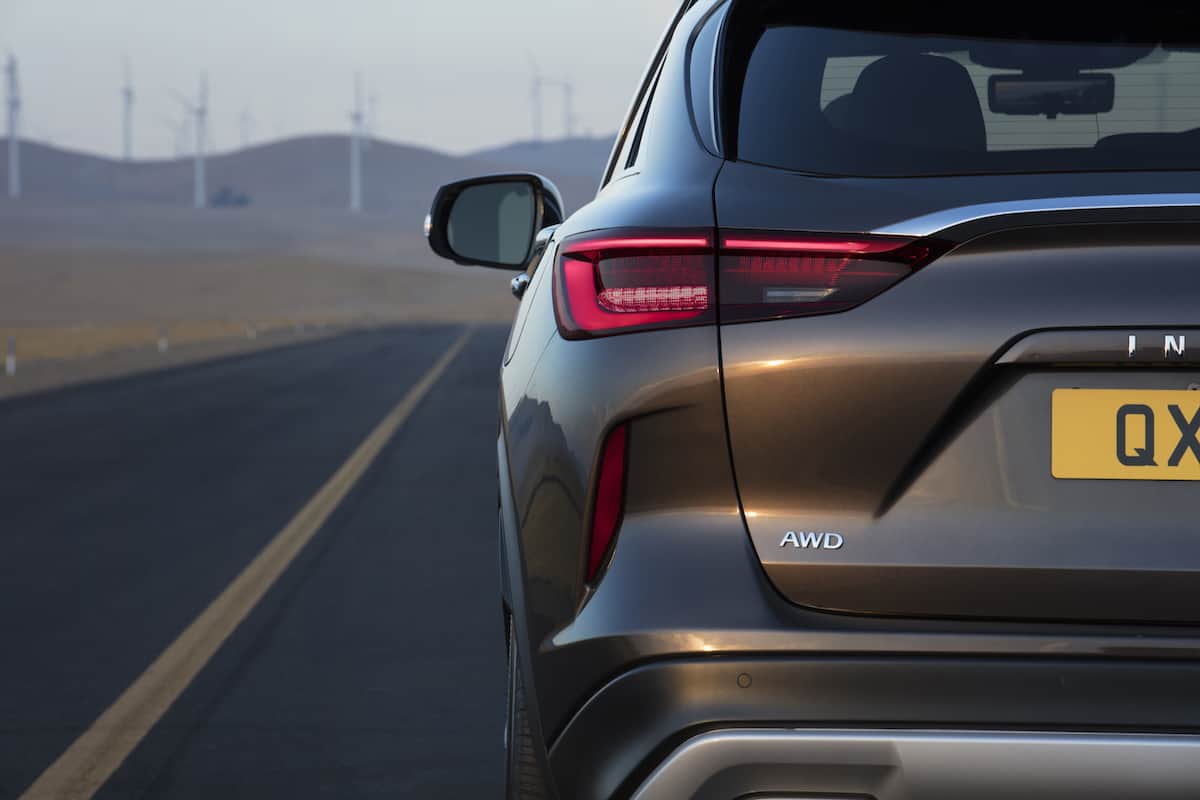 The AWD system delivers 100 per cent of torque to the front wheels, and up to 50 per cent torque to the rear wheels when slip is detected. Wendel said the system is also able to transfer torque from side-to-side when required.
Canadian models also come with a cold-weather package as standard, including heated front seats, heated steering wheel, engine block heater, wiper de-icer and remote engine start.
ProPILOT Assist in the 2019 QX50
ProPILOT Assist, Nissan's first step towards autonomous driving, is available on QX50. You have to take two steps up the gradewalk, to the ProActive trim level, to get it. That takes the price from the base model (C$44,490) to C$52,990.
Infiniti Crossover's Other Features
QX50 Autograph Model
The QX50 tops out with the Autograph model, at C$57,990. Here, you get all the toys plus premium leather seating with hand-stitched quilting and blue ultrasuede on the upper door, instrument panel and console. It gives the QX50 a striking nautical look, but that the leather in this model is white is a bit of a challenge for the parental set, not to mention I wouldn't recommend wearing blue jeans.
QX50 Towing
The QX50 will tow 3,000 pounds, but in Sensory ($56,490) and Autograph ($57,990) models only. Other models are not rated for towing, however a hitch receiver is provided for accessories only, such as a hitch-mounted cargo or bike carrier.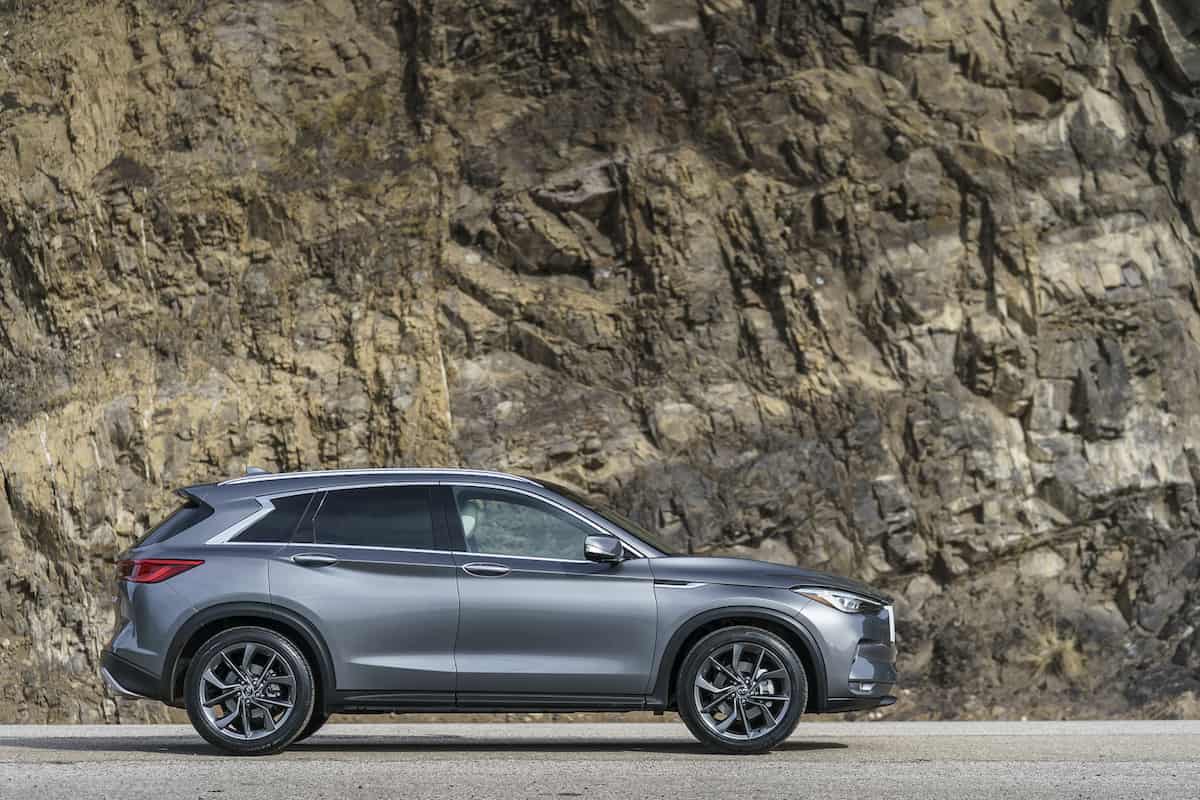 Cargo
Cargo capacity exceeds all rivals, aided by a sliding rear seat that either adds cargo space or moves a child seat closer to the parents. Pushing the rear shock towers out to the sides also cuts down on intrusions.
Takeaway
When it first appeared in 2007, the QX35 arguably launched the premium compact crossover segment. Since then, it's been joined by rivals from Lexus, Mercedes, Audi, Porsche, Acura, BMW and Land Rover. If the new QX50 doesn't raise the bar, it at least meets any new benchmark.
Learn more: QX50 USA | QX50 Canada
Here's another great QX50 review by Kelly Pleskot at MotorTrend
Also see: 2018 Best Small SUVs & Crossovers | Affordable SUVs to Luxury Models
2019 Infiniti QX50 Specs:
Engine: 2.0-litre variable compression ratio turbocharged four-cylinder

Power: 268 hp @ 5,600 r.p.m.

Torque: 280 lb-ft. @ 4,400 r.p.m.

Transmission: continuously variable automatic

Steering: direct adaptive steering (steer-by-wire)

Brakes: four-wheel discs

Suspension: MacPherson strut with stabilizer bar (front); multi-link independent with stabilizer bar (rear)

Safety features: predictive forward collision with automatic emergency braking, pedestrian detection with emergency braking, all standard. ProACTIVE models add backup collision intervention, ProPILOT Assist, blind spot intervention, lane departure prevention and rear cross-traffic alert.

Fuel economy (l/100 km, city/highway/combined): 10/7.8/9.0

Price: US$36,550 / C$44,490, base MSRP to C$57,990 (Autograph)
2019 Infiniti QX50 Price:
US Price (US$)
QX50 Pure: $36,550
QX50 Luxe: $39,400
QX50 Essential: $43,350
Canada Price (C$)
QX50 Luxe 2.0T AWD: $44,490
QX50 Essential 2.0T AWD: $48,990
QX50 Proactive 2.0T AWD: $52,990
QX50 Sensory 2.0T AWD: $56,490
QX50 Autograph 2.0T AWD: $57,990
2019 Infiniti QX50 Pictures:
World Debut from LA Auto Show 2018:
Infiniti Gallery:
Infiniti QX50 Concept: