Clever Solution for a Shower on the Go
Campers, surfers, off-roaders — anybody really who's on the road and in need of a shower are in luck. Dubbed as the world's first portable shower and storage box in one, the simple yet innovative BeachBox looks like your typical storage bin measuring about 17-inches high and under 27-inches wide, sliding into a small car trunk without issues.
It took the inventors 3.5 years to get this portable shower just right, and like most inventions, came from their own issues after long days at the beach dealing with dirty kids and sandy toys.
The BeachBox's shower tank holds 2 gallons of water (and drainage plug when done) with a dry box section to store stuff like towels and cloths, along with wet & dry divider slides for better organization. For smaller things like wallet or keys, the mini storage tubs are a nice touch too.
As the creators put it, "It's the ultimate wingman for outdoor enthusiasts…"
With an insulated tank cover, flip the removable lid and place it on the ground for a non-slip changing pad for those sandy feet and rinsing duties. Or just stand in the box, it's designed for this too.
For campers in particular, the BeachBox is handy for river, ocean or lakeside camping with its 4 tanks for water storage — whether cleaning off the kids or rinsing dishes after a meal. For hot showers, the tanks also come with an insulated cover to ensure H2O remains warm.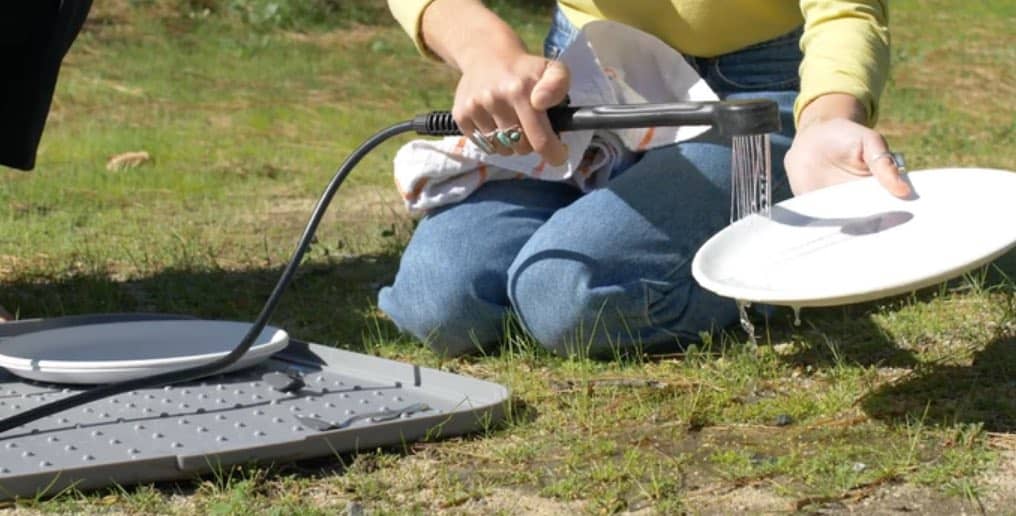 The 7 foot neoprene hose works with a shower wand and auto flow lock paired to temperature control. The 2 gallon tanks feature a simple refill screw top and air pressure release valve.
Again, a portable shower solution is one of those 'why isn't this already out there!?' sort of products. For campers and off-roaders in the middle of nowhere, surfers getting in some sessions before a business meeting, or beach Dads who need to do a quick parking lot rinse of his kids to avoid hours of vacuuming and annoying sand filled cabins, this solves a problem in a handy, space-saving way.
Retail price is US$229 with deliveries starting this August 2019. However, at time of writing it's going for $140 on KickStarter. Check out the BeachBox Kickstarter campaign to learn more.