When you start losing hope in humanity, the current state of government is letting you down, or the daily 9-5 grind is taking its toll, what do you do?
You leave.
Shut off your devices, ignore the mass media and their fear-mongering, stop reading the clickbait headlines, forget all the hoopla, and just take off.
But going off-the-grid requires the right vehicle (and the right attitude like adventurer Mike Horn and his G-Wagon). And while you don't necessarily need a Corvette-powered Defender, a personal tank, or an insane Sprinter van to recharge, if you're looking for more than just fresh air, we both know any off these adventure vehicles will tack on a few extra days (or weeks) to any excursion.
Our favourite off-road vehicles, suvs, and adventure machines featured on TractionLife.com this past year
We're always sourcing and featuring the best off-road and recreational vehicles and this past year was no exception. From suvs, pickups, boats, and pretty much anything that'll get you off your ass, all 22 of these featured machines share one thing in common: they're distinct, unconventional, and 100% badass. They're also unattainable for most of us, but that's alright.
In no particular order. Click the title link to learn more, read the full feature, and view more photos for each machine.

Rolling On Huge 20″ Custom Wheels And Powered By A 430-Hp Corvette Engine, The Project Viper Defender 130 Is What Custom SUVs Are All About.
---

Everyone Needs A Tank, Right? The Ripsaw EV2 Personal Tank By Howe And Howe Tech Might Just Be The Answer. But Expect 6+ Months To Get One.
---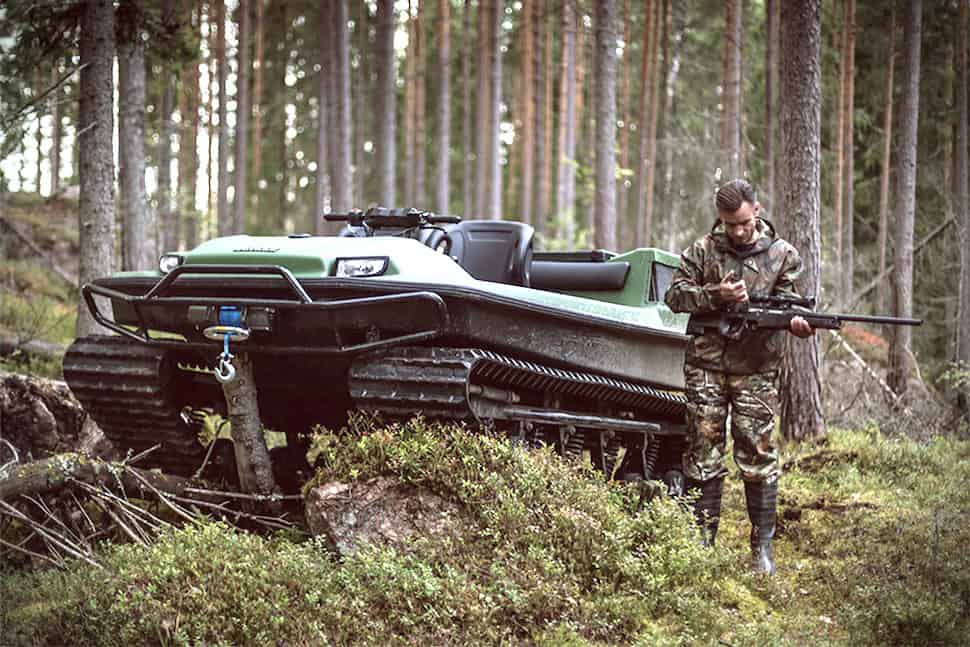 Nothing Wrong With Traditional ATVs And Their Wheels, But Should They Not Get You Where You Want To Go Try Hopping On A Tinger Track ATV Instead.
---

An Unexpected Family Incident "Regrettably" Forces Sale Of This Incredible Lamborghini Aventador SV Speedboat At $2,199,000 US.
---
Based On The G63 Off-Roader, The X-Raid By Ares Design Will Traverse Cliffsides And Reach 250km/Hr On The Highway, All For Close To US$700k.
---

Not Happy With Your Sprinter Van? Make It A Valhalla 4×4 Camper. Portland-Based Outside Van Specialize In Converting The Mercedes Sprinter Into A Drool-Worthy, Tricked-Out Camper.
---

Designer Rain Prisk Imagines What The Porsche 918 Spyder Would Look Like For Anyone Looking To Play In The Wild With A Crazy 608-Hp Rocket.
---

Shelby Unveils Their Latest Off-Road Creation With The New $116,815 US Baja Raptor Getting Major Upgrades To The Suspension, Power, & Looks.
---

Watches To Vehicles, Based Out Of Warsaw, Poland, Design Team 2sympleks Build The Ultimate Rescue Machine – The Surgo.
---

UK-Based Arkonik Lives And Breathes All Things Land Rover Defender. Their Latest Build Is The 1991 D110-Series SHACKLETON Adventure Edition.
---

With Room For 8 To 10 Of Your Friends, The Zebra Boat – An Electric, Wooden Creation For The Seas – Comes From The Mind Of Designer Dimitri Bez.
---

Roll Up To Work In The Velocifero Mad — A Cross Between A Mini-Scooter And An Electric Bike. Comes In 6 Models And 5 Motor Options.
---

With All The Hype Around Sustainability It's Hard To Believe The Bollinger B1 Is The World's First All-Electric, AWD, Sport Utility Truck.
---

This US$178,000 Tactical Urban Vehicle By Rezvani Is Built For Any Off-Road And On-Road Challenge. With Thermal Night Vision For Good Measure.
---

Unveiled Today At IAA, The California XXL Concept Is A Larger Version Of The Existing California Camper Van Built On VW's Crafter Platform.
---

Originally Built As Part Of National Geographic's "Supercar Megabuild" Show, This Bentley Continental GT Rally Edition Mixes Luxury With Dirt.
---

The First Off-Roader By Mercedes-Maybach And Limited To 99 Units, The 630-Hp V12-Powered Mercedes-Maybach G 650 Landaulet SUV Goes On Sale This Fall 2017.
---

The Land Cruiser Has Been Trekking The Globe For Well Over 60 Years. And Patriot Campers Is Taking Toyota's Longest Running Series To A New Level With The Highly-Customizable LC79 Super Tourer.
---

The 2017 Nissan TITAN XD PRO-4X Project Basecamp Built For The Backcountry Debuts At The Overland Expo 2017 WEST In Flagstaff, Arizona.
---

Built for SEMA with help from Michigan-based American Expedition Vehicles, this Colorado ZR2 is built for uncompromising adventure seekers.
---

Equipped with a 2-inch lift kit, 16-inch Kahn wheels, and roof rack to haul all that gear, Arkonik's COLUMBUS D110 Defender is ready.
---

Celebrating 10-Years Of Partnership (And AMG's 50th Anniversary), The 2017 50' Marauder GT R Is The Mercedes-AMG And Cigarette Racing Marvel.
---
More stuff from TractionLife.com you might like:
Gear for the Road: the latest goods for your next excursion
SUV & CUV Reviews: our reviews and test impressions of the latest models